How to Export Data from PDF File in Windows & Mac OS
Hi, everyone. I am currently working as an Account Executive in an organization. My boss assigned a task to extract data from PDF documents. So, I decided to export data to text file so that I can access the data anytime in an effortless manner. In order to complete my task on time, I need to batch extract data from invoices but I do not know the procedure to perform so. Now, I am looking for an automated solution that can automatically extract data from PDF pages. Any help would be appreciated. Thanks in Advance!!"
Most of the forum sites are filled with these kinds of user queries .i.e how to export data from PDF documents.
So, here in the guide, we will provide you all-in-one solution through which you can extract any type of data from PDF files.
Most Strategic Way to Export All data from PDF Documents
Advanced PDF Data Extractor is one such program that is designed in such a way that helps users to export data from Adobe PDF files. Additionally, you can extract data from multiple PDFs at the same time, so if a batch needs processing they can be imported into the tool all at once, saving further time.
What are the Key Data Elements that you can Extract?

PDF documents contain all types of media in them. With the help of this professional software, you can easily export any embedded files from PDF such as:
Attachment (DOCX, PPTX, XLSX, etc)
Images (JPG, JPEG, GIF, TIFF, etc)
Text
Audio or Video
Now, let's see how to use this tool to extract data as attachments from PDF.
How to Export Data from PDF Files?
Follow the set of instructions to fetch the data from PDF files.
1.Click on the "Add Files" and "Add Folder" to add PDF files on the software.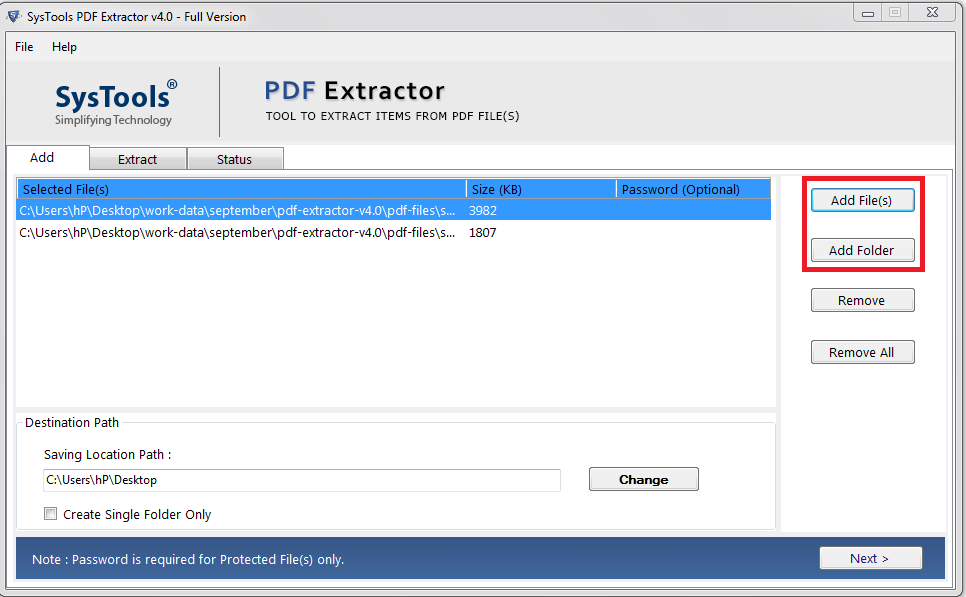 2. Click on the "Change" button to set the destination location for exported PDF Items.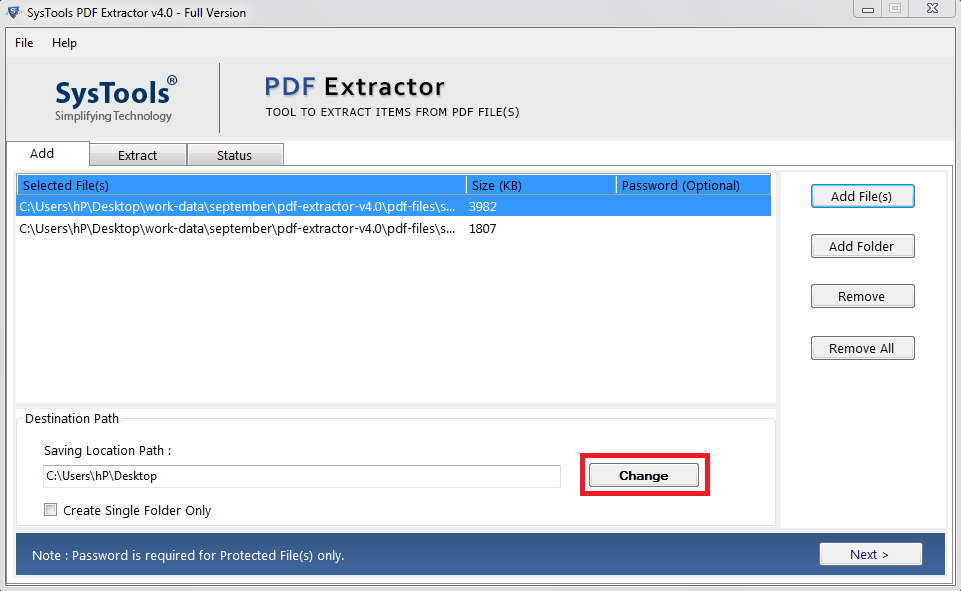 3. Hit on the "Next" button to proceed.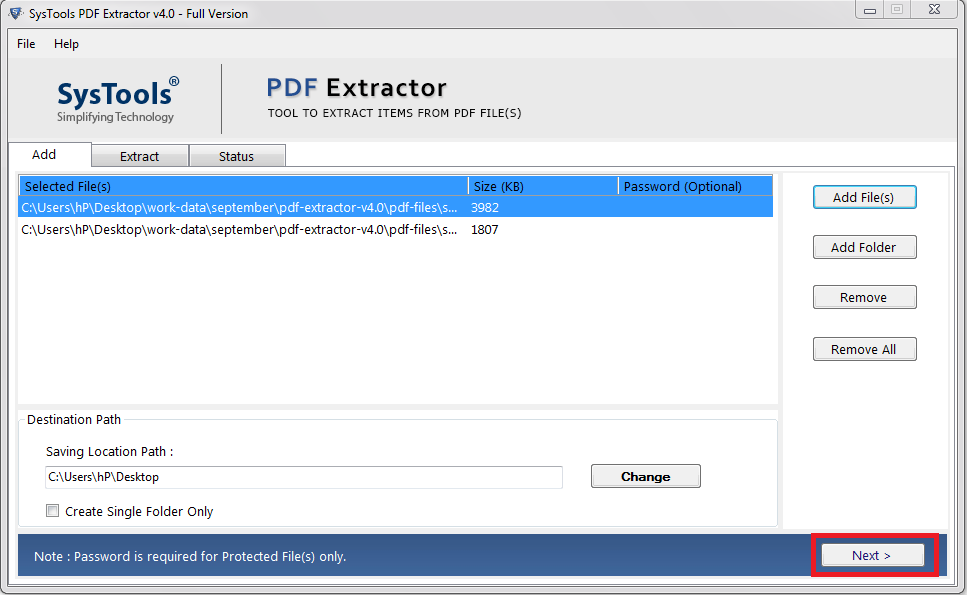 4. Select the Item type as "Attachment" and "Apply Attachments Filters".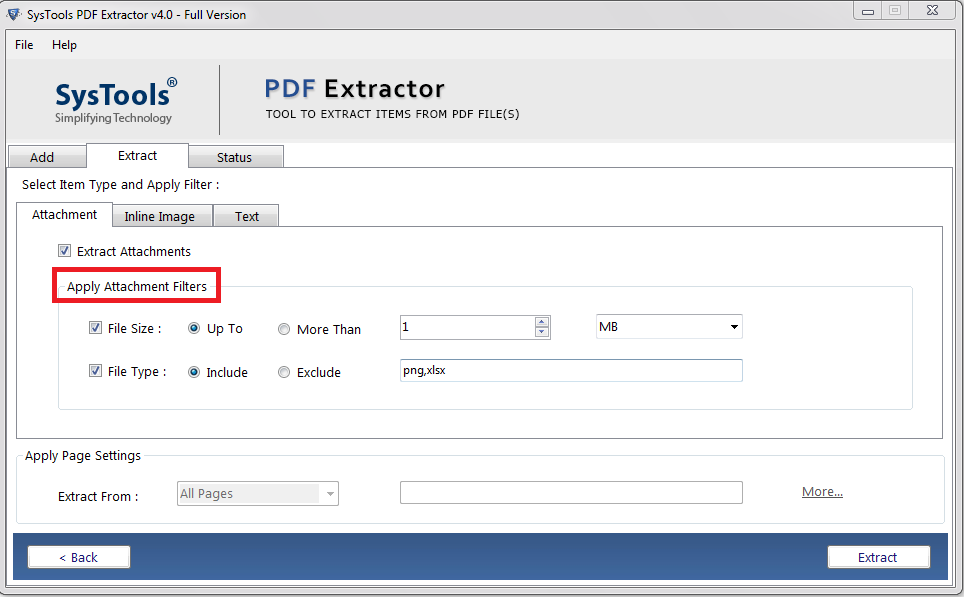 5. Now, click on the "Extract" button to start the extraction process of attachments from PDF files.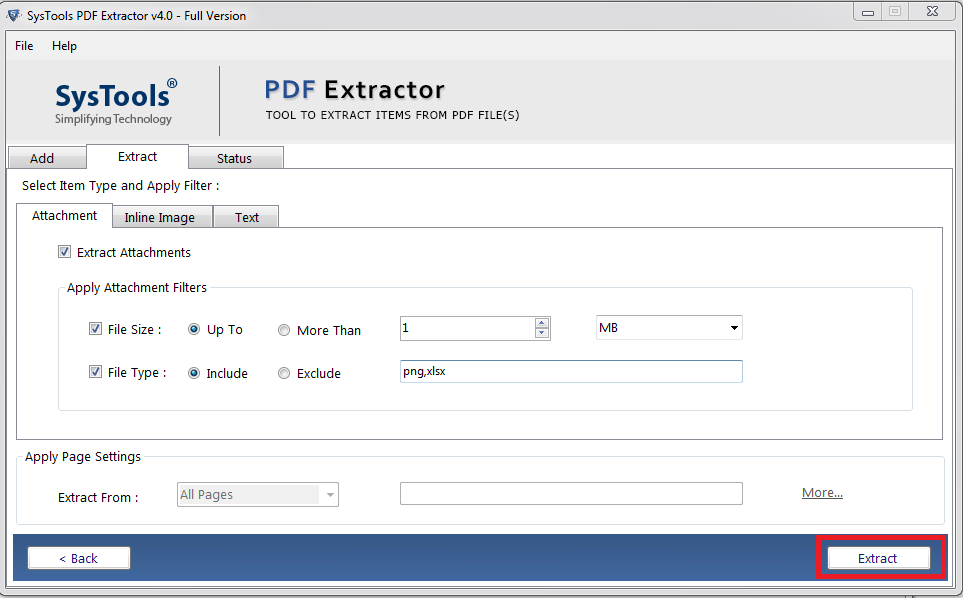 6. Lastly, PDF Files are extracted successfully" pop-up message will be displayed.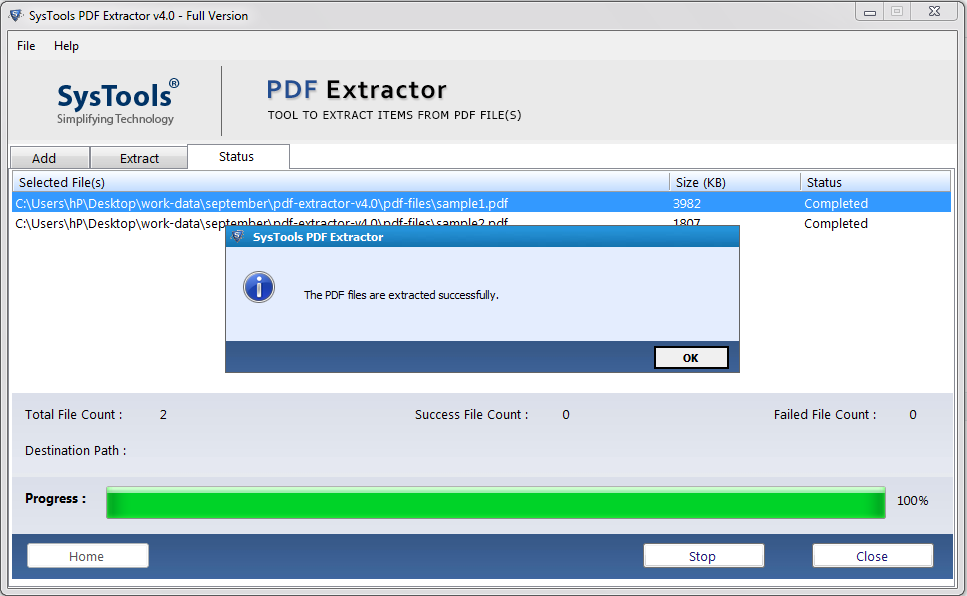 Highlighted Features of the Tool
1. Extract Attachments from Multiple PDF Files
It allows users to export attachments from multiple PDF documents. The tool provides multiple PDF file selection options i.e. Add Files / Add Folder. Users can extract all types of attachments from PDF files such as .doc, .docx, .pdf, mp4, .ppt, images, without any hassle.
2. Export Attachments of Specific Size
The PDF Attachment Extract tool can export PDF file attachments of any specific size. It provides two file size options i.e. "Up To" & "More Than". Users can select any of these options and enter the size. After that, the tool will extract attachments of the size according to the selected file size option. The utility provides the size limit as a minimum 1 KB to a maximum 100 MB.
3. Apply Page Settings Option
This PDF Attachment Extractor tool gives the Apply Page Settings option. With this, users can easily extract attachments from PDF files by All pages, Even Pages, Odd Pages, by Page Range, and Page Number. Selecting any of these options helps in extracting attachments from selective PDF pages.
4. Option to Save Data in Single or Individual Folder
The tool provides the "Create Single Folder only" option & enabling this option will extract all attachments, inline images, and text of all PDF files in a single folder.
5. Show Progress Status
While performing the export process the PDF Extractor tool shows the progress status. Other details like Total file count, success count, failed count, and destination path are also shown.
6. Supports Windows & Mac OS
The utility is available for both operating system users i.e. Windows and Mac.
It's Time to Verge
This article explained a complete tutorial on how to export data from PDF files. We have covered the best solution that lets users to extract data from PDF documents. An above-stated tool is professional software that is being used by most of the IT experts. It is a result-oriented & powerful tool that performs the task in a hassle-free manner. Thus, we recommend users to try its free demo to extract data files from PDF documents.