How to Export Data from PDF File in Windows & Mac OS?
PDF files are meant for sharing data and information. It contains all kinds of information such as text, images, video, audio, etc. While PDFs are best when it comes to maintaining format, it is a pain to extract data from PDF file.
In this guide, we will take a look at various methods to extract information from PDF files. These are:
Manually Save Data from PDF Files

Professional Extraction Tool

PDF Editors like Adobe Acrobat Pro DC

Outsource Data Extraction Services

OCR (Optical Character Recognition)
Before explaining these methods, let us understand the key data elements you can extract from a PDF file.
What are the Key Data Elements that You Can Extract?
PDF documents contain all types of data items and media in them. There are several means available to export these files and information from PDF such as:
Attachment (DOCX, PPTX, XLSX, etc) / Portfolio
Images 
Text
Rich Media (Audio or Video or 3D objects)
Bookmarks
Hyperlinks
Comments
Metadata
Now, let's see the ways to extract data from PDF documents.
5 Easy Methods to Extract Data from PDF
The methods are explained below one by one. Choose as per your requirements and use.
#1 Manually Save Data from PDF Files
Users can open the PDF document and copy the data from the PDF itself. If the PDF is non-copyable, then the user first needs to remove restrictions from PDF file. Here's how to do it:
Open the PDF file on any PDF viewer application.
Select the data that you want to extract.
Copy the selected information.
Open a new Word document and paste the copied data on it.
You have successfully exported data from the PDF file.
#2 Professional Extraction Tool to Export Data From PDF Files
Advanced PDF Data Extractor is one such program that is designed in such a way that helps users to export data from Adobe PDF files. Additionally, you can extract data from multiple PDFs at the same time, so if a batch needs processing it can be imported into the tool all at once, saving further time. Moreover, if the user wants to extract attachments from PDF file, they can use the same software to do it.
Do note that this tool also allows you to copy content from protected PDF file. You can easily extract your data from restricted PDF without hassle.
Step by Step Process to Extract Data from PDF Files
Follow the set of instructions to fetch the data from PDF files.
1. Click on "Add Files" to insert multiple PDF files into the software to extract data from them.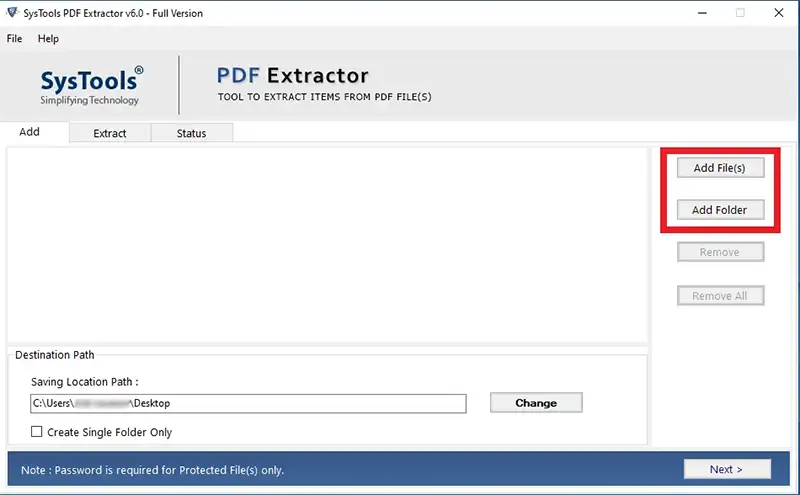 2. Hit the "Change" button to change the location where you want to save the exported PDF data items.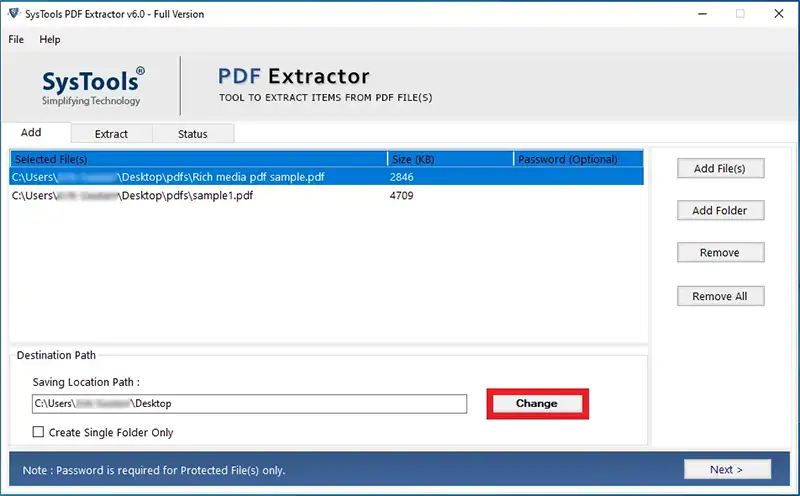 3. Select the data item that you want to extract. You can select all data items or only a few depending on your choice.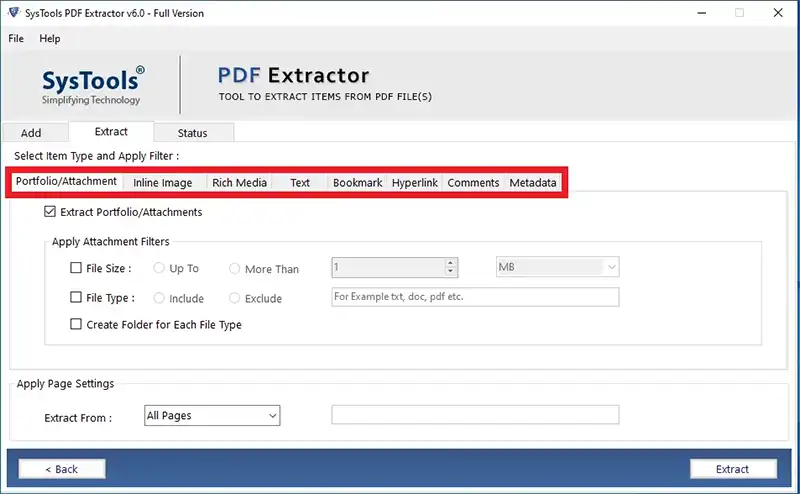 4. Finally, click on the "Extract" button to extract data from PDF file.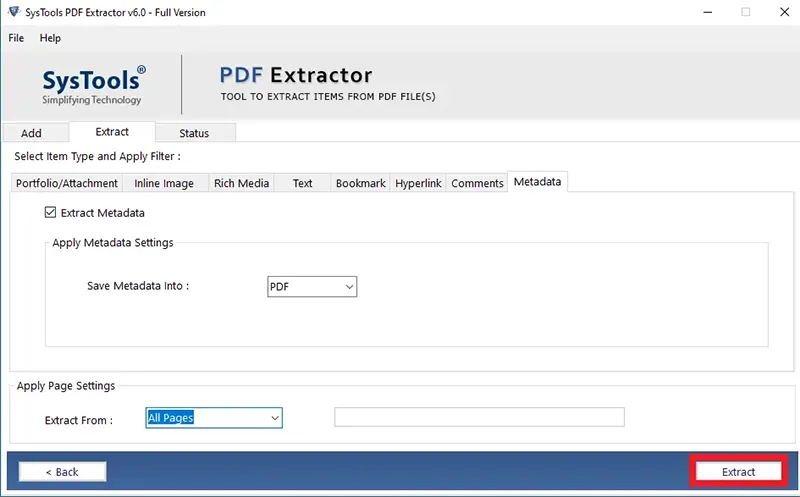 5. Wait for the process to complete and click on the Ok button.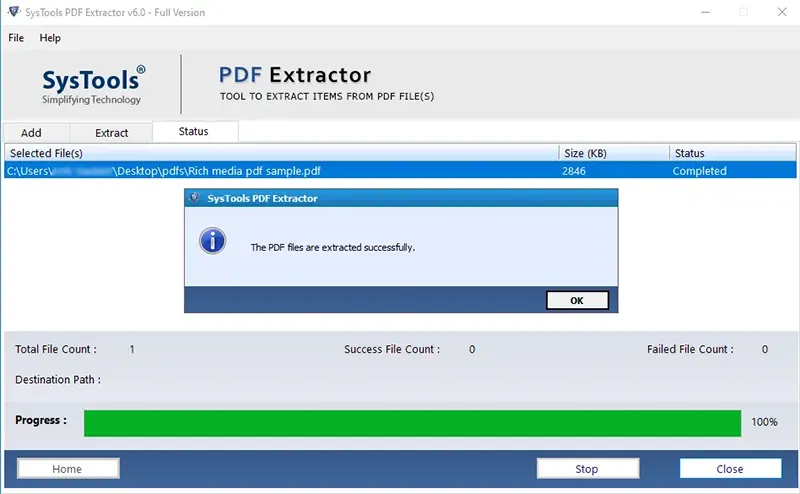 Highlighted Features of the Tool
1. Extract Data from Several PDF Files
The data extraction software for PDF can process several PDF files at once. It provides the option to add more than one PDF document using the "Add Files" & "Add Folder" buttons. Once done, users can export the information and multiple data items from PDF hassle-free.
2. Apply Page Settings Option
This software also provides the Apply Page Settings option. With this, users can easily extract text from PDF files by All Pages, Even Pages, Odd Pages, Page Range, and Page Number. Selecting any of these options helps in extracting data from selective PDF pages.
4. Option to Save Data in a Single or Individual Folder
The tool provides the "Create Single Folder only" option & enabling this option will extract all PDF images, and other information in a single folder.
5. Bookmarks, Hyperlinks, Comments, Metadata
You can extract all multiple data items and save them into PDF, DOC, or DOCX file formats. Under the "Comments" option, you will also get the option to extract PDF comments and highlighted text.
6. Supports Windows & Mac OS
The utility is available for both operating system users i.e. Windows and Mac.
7. Extract Data From a Secured PDF File
If you have a restricted PDF file and don't know its permission password then, don't worry! This tool can extract data from protected PDF files without needing a password.
Also Read: Learn Quick Ways to Change PDF Security Settings
#3 PDF Editors like Adobe Acrobat Pro DC
Users can extract data from a PDF document using Adobe Acrobat Pro. The step-by-step process is as follows:
Open the PDF document with Adobe Acrobat Pro.
Adobe has a powerful data extraction tool. To access it, click "View" in the top menu, then select Show/Hide >> Navigation Panes >> Content.
In the Content pane, expand the sections to find the data you want to copy. It may contain text, pictures, tables, or other material.
For text, select the text element you want to extract in the Content pane. Right-click on the selected text, and select "Copy" from the context menu.
To extract table data, if it is a simple table, you can try to select and copy the entire table by clicking and dragging the table to select it.
If table extraction doesn't work well with a simple copy and paste, you can use the "Export PDF" feature to export table data to Excel or another spreadsheet program for more efficient data handling.
Open a text editor, spreadsheet program, or whatever software you want to paste the extracted data into.
Right-click and select "Paste" to paste the copied text or table.
Repeat the steps above if you want to extract more data from PDF pages.
#4 Outsource Data Extraction Services
Users can also outsource their requirements to freelancers, data entry professionals, and service providers. These external sources can easily export whatever information you want from the PDF file. In fact, you can assign them multiple PDF files to get the job done at a cheap price.
But do note that while this service may cost less, your PDF data is not private anymore. If you are working on confidential data and do not want to share them with unauthorized personnel then it is better to look for other methods.
#5 OCR (Optical Character Recognition)
Users can opt for Optical Character Recognition (OCR) to extract data from PDF documents. It is a good solution when users are dealing with scanned PDFs and images. It allows users to convert the non-editable content to editable PDF.
Open the PDF file with the OCR technology software like Google Docs.
Perform the OCR processing.
Once done, all the PDF data items will be accessible to you.
Simply copy the part that you want to extract from PDF.
Open a document on your computer and paste the extracted PDF data in it.
That's it. The process is successfully completed.
Using OCR in Google Docs is a user-friendly and accessible way to extract text data from PDF documents, particularly scanned files or PDFs containing images. However, for more advanced OCR capabilities and better handling of structured data, standalone OCR software like ABBYY FineReader or specialized PDF tools may be preferred.
It's Time to Verge
This article explained a complete tutorial on how to export data from PDF files. We have covered the best solutions that let users extract data from PDF documents.  We recommend using the professional tool that is being used by most of the IT experts. It is a result-oriented & powerful tool that performs the task in a hassle-free manner. But, of course, you are free to try any method of your choice to extract data from PDF documents.