Best PDF Extractor for Windows & Mac in 2023: A Comprehensive Review
In the digital age, PDF files have become a staple for document sharing and storage. However, there are often situations where you need to extract specific elements from these PDFs, such as attachments, images, text, and more. This is where reliable PDF extractor software comes into play. If you're searching for the best PDF extractor software for both Windows and Mac operating systems in 2023, look no further. In this article, we'll introduce you to the standout features and functionalities of the PDF Extractor Software that make it the top choice for efficiently extracting various elements from PDF files.
Software Overview of the Best PDF Extractor for Windows & Mac
The PDF Extractor Software stands as a powerful and versatile tool designed to simplify the process of extracting various elements from PDF files. Its comprehensive features and cross-platform compatibility make it the top choice for users seeking efficient PDF extraction on both Windows and Mac operating systems in 2023. It stands out as the top choice in 2023 for extracting various elements from PDF files.
Key Features of the Top PDF Extractor:
#1 Attachment:
The software streamlines the process of extracting attachments from PDF documents. Users can effortlessly save all attachments or selectively choose the ones they need. Notably, the tool ensures that all attachments retain their original formats when saved to the hard disk.
#2 Inline Image:
The PDF Extractor Software excels in extracting inline images from PDF files while preserving their quality and resolution. By maintaining the images' original formatting, the tool ensures a seamless process.
#3 Text:
Users can efficiently extract text from multiple PDF documents simultaneously. This feature is particularly useful for extracting data from numerous files at once. The text is conveniently saved in .txt file format, enhancing accessibility.
#4 Bookmark:
The software provides the capability to extract bookmarks from PDF files. Users have the choice to save bookmarked pages either as individual PDF files or within a single comprehensive file, ensuring easy navigation and organization.
#5 Rich Media:
With its advanced functionalities, the PDF Extractor Software can extract a variety of rich media files from PDFs, including audio, video, and SWF objects. This feature adds a new dimension to PDF extraction, catering to different media types. You can extract audio files from PDF and listen to music at your discretion.
#6 Other Data Items:
The software also extracts comments from PDF files and gives you the option to process metadata and hyperlinks as well. These 3 components are among the less popular but equally useful ones. Several filters are also available for the user to apply.
#7 Text and Page Settings:
Users can customize text extraction using the software's text settings, including maintaining formatting and page numbers. Additionally, the option to apply specific page settings adds a layer of precision to text extraction.
#8 Password-Protected PDFs:
Addressing the security aspect, the software supports the extraction of items from password-protected PDFs. Users need only enter a valid password, ensuring that legitimate users can access and extract content.
#9 Progress Status and Organization:
The software provides transparency during the extraction process by displaying the progress status. This status keeps users informed about the ongoing extraction. Moreover, users have the option to organize extracted items either in a single folder or individual folders for enhanced management.
#10 Cross-Platform Availability:
The PDF Extractor Software caters to a wide audience by being available on both Windows and Mac operating systems. It seamlessly supports various Windows and Mac OS versions, ensuring accessibility across different platforms.
The Mac software can process only attachments, text, and images in PDF files. Other options such as comments, bookmarks, links, etc. are not available for Mac users. So please use the demo version to get a thorough understanding of both versions of PDF Extractor Software.
System Requirements
Hardware Requirements:
The software's system requirements ensure smooth performance:
Hard Disk Space: Minimum 100 MB of free space
RAM: 4 GB recommended
Processor: Intel® Core™ 2 Duo CPU E4600 @ 2.40GHz 2.39GHz (Windows) or Mac Computer with Intel Processor / Apple Silicon (Mac)
Supported Editions:
The software is compatible with a range of Windows and Mac OS editions, ensuring broader accessibility for users.
Windows: Microsoft Windows 11 (64-bit), Windows 10, 8.1, 8, 7 & Windows Server 2008, 2012 R2, 2016
Mac: 15, 14, 13, 12, 11, 10.15, 10.14, 10.13, 10.12, 10.11, 10.10, 10.9, 10.8
Trial Limitations of Free Demo Version:
The free-to-download version of the PDF Extractor tool processes only 1 item from the first 5 files each. Additionally, it will also add a watermark to the output images (if any).
Working of the Best PDF Extractor on Windows:
Launch PDF Extractor and click on "Add Files" to add PDF files to the software.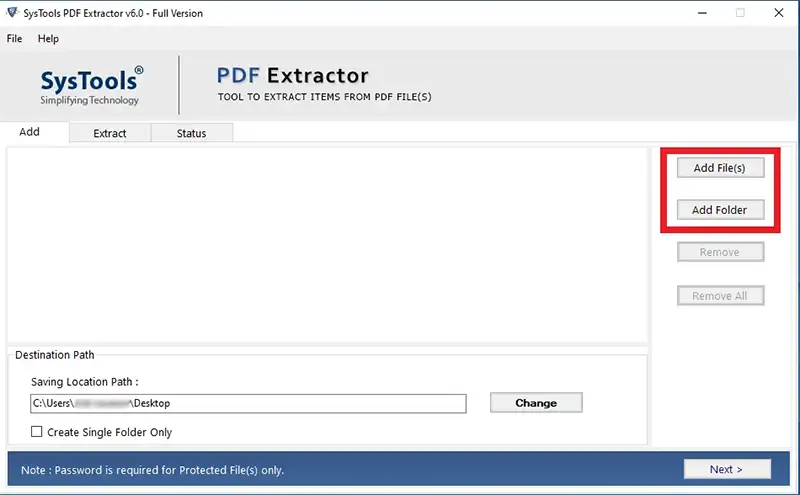 Once the files are added, click on the "Change" button to choose the destination location.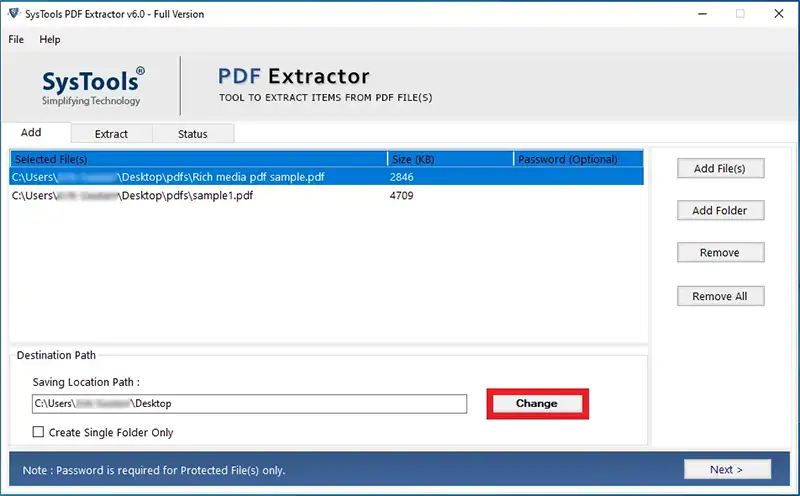 Select the type of data from the given tabs: Portfolio/ Attachment, Inline Image, Text, Rich Media, Bookmark, Hyperlinks, Comments, or Metadata.  Users can also select them all at the same time.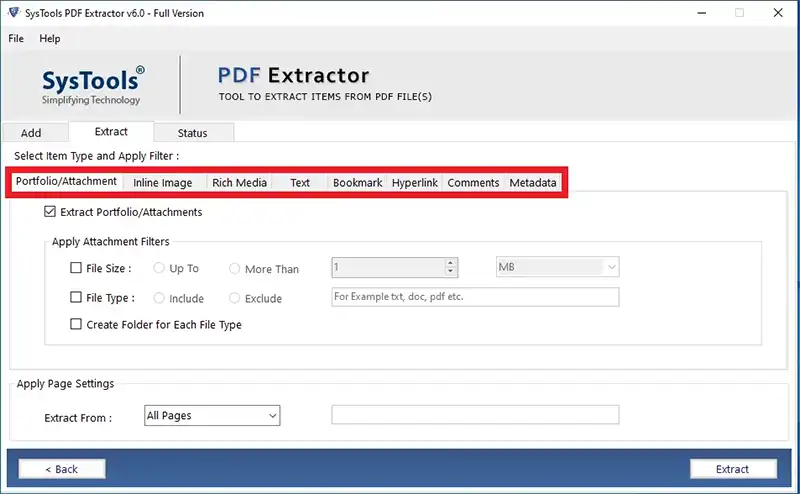 Apply optional filters in the Portfolio/ Attachment tab.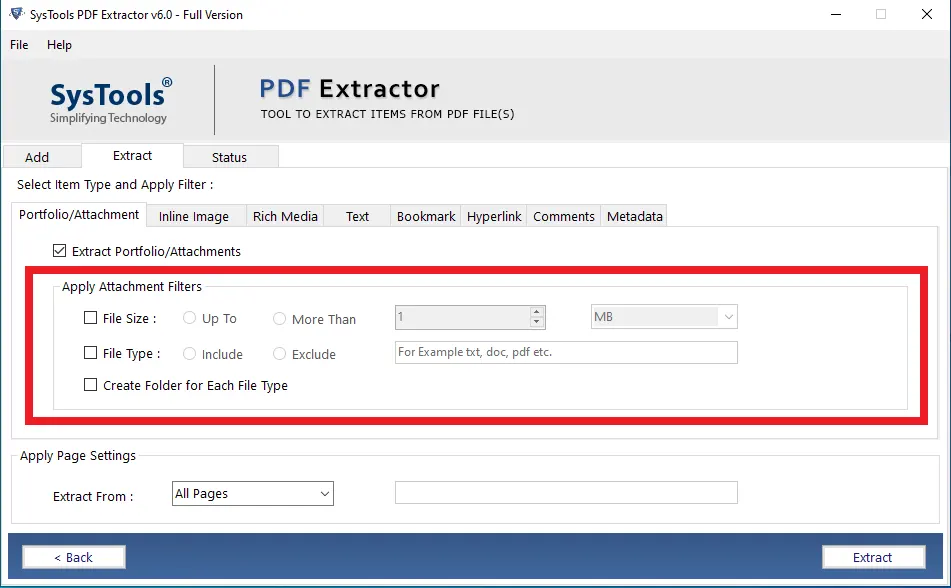 Next, apply optional filters in the Inline Image tab.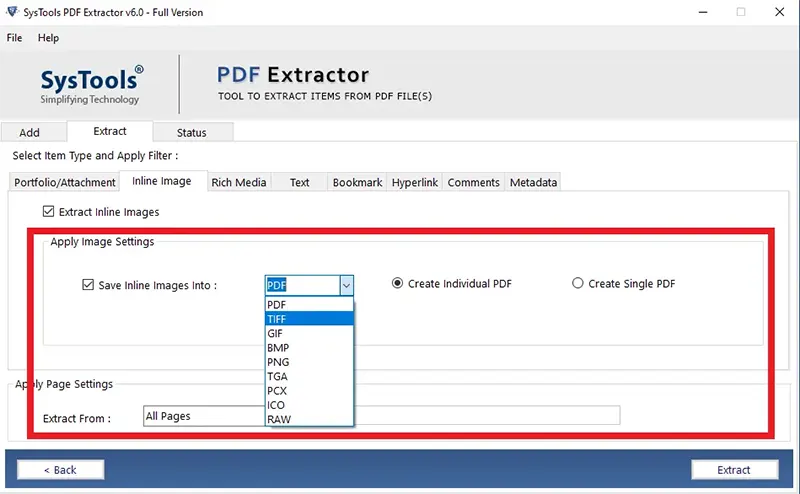 Then, apply optional filters in the Text tab.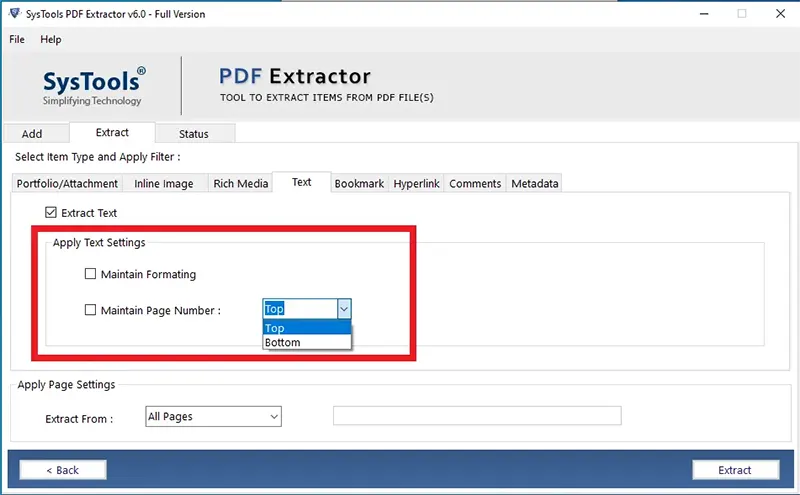 Next, apply optional filters in the Rich Media tab.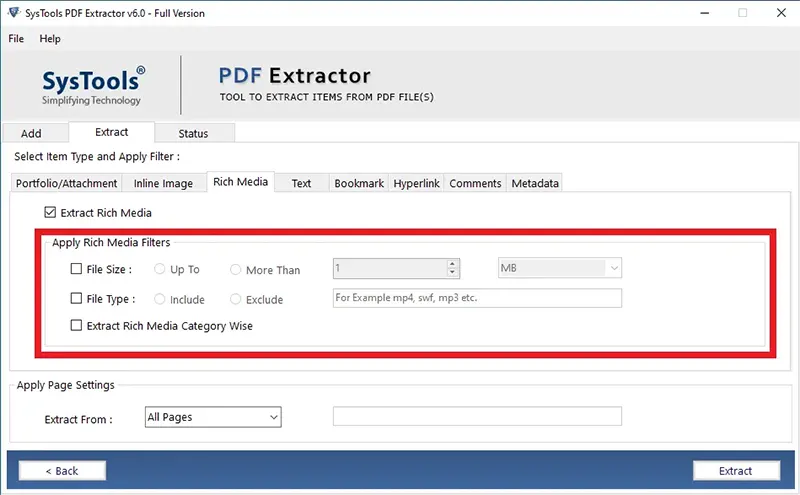 Then, apply optional filters in the Bookmark tab.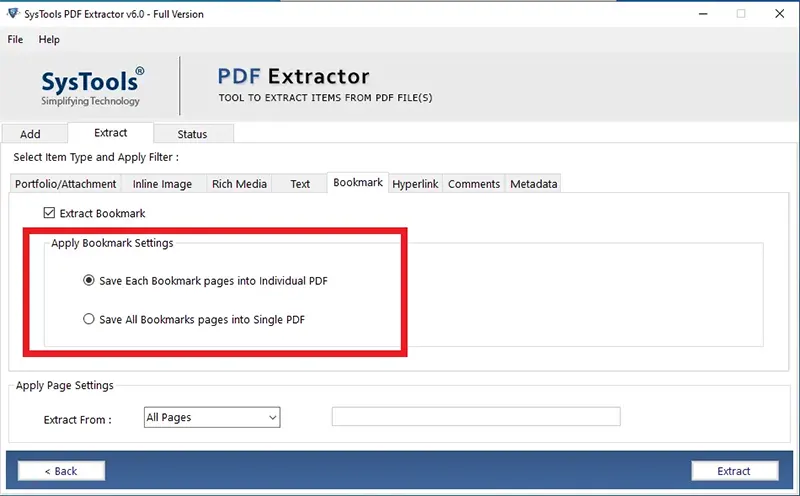 Next, apply optional filters in the Hyperlinks tab.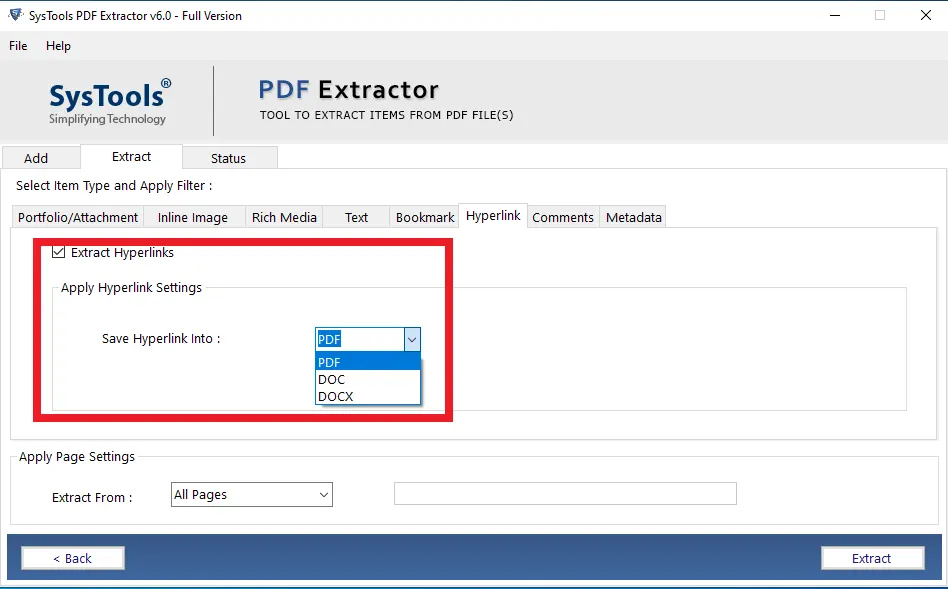 Then, apply optional filters in the Comments tab.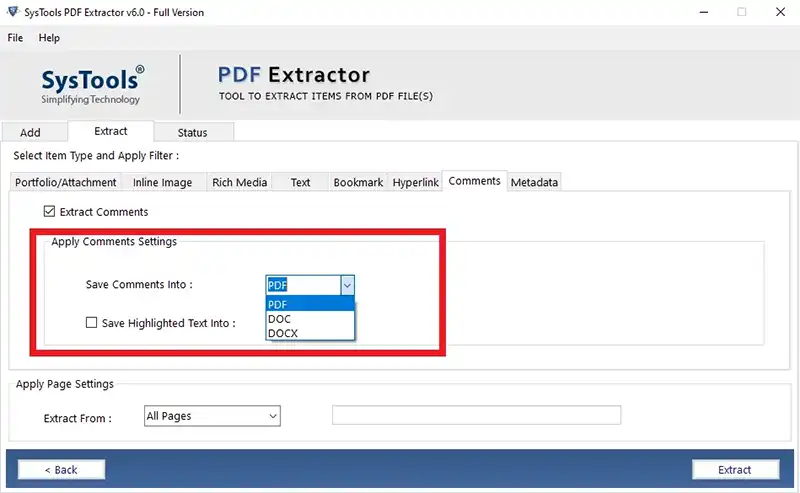 Finally, apply optional filters in the Metadata tab.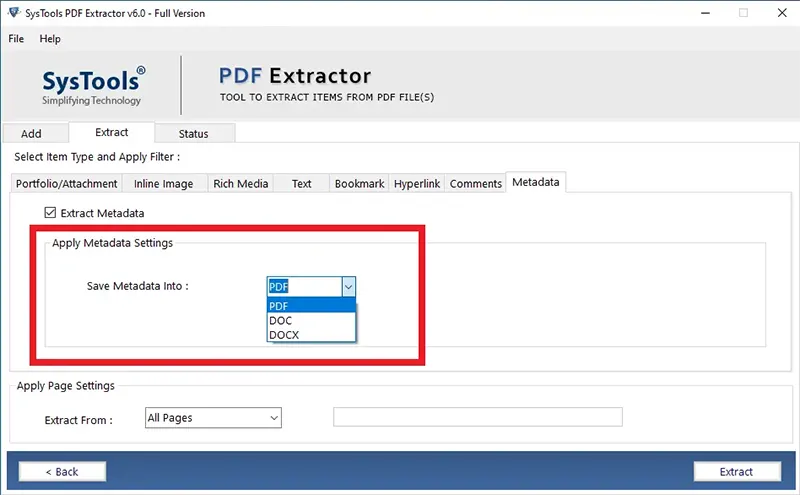 Once done, click on the Extract button to start the process.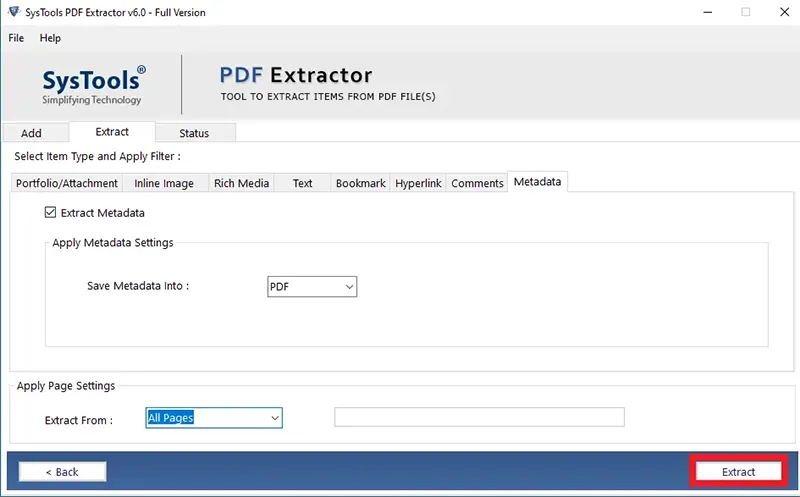 After the process is complete, click on the OK button.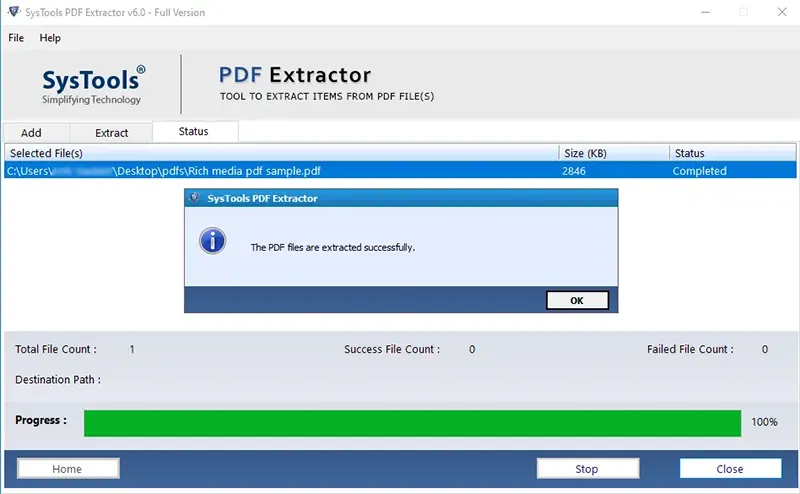 You can go to the destination location where you have saved the files to view all the extracted items.
Conclusion
In conclusion, the PDF Extractor Software is a feature-rich solution that stands as the premier choice for users seeking efficient and versatile PDF extraction. Its ability to process attachments, inline images, text, bookmarks, rich media, and more, coupled with cross-platform availability, makes it a valuable tool for both Windows and Mac users in 2023. With an intuitive interface and comprehensive features, this software provides a seamless experience for extracting data from PDF documents. If you're looking for the best PDF extractor in 2023, PDF Extractor Software undoubtedly deserves a spot on your list.
Disclaimer:
The accuracy of the given information is subject to change at the discretion of the developer. Please refer to the official website to validate the latest changes and system requirements for the software. As the best PDF Extractor software is updated from time to time, it may take us a little time to update the information on this page.