How to Extract Audio from PDF Mac & Windows OS
Along with the text and images, PDF files do contain other files inside them as attachments. This makes the exchanging of documents easier and reliable. These attachments could be in audio or any other file formats. However, adding audio attachments to PDF is useful in PDF slideshows or in presentations to make it more interactive and interesting. But, sometimes people want to extract audio from PDF Mac or Windows OS so that they can use those audio files in other business purposes or personal works.
So, if you are also among those users who want to extract audio attachment from PDF files then go through this write-up and get the solution.
Extract Embedded Audio from PDF Files on Mac OS X
PDF Extractor is the most advanced way to export audio files from PDF documents. With this professional utility, users can easily save attachments and images present in the PDF file. The software is designed in such a way that it gives various filter options for selective PDF extractions. It also provides Add Files / Add Folder option to insert multiple PDF documents for the extraction. With its Remove / Remove All option delete unwanted PDF files.
Free Download Now Buy Now 100% Secure
Note: The tool is available for Windows users also for PDF Attachment extract & image extraction. Also, the working steps and features of the software is the same as in the Mac version.
Other Highlighted Features of the Tool
Support to Extract Images from PDF
The software allows extract pictures from PDF documents in bulk. If they want to save those extracted images into a PDF file format then, they can check the option "Save Inline Images to PDF". After this, again two filter options are provided i.e. "Create Individual PDF" & "Create Single PDF". With the "Create individual PDF" option users can save each image of the browsed PDF files into a PDF file format. On the other hand, the "Create Single PDF" option saves all the extracted images into a single PDF format.
Allows to Extract Password Protected / Restricted PDF
If the user wants to extract audio from PDF Mac OS & the files are password locked or restricted then they can use this tool. The software gives the feature to insert the password for the secured PDF file to process further. Once, the password is added the tool will process the secured file for the extraction purpose. Also, if the file is restricted then the software supports it. It is not necessary that the user must know the permission password.
Mac Operating System Support
The tool can be easily run the latest versions of Mac OS X to extract audio from PDF Mac. It includes Mac OS X 10.15 (Catalina), Mac OS X 10.14 (Mojave), Mac OS X 10.13 (High Sierra), Mac OS X 10.12 (Sierra), Mac OS X 10.11 (El Capitan), Mac OS X 10.10 (Yosemite), Mac OS X 10.9 (Mavericks), MacOS X 10.8 (Mountain Lion). Also, this program is also available for Windows OS users.
Create a Single Folder Option
The software provides this option in the beginning. Enabling this option will allow users to save all the images and attachments of all PDF files into a single folder. In the destination location, the single folder is created that will contain two subfolders i.e. "Attachments" and "Images". These two folders will contain all the attachments and images of all PDF files.
Steps to Extract Audio from PDF Mac
1- Launch the tool and click on Add Files / Add Folder option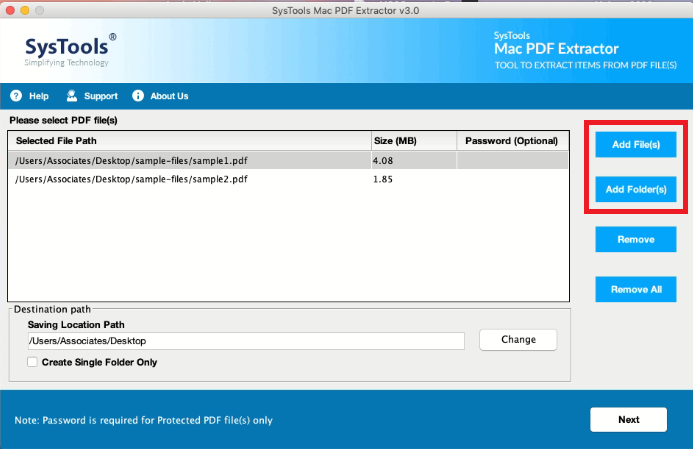 2- Choose the destination location by clicking on "Change"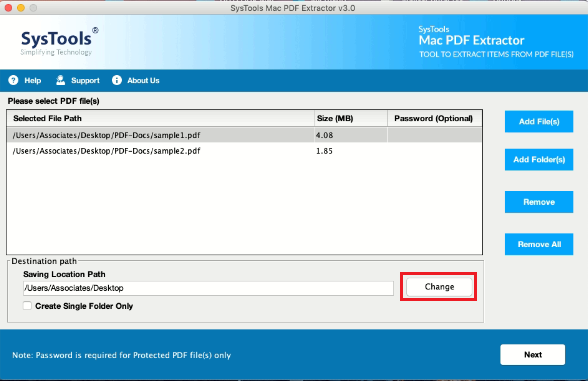 3- Now, select the Item type as "Attachments" from the options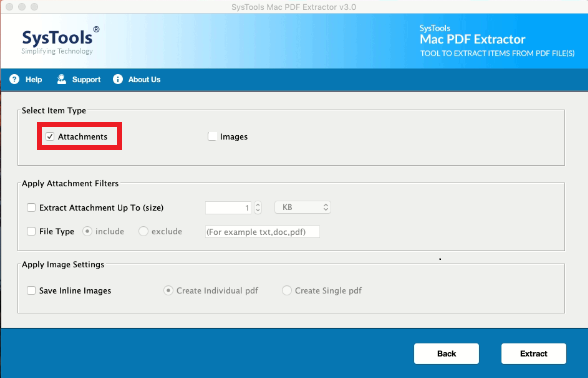 4- Choose the appropriate Attachment filter and click on Extract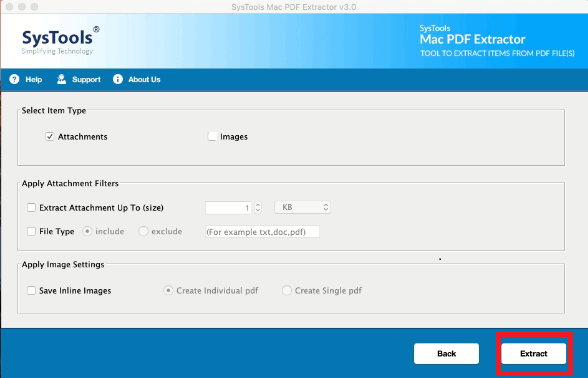 5- Finally, the process completion message will be displayed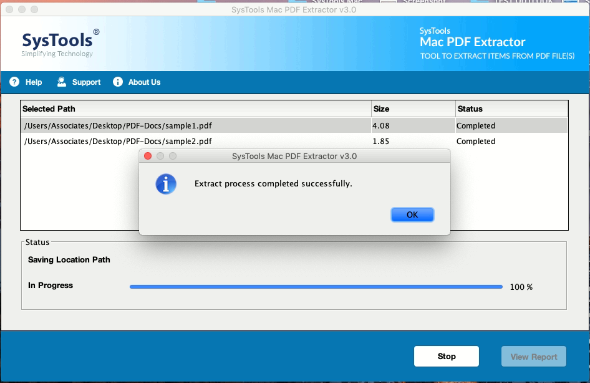 Extract Audio Attachment from PDF Documents on Windows
Adobe Acrobat Reader is a free solution that allows users to export audio files from PDF documents. Users have to select each audio file attachment and save them manually as it does not have a direct option to extract attachments.
Now follow these simple steps to save audio files from PDF:
1- Open the PDF file in Adobe Acrobat Reader
2- Click the attachments icon and view associated PDF attachments
3- Select the audio files that are to be saved
4- Then, click on the "Save" button to save audio from PDF
5- Now, choose the destination location and save attachments
Manual Method Limitations
1- No direct option to extract attachments from PDFs
2- At a time single PDF documents can be extracted
3- Does not support to extract audio files from restricted PDF documents
Conclusion
Many users want to extract audio from PDF Mac or Windows OS due to many reasons. Therefore, in this write-up, we have described solutions for both OS users. So, users can select the desired solution according to their requirements. But, to extract audio attachment from PDF in batch then use the professional tool.