How to Transfer Data From Cloud to Cloud Effortlessly? Detailed Guide
Summary: This writeup describes the most secure way, using which a user can easily transfer data from cloud to cloud without any data loss or hassle. If you or your organisation is planning to execute the same operation then, its recommnded to go thorough the complete writeup to aviod any data loss scenario.
Switching to a new cloud platform and worried about user data in the old platform? Then, don't sweat! We got you covered. This guide provides step-by-step execution to transfer data from cloud to cloud. Using this guide, any cloud Administrator can move their user account data from the old cloud platform to the new one in just a few clicks.
Why Cloud Migration is In Demand?
Due to the increasing technology, cloud companies like G Suite & Office 365 keep on increasing their suites by providing more user-friendly functions. This makes an organization switch over to the new platform to get better results. Currently, these two suites are the most demanding due to their cloud applications and services. Due to this, organizations are opting for these two cloud platforms and migrating to them. The following are the topmost reason, why cloud migration is in demand:
Provides Emailing, Storage space, Team Chat, and Document editor in a single suite.
Collaboration application to work along with others.
Access data from anywhere, anytime & from any device.
Easy to organize data.
Security of cloud suits
Secured Way to Transfer Data From Cloud to Cloud Effortlessly 
To perform the data transfer from one cloud platform to another, download the automated tool from the below button and launch it on your system. The tool is available for both Windows and Linux OS. Moreover, it is also suggested to go through the various cloud migration strategies & best practices to make sure you do it right.
The below tool provides the following type of migration:
G Vault to Office 365
Lotus Notes to Office 365
Pre-requisites of the tool:
Require Admin account of both source & destination cloud platforms.
User accounts in the destination cloud should already be created prior to migration.
Create projects for both cloud platforms. (project creation steps available inside the tool)
Step By Step Detailed Guide to For Moving Data to the Cloud
Step 1. Launch the tool on your machine and click on the Activate button. Enter the activation code to get the full version otherwise use skip to use a demo version of the tool.
Step 2. After authentication, select the source & destination cloud platform.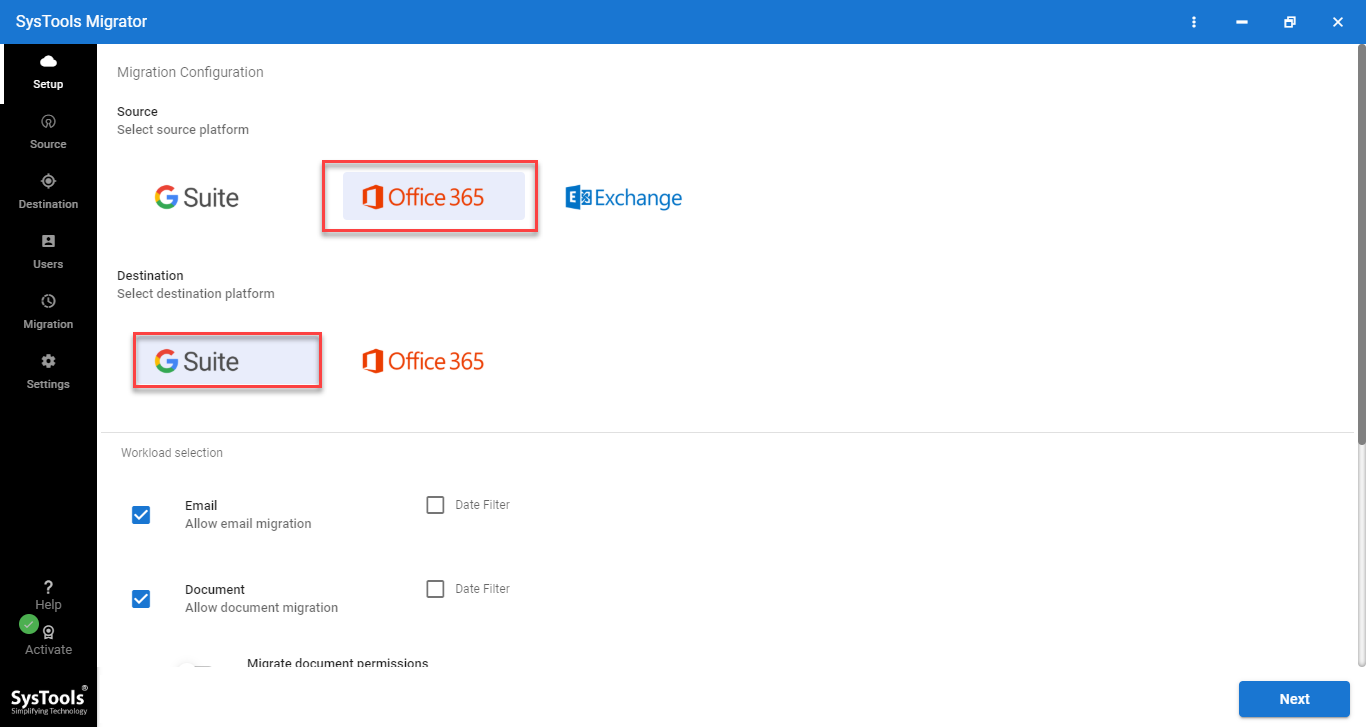 Step 3. Go to the workload section and select the required category from the workload selection to transfer data from cloud to cloud.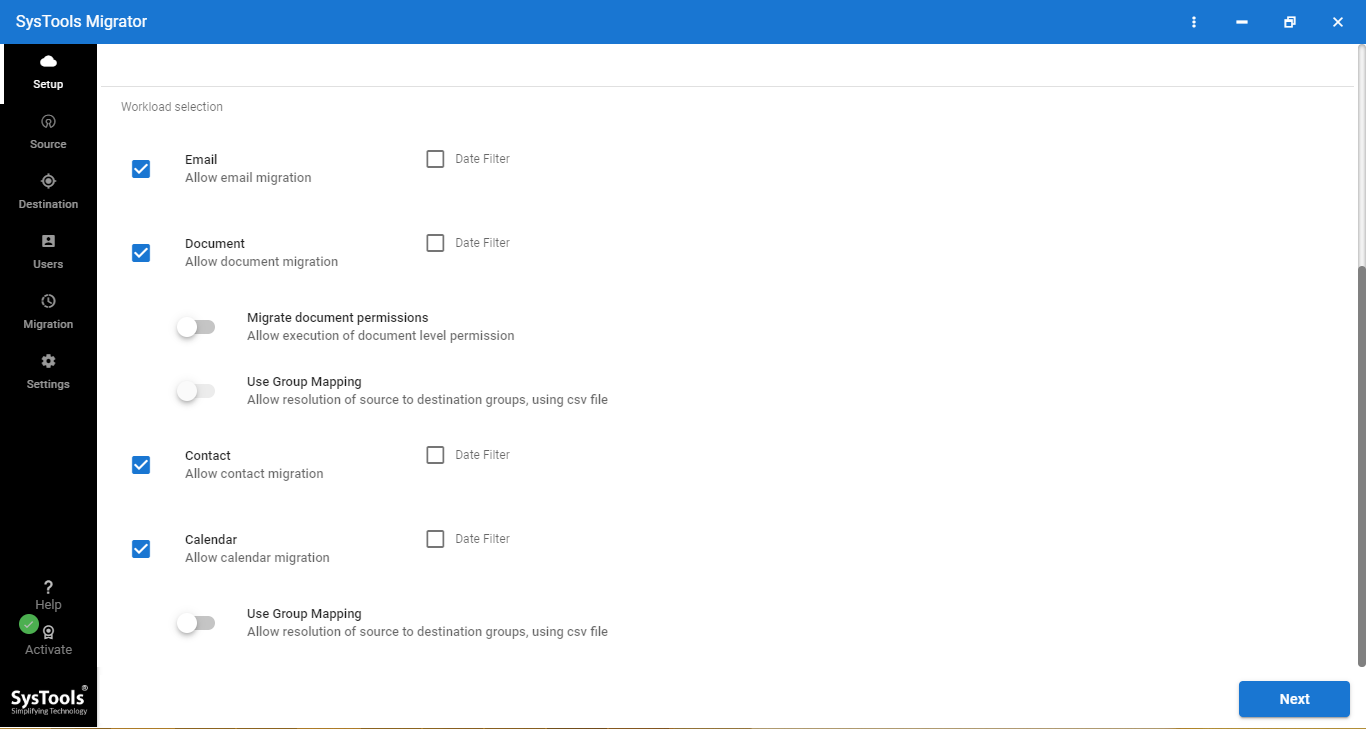 Step 4. Next in the source and destination tab, enter the Admin Id of the cloud platform and provide project details. The projection creation steps are linked in the product window.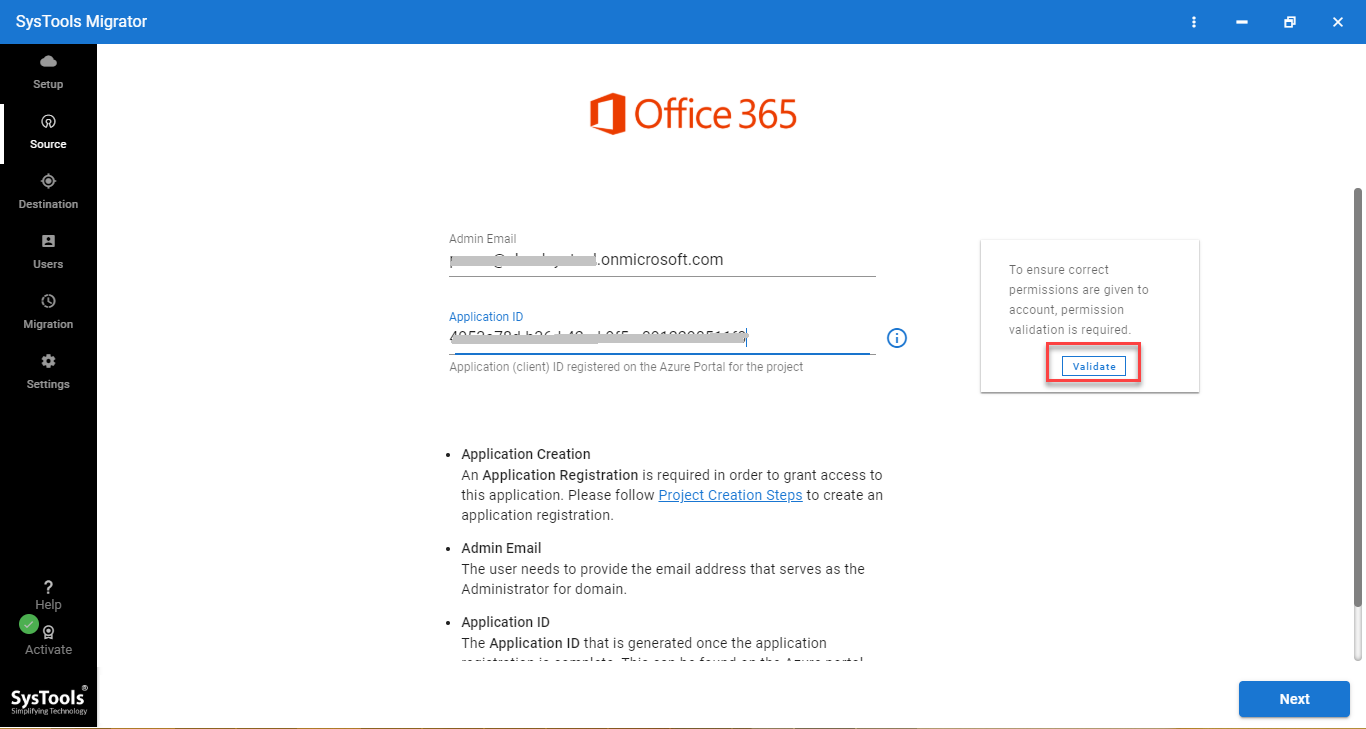 Step 5. From the next window, select the option for user id mapping of source and destination cloud.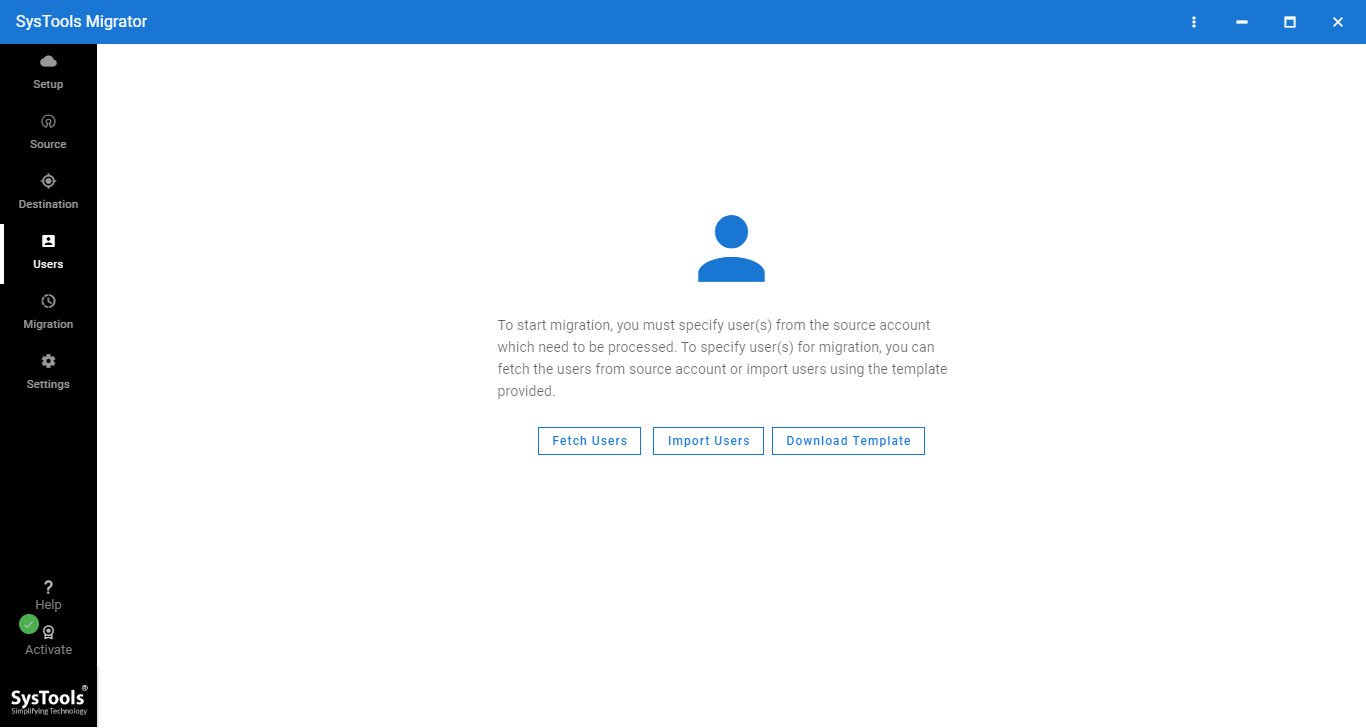 Step 6. All the user accounts will be fetched & listed in the tool. Select the user account whose data need to be transferred from one cloud platform to another.
Step 7. After selecting the user, click on the Validate button for the authentication of user account ids.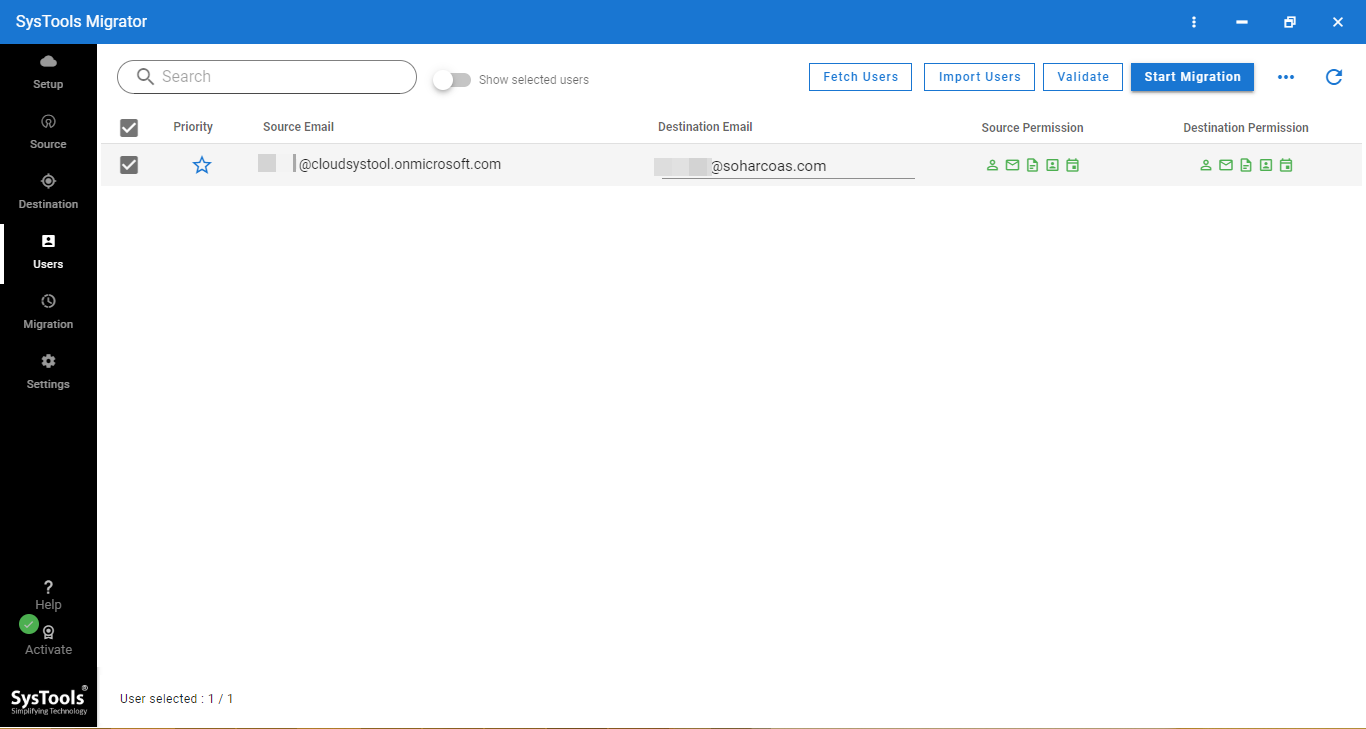 Step 8. Finally, click on the Start Migration button to transfer data from cloud to cloud platform.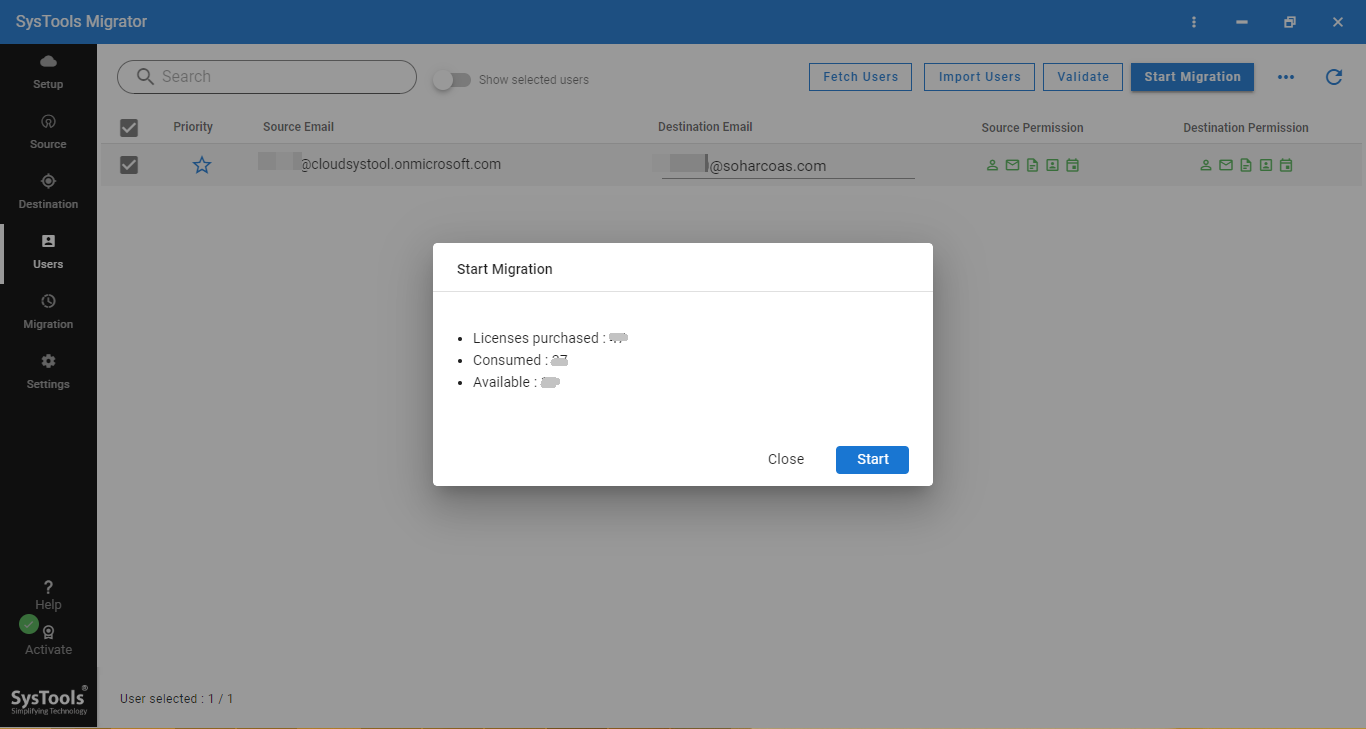 Why Choose Automated Utility to Transfer Data from Cloud to Cloud?
Every cloud platform-providing company warmly welcomes whoever what's to opt for their service, but places hurdles when someone wants to leave. It's not at all an easy task to transfer data from cloud to cloud of each user account. This can give a lot of headaches and consume time in execution with some workaround. Moreover, this manual workaround is capable of transferring only emails. No option is available for transfer documents.
Whereas, an automated tool such as mentioned above is quite easier to use and faster in the execution of the task. Additionally, during the data transfer to the cloud process, the aforementioned tool provides features that make the task quite easy for any cloud admin.
Smart Features of Tool That Helps to Transfer Data from Cloud to Cloud Easily
Following is the list of features provided by the tool:
Simultaneously transfer emails, documents, contacts, and calendars of all user accounts.
Category & Date filter to transfer only required items
Fast and easy source and destination cloud user id mapping.
Provides the option to transfer new data in the next migration attempt (Delta Migration)
Generate detailed reports for each user whose data has been transferred.
Doesn't impose any restrictions during the data transfer.
Test to move data from cloud to cloud at a speed of 40 GB/hr.
Re-Run, and Retry options are available to transfer skipped & failed items.
Also Read: Best Cloud Hosting in India with Enterprise Grade Servers
Conclusion
In the above guide, we have demonstrated a perfect utility to transfer data from cloud to cloud. Use the aforementioned utility to migrate data from one cloud platform to another in an effortless way. The tool is self-explanatory and contains a Help section to define the function of each feature of the tool. For the testing of the tool, first, use its demo version by simply downloading the tool from above. The free demo version of the tool come-up with 2 user licenses to transfer data without any limitation.