G Suite to Office 365 Migration: Step- By- Step Process
SaaS has become the next big thing for businesses. It provides scalability, flexibility, is easy to use, and comes with performance-rich features. That's why G Suite and Office 365 are so common nowadays. Although both are based on the SaaS business model, Office 365 turns it up a notch with its more secure, more familiar, and better offline access. This is highlighted in the fact that Office 365 started 2019 with more than 180 million customers compared to the 5 million users of G Suite. That's why G Suite to Microsoft Office 365 migration is so common nowadays.

How about we understand G Suite and Office 365 closely and then demonstrate how to migrate from G Suite to Office 365 step by step? Here we go!!
Table of Contents 
Office 365 & G Suite – A Brief Comparison
Both Office 365 and G Suite are a cloud-based suite of productivity tools. They let you perform common tasks such as creating documents, email management, team collaboration, etc. in the cloud as opposed to executing them in on-premise systems.
G Suite excels in mobility, speed, and integration. It provides a better experience when working with smartphones or tablets. The straightforward plans and realtime team collaboration are among its essential features. Most of its consumers are small and middle-level businesses and individuals.
Office 365 excels in better security features, provides extensive offline access with Onedrive synchronization and has its interface almost the same as using Word, Excel and other popular applications. With a variety of plans & sub-plans, it offers a lot of flexibility to users but can be a little confusing too. The most significant feature of Office 365 that gives it such a wide variety of users (from big enterprises to individuals) is 'Offline access'. Most plans come with both the cloud & desktop applications. It lets you work offline and later synchronize everything to the cloud.
It further pushes you towards Office 365, isn't it? Well then, lets us start with the migration process.
G Suite to Office 365 Migration via Microsoft Migration Tool
Halfway 2019, Microsoft delivered on its promise and stated a method to migrate G Suite to Exchange Online using the EAC( Exchange Admin Center). It makes it possible to migrate both a single user as well as domain users data to Office 365 from G Suite. However, it fails to migrate certain items such as mail filters and rules, and also shows inconsistencies while migrating contacts & calendars (shared calendars, more than 3 email address per contact, and the contact tags and URLs, etc.)
The instructions for step by step G Suite to Office 365 migration are:
Step 1: Create a Service account of Google
Open your browser and go to Developer page for Service Accounts and sign in as G Suite admin (For consistency, we recommend using Google Chrome).
Give the name to the new project and click Create.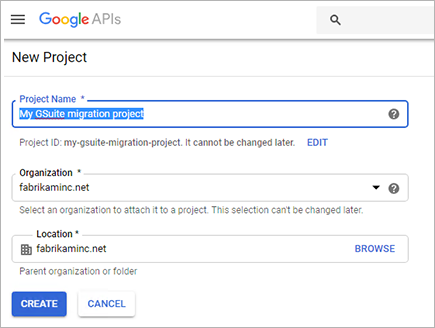 Now, click on Create service account and give a new name to the service account. Click Create.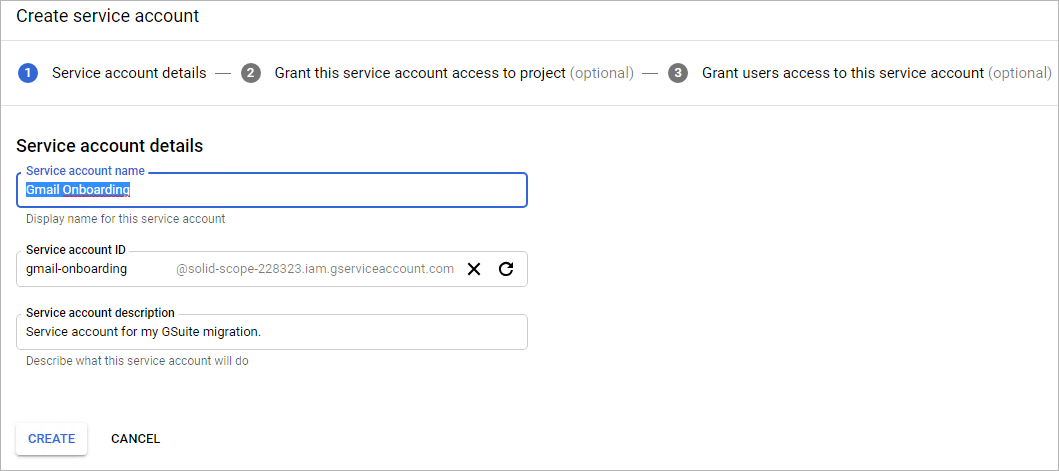 Click Continue on the Service account permissions screen and Click Create key on the next screen.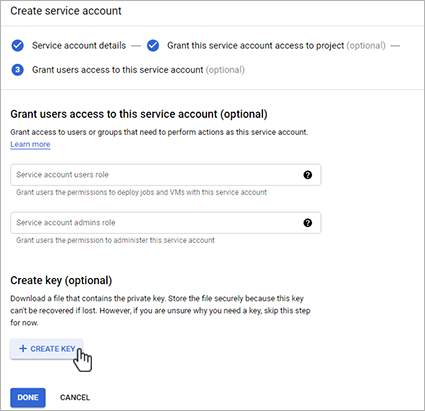 Select JSON and click on Create button.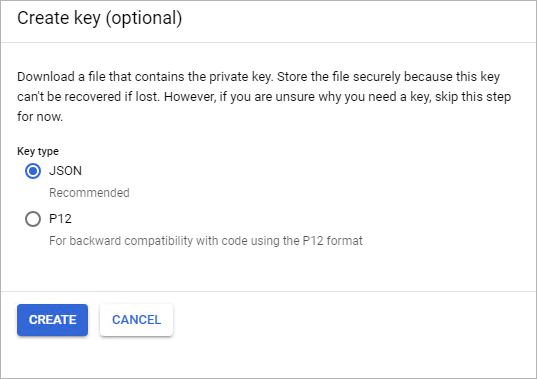 Click Email of the Service account. You will find Unique Id. Note it down as you will need it later.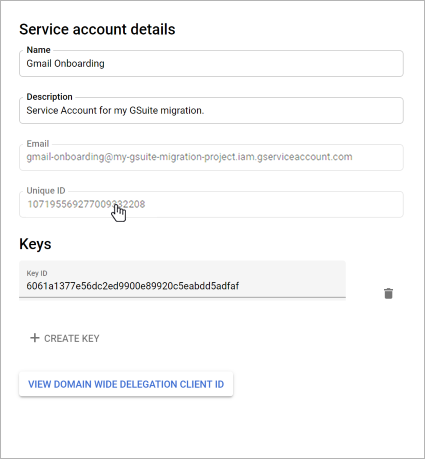 Tick the Enable G Suite Domain-wide Delegation checkbox. If it's not shown, it's enabled by default.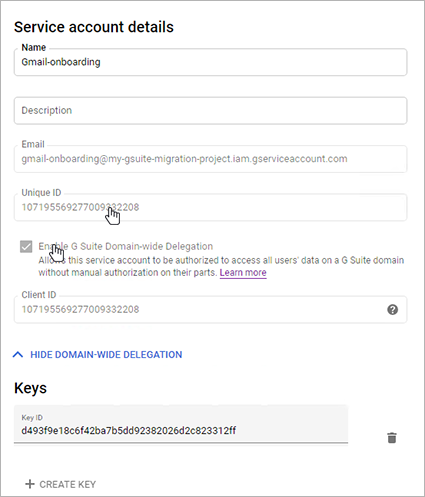 Step 2: Enable API usage
Go to API library developer page and sign in with the G suite admin user.
Select the project that you created in Step 1.
Search and enable Gmail API, Google Calendar API, and contacts API.
Step 3: Grant access to Google Service account
Go to the Admin Panel of your G Suite account and click Security > Advanced Settings > Manage API client access.
Enter the client ID in the Client Name section that you created in Step 1 and add the following scopes in API scopes field: https://mail.google.com/, https://www.googleapis.com/auth/calendar, https://www.google.com/m8/feeds/, https://www.googleapis.com/auth/ gmail.settings.sharing
Once done, click Authorize and verify the results as shown in the screenshot below:

(In some cases, it may take up to 24 hours for these settings to propagate.)
Step 4: Route Mail to Office 365
Open your G Suite Admin Panel and click Domains > Add/remove domains > Add a domain or a domain alias.
Choose Add another domain and input a name for the domain that you wish to use for routing the emails to Office 365. It is suggested to create a sub-domain of your primary domain to simplify the verification process. Also, note this sub-domain name as you will need it later. Now, click on Continue and verify domain ownership.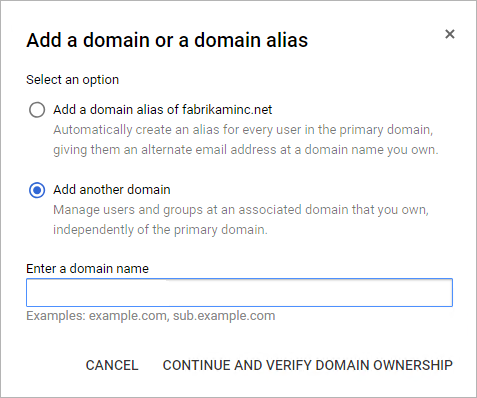 Verify your sub-domain. If you followed the suggestion, it will be verified automatically.

Now, click Skip Google MX Setup > I use another mail server.
The last step is to update your DNS by loggin into your DNS provider. You need to have an MX record at the created domain. You can follow the guide to add a domain in office and configure DNS by clicking here.
Step 5: Route Mail to G Suite
Go to the G Suite Admin Panel and click Domains > Add/remove domains > Add a domain or a domain alias.
This time select Add a domain alias of.. and enter the domain name to route your emails to G Suite. Again it is recommended to have a sub-domain of your primary domain for easy verification.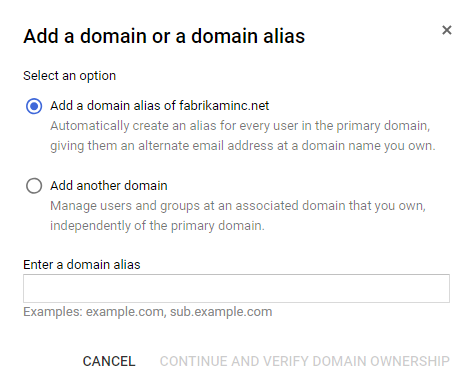 In the next step, Verify the domain and click on Set up Google MX records. Then follow the instructions listed for your DNS provider.

Step 6: Provision users in Office 365
As soon as all the settings are propagated, G Suite is now configured for data migration. However, before migrating your data, make sure all the users are provisioned in Office 365. To do this, you can follow the steps given here.
Step 7: Use EAC to Create & Start a Migration Batch
Open Exchange Admin Center, click Recipients > Migration.
Select "+" icon and click Migrate to Exchange Online.
New migration batch window appears. Here, choose G Suite (Gmail) migration and click the Next button.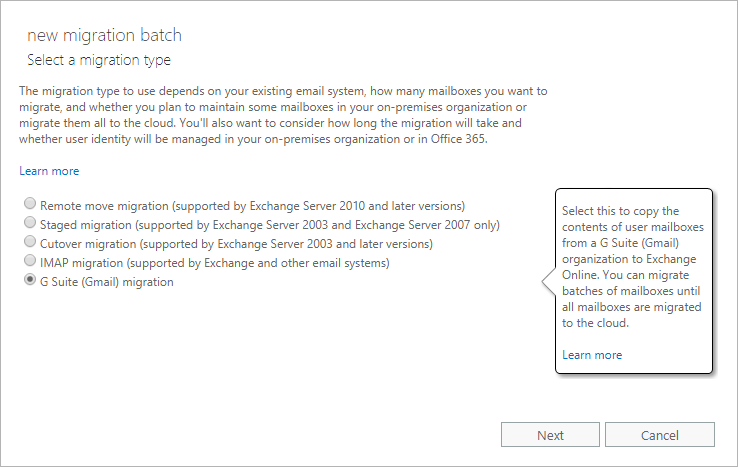 Now, open your Excel sheet and create a CSV file containing the list of all users you want to migrate from G Suite. It should have an EmailAddress header containing the email address for Office 365 account. You can also have a Username header containing the email address of Gmail account.
Click Choose File and browse the CSV file. If it has additional headers, make sure to check "Allow unknown columns in the CSV file". Click Next.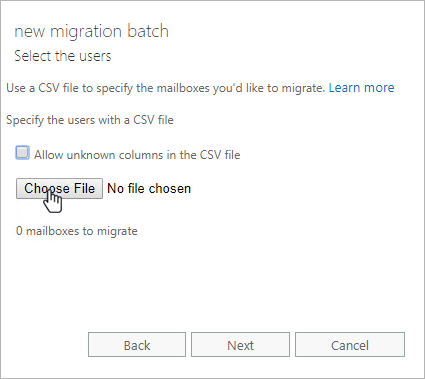 Enter the email address of any G Suite user for testing the connectivity and click on Choose File to select the JSON file that was automatically downloaded in Step 1. Click Next.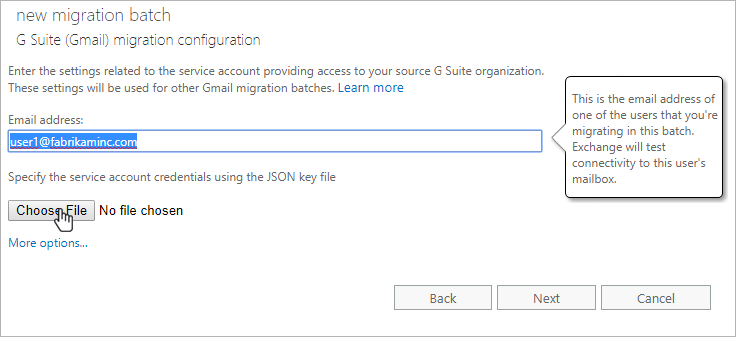 Now, enter the new migration batch name along with the sub-domain name (target delivery domain) you created for routing emails to Office 365. Click Next.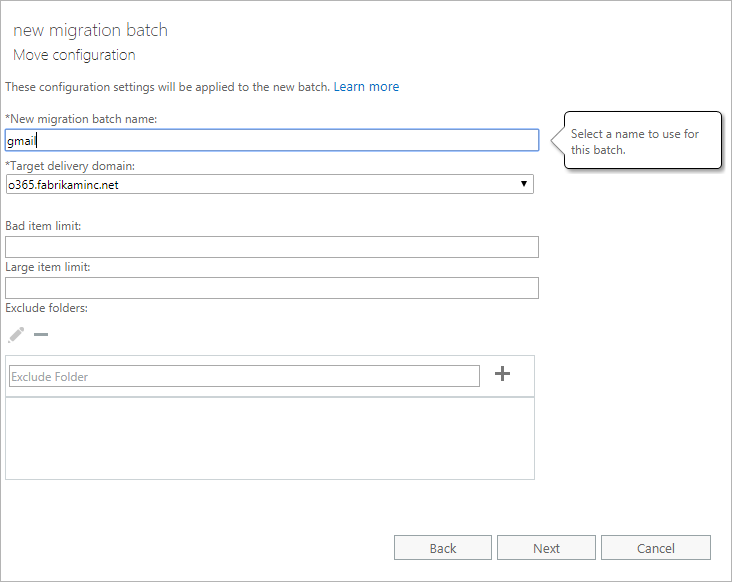 Now, input the name of the users you wish to notify about the migration process. Select the preferred options to start and complete the migration batch. Then click on New to perform Office 365 migration from G Suite.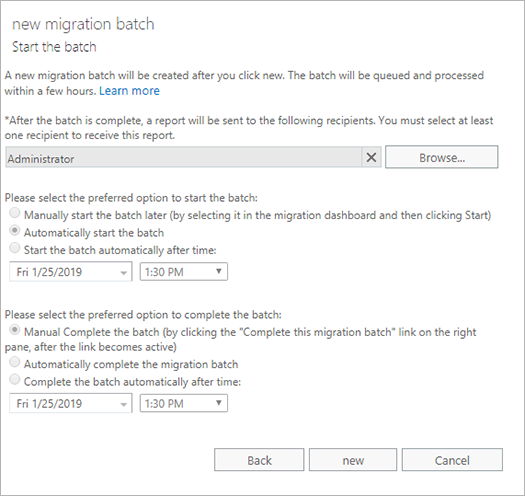 The Recipients > Migration window of the Exchange Admin Center displays the batch status. Wait for it to become Synced to complete it manually (or automatically as per options selected). Ensure that the status is now Completed.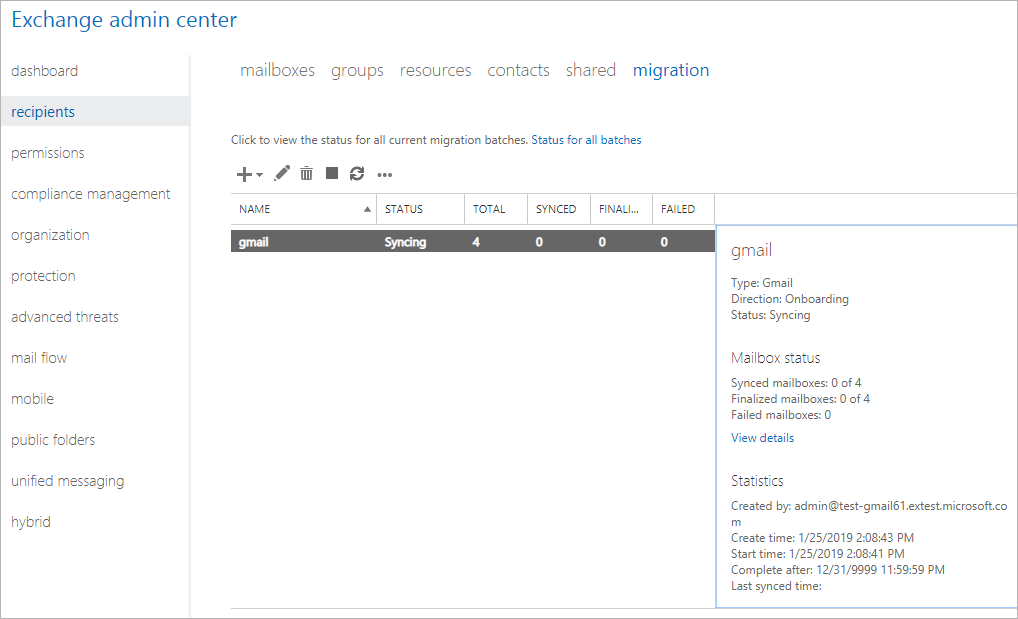 This is how you can complete the migration of Office 365 from G Suite. It is clear that this process is too complex and time-consuming. If you want to carry out G Suite to Office 365 migration in step by step manner, you can try professional software applications.
Another Migration Scenario: How to Switch from Office 365 to G Suite?
Simplified Method – Office 365 Migration From G Suite
Users can easily migrate G Suite emails, contacts, calendars, and documents into Office 365 domain with the help of G Suite to Office 365 Migration tool. With this software, one can concurrently migrate multiple G suite user mailboxes in batch. Moreover, the tool also provides date filters and the option to select data category during the migration process.
You can even perform delta migration of all the G suite mailboxes & labels. Additionally, the tool also allows users & user-group mapping and generates a detailed migration report after the process completes.
Steps of G Suite to O365 Migration
Step 1: Complete the simple pre-requisites and run the Migration tool.
Step 2: Select 'G Suite' and 'Office 365' as Source and Destination respectively.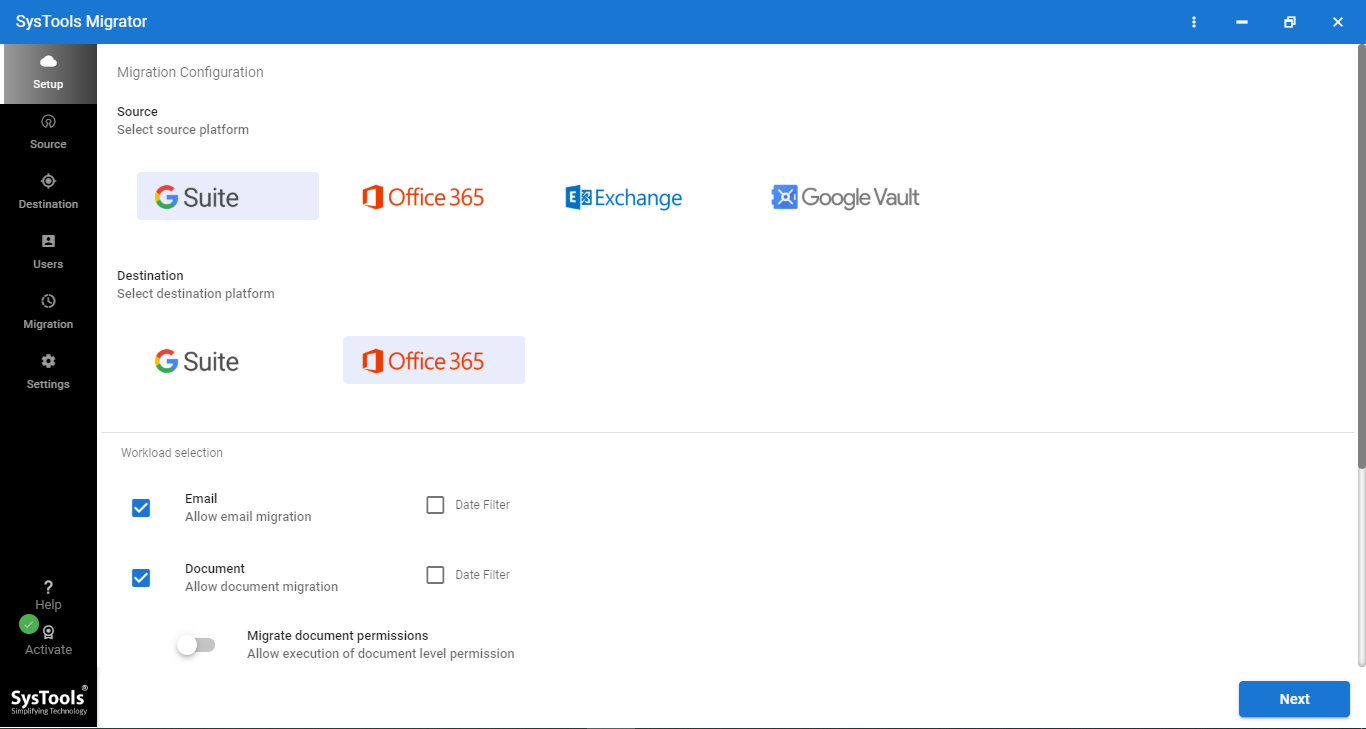 Step 3: Select 'Category' that you want to migrate and apply filters.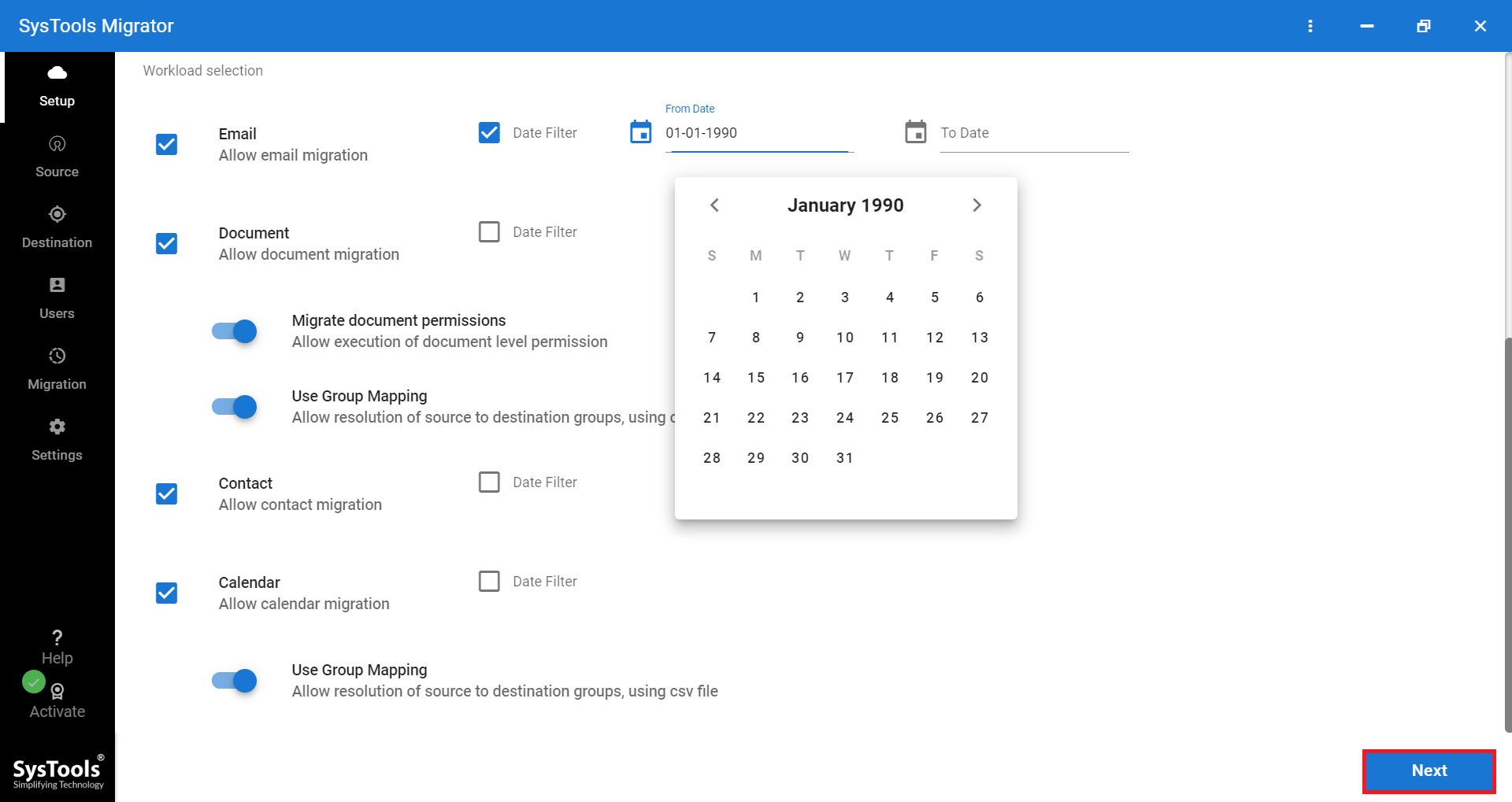 Step 4: Carefully fill out the details for G Suite as a Source. Then, click on 'Next'.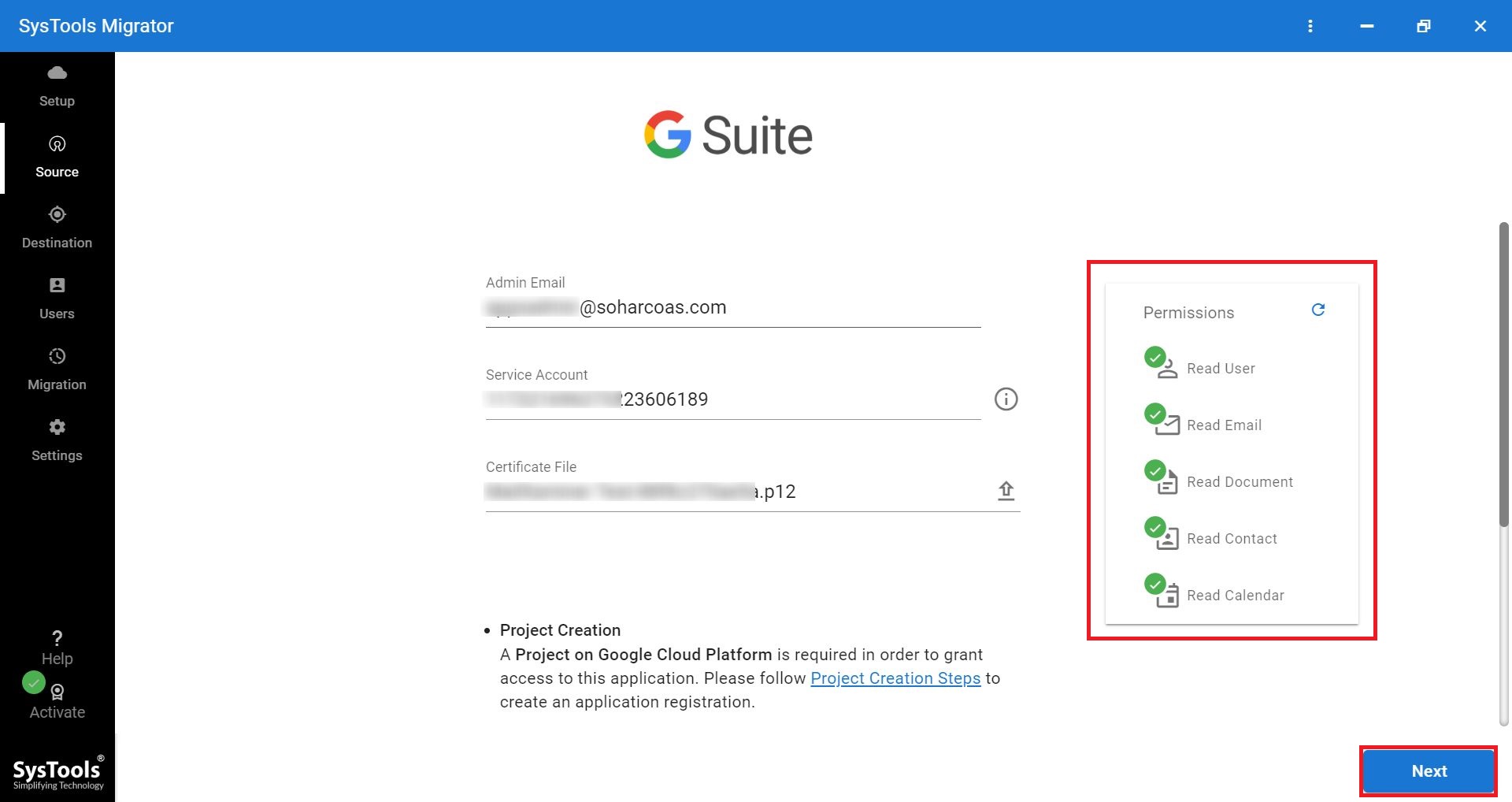 Step 5: Now, move to the Destination Screen and fill out the details carefully.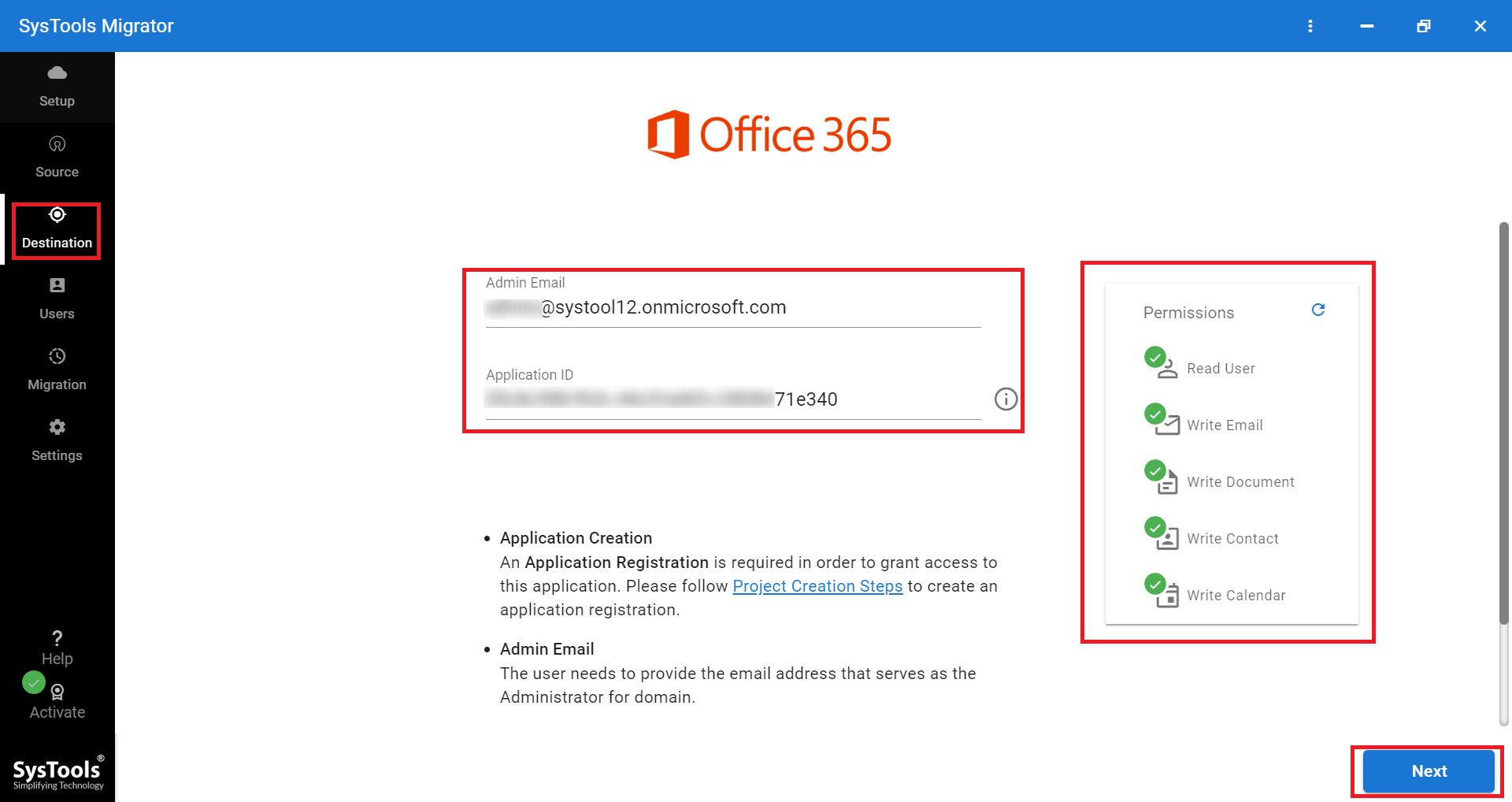 Step 6: Now, choose the option to get list of users to migrate from G Suite to Office 365.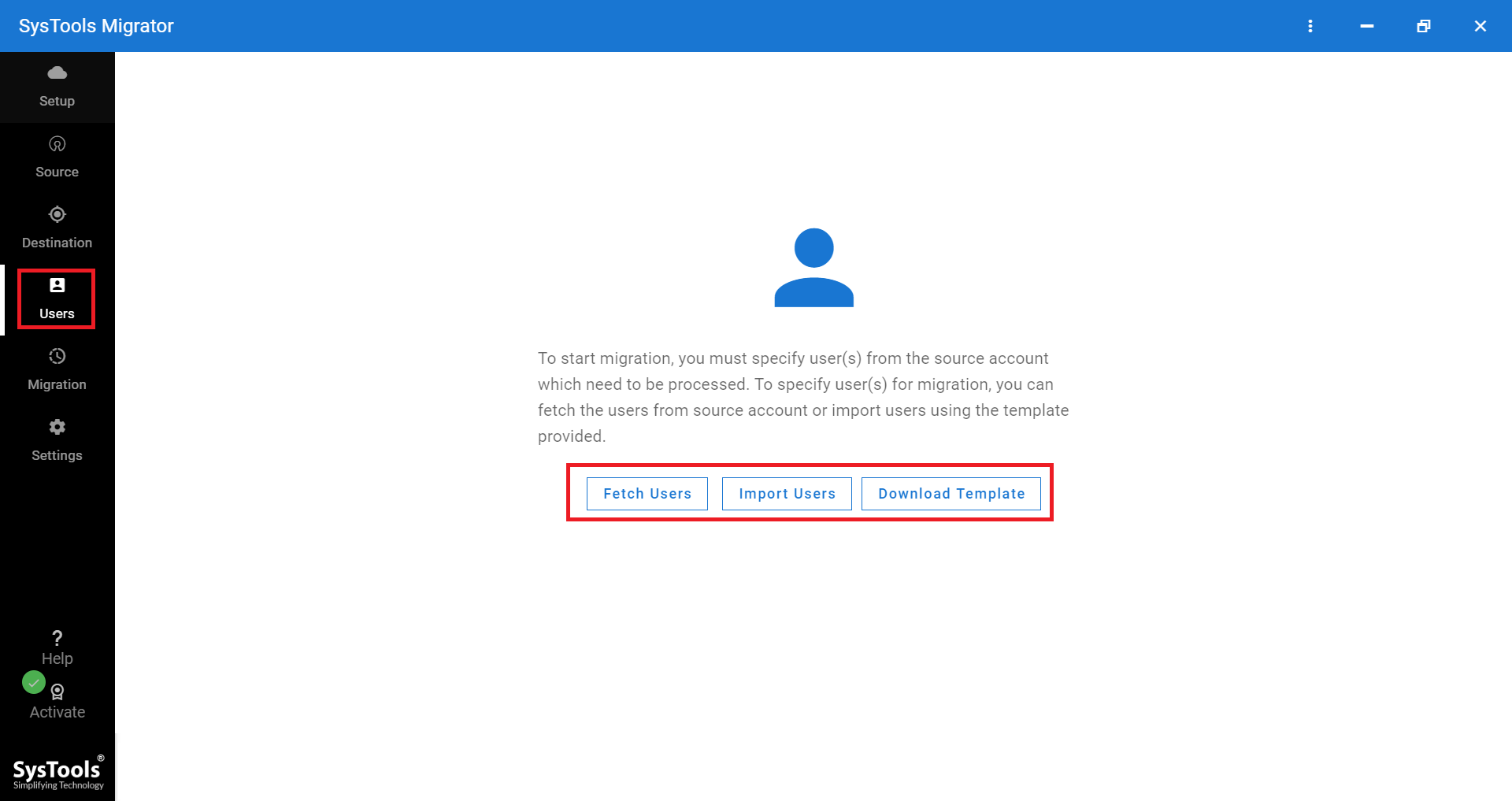 Step 7: Validate the users and click Start to start the migration process.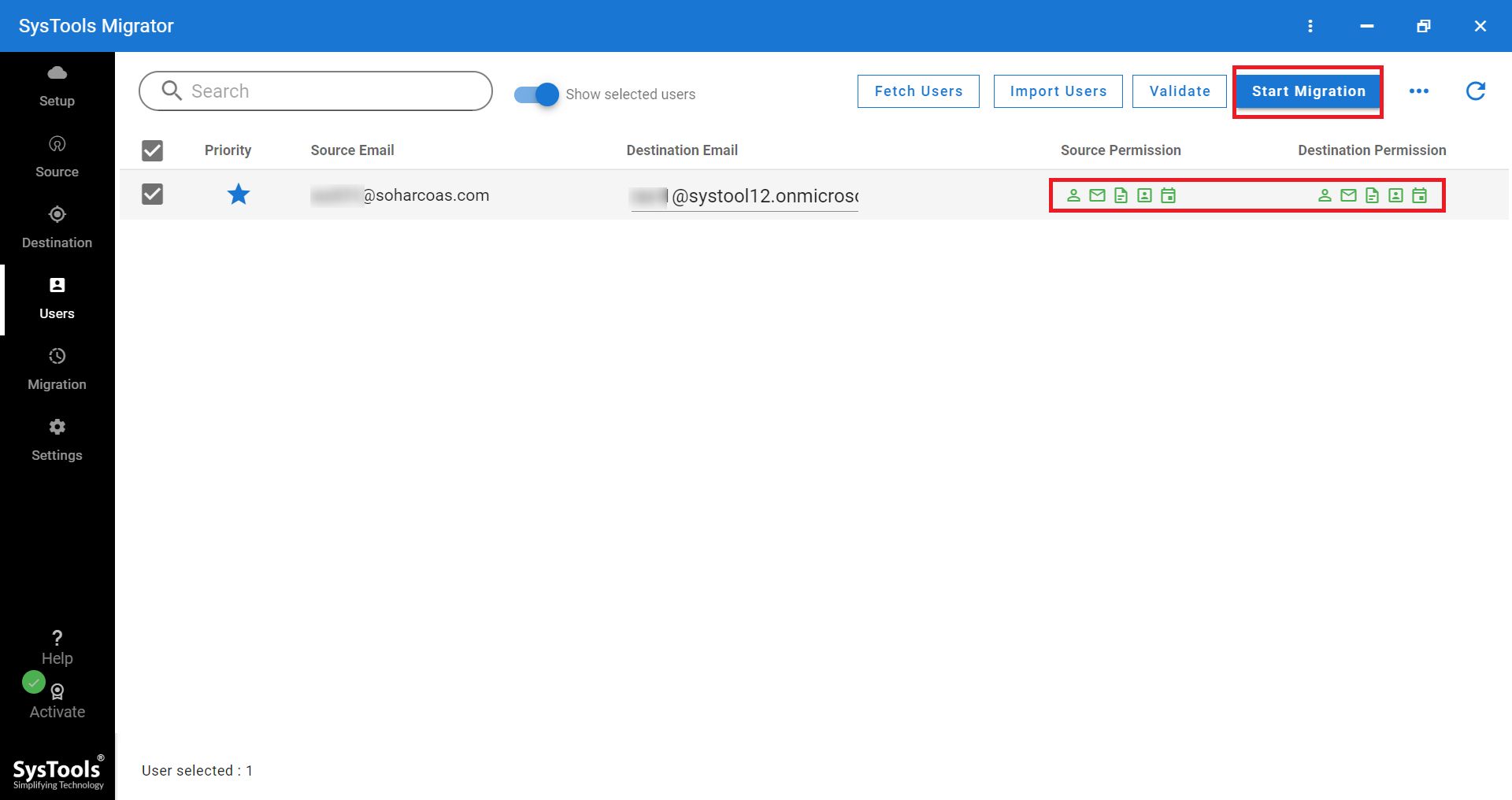 Step 8: Once the process completes successfully, download the migration report.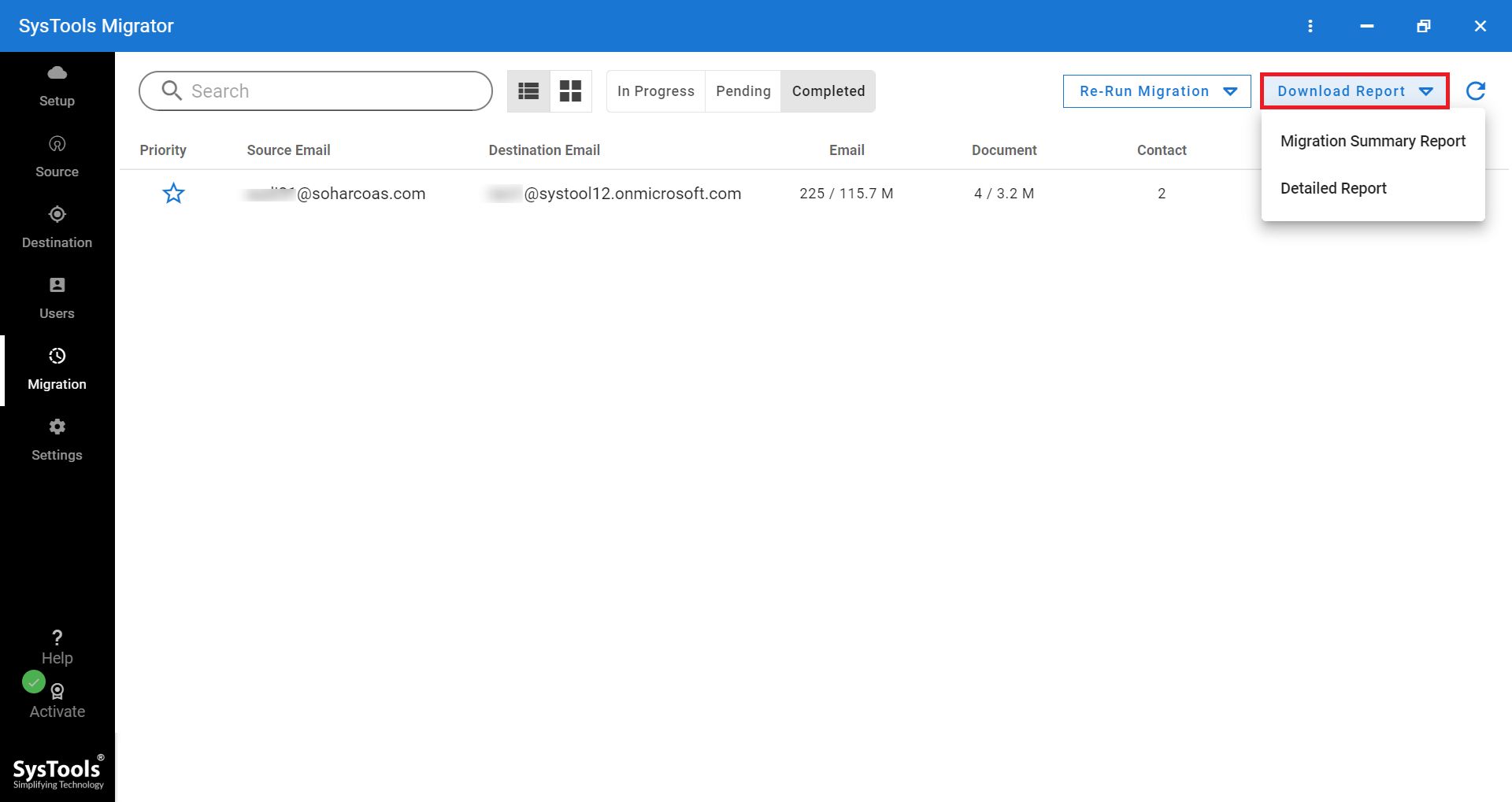 For detailed steps, you can refer here.
Final Words
Many users wish to switch from G Suite to Microsoft 365 to increase their scalability and productivity. However, they are unable to find a reliable method to do so. Therefore, in this article, we demonstrated both the official and automated methods to perform G Suite to Office 365 migration step by step. You can select and implement any method as per your preference. However, to save time, effort and ensure the successful migration, it is suggested to use the migration tool.
Some Frequently Asked Questions
Does this tool ensures data security while migrating?
Yes, this tool guarantees 100% data security. None of it will be manipulated after the migration is completed successfully.
Will there be duplicacy of data while performing Delta migration?
No, by using delta migration only the newly arrived data between the same drives will get migrated. There will be no duplicacy.