Best Cloud Hosting in India with Enterprise Grade Servers
In cloud hosting, a virtual server is used to host websites and applications. It is different from other traditional hosting as they host multiple sites on the same server. If you want to employ a cloud hosting server and want to what benefits you can get from it, then let us help you in answering these questions.
But before that, let us know in brief about cloud hosting and its working.
What is Cloud Hosting & How Does it Work?
Cloud Hosting – A hosting type that employs several servers combining their resources to host a website or application. Multiple servers mean more resources that ultimately lead to speedy performance.
How Cloud Hosting works – Cloud-based hosting uses virtualization technology to break a server into several virtual machines. These virtual machines are known as cloud servers and they have their own set of resources. All of them combine into a single network.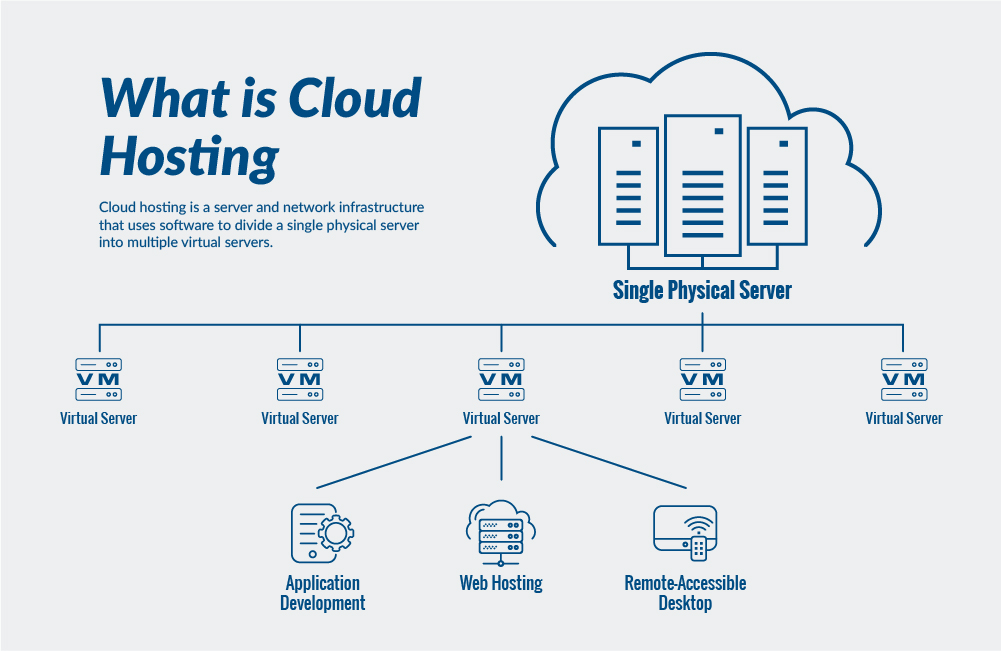 Benefits of Cloud Hosting India
If your website is hosted on a single server and that device goes down, your website will be lost. If, on the other hand, your site is shared among a number of interconnected systems that all store the same data. Then, even if one of them goes down, the others can make up the difference and keep the site up and running.
You have more system resources available to you than you'll ever require because of the core tech of your cloud hosting configuration. Even once they have been shared among all of the accounts on your cloud infrastructure, there is still a great deal of computational power available for this purpose. You can simply scale these resources, whether it's by making a short phone call to your hosting firm when you know you'll be getting a lot of traffic or by establishing the hosting structure to constantly increase resources depending on actual needs.
Cloud hosting is quite adaptable. More than before, you have the option of selecting a unique solution that is tailored to your specific requirements. You don't have to choose from a selection of pre-made packages that don't quite meet your needs. With a cloud setup, you may choose exactly the amount of space, design, processing power, operating system, and security you require.
If you still need more reasons to choose cloud server hosting, keep in mind that you may operate your own server from your smartphone if you choose to do so. What you require is a simple internet connection, not physical access to the data center servers.
Choose the Best Cloud Hosting Provider in India
As one of the leading cloud hosting providers in India, we have experience in empowering your business with an advanced cloud hosting solution.
Get faster, more scalable hosting servers packed with SSD storage drives. We have the cheapest cloud hosting plans in India to help you handle more traffic from India without hindering your site performance.

And these are just simple plans. If you want to customize your plan or simply configure the server, you can ring us at 0120-4578842 or talk to our experts. As a data center company, there are not many things that we cannot provide in terms of hosting.
Why Us?
When you are looking for the best cloud hosting provider in India, then why us? Simple, because we provide many benefits as a Make-in-India company than our counterparts.
Enterprise-grade cloud Infrastructure
All of the servers are situated in Asia's largest Tier-4 data center, which provides 99.995 percent uptime and excellent data availability. It allows you to benefit from your investment by facilitating Zone-8/9 security. With a straightforward control panel that requires no technical knowledge, you can make use of high-performance computing resources.
Scalable and cost-effective
We provide scalable cloud web hosting. You will have access to the required system resources as per your demand. It's easy to upgrade RAM, storage, and bandwidth. The servers are all available at affordable prices that not many can match. With our cloud hosting solution, you will save money while improving reliability and security.
Choose Your Control Panel
There is no need to familiarize yourself with the control panel since we provide the two topmost easy-to-use panels. Choose between cPanel & Plesk for an unmatched experience.
Managed Cloud hosting service
We take into account the whole scope of technical support as well as provide outstanding services, planning, and direction to keep your server and business functioning at peak efficiency. In addition, we make it easier to set up a server right away. As a result, users will not have to wait a day. Your requested server will be set up right away.
Technical Specifications
The technical specifications you get by buying cloud hosting in India from us are:
Enterprise-grade servers
Full managed cloud hosting
Complete cloud control
Dedicated support
SSD storage
995% Uptime
Easy Administration
Regular backup
Dedicated IP
No hidden charges
Answering Your Doubts
Q. What is managed cloud hosting?
A. With managed cloud hosting, you do not have to worry about maintenance, monitoring, and uptime. The cloud hosting service providers deal with these things for you so you can focus on your goal.
Q. How to Buy Cloud Hosting in India?
A. Its simple –
Contact our experts via email, or phone.
Discuss the server requirements.
Choose and pay for the best cloud hosting plan for you.
It's done.
Q. How to install an SSL certificate?
A. Ask any of our experts to guide you through this simple 2-minute process.
Q. Is Cloud hosting better than traditional shared hosting?
A. Cloud hosting in India is popular because it's better than shared hosting. It is able to handle more traffic, provides better resources, security and has a speedy performance.