Trouble-Free Methods to Migrate G Suite to G Suite
Are you troubling with the solution to migrate your G Suite email from one G Suite account to another? If yes then we have a solution to your problem. There are many organizations that face similar kinds of problems when they wish to migrate G Suite to G Suite. This could be because of several reasons, such as:
1. Migrate G Suite data of a leaving employee
2. Changing Organizational domain name
3. Transfer G Suite emails to another account
4. Share emails with another G Suite account of different domains
and much more.
But one thing never changes, which is doubt in the mind about the migration process. Many organizations scared of losing or leaking out their data during migration. Or they have doubts about the proper migration. So, to help you with that we have found two solutions:
1. Migrate G Suite emails Using Google Data Migration Service
2. Professional Tool to Transfer Complete G Suite Account Data.
How to Migrate Email between G Suite Account Using DMS
After realizing the troubles that G Suite users are facing, Google provided its own migration platform for its users. This platform is known as Data Migration Service (DMS). Using this migration tool user can transfer their G Suite (emails only) to another G Suite account.
However, there are some flaws in this method and its far from being the perfect method. If your requirement is to migrate few user's accounts then, this method is OK for anyone. But, if the important G Suite business accounts need to be migrated then it's better to prefer a professional approach.
Steps to Migrate G Suite to G Suite using DMS
1. Go to Google Admin Console and Go to "Data Migration" option
2. Choose "Email" radio button and Continue
3. Select the migration source as "G Suite" from drop-down
4. Now, choose the connection protocol as "Recommended" and in Role Account enter source G Suite Admin credentials and Connect.
5. Choose the migration start date (migrate data between that date range) and Select users button
6. Now, Go to (+) icon and choose multiple users option
7. Create a CSV file with destination id, source id, source password without any header.
8. After that upload the file by using the Attach File option.
9. Now, click Upload and Start Migration to migrate G Suite to G Suite.
10. You can see the progress report in the Admin Console.
Limitations of Data Migration Service
1. Doesn't allow to migrate emails, contacts, calendars at same time
2. Require Exchange Server to migrate contacts and calendars
3. No support to migrate Google Drive data between G Suite accounts.
4. Migration of One use account data can take a hours or day (slow process)
5. Doesn't generate a report that can verify successful or unsuccessful migration
6. Migration of G Suite account to a different domain is quite tricky
7. Need to manually enter each user id and password for migration
8. No priority option to migrate certain users before others
9. No Error handling functionality in case of power/internet connection loss
10. Only one way to map user accounts while migrating G Suite to G Suite.
Advantages of Data Migration Service
The only advantage of Data migration service is that its free.
Professional Solution to Migrate G Suite Accounts / Domains
The professional solution for fast and easy migration is by using a professional tool like the G Suite migration tool. This software help you in easy and fast migration of G Suite accounts. All the limitations that use may face using DMS, these professional tool overcomes all of them. Users can migrate emails, contacts, calendars, documents all at the same time. Also, this tool provides multiple filter options for the ease of the migration.
Try the free demo version of the G Suite to G Suite Migration tool which provides you 2 user licenses for free.
Advantages Of G Suite Migration Tool
1. Easily migrate multiple G Suite user accounts
2. Transfer emails, contacts, calendars and documents simultaneously
3. Migration is possible only using Admin credentials (high security)
4. Category selection for emails, contacts and other applications
5. Date Filter for migration of G Suite data of certain date range
6. Multiple source and destination Id user mapping option
7. Priority filter to migrate certain users account before others
8. Generates complete detailed migration report
9. Error handling functionality for protection against power loss or internet connection loss
10. Incremental migration to transfer only new or updated data between G Suite accounts
Steps to Migrate G Suite to G Suite Account / Domain
1. First, Download and Install G Suite Migration Tool
Free Download
Tool Purchase
Now
2. Next, Select the Souce and Destination Platform as "G Suite" from List.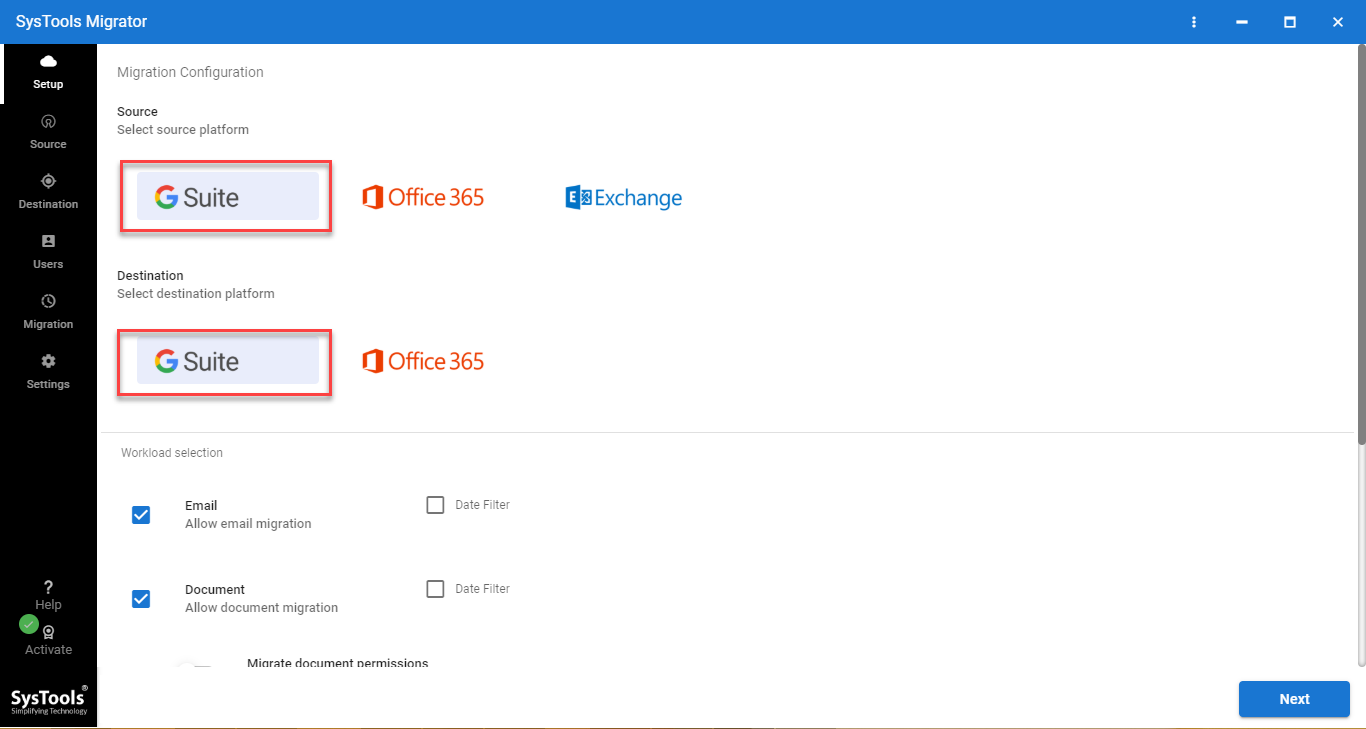 3. Select the Category of G Suite data to migrate from the Workload section and apply the Date-range filter for selective data migration.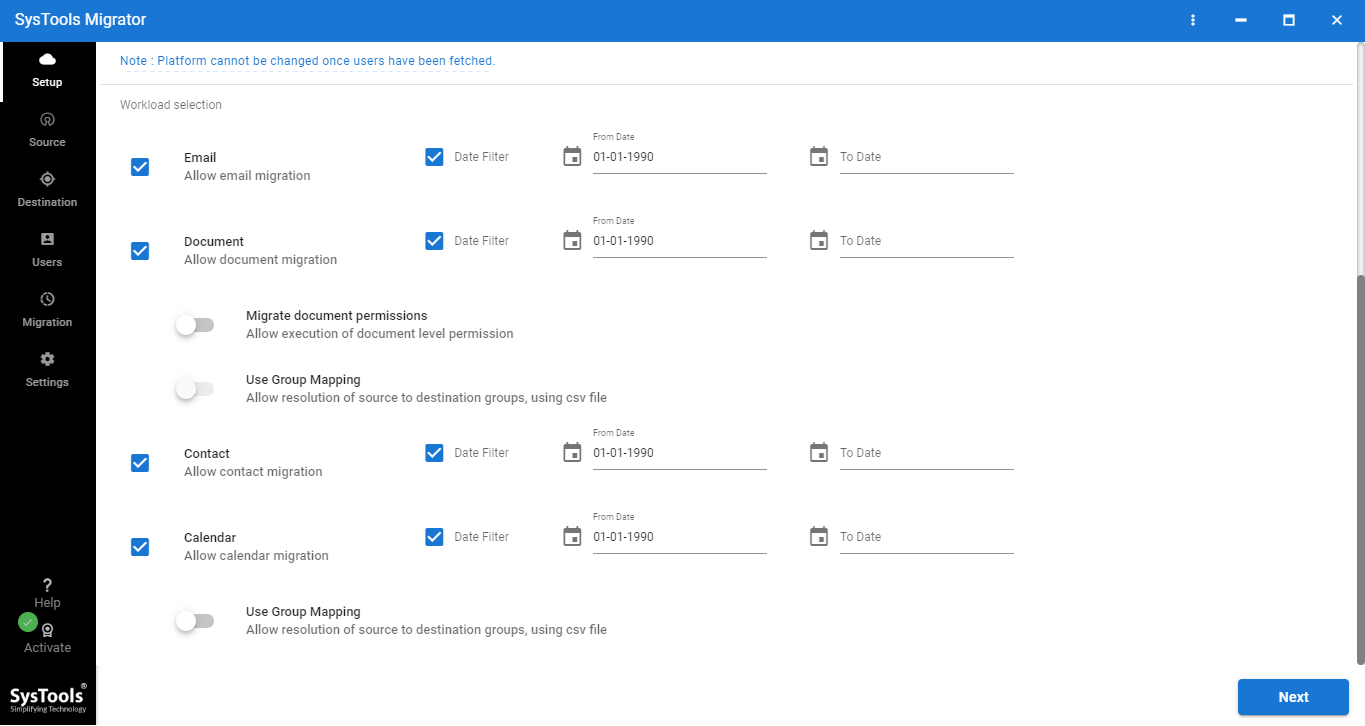 4. Now, enter the Source Admin Id, and Application id and validate both.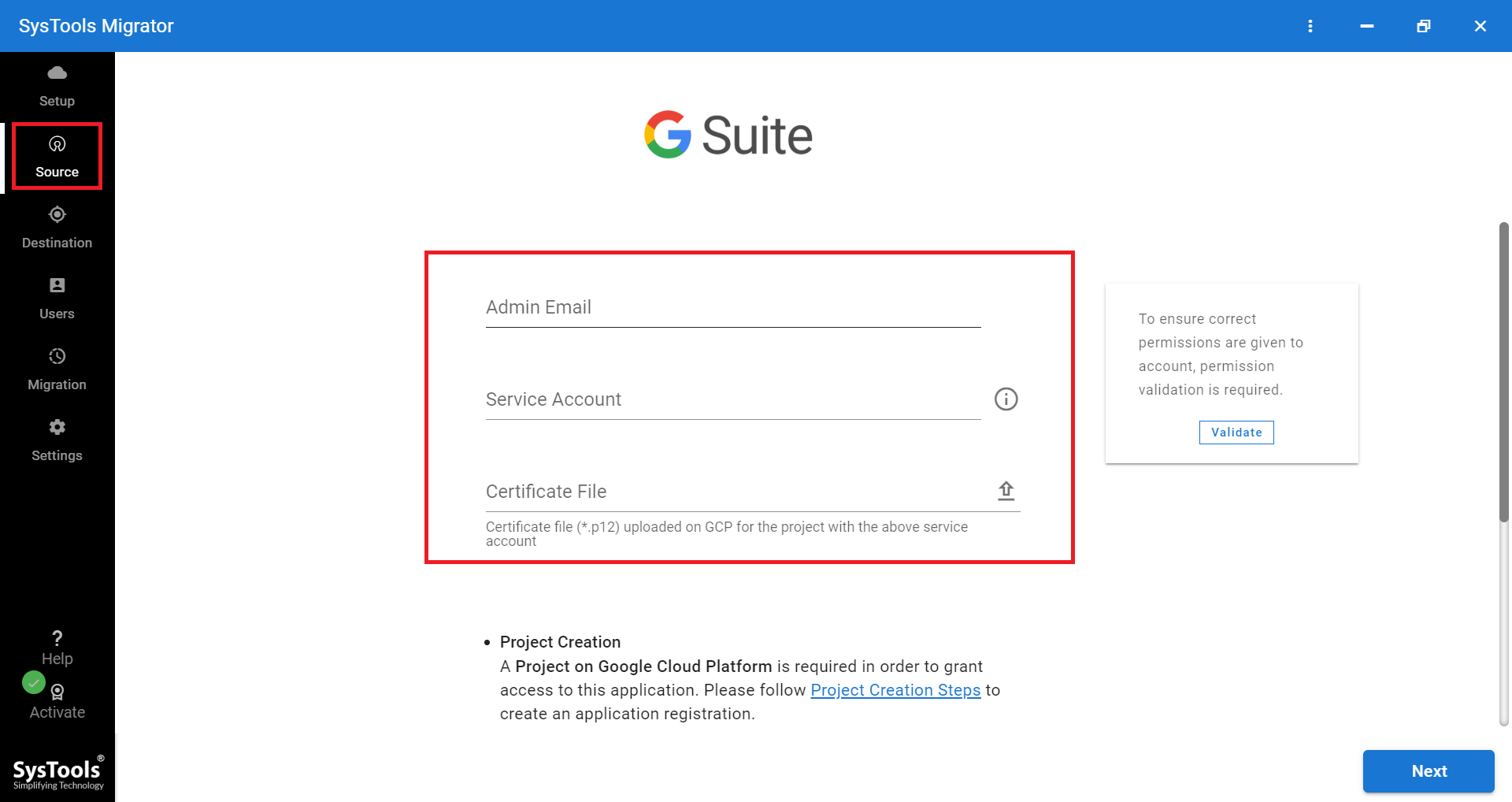 5. Now, for Destination also, enter Admin Id, application id & validate both.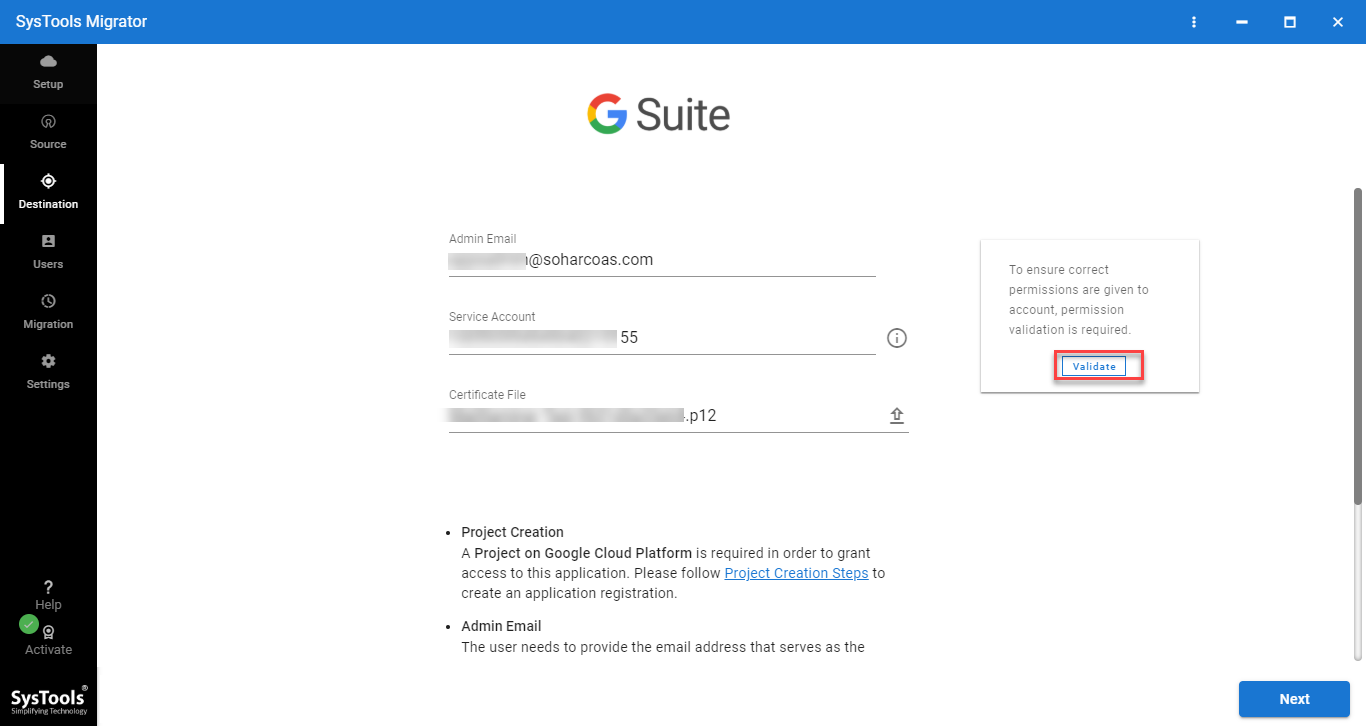 6. Select the Source and Destination user id mapping option.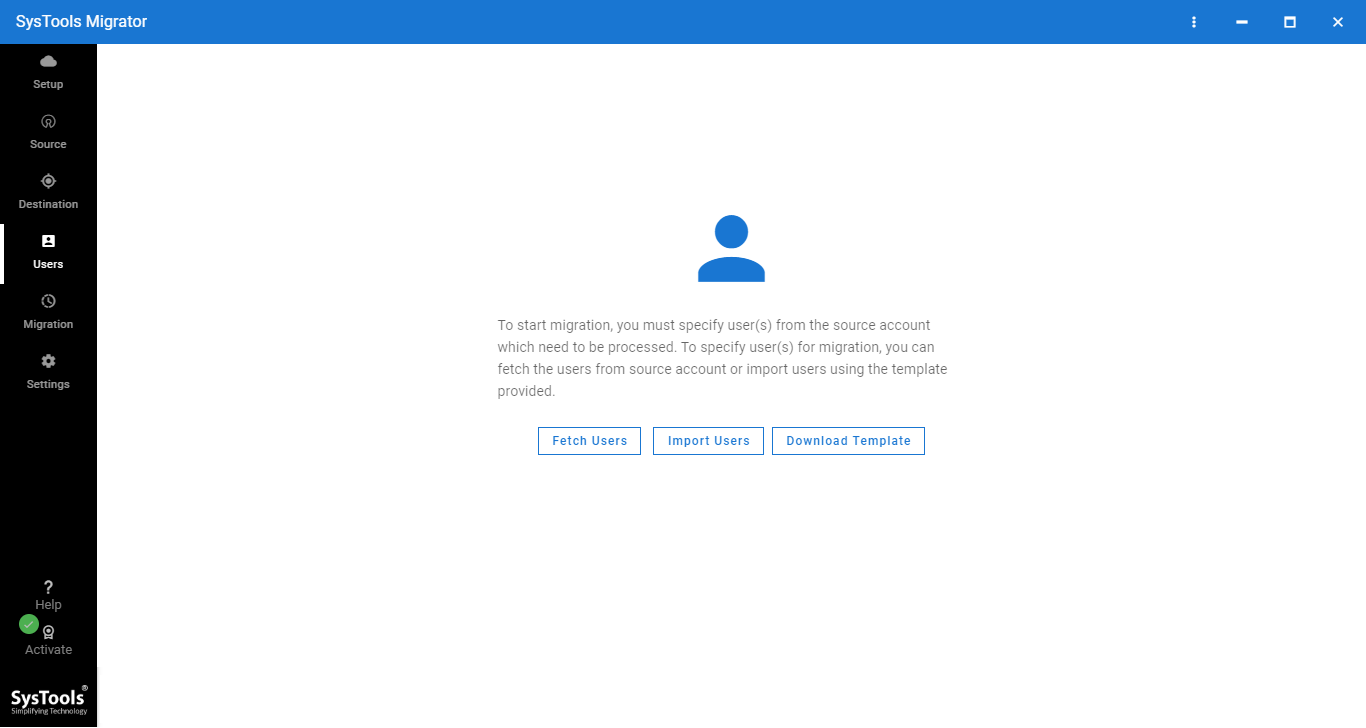 7. Apply priority to migrate selected user first before others and click on the Validate button.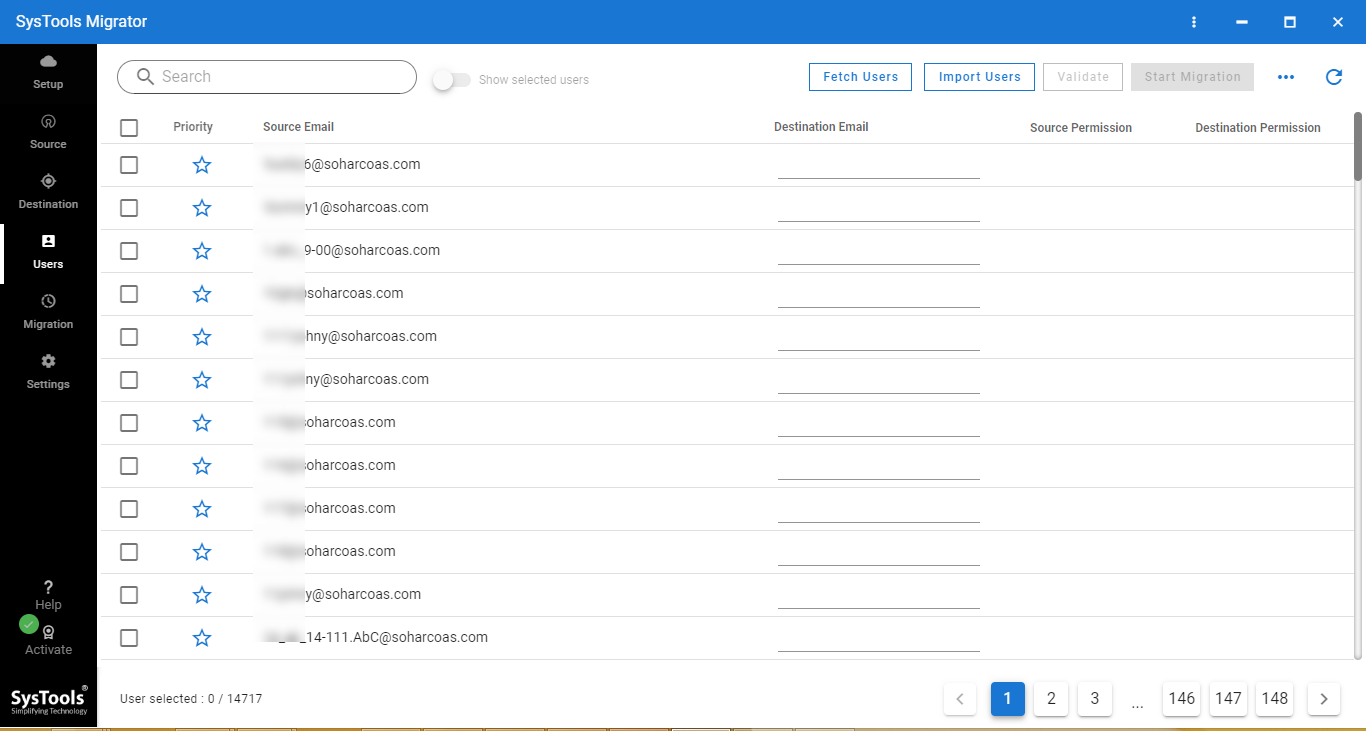 8. After validation, click on the Start button to begin G Suite to G Suite Migration.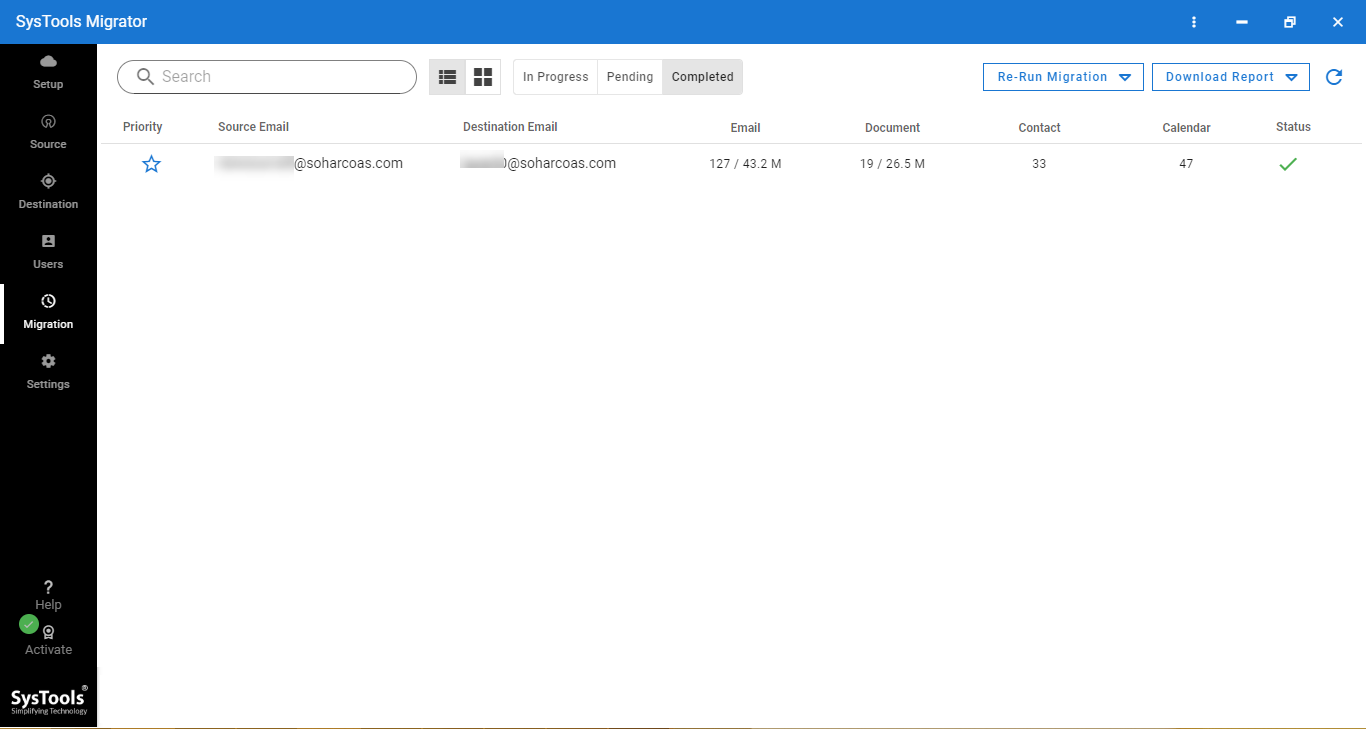 9. After completion of migration, save the Report to the computer for validation.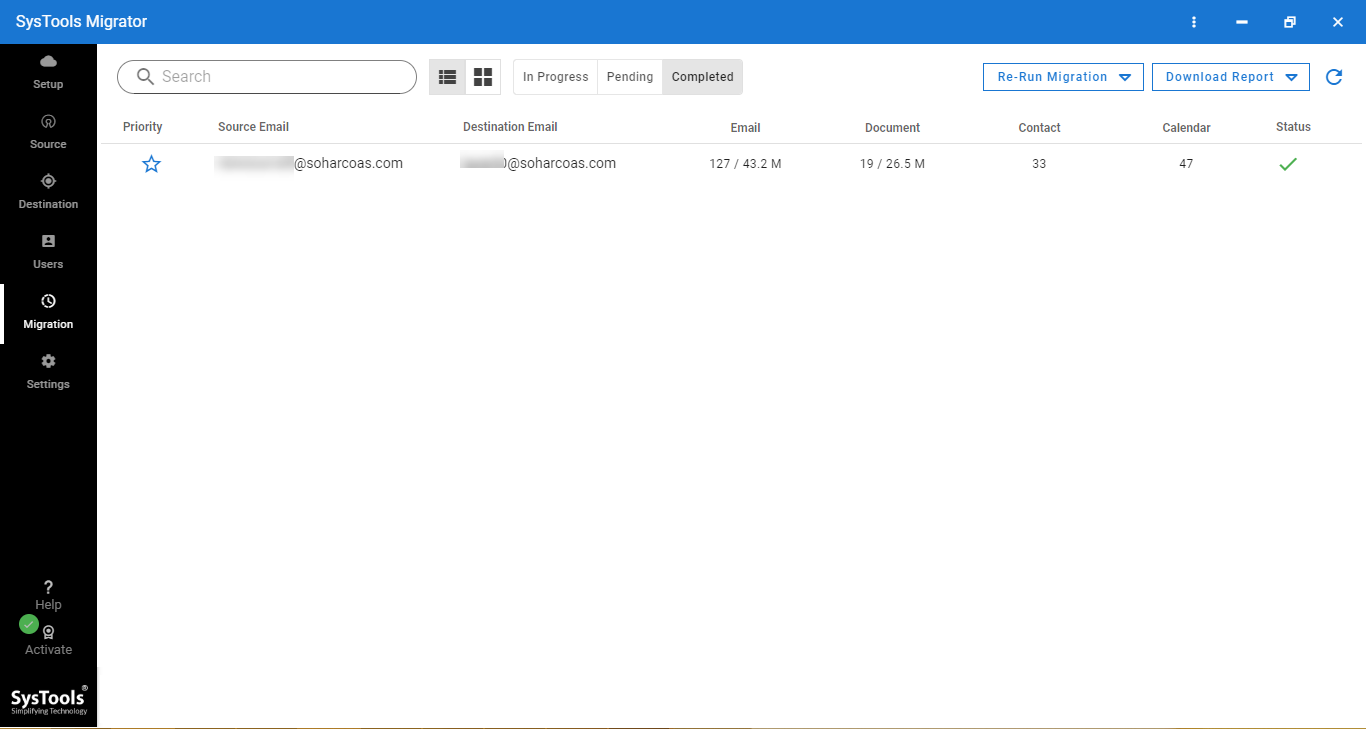 For Detailed StepsView: Migration Guide
Wrapping Up
In this guide, we have explained two methods to migrate G Suite account data to another account. The first method is by using Google DMS which is suitable for the migration of a few user accounts. Whereas, professional software like the G Suite migration tool is the perfect solution to migrate G Suite to G Suite with ease. So, choose the method which suits you best before starting the migration.