Simple & Easy Google Takeout to Outlook PST Conversion
Are you also searching for a solution to export data from Google Takeout to Outlook platform? Then you are at the right destination point. This is the tech post where you will get the best answer for your problem.
Issue – Google Takeout extract Gmail data in MBOX format. But Outlook only supports PST format files. This is why a user has to convert Google Takeout data from MBOX to Outlook compatible PST format.
Solution – Download Gmail Account data into MBOX format via Google Takeout inbuilt tool. Then convert it into PST format using the Professional MBOX converter tool.
Compatibility issue between Google Takeout & Outlook
Google Takeout is simply a free service that creates an archive of Google accounts i.e. Gmail data. However, it does not offer a way to save Google Mail to PST. As Outlook has become the most popular email software, most users want to access their email data using the Outlook application.
Outlook application is compatible with PST file format only. So, to access the Google Takeout emails archive file in the Outlook platform, users need to export the Google Takeout mailbox to PST format.
So, in the upcoming part, we'll go through the process of importing the mailbox of Google Takeout into Outlook.
What do you understand by Google Takeaway?
Google Takeout, sometimes known as Google Takeaway, is a backup service and initiative developed by the Google Data Liberation Front. This tool provides a feature to Google users to download a ZIP file containing a backup of their Google account. After selecting each service before export each one has its own folder in the zip file.
Using this tool users can select multiple services and can export the entire data in its original form. Google users can make an updated backup of Gmail data including emails, contacts, calendars, etc.
Why Transfer Google Takeout to Outlook?
Users often ask this query but there is no direct method provided by Google to do so. Though you can easily access the calendar and contacts from Google Takeout into Outlook. As they are in VCF and ICS format. But no version of MS Outlook supports MBOX format. That's why there is no manual method is available to do the same.
But don't worry we have a trusted and reliable solution i.e. MBOX converter tool is available. It can export multiple Google mailboxes including customized folders into PST format.
Most importantly, it doesn't require Outlook installation on the system to accomplish the conversion task. It makes sure to retain all the properties and originality of the data items.
Tip – If you already have a backup of Google Takeout then simply move to Step 2 to migrate Google Takeout to Outlook account.
Step 1. Download Google Services via Google Takeout
Google Takeout is a useful utility to make a regular backup of Gmail account. Using these steps you can easily take Google Takeout backup. Follow outlined below steps:
First login into Google Takeout by entering valid credentials.
Now select the data services you want to backup to your machine.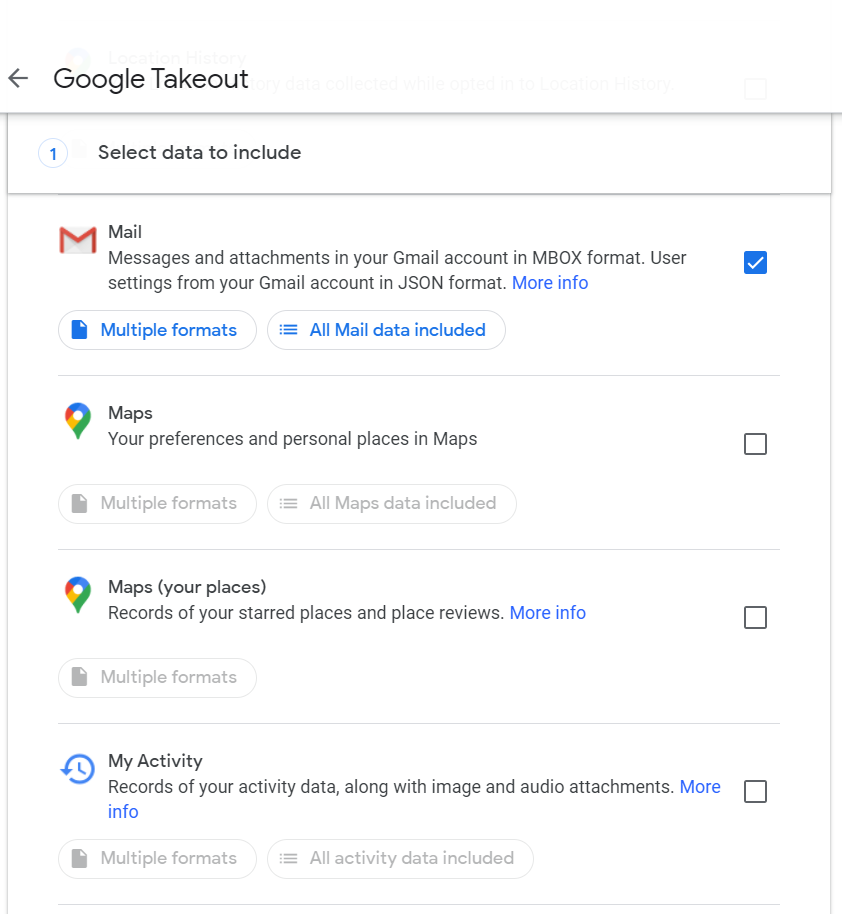 Choose the Google services backup as per your requirement.
Create Archive by clicking on the Create Export button. It starts creating archive files of the selected data.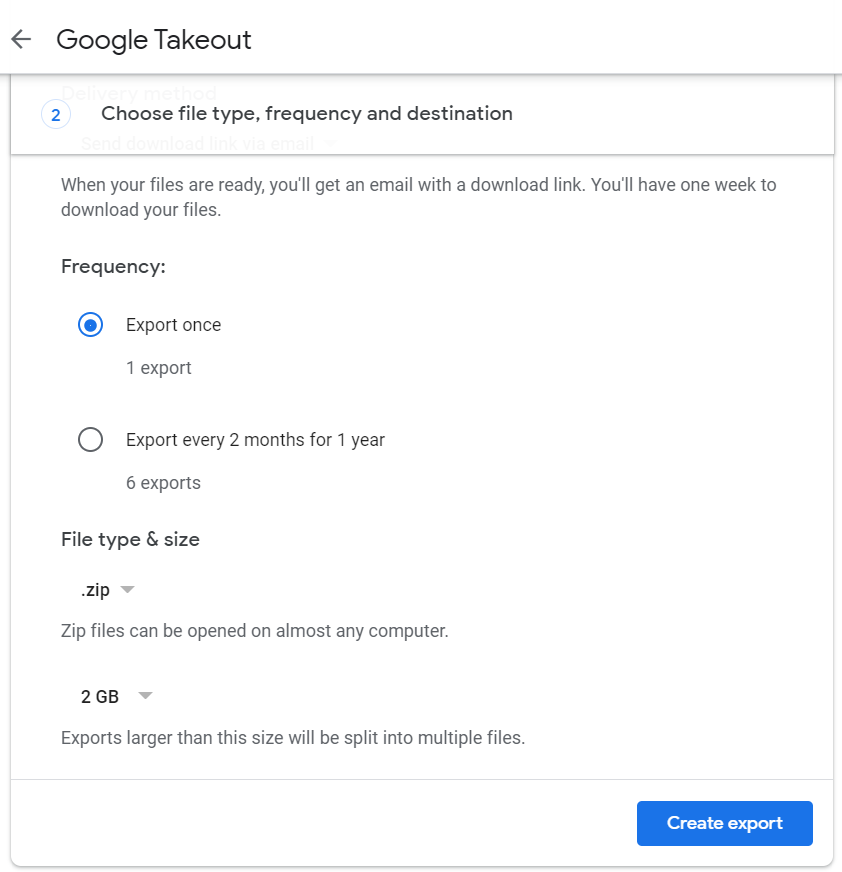 Timing of archiving process depends on the amount of data you have selected to download. It can vary from hours to even days according to data size.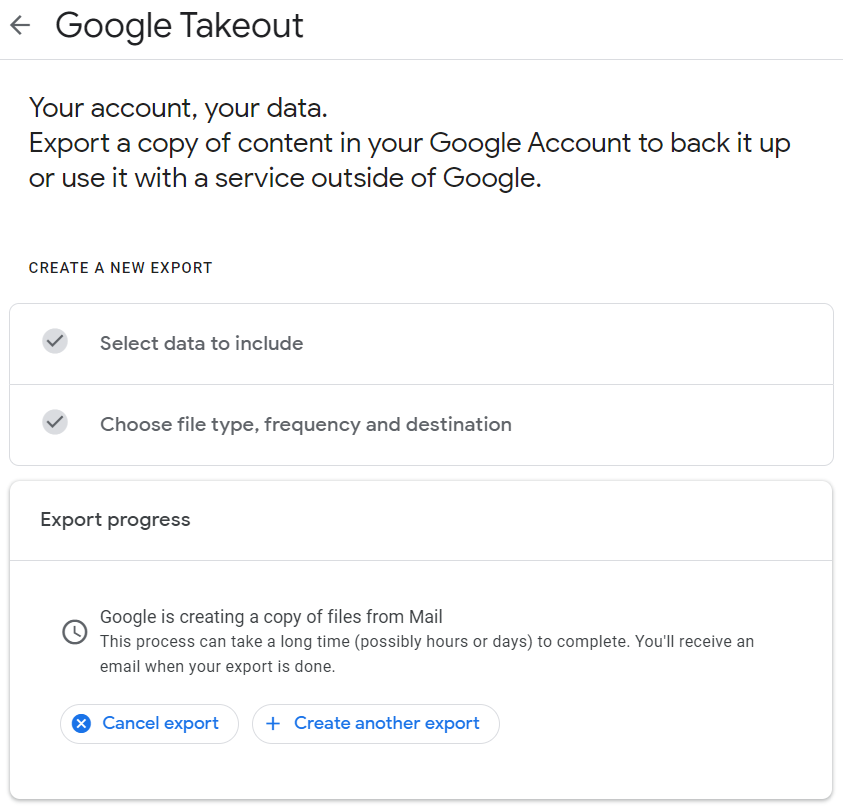 Wait for the email. Once you receive it, click on the Download your files button.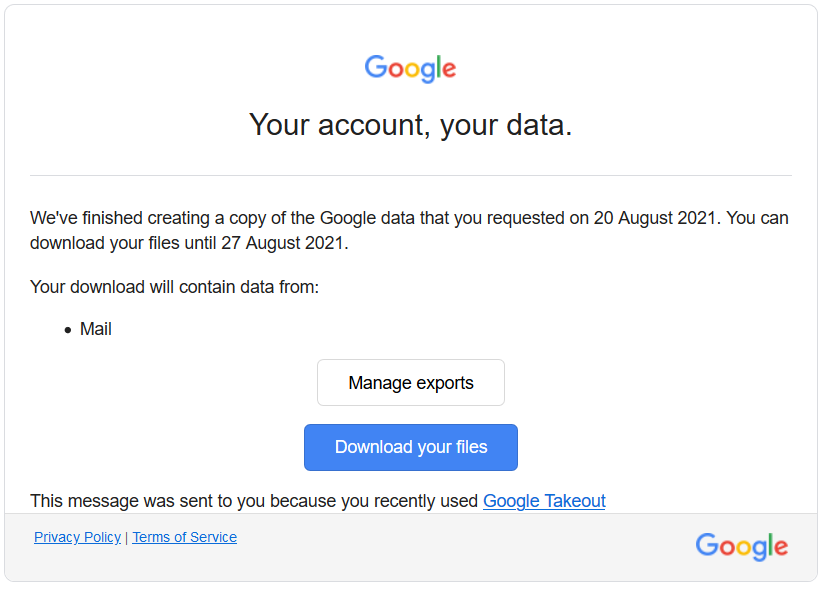 A webpage will open. If the download does not start automatically, click on the download option and save the Gmail emails. Simply refer to the chosen location to check the data.
Once the file is downloaded. Simply extract the Zip file and all the Gmail emails would be saved in MBOX format.
Now we have to convert this Mailbox file into PST format to import Google Takeout to Microsoft Outlook platform.
Step 2. Convert MBOX file of Google Takeout to PST format
You have the Google-generated MBOX file with you. So, all you need to do is to convert this Google Takeout file into PST format. MS Outlook supports this file, so it's easy to import it in Outlook.
We will use the tried and tested MBOX to PST Converter solution to achieve the conversion. Since it is a trusted software, there will be no issues during the conversion process and you will get healthy Unicode PST files smoothly.
Run the conversion tool on your system.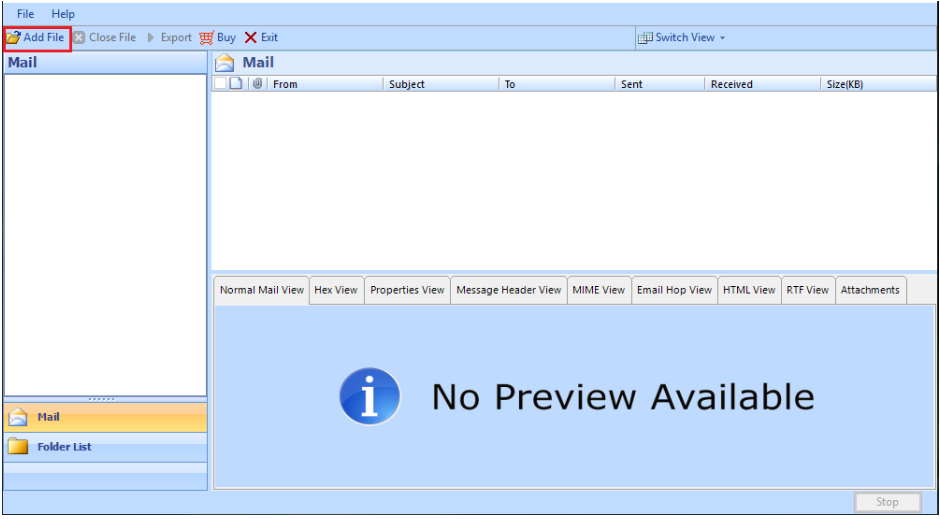 Now navigate to the Google takeout MBOX file. After making a selection click on the Next button.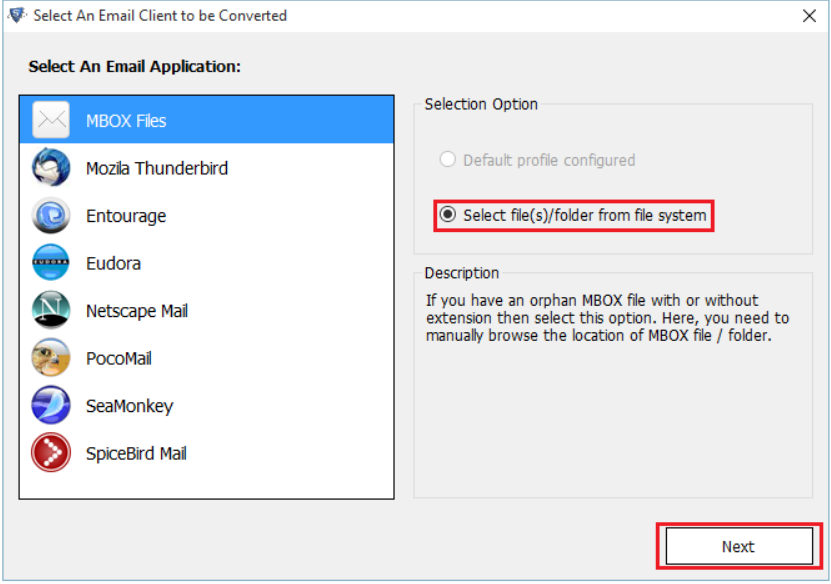 Software panel will provide various preview modes showcasing their attributes.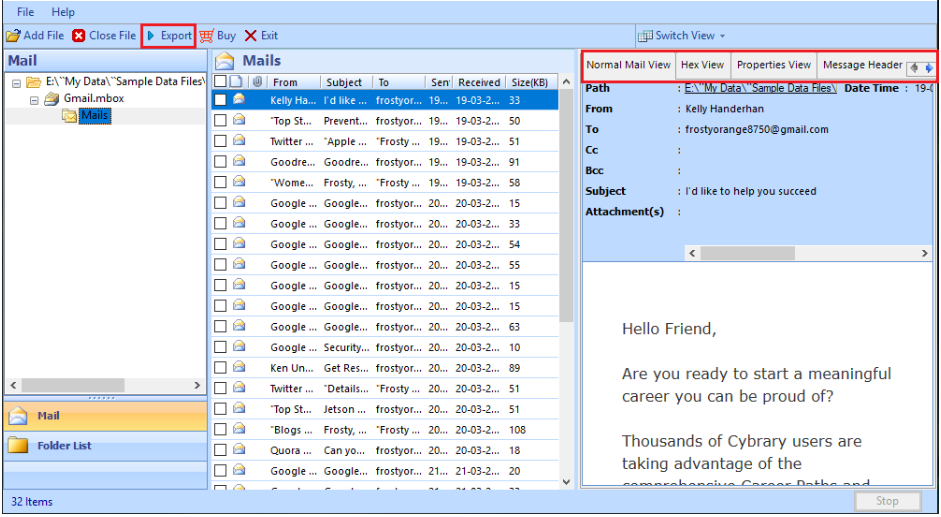 Choose the PST format as your chosen file type. Provide the destination location and click on the Export button.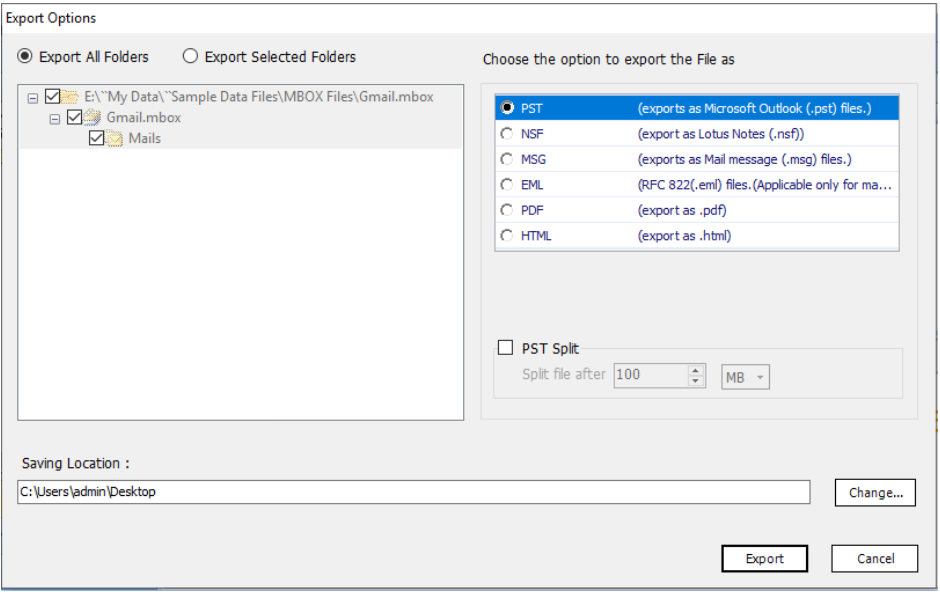 Note – This software is also available for the Mac Operating System too with the same features and functions. So you won't face any issues even if you have a Mac OS system.
Once the conversion process gets complete, simply import the generated PST file in any Outlook version. Just open Outlook >> go to File>> Open & Export >> Import/Export section and import the Google Takeout PST file.
Conclusion
The unavailability of direct methods to access Google Takeout emails in the Outlook platform motivated us to create this tech post. Any user can easily access Google Takeout to Outlook by following the steps in this article. Try the Demo version to check the functionality of the tool.