How Do I Take Backup of Gmail Emails? – Google Takeout Alternative
Are you also facing trouble with Google Takeout to take backup of your Gmail emails? If yes then we got you covered. There are many Google Apps users who face difficulty while taking Gmail account backup using Google Takeout.
Yeah, It's a free method provided by Google to help its users to take its account backup but there are many flaws in this method. In this blog, we will cover the various problems faced by Gmail account users while saving their account data. We will provide the solution for all these problems and tell you how to take a backup of Gmail emails in multiple file formats. Before that for more clarity read the below user query:
"Hello, My name is Ivy Beatrix, Recently I was trying to backup my Gmail account data using Google takeout but I am facing few problems while doing it. Firstly, Google took 5 hours to create an archive of my Gmail account data. Second, when I download the archive, due to some problem download gets failed (maybe because of internet connection or maybe not). The biggest problem is after few attempts to download archive I got this message "sorry you have reached the daily limits of downloads". What should I do? Do I need to create an archive again? Or there is another better solution to take a backup of Gmail emails? Help me please I am badly stuck"
Yes, this problem is faced by everybody you had tried Google takeout and failed. Sometimes, due to weak internet connection or connection loss user faces this trouble. And after downloading Gmail archive Google shows that you have reached a daily download limit. Sadly, in this case, you need to create your Gmail account archive again. And there is a chance you face a similar problem again.
So all those users who don't wish to use Google takeout, we have another solution for you. It may be heard tough but it's quite easy. The method is called IMAP configuration. So, let's see how it works:
How to Take Backup of Gmail Emails Using IMAP Configuration
This is a simple method but requires to have Outlook installed on the system where you want to take backup. In this method, you need to configure your Gmail account in Outlook and then you can take a backup of Gmail emails in PST, OST, BAK file formats.
Advantages IMAP Configuration Method
1. Easy and Free method to take backup of Gmail emails
2. Backup Gmail account data in PST file, OST formats
3. Easily sync Gmail in a desktop-based email client
Disadvantages Configuration IMAP Method
1. Gmail account takes too much to configure in Outlook
2. Requires Outlook Installed on the PC you are taking backup
3. If mail deleted from Outlook configured Gmail account then deleted from main Gmail account also.
Steps to Use IMAP Configuration to Take Gmail backup
1. First, "Open MS Outlook" on your computer
2. Now, Go to "File" option in the top-left corner of Outlook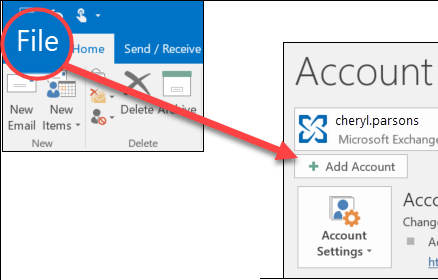 3. Select "Add Account" option from on the screen
4. Fill up all the details of your Gmail account >> Finish and let Gmail account configure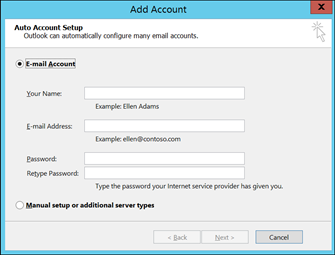 Note: If in case configuration got failed then you need to perform few steps
Step 1: Go to your Gmail account and Go to settings option
Step 2: Choose the "Forwarding and POP/IMAP option" >> IMAP Access: Choose Enable IMAP
Step 3: Click on Save Changes
Step 4: Again perform the IMAP Configuration
You have successfully configured your Gmail account in Outlook. Now, If you want to take the backup of Gmail emails then you can export your account data to PST format
Steps to Backup Gmail emails to PST from Outlook
1. Go to "File" and click on "Open" option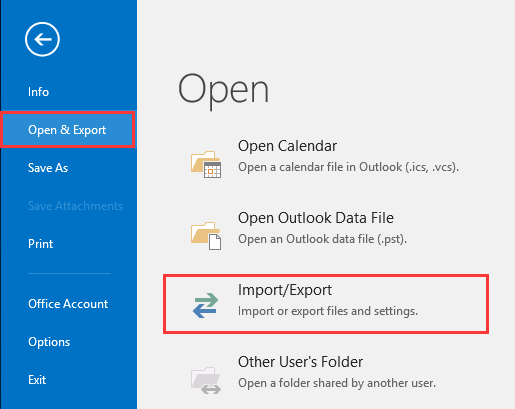 2. Now, choose "export to a file" option from the list and click Next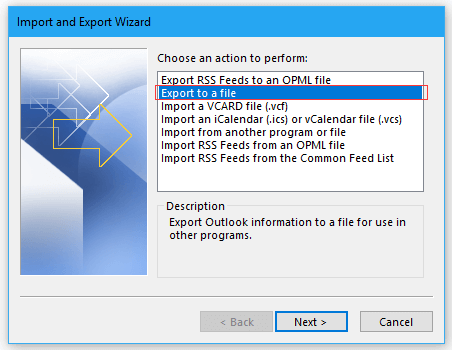 3. From export to a file window, choose "Outlook data file (.pst)" option >>Next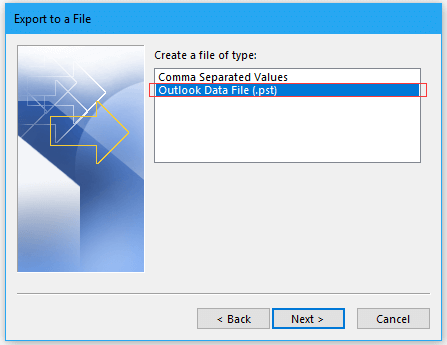 4. Choose the Gmail Id and its mailboxes >> Next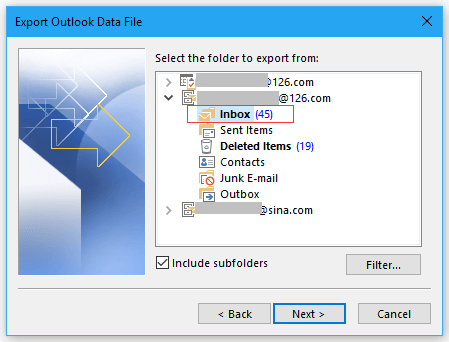 5. Browse the destination location for the backup and click on the Finish button.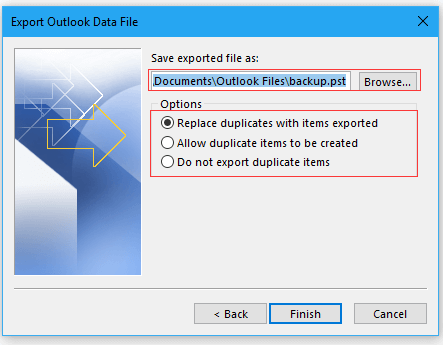 Note: Outlook will take some time to backup Gmail account and after finishing it will show you the completion method.
If you want to backup your Gmail emails in OST format then Go to the default location of your Outlook "C:\Users\ \AppData\Local\MicrosoftOutlook" you will get your OST file there.
James Robby asks on Quora – "Hi! Is there any way I can download my Gmail emails to file formats other than MBOX. I want to take backup of my Gmail emails and use it in my Outlook email client. I know we can sync our Gmail account with Outlook but I prefer not to do that. I have seen people faced few problems doing that like by mistake deletion of emails. So please give me a solution which doesn't include the Gmail Sync method. Thanks for Help in Advance"
Yes, there are multiple factors that affect the IMAP configuration method, like it requires Outlook installation, synchronize time is high, and chances of data loss.
Professional Solution to Take Backup of Gmail emails
The best possible method for a safe and fast backup process is to use professionals recommended too like Gmail Backup Software. It is an all-in-one backup tool that can take backup of your entire Gmail account data such as emails, contacts, calendars, documents. The backup file format generated by this backup tool is PST, EML, MSG & MBOX format. Also, there is no requirement for the installation of additional software to take the backup of Gmail emails.
Free Download
Gmail Backup Purchase
Now
Features of Backup Tools
Allows to take backup in multiple file formats
Save your complete Gmail account data
Fast and accurate migration procedure
Multiple filters to backup only selective emails or data
Download calendars and contacts in ICS and VCF format respectively
Incremental backup to save only new or update data
Take backup of Gmail emails at the desired destination location
Backup attachments associated with each Gmail email
Steps to Backup Gmail Account Data using Professional Solution
1. Firstly, Download the tool setup and launch it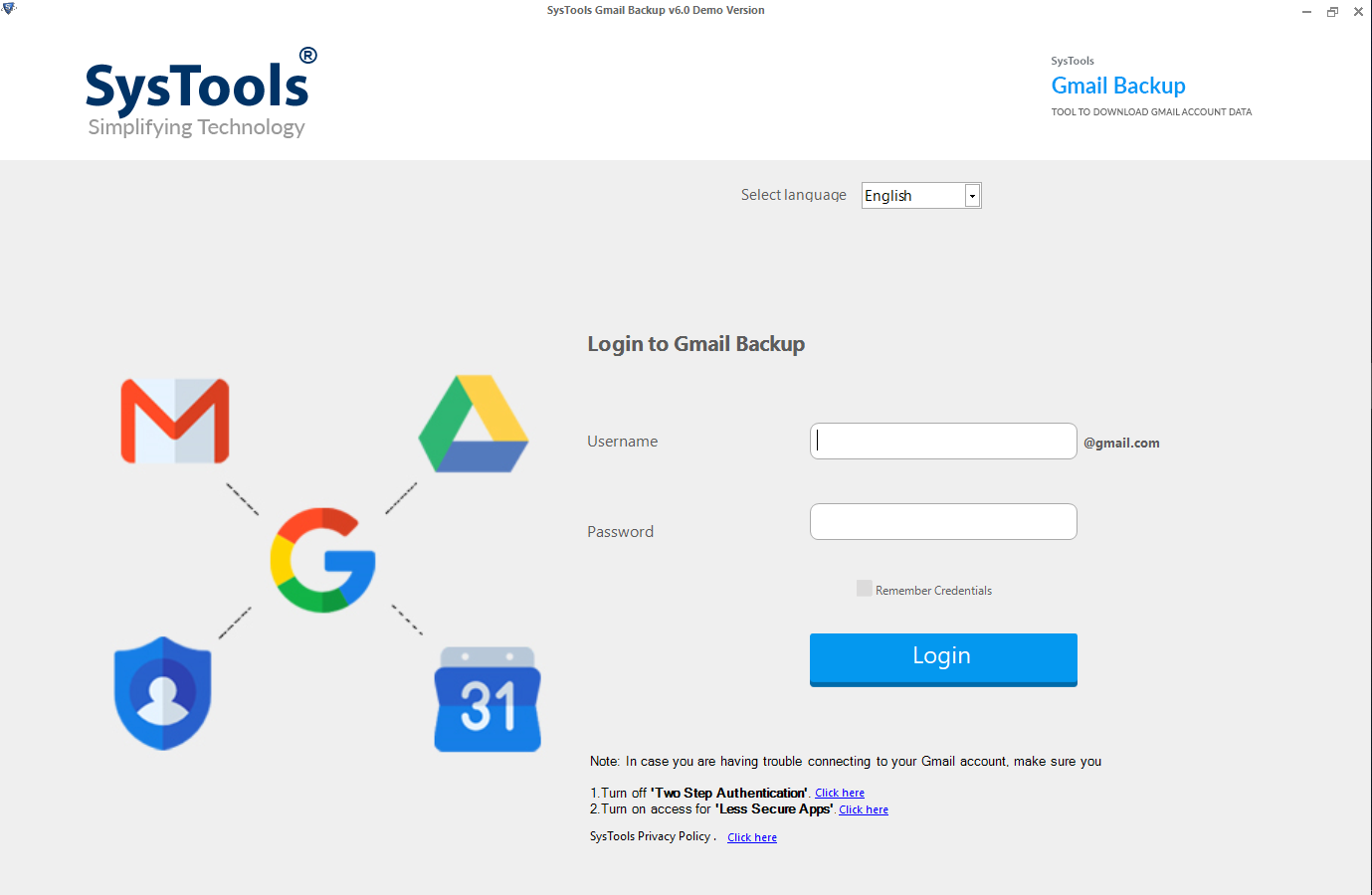 2. After the enter your Gmail account id and password for login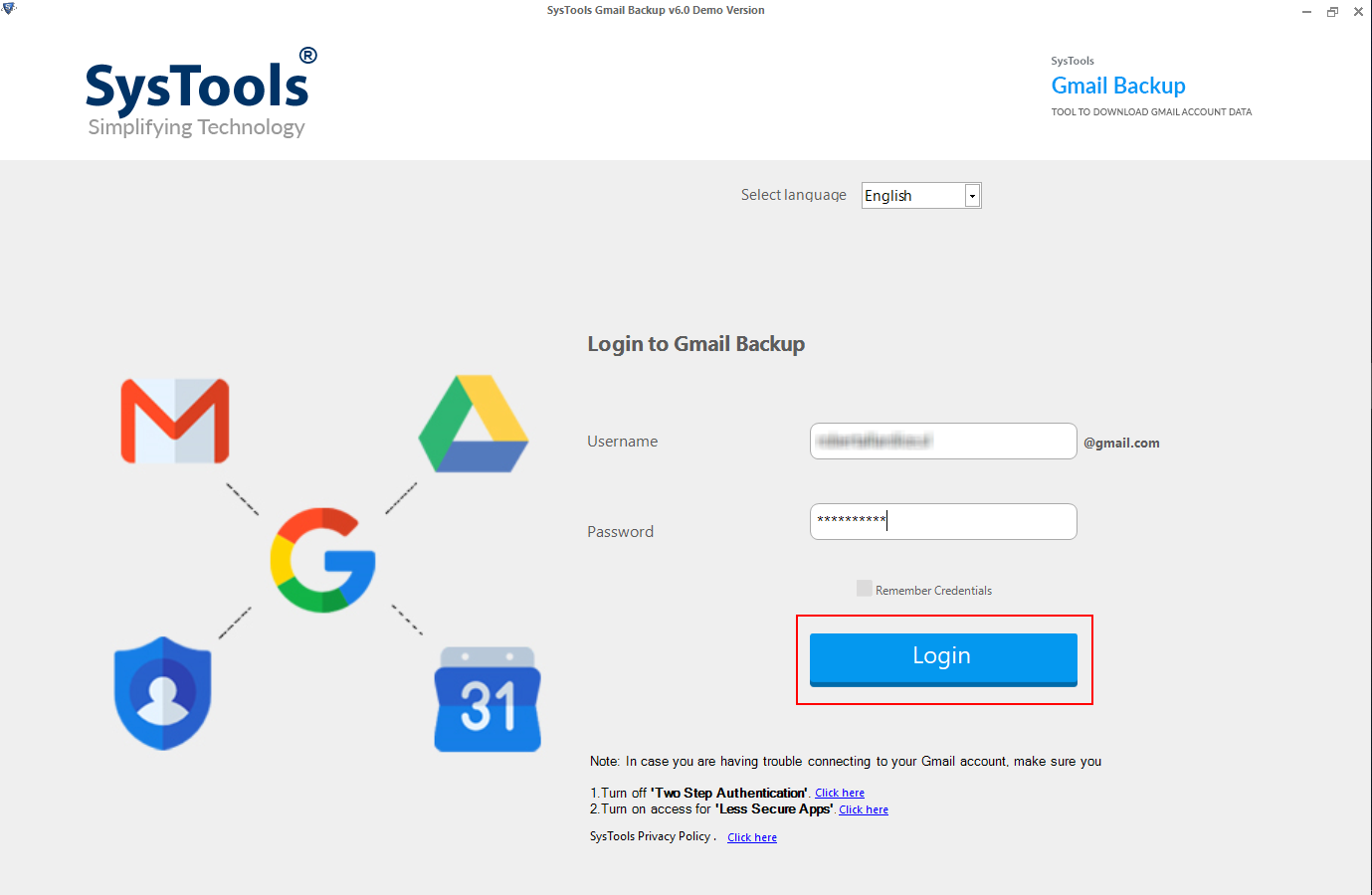 3. Now, select the Google Apps you want to backup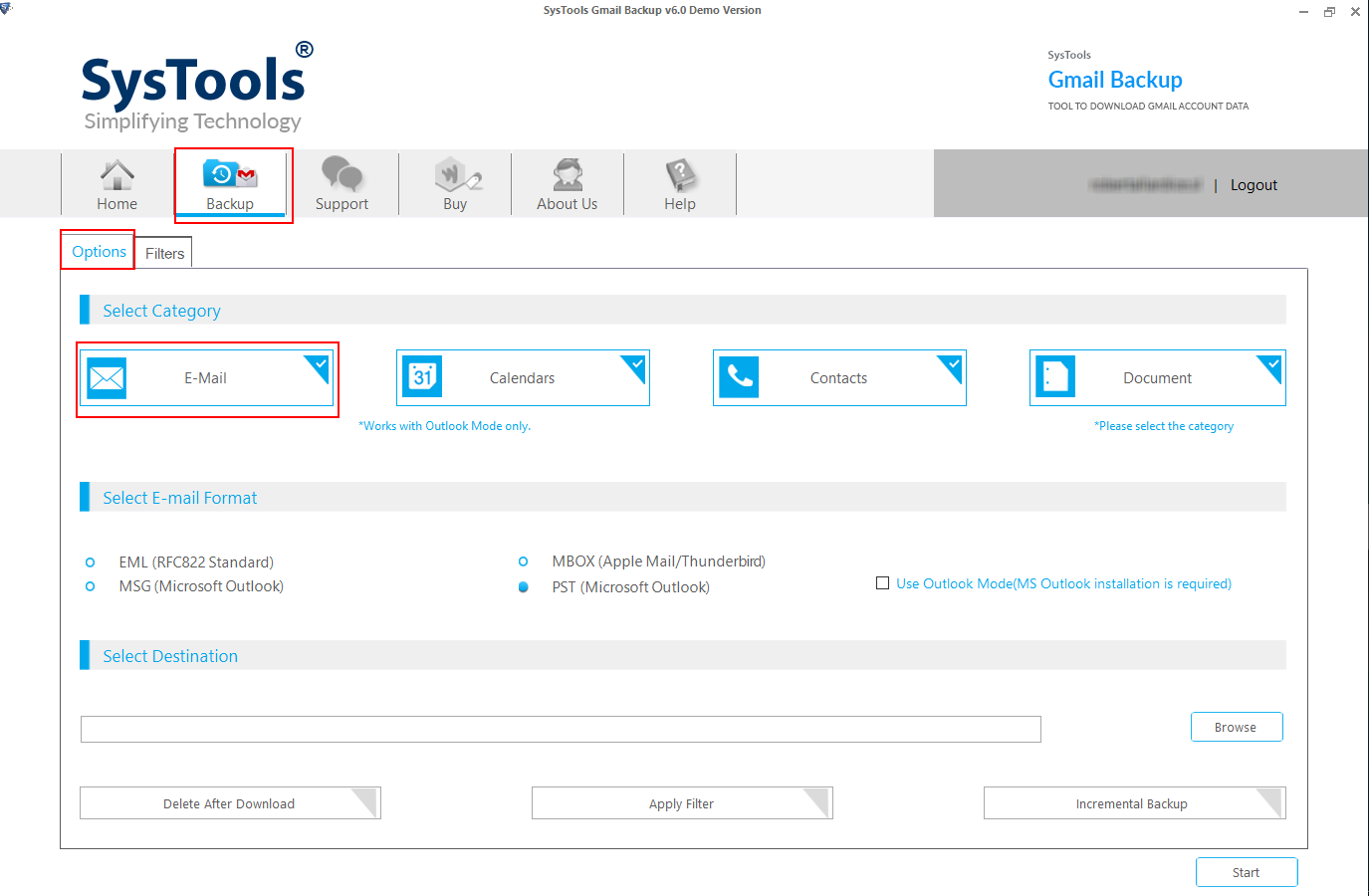 4. Choose the email format for backup such as PST, EML, MSG, MBOX


5. Browse the desired destination location for the backup and Apply Filters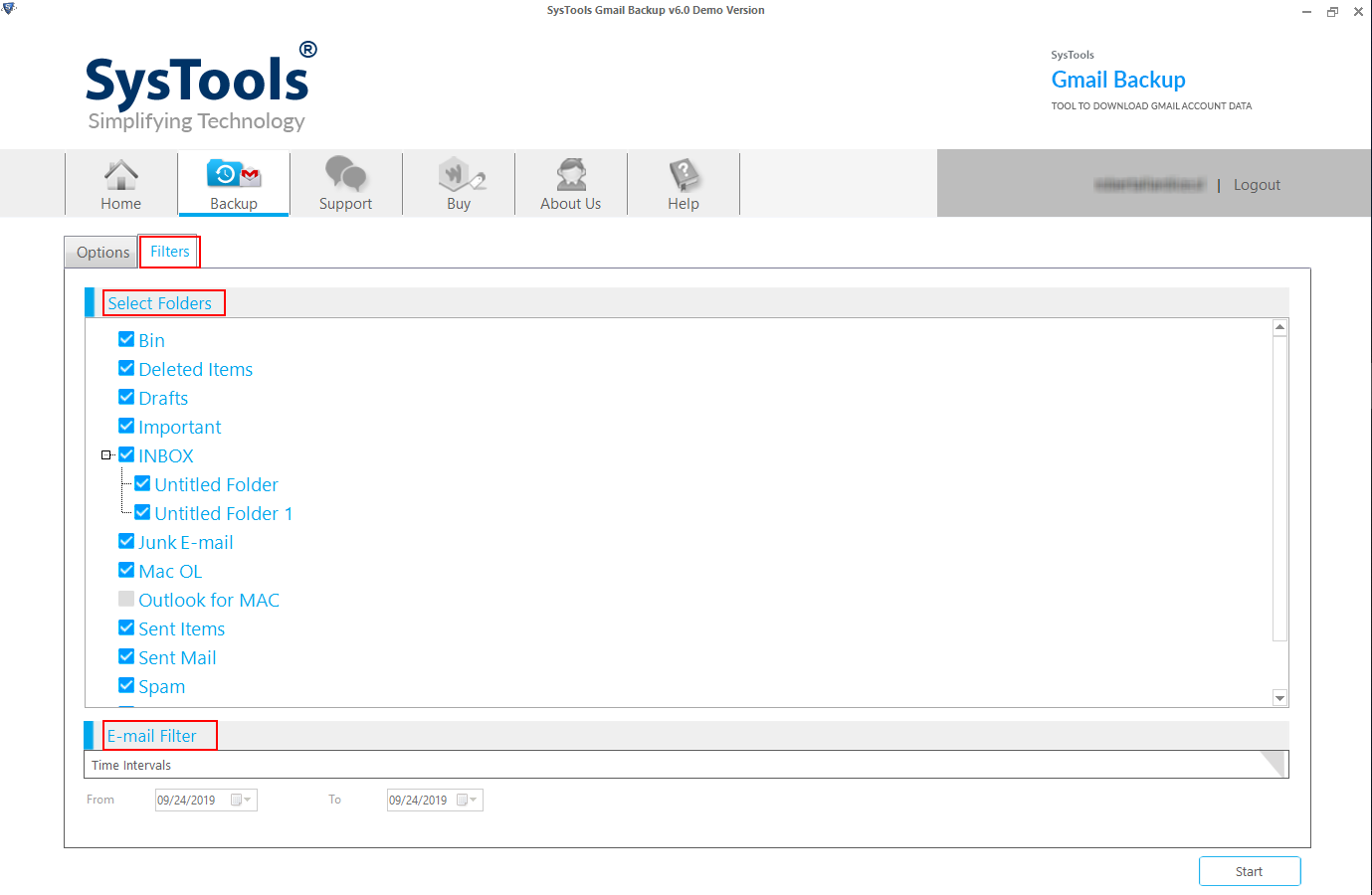 6. Click on the Start button to finally start the backup process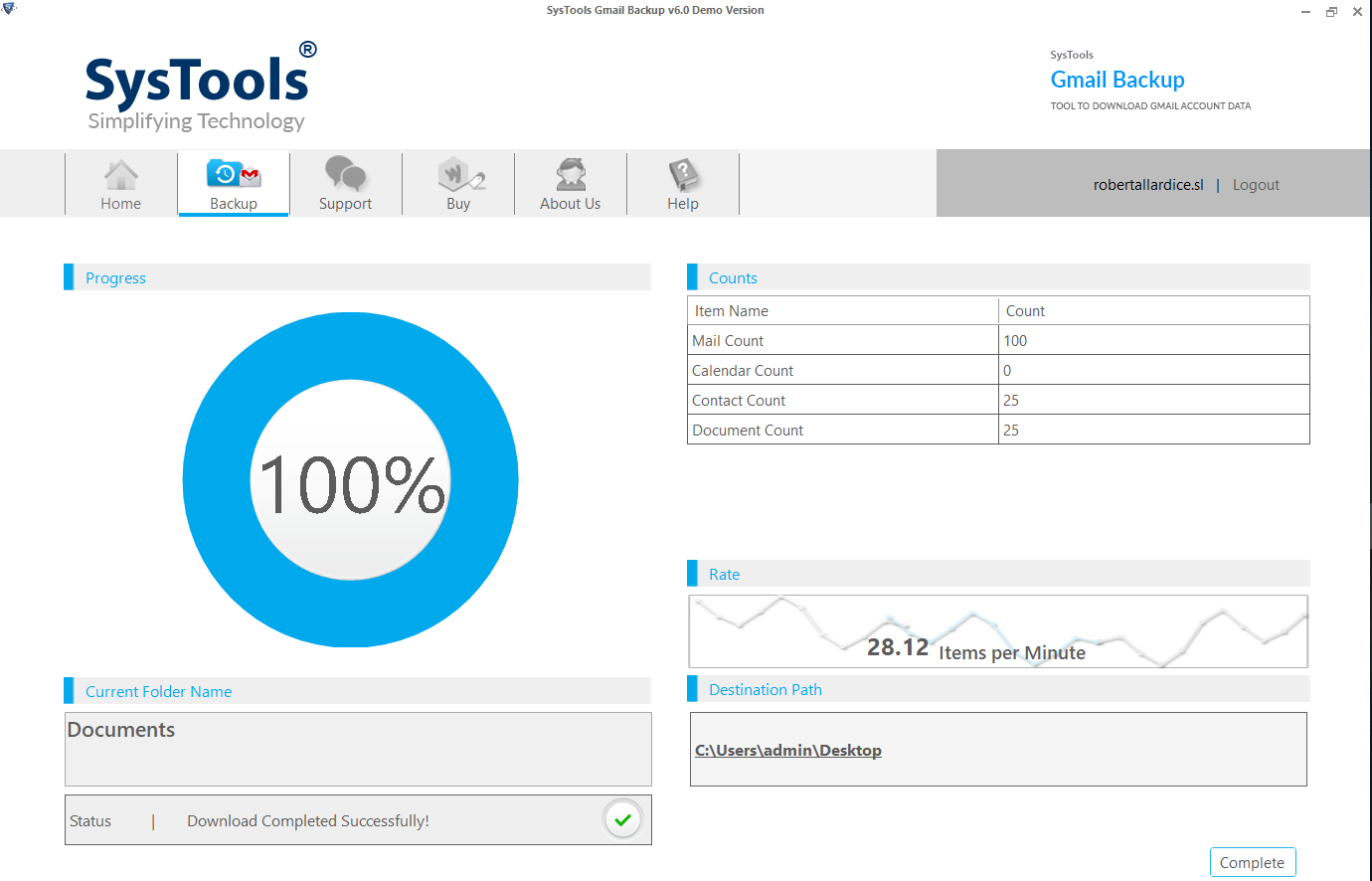 Note: This automated tool is verified by Google as safe and secure software to take Gmail backup. The software doesn't save any of your account data or password into its database.
Free Download
Mac Gmail Backup Purchase
Now
Conclusion
Backing up of Gmail emails using Google takeout was never been an easy task. There are many problems and hurdles we all have faced. But, as we all know, "time is money" and we cannot waste our time using such a method which will lead to failure. So, the best alternative to Google Takour has been explained in this blog. Both the methods are safe and 100 % working solution. We have explained the advantages of both methods. You can read them carefully to take backup of Gmail emails with ease.
Also Read: How to Backup G Suite Emails