How to Backup G Suite Emails – Fast & Complete Tutorial
Google ended 2018 with 5 million paying businesses and the number has only grown since then.
With Google G Suite / Google Workspace, one can access their emails anytime and anywhere. With cloud technology and an advanced set of productivity apps, it is among the top enterprise-level applications. But no matter how secure or safe you think your data is, it's not the responsibility of Google to backup or restore your data in case of any mishappening. Therefore, this article focuses on how to backup G Suite emails, contacts, calendars, and documents in a quick yet secure way.
We will demonstrate a step by step approach to backup, issues while backing up data using the Google Data Export tool, and is using Takeout for backup feasible ?. We will also discuss why we require special tools like Google Apps Backup, advanced software for G users and admin.
Table of Content
The following post will discuss the entire process to backup G Suite data including emails, contacts, calendars, and documents locally. The topics covered are as follows:
When Do We Need to Backup G Suite Mailbox Items?
See below to understand why backing up your G Suite (formerly Google Apps) users' data can help you in different scenarios.
When your data gets deleted accidentally or intentionally by users.
A 3 rd party application harms your G Suite domain with its set of "allowed" permissions.
If your synced device gets stolen or lost.
When a ransomware attack threatens your Google data.
In case of a Google service outage or shutdown.
In the case of mergers and acquisitions.
When you require G Suite data for legal or audit purposes.
If you require specific user data when an employee exits.
By taking a backup of G Suite accounts, a particular user or admin of an organization can prevent/overcome/solve the above situations.
2 Ways to Take Backup of G Suite / Google Workspace Account
There are many methods using which one can back up his/her Google cloud data. But among them only two are recommended by experts. Some may refer to Takeout service as well, but we will discuss why it's not completely feasible for the backup G Suite emails process later in the article. You will require different levels of technical expertise and adequate knowledge to perform the steps for these two methods. We will discuss these steps in the upcoming sections.
Use Data Export Tool for Admin
Use G Suite Backup Tool for Admin.
How to Backup G Suite Mail with Google Data Export Tool?
Every Google Apps for Business license comes with a feature called Data Export. The downside to this tool is that only a G Suite Admin can access this feature. This allows an admin to download and safeguard the data of all its users without any exceptions.
Prerequisites for using the Data Export Tool
Only a super-admin can access this feature.
The domain needs to be 30 days older for this feature to be available.
It requires the 2-step verification to be enabled.
The number of G Suite user accounts must be less than 1000.
How to Backup Google Workspace Emails? Stepwise Guide
The elaborated step-by-step method for Admin to backup G Suite emails using Google Data Export Tool is given below.
1 – Log in to your G Suite account using the admin credentials.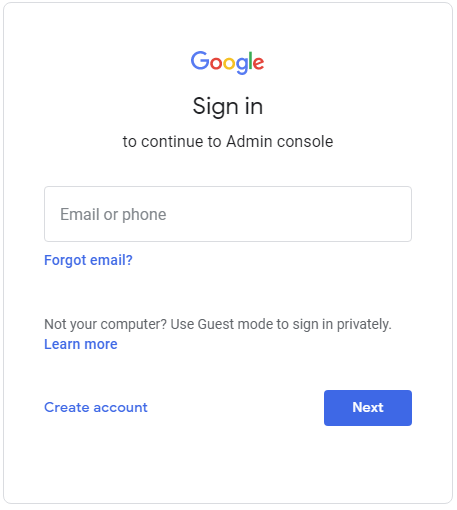 2 – Once you have logged into your account, open the Admin Console and click on the < button.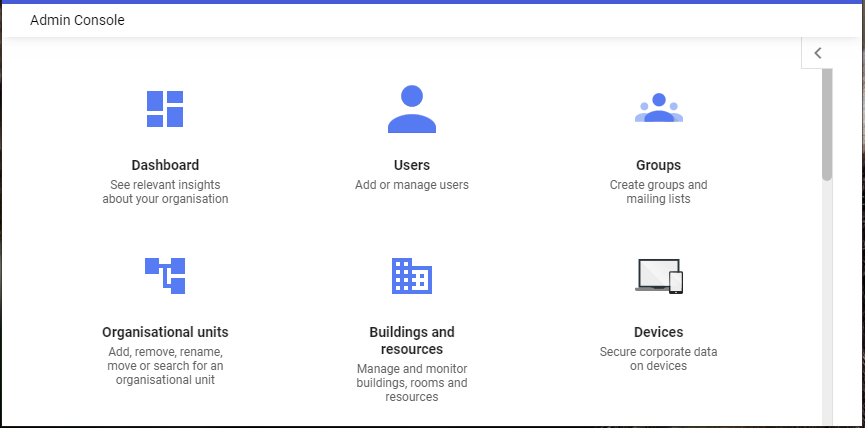 3 – Here, you need to click on Tools and hit the Data Export option.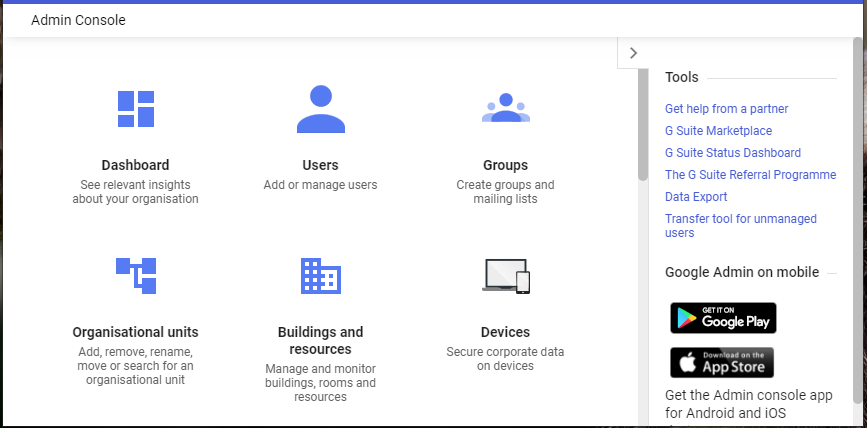 4 – In the next screen, click on the Start button to backup G Suite.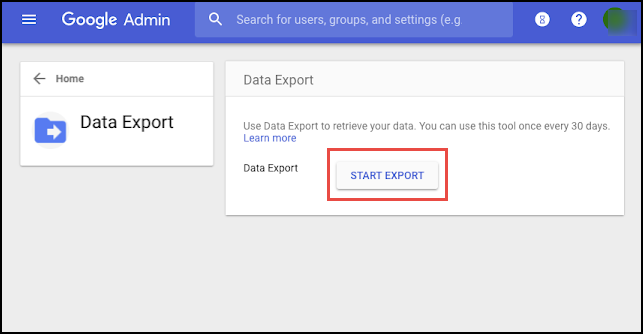 5 – Now comes the unavoidable waiting period. Google will take as long as 9 days to email you a confirmation link of your exported data.
6 – When you finally receive the confirmation email, open it and click on the Access Archive button to view the backed up data.
7 – Now, open the folders individually and download the data for all users one by one to your local system.
Shortcomings of the using Data Export Tool for G Suite Backup
Although the above method seems easy, still users look for special tools to backup their G Suite data. This is because while using Data Export, you do not have any control over the process. You cannot bend it to your requirements. Some other shortcomings are:
You cannot stop the process once it starts. There is no pause and resume feature here.
Once the data backup starts, you cannot use this feature for the next 30 days.
It is a long procedure. As explained earlier, it can take up to 9 days to just provide you with the data. After that include the additional days for downloading G Suite data.
There is no way to export only selective data such as emails, contacts, calendars etc. You cannot exclude or include anything as per your requirements.
You cannot even specify the number of users or select the users whose G Suite mail you want to back up.
Automated Solution for Google Workspace Email Backup
With the long wait and lack of customized features, experts raise concerns over the use of the above-mentioned method. In such situations, special tools such as Google Workspace Backup are preferred to take backup of email from G Suite along with contacts, calendars, and documents. It supports exporting G Suite to Outlook PST format quickly and safely. You will not face any technical difficulties while using this tool.
Moreover, features such as mail filters along with the ability to select the data you want to export make this tool a complete remedy for all your backup needs. It is available for both single users to backup their data as well as Admin to backup all users' data. You can even select specific users as per preference.
Try Our new and improved G Suite Backup Software to take backup of Google Workspace emails at the Enterprise level. With this tool, you can backup multiple Google Workspace accounts of a domain at once. Download it here:
The tool does not compromise quality for performance. It is not only fast but ensures that data integrity is maintained throughout the process. You can run the software on the 64-bit Windows 10 operating system.
5 Steps to Backup Google Workspace Email are:
Step 1: Install software & click on Backup.
Step 2: Choose "Backup Source" & "Select Category".
Step 3: Enter "Workspace Credentials" & "Destination Path".
Step 4: Click on "Start" to Backup Google Workspace Emails.
The detailed procedure of the above steps with screenshots are given below:
1 – First, download and install the software on your system. On the welcome screen of the software click on the Backup button.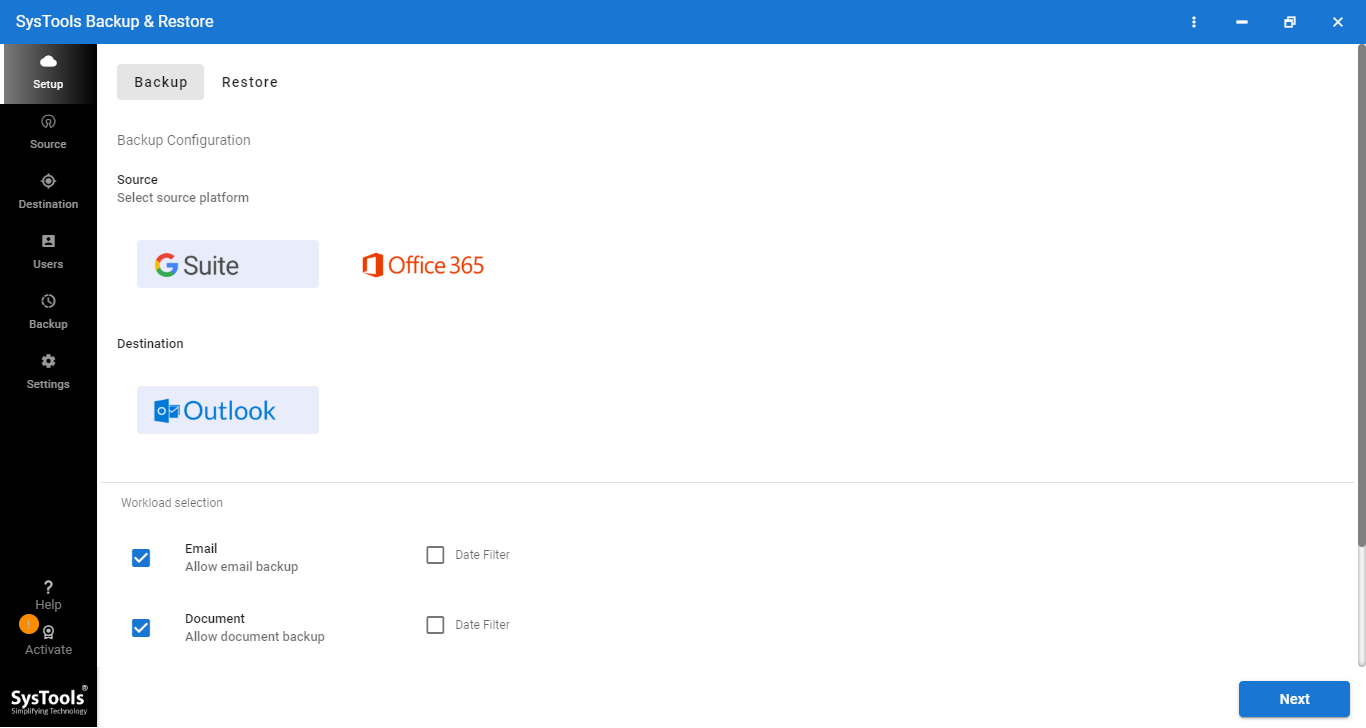 2 – The tool displays the two supported Source accounts – Select G Suite and select the G Suite category to export data such as Emails, Calendars, Contacts and Documents.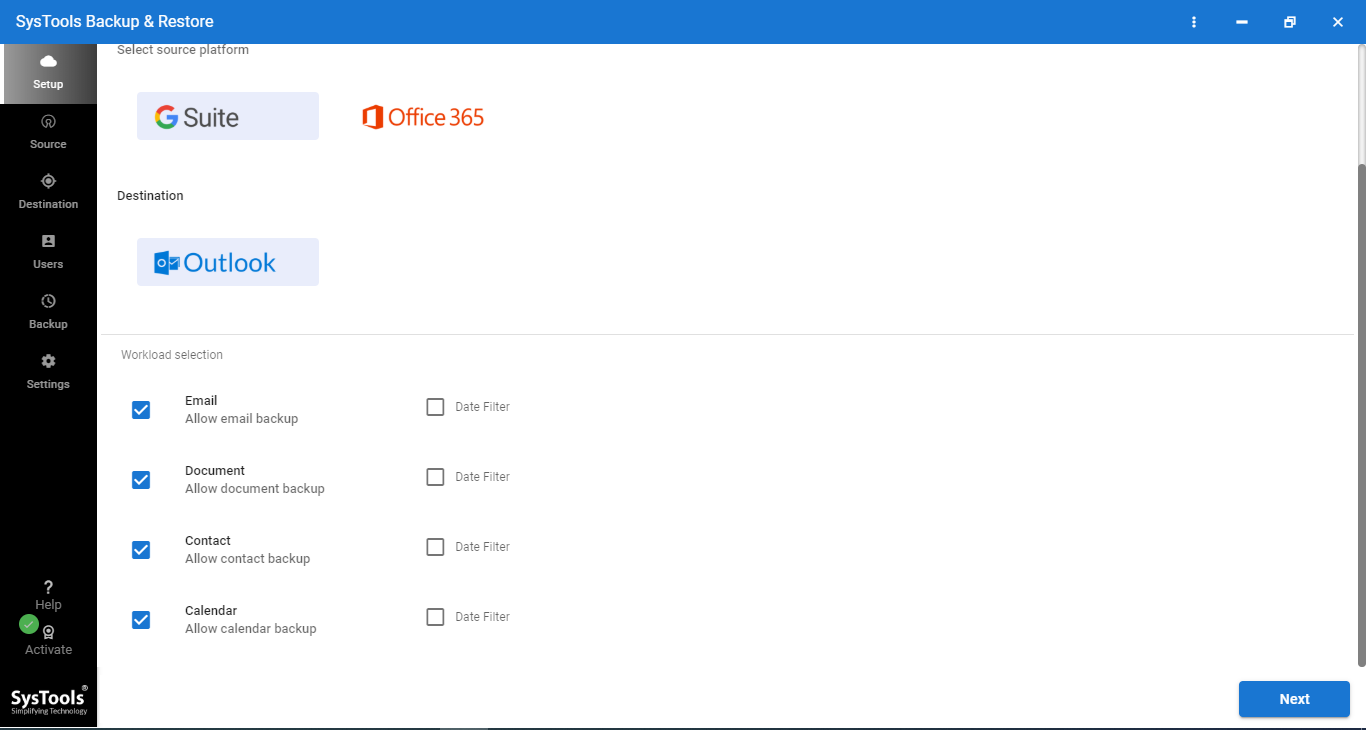 3 – Proceed as per your G Suite account selection:
After selecting G Suite account, register yourself using your G Suite credentials and authenticate your account.
Also, you will need to take care of the pre-requisites before moving onto the next step. These are:

Create project in Google Console
Enable API Access in Google Cloud Console
Add Scopes at Domain Level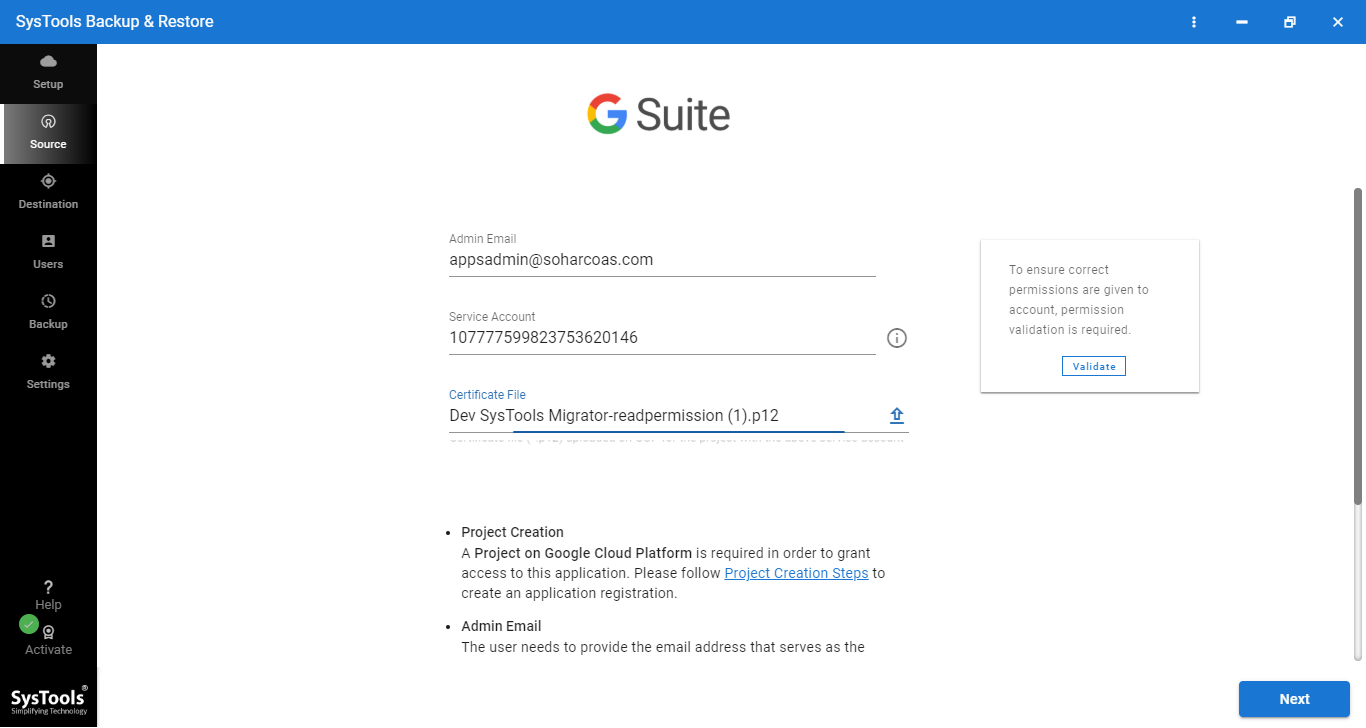 4 – The software will ask for the destination path where your PST file(s) will be saved.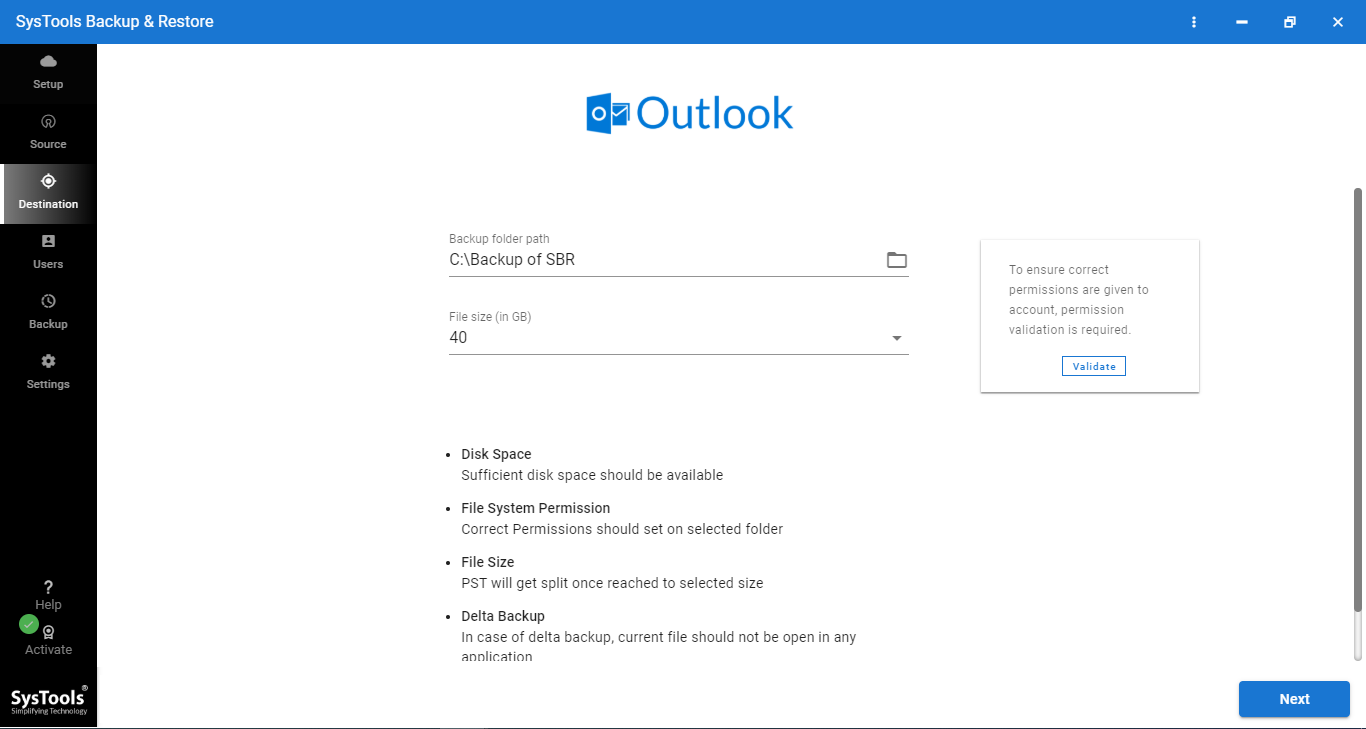 5 – Now, use either of the first 2 options to fetch the list of users to download G Suite email and other data (the last "Download template" option provides you with a template with the valid format to import users)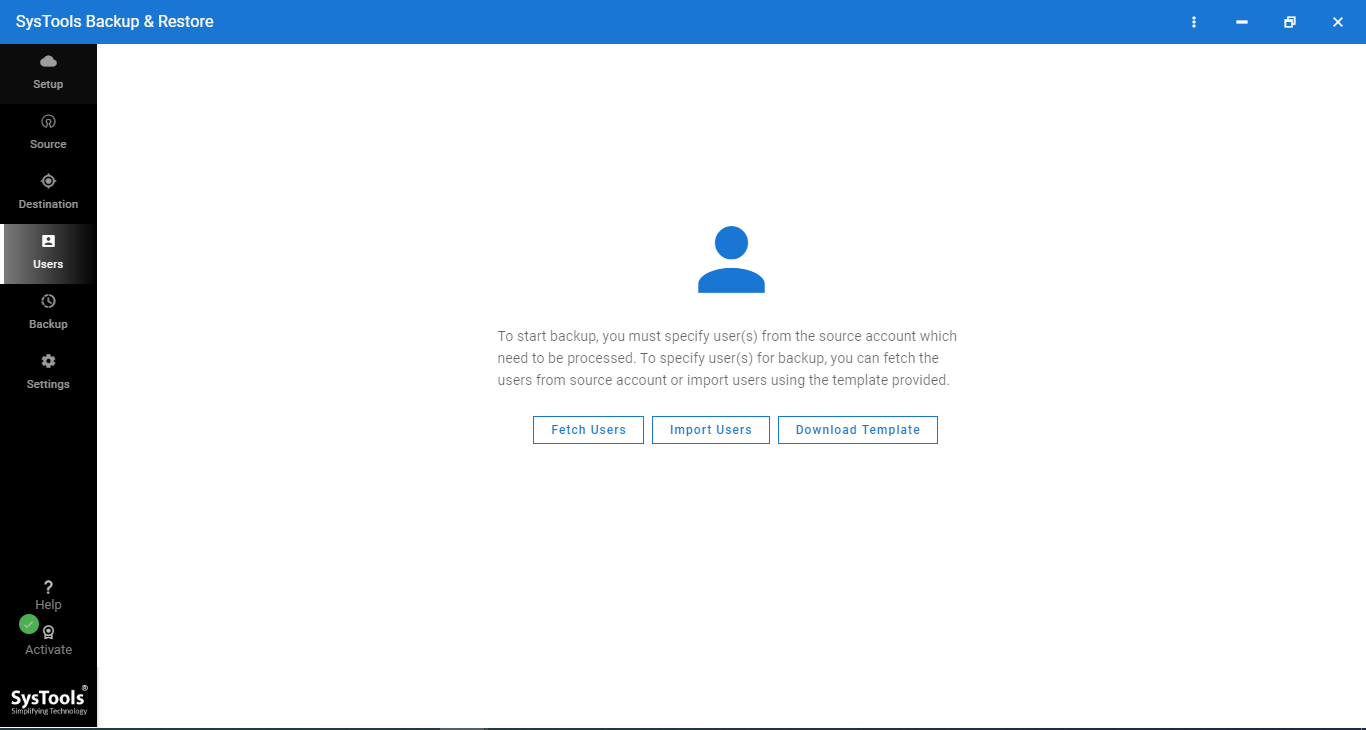 6 – Now, you can select the Validate option to validate the imported user accounts.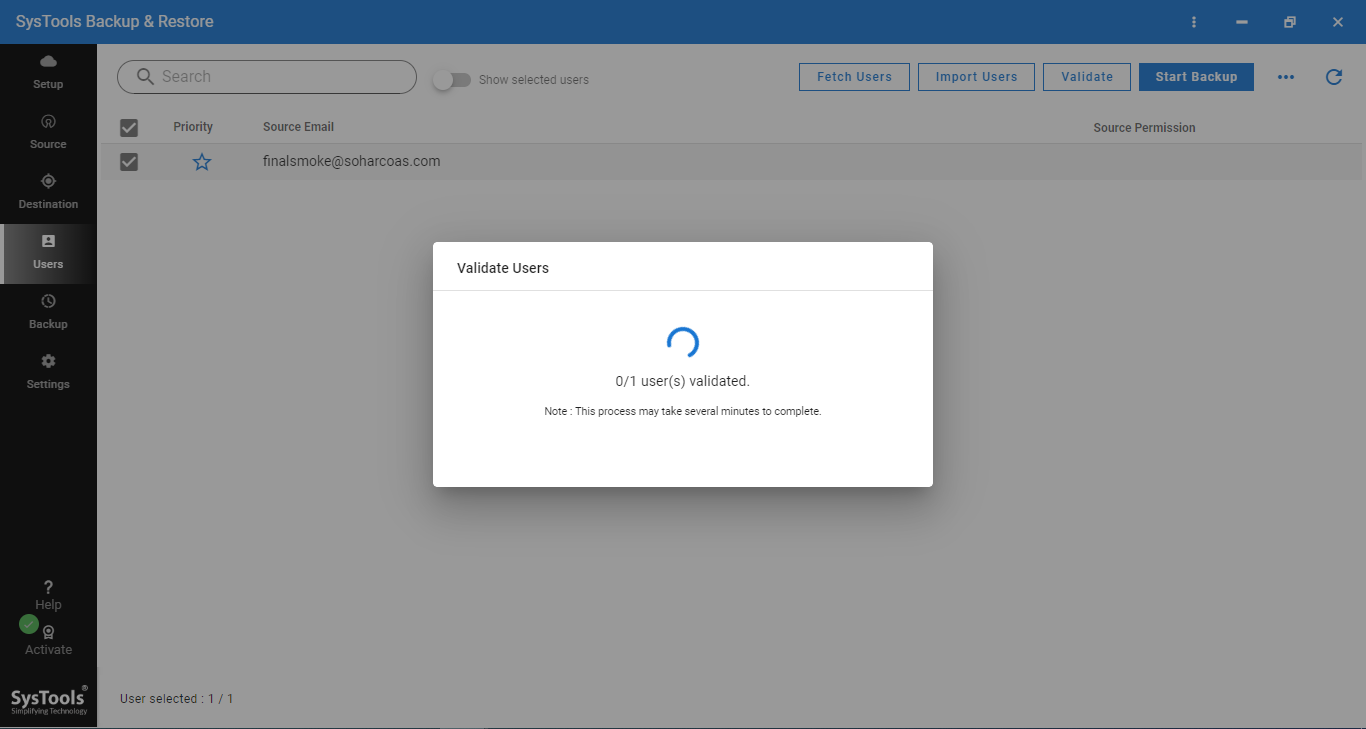 7 – Once the validation is done, click on the Start Backup button to proceed >> Start.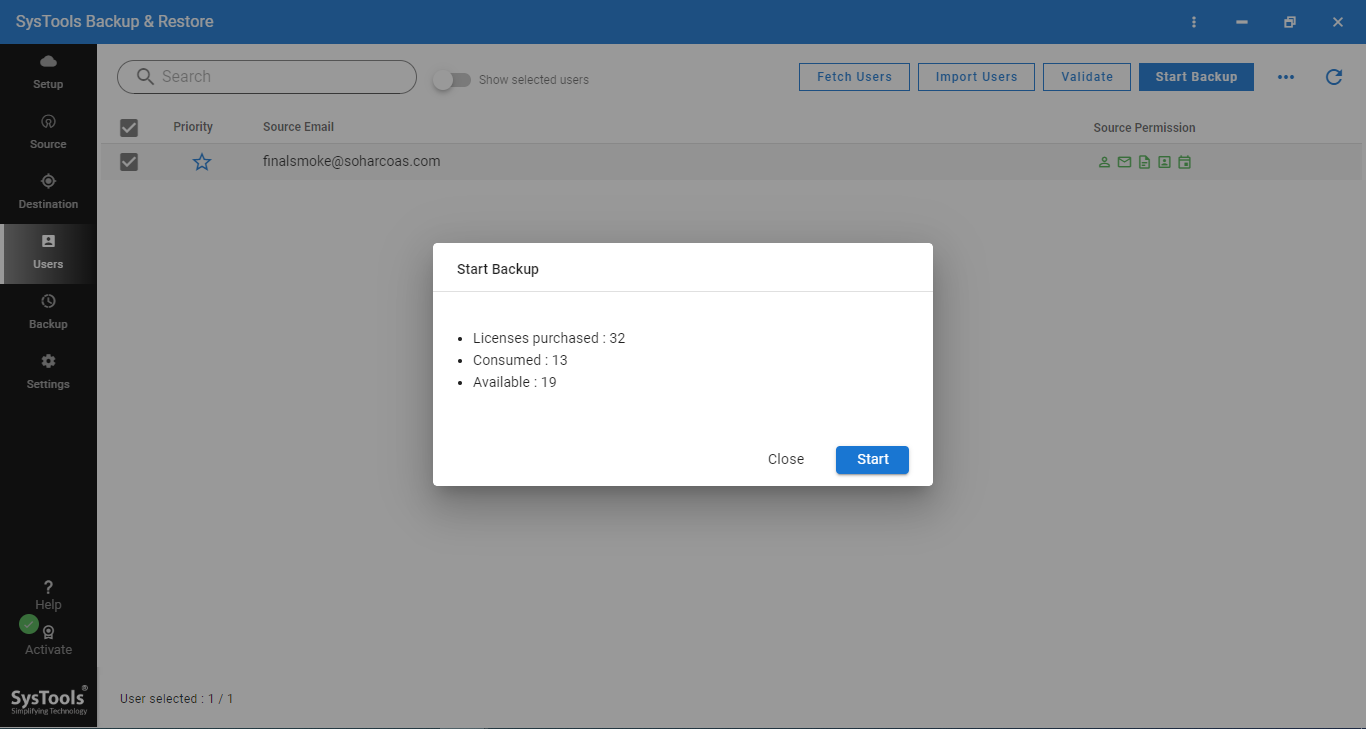 8 – Finally, the tool will process your G Suite account and show live backup progress.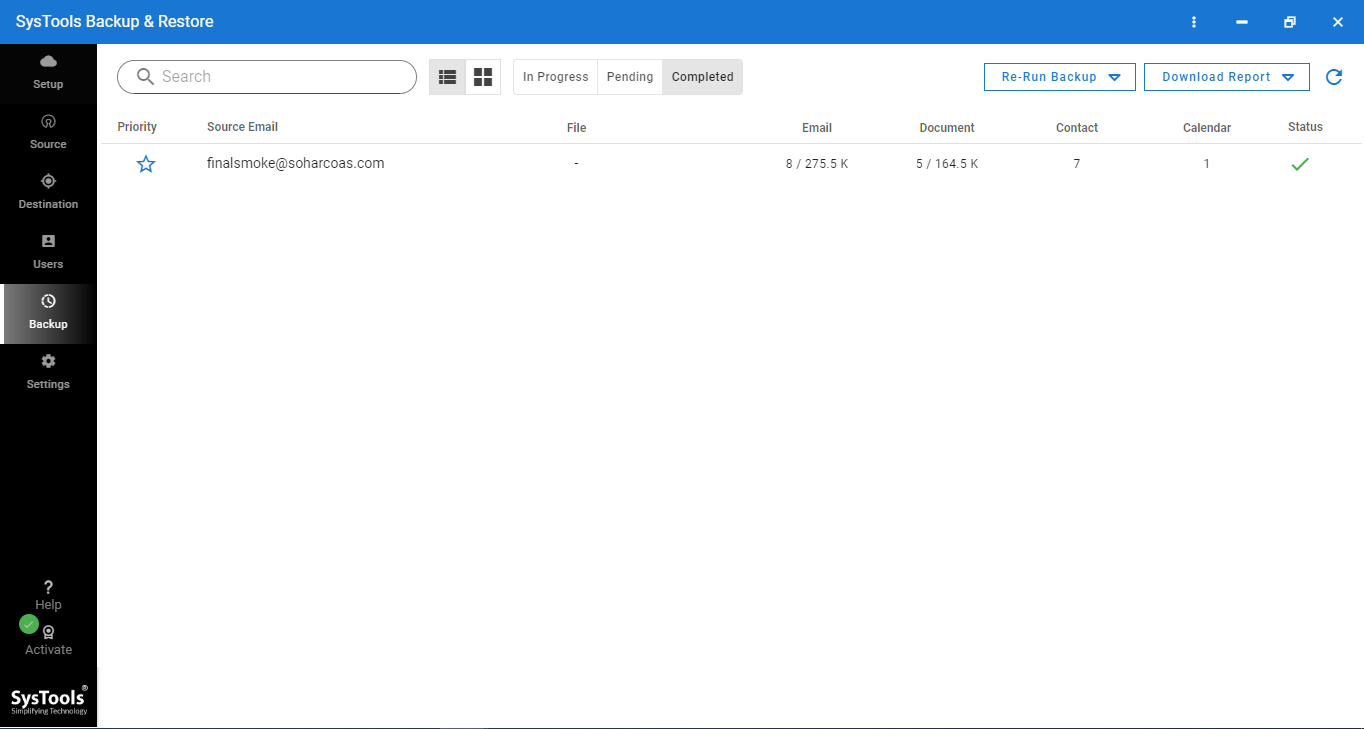 Is TakeOut a Feasible Approach for Backing Up G Suite Data?
While many people argue that Google Takeout is another option to backup G Suite data, they are not completely off the rail. However, because Takeout cannot backup emails from multiple G Suite / Google Workspace user accounts, it is technically a Gmail backup solution. Additionally, it also takes a lot of time to process the data and provide users with a download link. And above all, it can fail repeatedly when 'heavy' G Suite data is involved.
Therefore, Takeout is not feasible at all as it provides more limitations than benefits for taking backup of G Suite account data.
Benefits of Google Workspace Email backup:
Data Loss Prevention: Backing up G Suite emails can help prevent data loss due to accidental deletion, corruption, or server failures. In the event of a data loss, you can easily restore your backed-up emails.
Compliance: Many businesses are required to maintain an archive of their emails for compliance reasons. By backing up your G Suite emails, you can ensure that you meet any legal or regulatory requirements.
Disaster Recovery: Backing up your G Suite emails can help you recover from disasters such as cyber attacks, natural disasters, or hardware failures. Having a backup ensures that you can quickly restore your emails in the event of a disaster.
Cost Savings: G Suite charges for additional storage space, and the cost can add up quickly. By backing up your emails, you can free up storage space on your G Suite account and potentially reduce your costs.
Overall, backing up your G Suite emails can help you protect your data, meet compliance requirements, and ensure business continuity in the event of a disaster.
Summing Up
Users are constantly searching how to backup G Suite email and export them to the preferred location. The first and foremost method of using the Export tool is affected by many shortcomings. Therefore, for a quick and secure process to backup Google Suite data, use the discussed automated solution. It is an advanced tool that eliminates any technical limitations and provides users with an effortless way to backup email from G Suite account.
Frequently Asked Questions
Q. Does Data Export tool is a better option for Google Workspace email backup process?
A. Google Data Export is a primary solution to take G Suite email backup but it has many limitations such as no pause option, larger mailbox taking longer time, no selective G Suite backup, etc.
Q. How to backup Google Workspace emails of multiple users?
A. Both methods provide an option for Google Workspace email backup with multiple users. But the selection of users is not allowed in the Google Data Export tool.
Q. How to backup G Suite emails with date filter?
A. Suggested Google Workspace Backup Tool provides an option to select a category (Email, Contact, Calendar, Document) with a date filter.
Q. Can I include new data in between the Google Workspace email backup process?
A. Throughout the Google Data Export tool, you cannot include newly received data. Suggested software solution added the newly received data or sync data.