How to Backup G Suite Emails – Fast & Complete Tutorial
Google ended 2018 with 5 million paying businesses and the number has only grown since then. Know more here.
With Google G Suite, one can access their emails anytime and anywhere. With cloud technology and an advanced set of productivity apps, it is among the top enterprise-level applications. But no matter how secure or safe you think your data is, it's not the responsibility of Google to backup or restore your data in case of any mishappening. Therefore, this article focuses on how to backup G Suite emails, contacts, calendars, and documents in a quick yet secure way.
We will demonstrate a step by step approach to backup, issues while backing up data using the Google Data Export tool, and is using Takeout for backup feasible?. We will also discuss why we require special tools like Google Apps Backup, advanced software for G users and admin.
Free Download
Google Suite Backup Purchase
Now
Table of Content
The following post will discuss the entire process to backup G Suite data including emails, contacts, calendars, and documents locally. The topics covered are as follows:
Why We Need to Backup G Suite Mailbox Items
See below to understand why backing up your G Suite (formerly Google Apps) users' data can help you in different scenarios.
When your data gets deleted accidentally or intentionally by users.
A 3 rd party application harms your G suite domain with its set of "allowed" permissions.
If you synced device gets stolen or lost.
When a ransomware attack threatens your Google data.
In case of Google service outage or shutdown.
In case of mergers and acquisitions.
When you require G Suite data for legal or audit purposes.
If you require specific users data when an employee exits.
By taking backup of G Suite accounts, a particular user or admin of an organization can prevent/overcome/solve the above situations.
2 Ways to Take Backup of Google G Suite Account
There are many methods using which one can back up his/her Google cloud data. But among them only two are recommended by experts. Some may refer to Takeout service as well, but we will discuss why it's not completely feasible for the G Suite backup process later in the article. You will require different levels of technical expertise and adequate knowledge to perform the steps for these two methods. We will discuss these steps in the upcoming sections.
Use Data Export Tool for Admin
Use G Suite Backup Tool for Individual Users & Admin alike.
How to Backup G Suite Mail with Google Data Export Tool?
Every Google Apps for Business license comes with a feature called Data Export. The downside to this tool is that only a G Suite Admin can access this feature. This allows an admin to download and safeguard the data of all its users without any exceptions.
Prerequisites for using the Data Export Tool
Only a super-admin can access this feature.
The domain needs to be 30 days older for this feature to be available.
It requires the 2-step verification to be enabled.
The number of G suite user accounts must be less than 1000.
The elaborated step by step method for Admin to backup G Suite emails using Google Data Export Tool is given below.
Step 1 : Log in to your G Suite account using the admin credentials.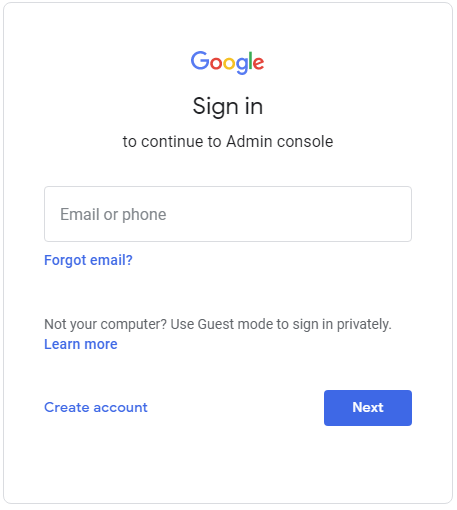 Step 2 : Once you have logged into your account, open the Admin Console and click on the < button.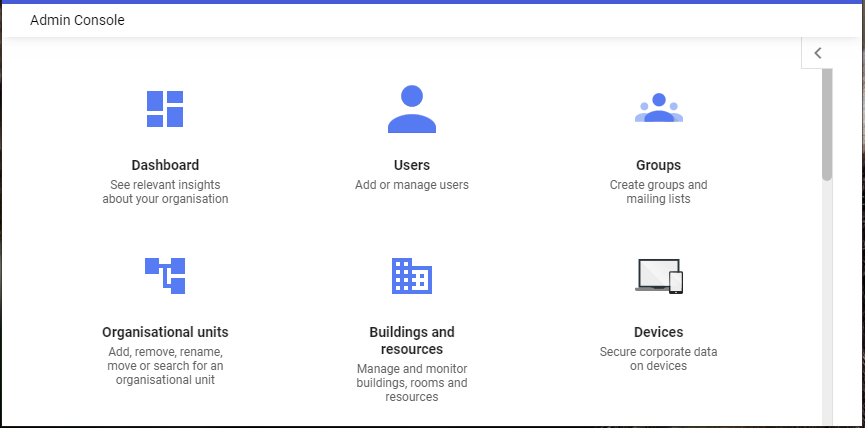 Step 3 : Here, you need to click on Tools and hit the Data Export option.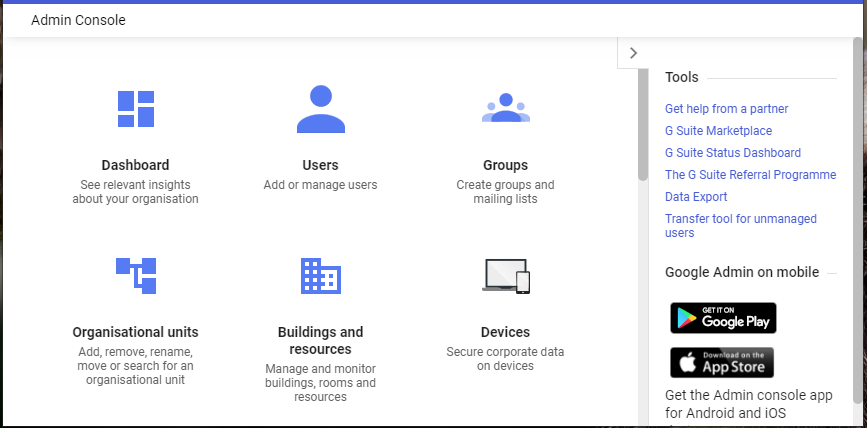 Step 4 : In the next screen, click on the Start button to backup G Suite.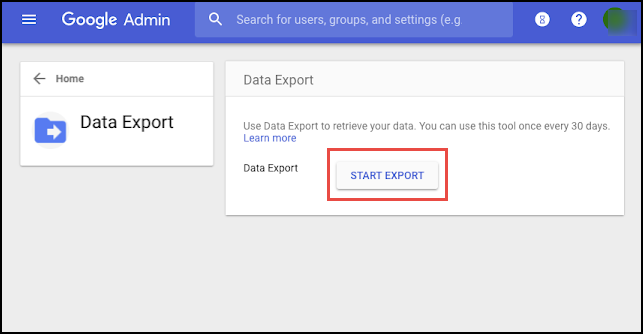 Step 5 : Now comes the unavoidable waiting period. Google will take as long as 9 days to email you a confirmation link of your exported data.
Step 6 : When you finally receive the confirmation email, open it and click on the Access Archive button to view the backed up data.
Step 7 : Now, open the folders individually and download the data for all users one by one to your local system.
Shortcomings of the using Data Export Tool for G Suite Backup
Although the above method seems easy, still users look for special tools to backup their G Suite data. This is because while using Data Export, you do not have any control over the process. You cannot bend it to your requirements. Some other shortcomings are:
You cannot stop the process once it starts. There is no pause and resume feature here.
Once the data backup starts, you cannot use this feature for the next 30 days.
It is a long procedure. As explained earlier, it can take up to 9 days to just provide you with the data. After that include the additional days for downloading G suite data.
There is no way to export only selective data such as emails, contacts, calendars etc. You cannot exclude or include anything as per your requirements.
You cannot even specify the number of users or select the users whose G Suite mail you want to back up.
Backup G Suite Emails & Other Data with Automated SysTools Software
With the long wait and lack of customized features, experts raise concerns over the use of the above-mentioned method. In such situations, special tools such as Google Apps Backup are preferred to take backup of email from G Suite along with contacts, calendars, and documents. It supports exporting G Suite to PST, MBOX, EML & MSG format quickly and safely. You will not face any technical difficulties while using this tool.
Moreover, features such as mail filters along with the ability to select the data you want to export make this tool a complete remedy for all your backup needs. It is available for both single users to backup their data as well as Admin to backup all users' data. You can even select specific users as per preference.
The tool does not compromise quality for performance. It is not only fast but ensures that data integrity is maintained throughout the process. You can run the software on all the latest Windows operating system including Windows 10.
How Exactly it Backup G Suite Emails?

5 Steps to Backup Mail from G Suite account are:
Step 1 : Install software & click on Backup
Step 2 : Enter Credentials for single user or admin
Step 3 : Choose "Backup Type" & "Select Category"
Step 4 : Click on "Start" to Backup G Suite Emails
Step 5 : Finally, Click on "Ok" button
The detailed procedure of above steps with screenshots are given below:
Step 1 : First, download and install the software on your system. On the welcome screen of the software click on the Backup button.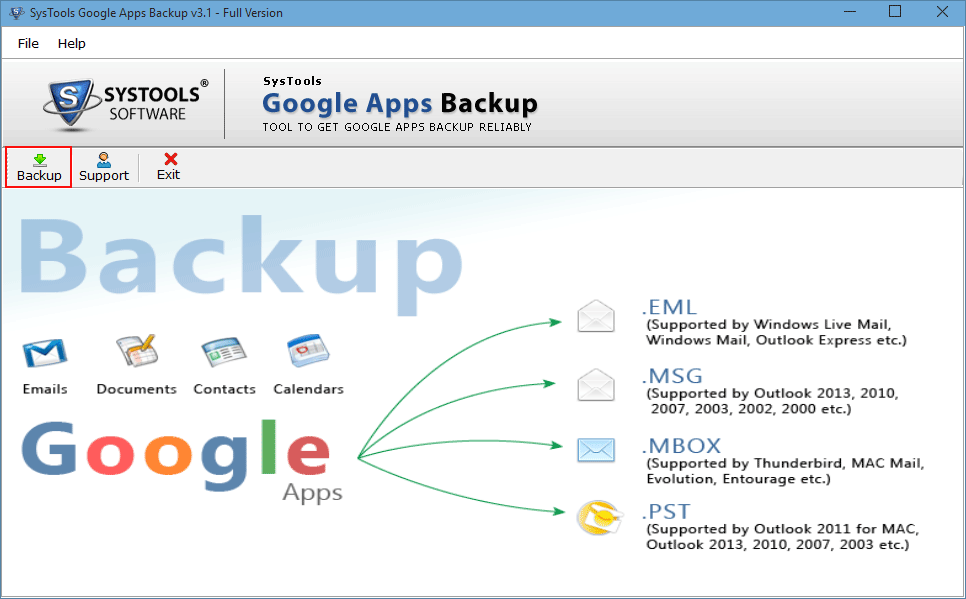 Step 2 : The tool displays the two supported user accounts: Single User Account & Domain Users (Admin). Select the preferred account type.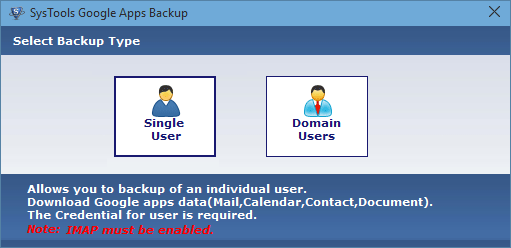 Step 3 : Proceed as per your G suite account selection:
If you selected single user account, register yourself using your G Suite credentials and authenticate your account. Now move to Step 4.

If you opted for Domain users, then follow the below process before moving to Step 4.

Go to your G Suite admin console > security > manage API client access and enable APIs as given in the screen.

Now register yourself with your G suite admin Id and user list for account authentication.

The software will display the list of users to download G Suite email and other data.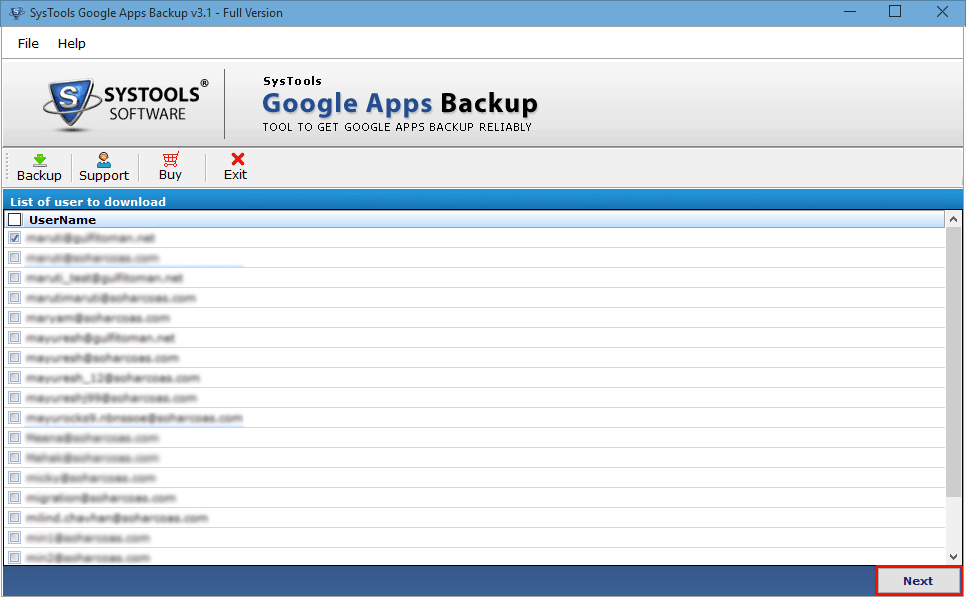 Step 4 : Now you can select the email format to backup your G Suite files. Available options are PST, MBOX, MSG and EML. In the later 3 formats, contacts are saved as .vcf, calendars as .ics, and documents in the popular MS Office formats. While in the case of PST, everything is backed up in the PST file.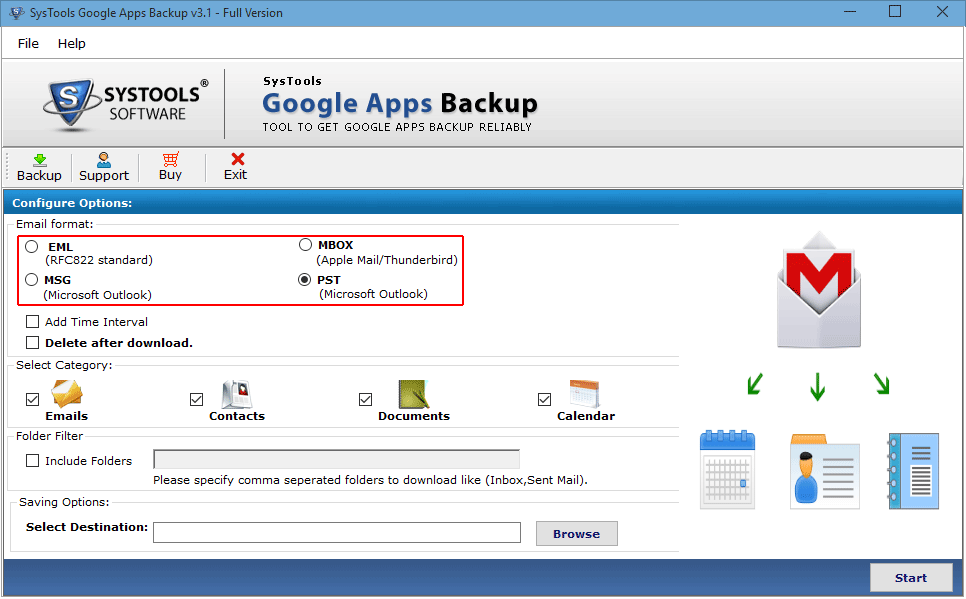 Step 5 : Now, you can select the G Suite category to export data such as Emails, Calendars, Contacts and Documents.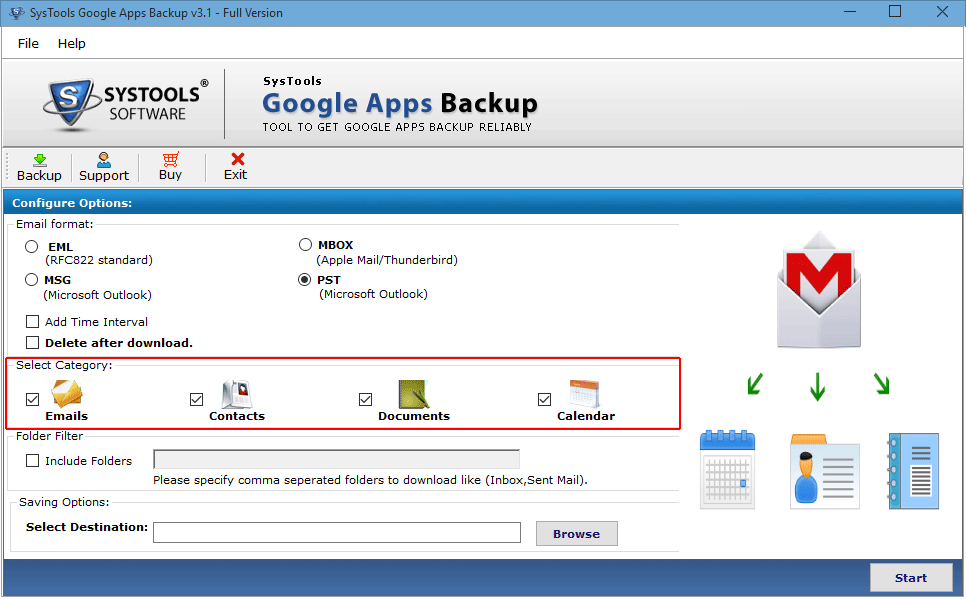 Step 6 : Some additional options include the ability to add date filter for emails, the option to delete data from server after download, and selecting particular folders for backup.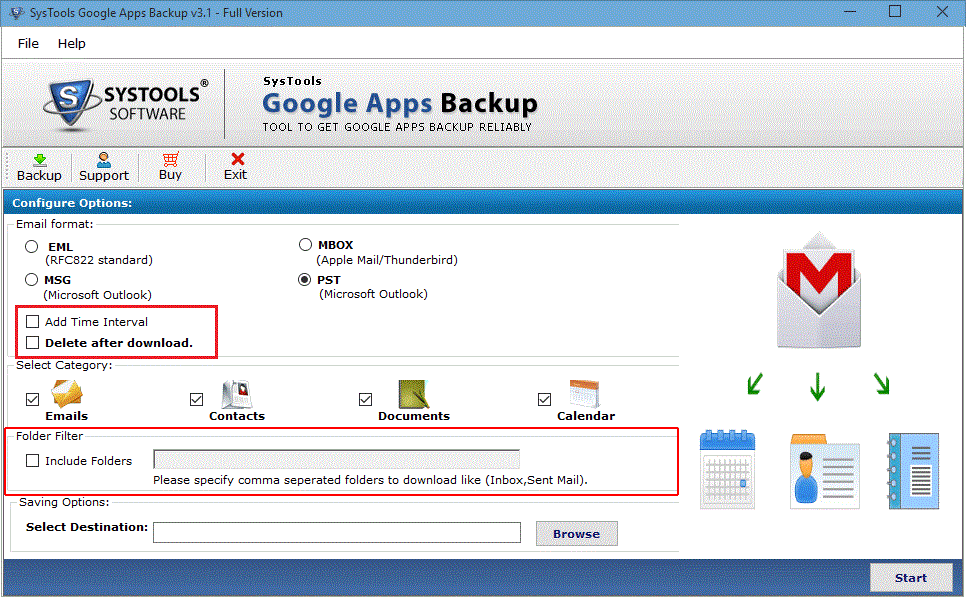 Step 7 : Finally, browse the destination to save the backup data and click on the Start button. The tool will process your G Suite account and show live backup progress.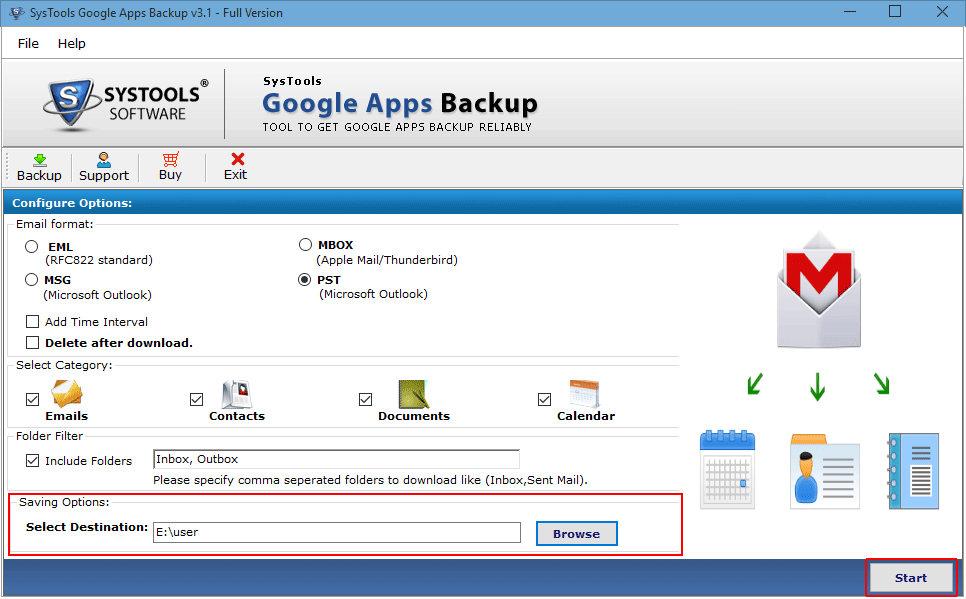 Is TakeOut a Feasible Approach for Backing Up G Suite Data?
While many people argue that Google Takeout is another option to backup G suite data, they are not completely off the rail. However, because Takeout cannot backup emails from multiple G suite user accounts, it is technically a Gmail backup solution. Additionally, it also take a lot of time to process the data and provide users with a download link. And above all, it can fail repeatedly when 'heavy' G suite data is involved.
Therefore, Takeout is not feasible at all as it provides more limitations than the benefits for taking backup of G Suite account data.
Summing Up
Users are constantly searching how to backup G Suite email and export them to the preferred location. The first and foremost method of using the Export tool is affected by many shortcomings. Therefore, for a quick and secure process to backup Google Suite data, use the discussed automated solution. It is an advanced tool that eliminates any technical limitations and provides users with an effortless way to backup email from the G Suite account.