How to Backup Gmail Emails from Account Using Best 4 Ways?
Facing difficulty with storage issues in Gmail account? It's time to learn how to backup Gmail emails without any errors. There are many Google users who encounter complexity while taking backups using Google Takeout. Therefore, we are here with all methods including Google Takeout.
How to Backup Gmail Accounts – All Methods
In this blog, we will embrace the various obstacles faced by Gmail account users while saving their account data. We will provide the best 4 solutions for all these problems and explain how to backup Gmail account & its emails in various file formats. Before that, Let's have a look at a few user queries:
How to Backup Gmail Emails – User Queries
"Hi there, I'm Kevin. I am using the archive method & the biggest problem is after a few attempts to download the archive I got this message "sorry you have reached the daily limits of downloads". What should I do? Do I need to re-generate an archive again? Or is there any other more reliable solution to take a backup of Gmail emails? Help me please I am badly stuck"

"Hello sir, I'm Caroline & I'm facing issues with my Gmail account full issue. I don't know anything but my brother told me that you guys answer such questions with accurate solutions. Please help!!"

"Hello, My name is Ivy Beatrix, Recently I was attempting to backup Gmail emails using Google takeout but I am encountering a few difficulties while doing it. Firstly, Google took 5 hours to generate an archive of my Gmail account data. Second, when I download the archive, due to some problem download gets failed (maybe because of the internet connection or maybe not). Is there any other solution possible?"
The above problem is not new as plenty of users are facing the same every day. Sometimes, due to weak internet connection or connection-loss user faces this trouble in the archive method. And after downloading the Gmail archive, Google shows that you have reached a daily download limit.
Evidently, in this case, you need to create your Gmail account archive again. And there is a chance you face a similar problem again.
Anyways, let us understand the causes first to reach the root cause & then start with the solutions.
Also Read: How to Backup G Suite Emails?
Need to Learn How to Backup Gmail Emails Without Errors
There're several causes why it's important for to backup all of their emails to their local system from Gmail account. Let's have a look at these causes to proceed further & understand the solutions in a better manner.
Cloud Infrastructure Security
As we know that Google spends billion on the security of its cloud infrastructure to safeguard users' information & crucial data. However, data breaches can be unintentional as well. Therefore for better safety, keeping a backup plays a major role.
Cyber Attacks & Viruses
Learning how to backup Gmail emails is also crucial to protect the data from dangerous cyber attacks, hacking, & viruses. It's not difficult for hackers to comprise your account's security if the password is weak or the account is connected to another weak account.
Network & Connectivity Issues
It's quite common to face internet outages or network & connectivity issues. Now, as we know that accessing data on a Cloud infrastructure is not possible without the internet, a backup of the files offline can be a huge aid. 
Account Termination
Last but not least, account termination or shutdown causes a threat to the account data. As we know that Google deactivates the Gmail account inactive for 2 years, taking a backup of the Gmail data is beneficial for users.
Accidental Deletion of Data
Not all problems are meant to harm users. Accidental deletion of files is one such reason. However, it will result in data loss too. Therefore a backup can help users to get back the files that a user lost because of this reason.
#1 Google Takeout Method to Backup Gmail Emails
The download email or Google takeout method is the most used but problematic solution for users. However, as it's provided by Google itself, let's have a look at it to get the desired results.  
Log in Gmail Account

to begin the tasks.

Go to

the

Data & Personalization

option.

Click

"Download, delete, or make a plan for your data" option.

Click the

"Download your Data"

button.

Select

the

Categories

to download like emails, photos, etc.

Select the file format. (Use Zip in case of bulk files)
#2 IMAP Method Using Email Clients
First, "Open MS Outlook" on your computer.
Now, Go to the "File" option in the top-left corner of Outlook.


Select the "Add Account" option from on the screen.
Fill Up all the Details of your Gmail account >> Finish and let Gmail account configure.


Note: If in case configuration got failed then you need to perform a few steps
Go to your Gmail Account (www.gmail.com) and Go to the Settings option.
Hit "Forwarding and POP/IMAP option" >> IMAP Access: Choose Enable IMAP
Click on Save Changes
Again Perform the IMAP Configuration.
You have configured your Gmail account in Outlook. Now, you can export your account data & easily learn how to backup Gmail emails data.
Steps to Backup emails to PST from Outlook:
Go to "File" and click on the "Open" option.


Now, choose the "Export to a file" option from the list and click Next.


From Export to a file window, choose the "Outlook data file (.pst)" option >>Next.


Choose the Gmail Id and its mailboxes >> Next.|


Browse the destination location for the backup and click on the Finish button.

Note: Outlook will take some time in backing up emails.
If you want to backup your Gmail emails in OST format then Go to the default location of your Outlook "C:\Users\ \AppData\Local\MicrosoftOutlook" you will get your OST file there.
Drawbacks of this Method:
Gmail account takes too much to configure in Outlook

Requires Outlook Installed on the PC you are taking backup

If mail is deleted from Outlook configured Gmail account then deleted from main Gmail account also.

It doesn't take backup in other popular formats such as MBOX, EML, PDF (for offline reading), MSG, etc.
#3 How to Backup Gmail Emails from Account Automatically
The best possible method for a safe and fast backup process is to use professionals recommended too like Gmail Backup Software. It is an all-in-one backup tool that can take backup of your entire Gmail account data such as emails, contacts, calendars, and documents.

The backup file format generated by this backup tool is PST, EML, MSG, PDF & MBOX format. Also, there is no requirement for the installation of additional software to take backup of Gmail emails using this software.
Step-1. Firstly, Download the backup tool and launch it.
Step-2. Enter your Gmail account id and password for login.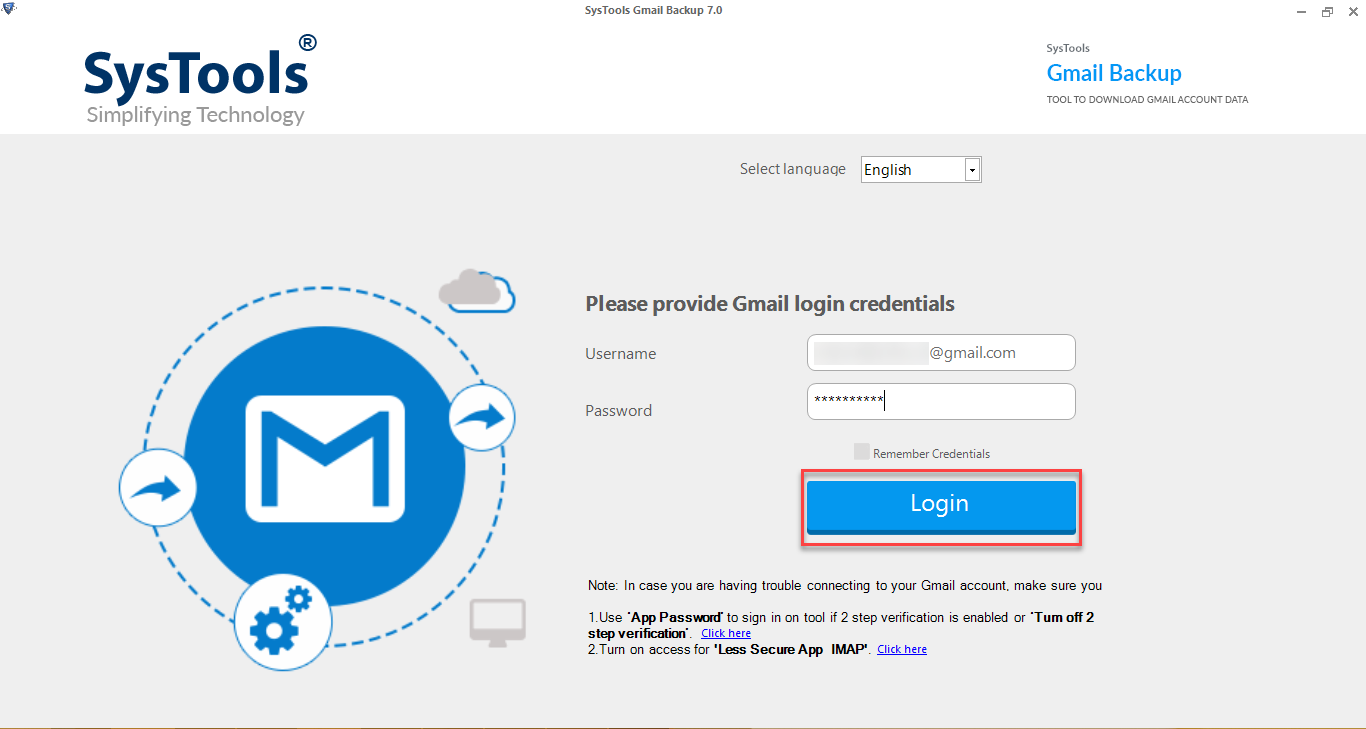 Step-3. Now, select the Category you want to backup from your Gmail account.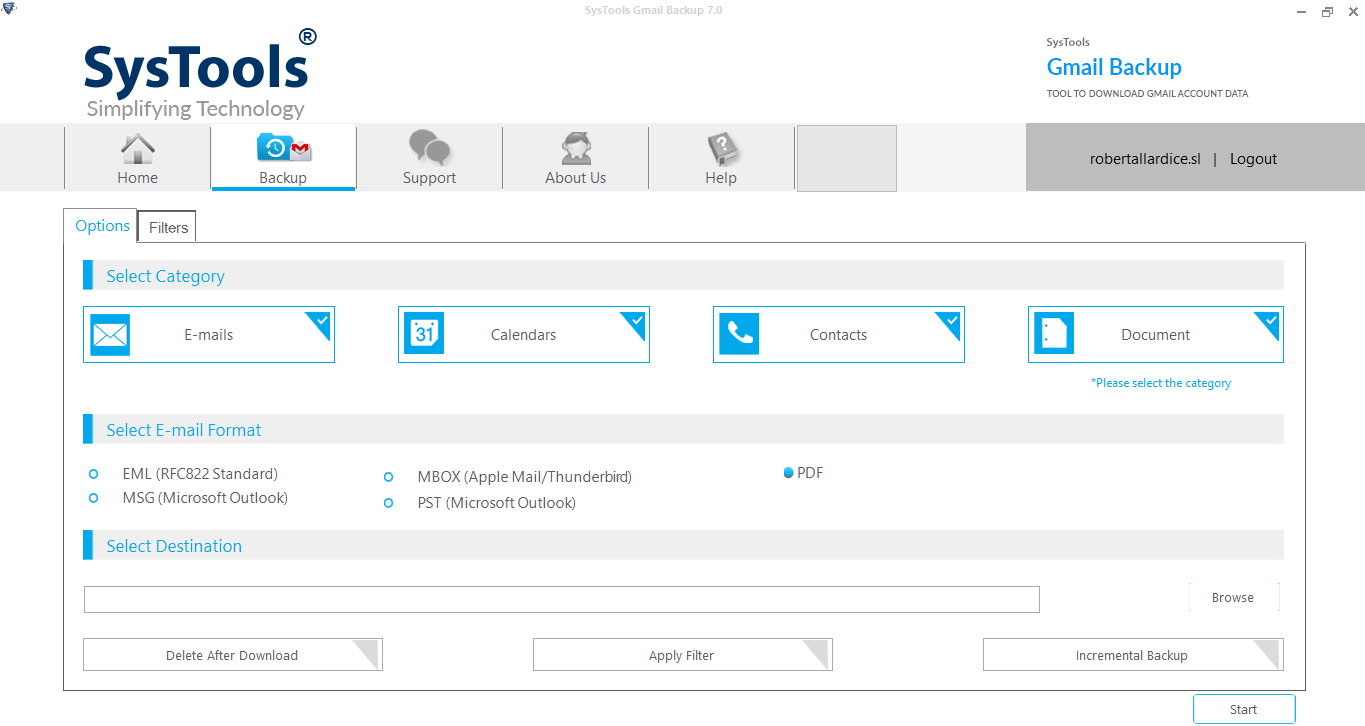 Step-4. Choose the email format for backup such as PST, EML, MSG, PDF & MBOX.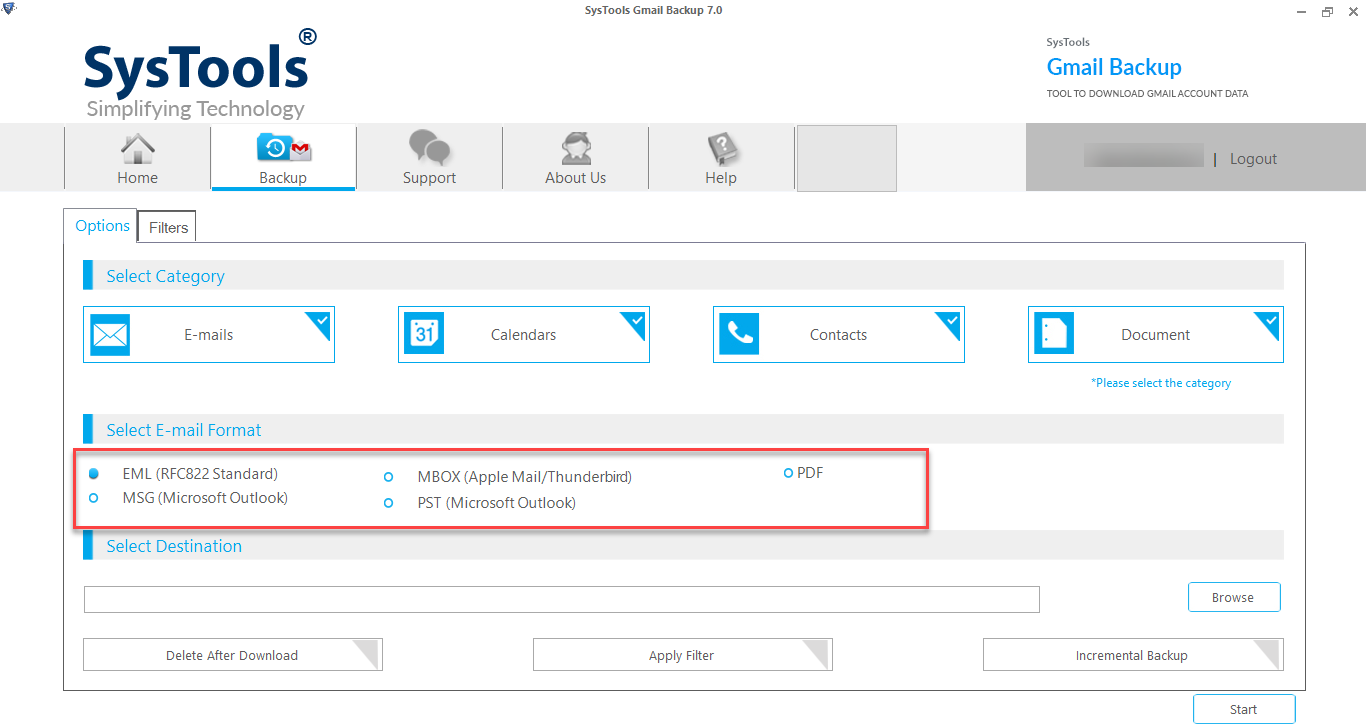 Step-5. Browse the desired destination location for the backup and Apply Filters.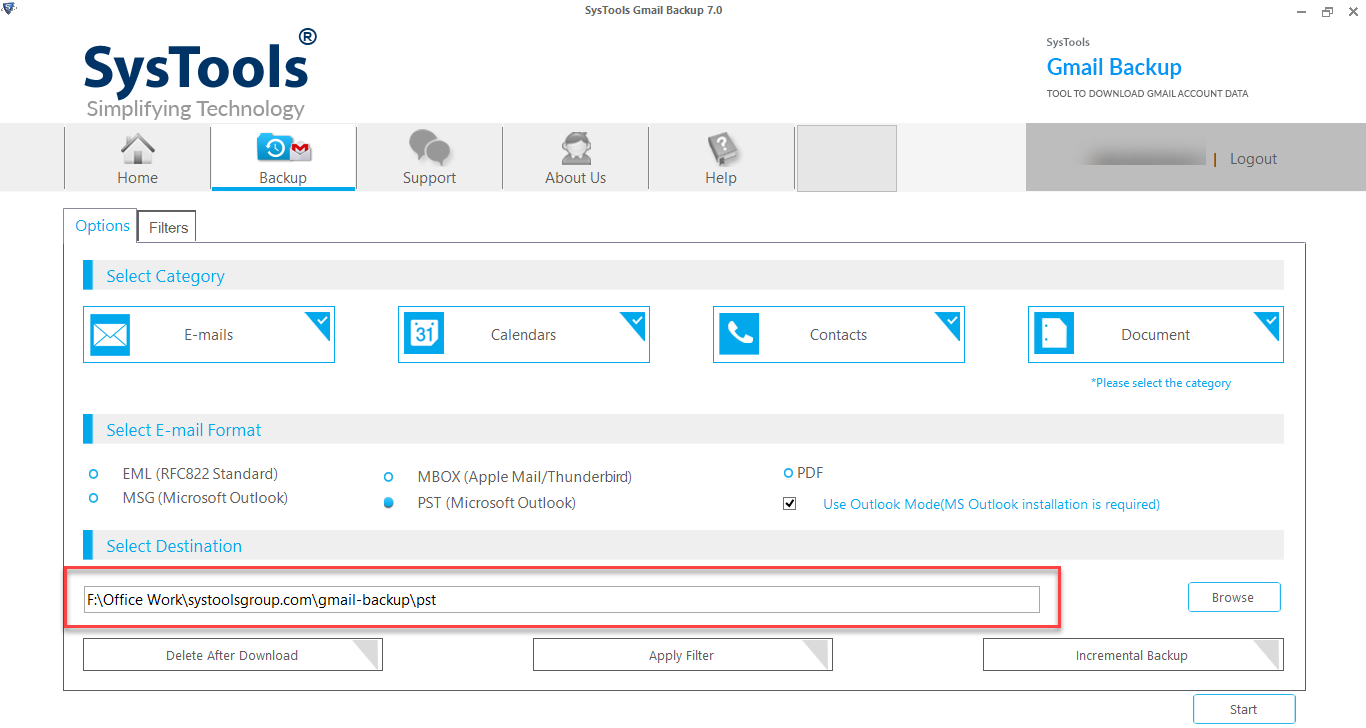 Step-6. Click on the Start button to finally start the backup process.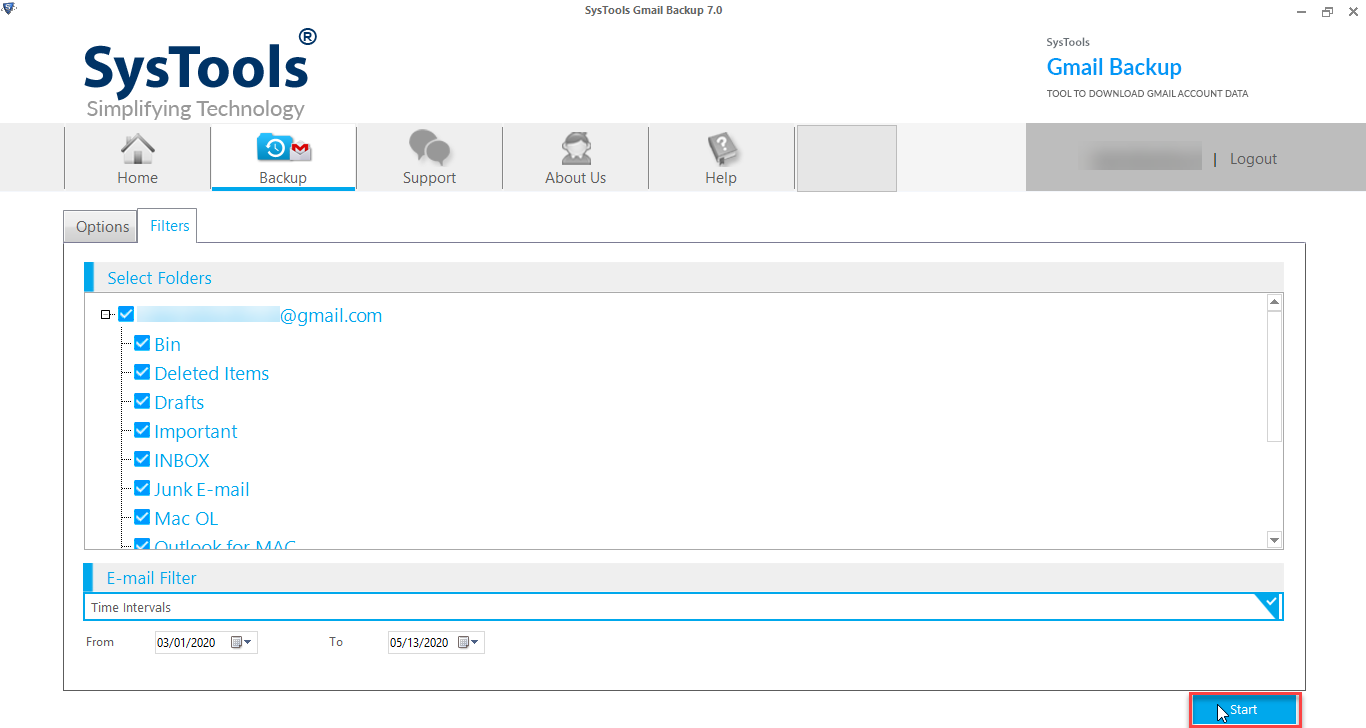 Note: This automated tool is verified by Google as safe and secure software to take Gmail email backup. The software doesn't save any of your account data or password into its database.
Learn how to backup Gmail emails automatically because:
Allows to take backup emails in multiple file formats

Save your complete Gmail account data

Fast and accurate migration procedure

Multiple filters to backup only selective emails or data

Take a backup of the desired Gmail folder using the "Apply Filter" option.

Download calendars and contacts in ICS and VCF format respectively

Incremental backup to save only new or update data

Save the backup at the desired destination location

Backup attachments associated with each Gmail email
#4 Backup Gmail Emails with Email Forwarding Method
Last but not least, users can use email forwarding to forward their emails to a different account. Then they can easily have their Gmail emails in two accounts.
Simply forward all the required emails to a new or different Gmail account & that's it you're done. However, with this method, some of the causes will remain the same & still brings the problem. That is why it is not the optimum solution.
James Robby asks on Quora – "Hi! Is there any way I can download my Gmail emails to file formats other than MBOX. I want to take backup of my Gmail emails and use it in my Outlook email client. I know we can sync our Gmail account with Outlook but I prefer not to do that. I have seen people faced few problems doing that like mistakely deletion of emails from Outlook deletes emails from Gmail server also. So please give me a solution that doesn't include the Gmail Sync method. Thanks for Help in Advance"
Our Answer: Yes, there are multiple factors that affect the IMAP configuration method, like it requires Outlook installation, synchronization time is high, and chances of data loss.
Tips & Tricks for A Successful Backup of Emails
There are several tips for users to understand how to backup Gmail emails & counter all the negative impacts of not having backups. Evidently, meaning that there's a way to backup these Gmail files & users must know it.
Take Regular Backups: Users must take regular backups to minimize the loss in case something happens. Regular backup help users get the maximum data back.
Upgrade Security Standards: Make sure to upgrade all your security standards. Enable two-factor authentication and build other protection shields as well.
Automate Your Tasks: Automate your tasks to reduce your efforts. This will result in better efficiency for learning how to backup Gmail account.
Select the Finest Tool Out There: There are various tools out there but select only the best one. This is why we mentioned the tool that experts & users trust blindly.Store Backups in Different Locations: Make sure you back up your data & then store it in different locations. This can help you safeguard the information from hackers.
Conclusion
Yes, it's quite difficult for users to learn how to backup Gmail emails without any errors. However, it's possible. There are numerous difficulties and complications most users encounter. Nevertheless, as we all know, "time is money" and we cannot waste our time using such a method which will lead to failure.
So, users can select the best tool from above which we think is the automated tool. All the methods do work but not all provide desired results. We have explained the advantages of a few methods. You can read them carefully to take a backup Gmail account data files.