How to Download Emails from Gmail to Computer – 6 Latest Methods
This article describes the latest techniques to download Gmail emails to your computer using Takeout and Post Office Protocol 3 (POP3). It also mentions native methods to save emails from Gmail in different formats if desired.
Table of Contents:
How to Download Emails from Gmail to Computer in Bulk with Google Takeout?
The best way to download emails from Gmail to computer is Google Takeout. It is a service by Google Data Liberation Front for users to export data from Google applications including Gmail. It allows you to save Gmail emails and download data from various other Google services.
The following instructions will work whether you are on a PC or Mac as long as you have a stable internet connection.
Step 1. Log in to your Gmail account in a web browser.
Step 2. Click on the Profile image (right-side) and hit Manage your Google Account.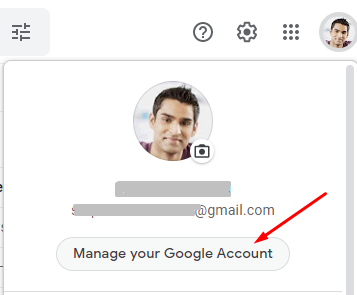 Step 3. Then, select Data and privacy.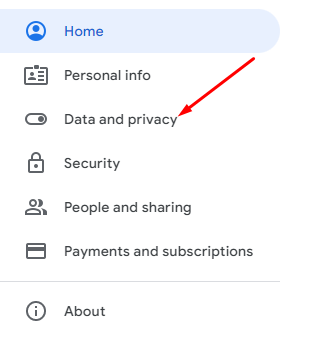 Step 4. Scroll down to Download or delete your data section and click on Download your data.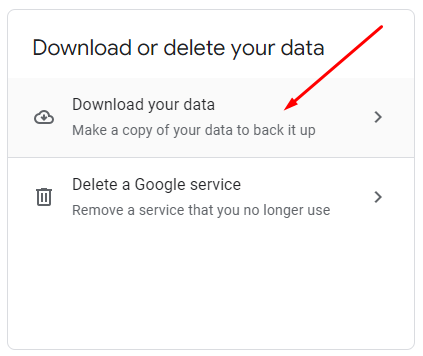 Step 5. The Google Takeout page will open. Here, click on Deselect all.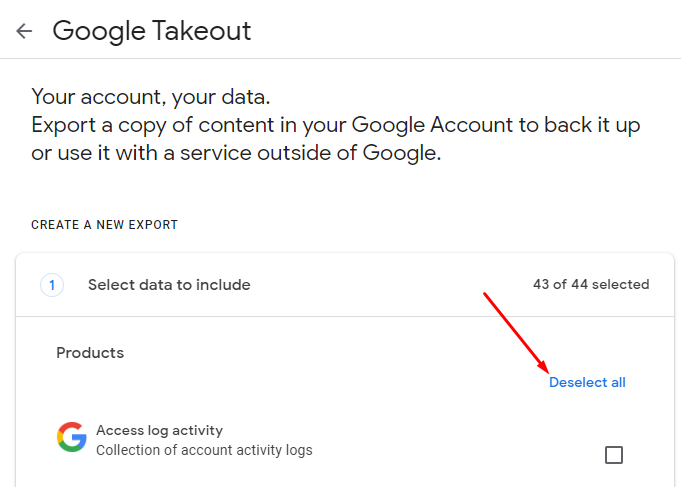 Step 6. Then, scroll down to the Mail section and tick the checkbox to save Gmail emails.

Step 7. After that, scroll down to the bottom and click on the Next Step button to continue.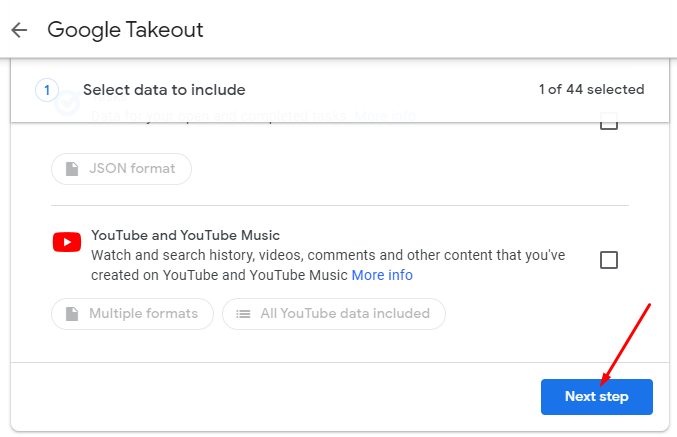 Step 8. Then, select the Delivery method. The default Send download link via email sends you a link via email message after archiving the Gmail mailboxes.

Step 9. Then, choose the Frequency of saving the emails. The default Export Once option saves Gmail emails in an archive at present and does not automate the process every 2 months.

Step 10. The file type and size section gives you the option to select the download format between ZIP and TGZ. In addition, you can select the maximum file size available to save Gmail data. If the archive exceeds this size, it will be split into separate mailbox files.

Step 11. Finally, click the Create Export button to start the export process of the selected Gmail account data.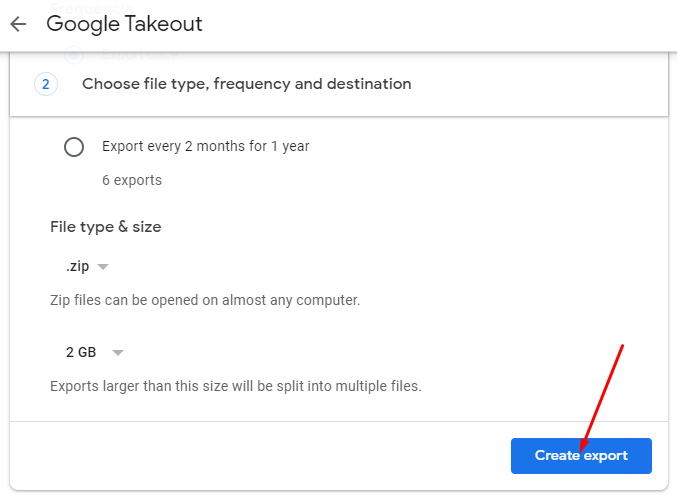 Step 12. Wait for the process to complete. It may take a few minutes, hours, or even days depending on the size of the Gmail mailbox. You can close this window and wait for an email with the download link.

Step 13. Once you receive the email with the subject "Your Google data is ready to download", open it and click on the Download your files button.
Step 14. After downloading Gmail emails to computer, extract the file to obtain a Mail folder and an archive_browse.html file. This file contains information about the export process.

Step 15. The Mail folder contains an MBOX file. This MBOX file contains all the Gmail emails saved into it.

With this, you have successfully exported Gmail data to your computer using Google Takeout.
How to Download Specific Gmail Labels to PC?
If you want to save specific labels in Gmail to a PC, then follow these instructions:
Step 1. Open the Google Takeout page and go to the Mail section.
Step 2. Here, click on All Mail data included.

Step 3. Then, you can choose specific labels that you want to download.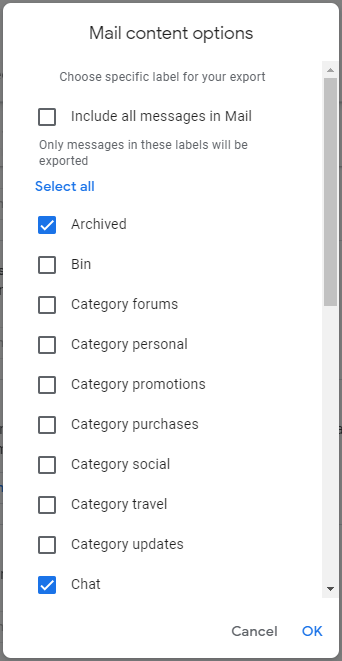 Step 4. After that, click OK and finish the rest of the steps as described in the previous section.
How to Save Emails from Gmail Using POP3?
If you use an email client or are aware of its functionality, you can use it to save messages from Gmail as well. By using POP3 during the configuration process, you can save all the emails directly from your Google account to your computer or in the email client. This way, users can safely download emails from Gmail to computer
But before that, enable the POP option in the Gmail account, or you will never be able to configure the account successfully.
1. Log in to the Gmail account, and click on the Gear icon to select the See all settings option.
2. Then, go to the Forwarding and POP/IMAP tab.

3. Tick the Enable POP for all mail options and save the changes.

Now, you can configure the Gmail account in your preferred email client like Microsoft Outlook, Mozilla Thunderbird, Apple Mail, etc., and download all the emails in the file format supported by the email client.
For example, Outlook will export Gmail emails to PST, Thunderbird will save them in a no-extension MBOX file, and Apple Mail will store emails in .mbox file format.
How to Download Gmail Emails to Computer as EML File?
You can easily download a single Gmail email in the web browser. This option is preferable for users who simply wish to save a few important emails and have no need for bulk backup.
The latest steps to save a single email in Gmail are:
Step 1. Log in to your Gmail account and open the email message that you want to save to computer.
Step 2. Then, click on the 3-dots icon and select the Download message option.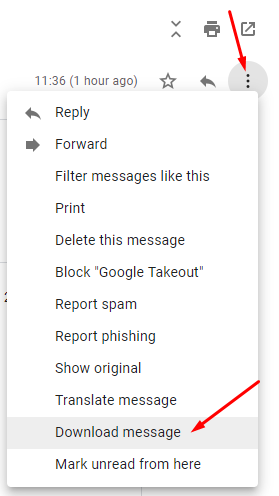 Step 3. It will download the message as an EML file.
Furthermore, you can repeat the steps for each Gmail message that you want to save.
Download/Save Email as PDF File
Gmail also provides an option to export Gmail emails to PDF format. A PDF document maintains its formatting and structure on all operating systems. It is also presentable for legal purposes. So, many users often save emails as PDF.
The native option for learning how to download emails from Gmail in bulk to computer in this format is described below:
Step 1. First, open the Gmail email that you want to save.
Step 2. After that, click on the Print all icon (right-side).

Step 3. Then, select the Save as PDF option in the dropdown menu.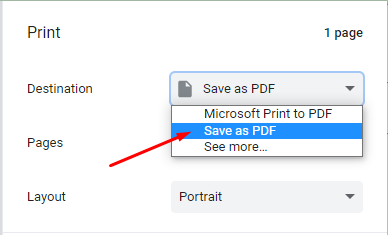 Step 4. At last, click on the Save button to download the file.
Download Gmail Emails to Computer with Attachments
Most manual methods do not keep the attachments intact. Plus, it may take days to complete the native process. There are even times when Google Takeout fails to deliver.
In such situations, it is better to opt for a professional Gmail Backup software to download and save Gmail emails in bulk. All of this, without discarding the attachments. You can download the free demo version of one of the most trusted backup solutions below.
Quick Steps to Download Gmail Emails to Computer with Attachments

Step 1. Download and launch the software.
Step 2. Login with the password and ID.
Step 3. Choose the category and format to save.
Step 4. Set the destination and apply the settings.
Step 5. Click on the Start button to save emails.
This solution helps you in downloading data from Gmail like emails, contacts, and calendars in one go. Plus, it provides multiple file formats to choose from like PST, MBOX, MSG, EML, HTML, and PDF.
Here, watch this video to understand the workings of this software and how it helps in downloading all or specific Gmail folders without any inconvenience.
General FAQs
Q-1. How do I view Gmail mailbox files after downloading them?
Ans: Viewing the files after downloading them actually depends on the format in which the file is available. For example, to view emails from the Google Takeout file, you can make use of the Mozilla Thunderbird email client or free MBOX Reader application.
To view emails from Gmail files downloaded via POP (using Microsoft Outlook), you can make use of the free PST Reader application. Of course, you can keep reading the files with Microsoft Outlook as well.
Q-2. How do I download emails from Gmail to computer or external hard drive?
Ans: You can make use of any of the given methods to save emails to your computer. After you receive the downloaded file, simply move them to the connected external hard drive.
Q-3. Why should I save Gmail emails to computer?
Ans: There are many reasons to download data from Gmail to computer:
Backup Gmail emails to avoid a disastrous situation in the future.
You are migrating to a new email service from Gmail.
Gmail storage quota is exceeded so download the emails and delete them from the server.
An employee left and you need to archive his/her email messages.
You are switching professions and need to keep records of the previous job emails.
Download Gmail Emails with Takeout FAQs
Q-1. How to download Gmail emails to computer with specific folders?
Ans: Yes, there is an option to choose specific folders to download data from Gmail. All you need to do is select All Mail data included option in Takeout when selecting the Mail checkbox. There you will find the list of all Gmail labels and folders to download data.
Q-2. What are the delivery methods for the downloaded emails?
Ans: There are a total of 5 delivery methods to save emails:
Send download link via email – This option sends an email containing the download link to your email account. The files are available to download for a week.
Add to Drive – This option organizes the file in your Google Drive account. Once the process completes, head over to your Drive and download the files.
Add to Dropbox – This option transfers the file to your Dropbox account. You will need to link your Gmail ID with the Dropbox.
Add to OneDrive – This option transfers the downloadable file to your OneDrive account. You will need to allow the Gmail account to access OneDrive space.
Add to Box – It is the same as the previous two options. You will need to connect the Box account with Gmail ID, and Google will store the file containing Gmail emails in your Box account.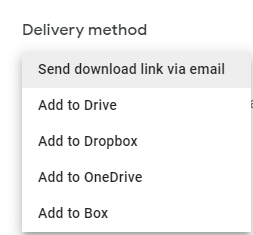 Q-3. What export types can I select?
Ans: There are two export types to select when downloading emails from Gmail:
Export once – This option lets you export data once.
Export every 2 months for 1 year – This option automatically processes the data every 2 months for a year and sends you the download link via your selected delivery option.

Q-4. What are the available download formats?
Ans: There are two download formats available when saving Gmail data to PC:
Zip files – Can be opened on almost any computer without the need for a ZIP file.
TGZ files – This may require additional software to open this file type.
Q-5. Is there a size limit?
Ans: Yes, there is a size limit on the Gmail file that you can download. You can select between 1 GB, 2 GB, 4 GB, 10 GB, and 50 GB.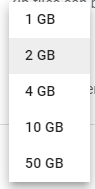 If the actual file size exceeds the selected size, it will automatically be split into another file.