Gmail Storage Quota Exceeded – What Can Be Done in Such Cases?
Nowadays, almost everyone having a Gmail account is facing the "Gmail Storage Quota Exceeded" error.
A lot of users prefer Gmail along with their business account because of its user-friendly interface that allows every individual and business holder to get their work done in their day-to-day life.
However, did you know that Google offers only 15GB of free storage space? Which is further divided into 3 parts, giving an equal to Gmail? And that, once it's exceeded you will not be able to send and receive any further emails?
Yeah, that happens a lot to Gmail users when the flow of emails regularly is relatively heavy.
Moreover, this Gmail storage limit reached issue can be a pain if you are a small business owner and run your business by taking online orders through Gmail.
You obviously need to maintain a balance sheet in Google Drive and having enough storage space to receive emails is critical for the smooth running of your business.
Hence, keeping storage in your mailbox becomes essential. Let's find out what can you do if your storage quota gets exceeded.
But first, let's understand how the storage space is shared in your Google account.
Gmail Storage Quota Exceeded – Why Does it Happen?
The 15 GB space is shared across Google Drive, Gmail, and Google photos.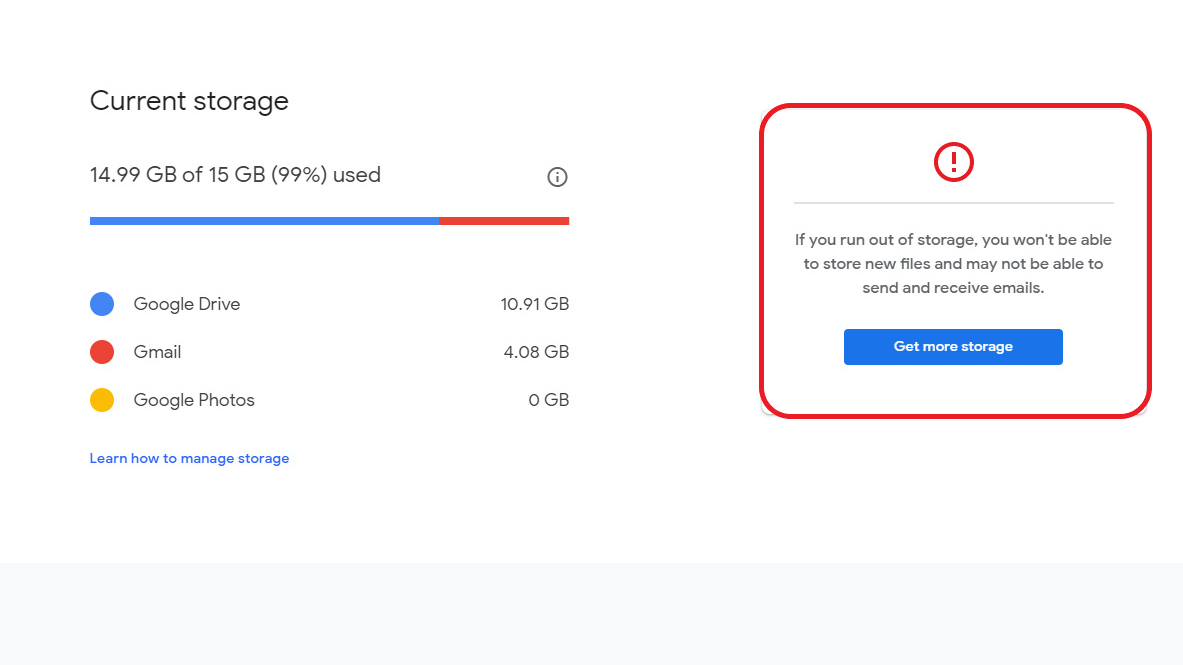 So, the used space comprises of all your emails, important documents (DOC files, spreadsheets, etc.), images, videos, items in your spam & trash folder, PDFs, etc.
Now let's discuss the solutions for your storage problem.
You can resolve storage space issues by subscribing monthly storage plan offered by Google.
But, why pay every month when you can opt for the one-time investment method that is to take the backup of your files using a tried and trusted tool.
Fix Your Gmail Storage Limit Reached Problem Using Reliable Software
By saving all your data on your system, you can easily get rid of storage-related issues. And for that, the best option is the Intelligent & Smart Gmail Backup software.
You don't have to worry if you are a non-technical person as its user-friendly interface allows you to perform the task very easily.
Follow the simple steps and effortlessly backup all your important files!
Step 1: Launch the software on your system & provide the Gmail credentials to login.
Step 2: Select the file format, category, and the destination path to backup when Gmail Storage Quota exceeded error encounters.
Step 3: Click on the 'Delete after Download' option to automatically delete the files after downloading.
Step 4: You can download only selected files by applying the Date-filter & Email-filter.
Step 5: Now, click on the 'Start' button to proceed.
By using the above tool and following the steps you can comfortably backup your files into your local system.
However, at first, some users often try the free service offered by Google itself i.e. Google Takeout. But, let me tell you there are many drawbacks of using it.
Major Downsides of Google Takeout to Fix Gmail Storage Limit Exceeded Issue
It is always tempting to opt for the free service. For that, users search the company (Google) service and go to the Google Takeout website & follow the steps.
However, there are many disadvantages of this free service.
The procedure is very lengthy and time-consuming.
It will only save the files on your system but cannot delete the files from the server.
If you don't have a strong internet connection then the archive download can fail leading to failure in Gmail storage limit reached fix.
Also, it allows only a few attempts to download the files.
It saves the file only in MBOX file format.
Once there is a power cut or internet connectivity issue then you cannot resume the process.
You don't get the chance to choose the destination path for saving your files. It will by default save the files in the 'Download' folder.
Hence, relying on trusted software is always the best option for its remarkable features.
Why Do Experts Use Trustworthy Tool to Fix Gmail Storage Quota Exceeded?
Not just one but there are many reasons for which the experts recommend using the tried and tested tool.
Instead of taking the backup of all your emails, you can select limited folders by applying the folder filter. Or, if you want to download files from a specific time interval then you can apply the Date-filter.
Use the 'Delete After Download' option to automatically remove the files from the server once the backup is done. Also helps to free up storage space in Google account.
Overcome Gmail storage limit exceeded error by taking backup in more than 5 file formats.
The Incremental Backup feature makes the space available by taking backup of new data only.
During the backup process, if you lose your internet connectivity then you can 'Resume' the process once your internet connectivity is back.
The tool maintains the structure of the folder during the backup process.
Final Analysis
If you are a Gmail user and your business and/or personal needs depend on your Gmail account then, you cannot take the risk of your emails being blocked. The dire need of learning & fixing the Gmail Storage Quota Exceeded error should be accomplished as soon as possible.
Hence, don't fall for the free service and make a smart choice of choosing the tool to overcome this storage error.