Fix the Issue Gmail Out of Storage Space Using Best Methods
Initially, when a user creates a Google Account they get a free Storage size of 15 GB to store their pictures, documents, email messages and all. Once it gets overly stuffed with a lot of data and exceeds the limit, a notification "Gmail Out of Storage Space pops up.
Once this level comes up, the Gmail account stops receiving emails or the user cannot store any data in it. At this stage, it becomes important to manage your storage space properly so that you can receive and send emails properly without any interruption.
To make it possible, here we will be guiding you using a few easy methods that can help you free up storage space in Gmail/Google Account.
Under What Cases Is it Required to Clean Up Gmail Storage Space? 
There are several reasons why user gets this message "Gmail out of storage space". Unread emails in Gmail can accumulate quickly, particularly if you have accounts on other websites. Receiving emails with large attachments, Accumulated Spam and Trash, Attachments in Chats and Hangouts, and Archiving Old Emails. All these are unnecessary emails that cover the space and a point arrives where users need to manage Gmail storage space.
Other than this all your documents and pictures with bigger sizes easily consume the maximum of your Google Storage space.
How to Fix the Issue of Gmail Out of Storage Space Manually?
To clean up Gmail storage and avoid getting the "Storage Full" notification you can follow a few instant things:
Select all the unread emails (which are not important) and Delete them all.
Save all the attachments locally and remove all those large emails with the attachments.
Remove other trivial docs photos etc from your Google Account.
These tricks can be used to manage Gmail storage to some extent.
Use Google One Storage Manager to Avoid Gmail Out of Storage Space Issue
To manage your storage properly across Google Drive, Gmail, and Google Photos, you can use the Google One Storage Manager. This shows you how much storage space each category (Gmail, photos Drive) is covering. Based on this knowledge you can easily understand and act accordingly to free up storage space in Gmail/Google Account. As we know Gmail email size is low when compared with other types of data.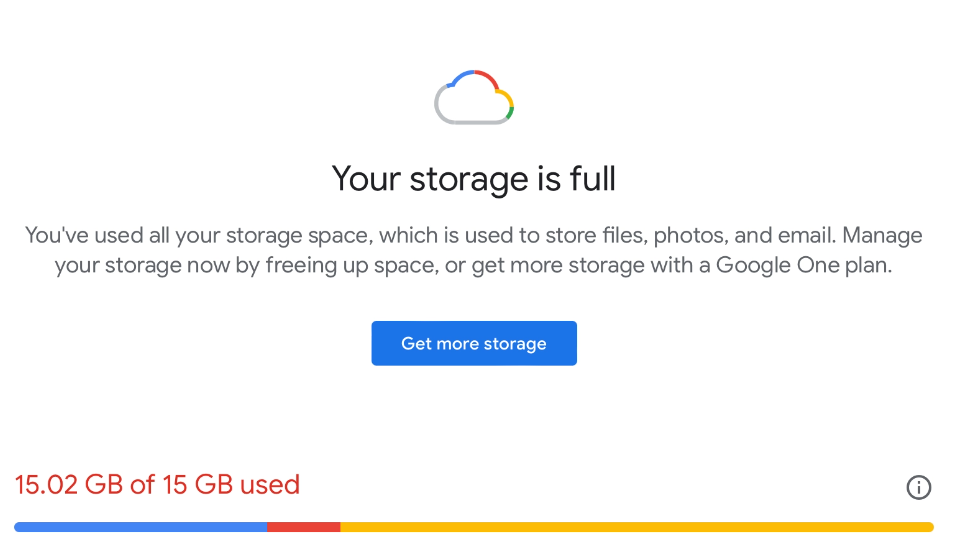 So, reducing email storage space would be sufficient, users will need to look more broadly and understand what other elements are taking more space and how it can be lowered.
To visit this application then follow the steps below:
Visit the Google One portal.
Open your Google account and log in.
Select the storage tab. A breakdown of the amount of storage you're utilizing for each service will be shown to you.
A list of all the files using up space in your account may be viewed by clicking the Manage Storage option.
Delete whenever it suits you.
How to Clean Up Gmail Storage Space Using Google Takeout?
In case you have a ton of emails and other important elements stored and are required to save them to use later then you can simply use the Google Takeout tool offered by Google itself which gives you the option to download any type of data stored in the Google account.
Go to Download Emails from Gmail to Computer to know the steps to Download Gmail data using the Google Takeout App.
Use Quick Solution to Free up Storage Space in Gmail Easily
Using the above solution may help and find your results. However, sometimes the process gets difficult for a few users and others, it can take an ample amount of time to remove or download all the required data. Hence, it is suggested to go for an Offline Gmail Backup Tool which makes the entire process easier.
With just a few clicks, the user can simply take the
backup Gmail emails from account
and
export them in several file formats like PDF, PST, MGF, EML and MBOX.
Users can try the
Free Demo version
and explore other advanced features that this tool has.
To manage Gmail storage follow the Guided Steps:
1. To obtain the backup of required Gmail data, download the utility. Give the Gmail account login information to fix the issue of Gmail out of storage space.
2. After that, select the Email Format to save the backup email.
3. Next, choose the Category that needs to be downloaded and backed up.
4. At this point, choose the Folder Path to store by using the Browse option. Apply filter is another option available to you.
5. Press the Start button at the end to create a backup and resolve the Gmail out of storage space issue
Conclusion
The worst situation for users comes when they see a notification that Gmail Out of Storage Space. Few users start thinking about cleaning up unnecessary data but don't know how they can do it without removing the important data. Hence through this post, we have covered different methods and a few tricks to clean Up Gmail storage making sure that the important emails are safe. Other than that, one can also use the automated tool which makes the backup process easier.