How to Import Gmail Contacts to iCloud? Free Guide
Are you looking for a solution to import Gmail contacts to iCloud? If you are also facing the same problem, then you can refer to this blog. Here's a quick guide on how to transfer Gmail contact files to iCloud. Then explore the entire blog and stay tuned for more information.
In today's technological age, many users are interested in new technologies. When technology becomes part of our lives. Also, the user is more concerned with the security of his data.
Gmail is a free webmail service provided by Google Inc. Launched on July 1, 2004, it has over 150 million users. It was the first web-based email client that revolutionized email. The main reason this happens is because Gmail is so fast and easy to use.
iCloud is Apple's cloud-based ecosystem of apps and utilities that can be used on almost any device. It is basically a iCloud service provided by Mac Inc. for all iOS, macOS and Windows users. It also provides email functionality, allowing you to send, receive and manage e-mail. However, there is no direct way to move your Gmail contacts file to your iCloud account.
Technique to Import Gmail Contacts to iCloud
There is no direct method available to move contacts from Gmail to iCloud account. So, first, you need to export the Gmail contacts file in VCF format and then import the exported VCF file into the iCloud.
Export Gmail Contacts File to VCF Using Automated Solution
After considering the above scenarios, you can also try this Expert Suggested Tool to convert Gmail contacts to VCF file format. It is designed for users to easily export contacts from their Gmail account without risk or data loss.
It has a simple and easy-to-use interface, so even beginners can use it without expert advice. Here are the following steps to export your Gmail contacts.
Task 2: How this Automatic Solution Works?
Now, follow this guide to better understand how to export contacts from Gmail to VCF format.
Download and Run the tool on your machine.
Sign in to the tool with your Gmail ID and password.
Select the dropdown menu and select the format as VCF.
Click the Browse button to find the final destination of the export process.
Press the start button to Export your contacts in VCF format.
Once the task is completed, a VCF file will be exported.
After that, import those vCard files to iCloud and sync your iPhone with them.
Task 3: Transfer Converted vCard Contacts to iCloud
Go to https://www.icloud.com/and sign in.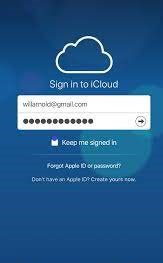 Pick the Contacts icon the lower left corner.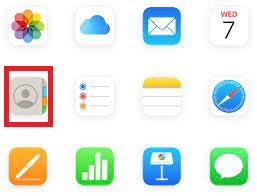 Select the Import vCard Options.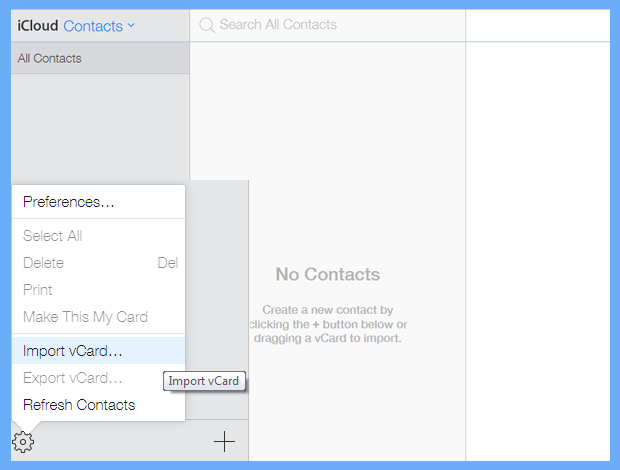 Browse the converted VCF file from the generated destination.
Now the application will start importing contacts from vCard to iCloud.
Conclusion
So, in this post, we have explained the complete process to import Gmail contacts to iCloud. If you are looking for a reliable solution to export Google contacts, then install our recommended tool. You can download this utility without any issue.