Why Users Can't Add Signature to PDF & Solutions
Can't add signature to PDF? Let's dive into understanding the reasons behind this common problem. We'll also explore the solutions when signing is not allowed in PDF documents.
Table of Contents:
Normal Sign & Digital Signature in PDF
A PDF document allows for two types of signatures: a normal sign and a digital signature.
A normal sign represents handwritten signatures or initials.
While a digital signature offers more security by verifying the signer's identity. It ensures the document's integrity.
Why Users Can't Add Signature to PDF
There are several reasons that can hinder users from adding a signature:
The PDF might be secured or protected.
Permission restrictions.
Faulty or outdated software.
Document settings not permit signatures.
Signing Not Allowed in PDF? Here Are the Solutions
There are primarily two ways to resolve the "can't add signature to pdf" issue. The first method is to use Adobe Acrobat Pro DC or other PDF editors to remove PDF restrictions. This method requires users to have the permission password for removal. The second method is to use professional software that does not require any password to remove such restrictions. If users are still unable to add signature to PDF in Adobe, then they can try updating the software or check the PDF file for corruption.
Method 1 – Adobe Acrobat Pro DC
Adobe Acrobat Pro DC is the premium version of Adobe Acrobat Reader. It provides advanced tools and features that include the ability to add signatures to PDF files even when signing is not allowed in PDF. Of course, the user needs to remove such settings first from the document to enable signing in PDF. Here is the process to do so:
Open the PDF with Adobe Acrobat Pro DC.
Go to 'File' > 'Properties'.
Under the 'Security' tab, check the document restrictions. If "Signing" is not allowed, you need to change the settings.
Select 'No Security' from the dropdown.
Since the permissions are password protected, enter the password.
Save the changes with 'Ctrl+S' and try signing again.
This way even if users can't add signature to PDF file in Adobe in the beginning, they can remove the settings and sign in without any problems. However, if the user does not have the permission password, then opt for the second method.
Method 2 – Reputed Professional Tool
PDF Unlocker is an external tool designed to remove password from PDF files, enabling functionalities like printing, editing, and signing. It's especially handy for PDF documents with unknown security passwords. The tool has a simple interface and doesn't need any expert knowledge to work with it.
Download and install the full version from the official website.
Add PDF files that have signing restrictions into the software properly.
Click on 'Unlock' to remove signature restriction from PDF.
Open the unrestricted PDF and proceed to sign.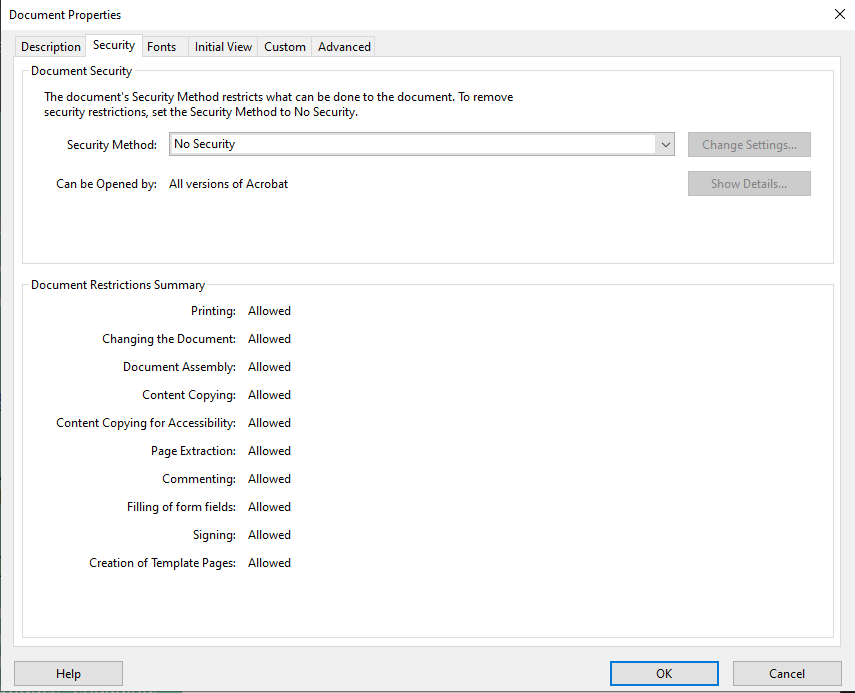 This way even if users cannot sign in PDF initially, they can remove settings without password and sign in without any problems. Do note that the software also removes digital signature from PDF files. So, try the free demo version first to check if it works for you before purchasing the full version.
Other similar articles:
How to Add Normal and Digital Signature in Adobe Acrobat?
Can't add signature to PDF in Adobe software issue is now resolved. Using the above two methods, we have removed signature restrictions. Now it is time to add signature to PDF in Adobe Acrobat.
Open the PDF in Adobe Acrobat.
Click the 'Tools' tab, then select 'Fill & Sign'.
Choose 'Sign' > 'Add Signature'.
For a normal sign, draw or type your signature. For a digital signature, you need to have a digital ID set up.
Place the signature where needed and save the document.
Conclusion
There can be various reasons why users can't add signature to PDF documents. But with the right tools and knowledge, we can resolve them easily. Make sure to keep the software updated and use reliable tools to avoid document corruption and damage.
FAQs
Q. Is signing a PDF with a digital signature more secure?
Yes, digital signatures offer more security by ensuring the signer's identity and the document's integrity.
Q. I still can't add signature to Adobe Acrobat after trying the mentioned methods. What should I do?
In that case, make sure to update the software whether Adobe or other PDF editors. Also, check for any document damages resulting in a corrupt PDF file. Lastly, consult with the document's creator or owner for a restriction-free PDF file..
Q. Is a professional tool safe to use?
It depends on the reputation and trust of the brand. The professional tool recommended in this article is a reputable tool. However, always ensure to download it from the official website to avoid counterfeit versions.