Can't Print PDF? Fix Not Allowed & Printing Problems
Are you facing the frustration of being unable to print a PDF? This guide will help you understand why you can't print a PDF and provide solutions for both "print not allowed" PDF and printing issues stemming from other reasons.
Table Of Contents:
It is a straightforward task to print a PDF, but it's not uncommon to encounter hurdles. The problem can often be categorized into two types: PDF files that are explicitly marked as "print not allowed" and printing problems caused by other underlying factors.
Why Can't Print PDF? Print Not Allowed PDF or Other Issues
Before we delve into solutions, let's pinpoint the main issue. Is it the PDF itself that restricts printing, or are there other factors at play? To check, do the following:
Open the PDF file in a PDF editor like Adobe.
Right-click on the opened file and select Properties.
Now, see if printing is allowed or not in the Security tab.
If it is not allowed, then the reason to be unable to print PDF are restrictions. Refer to Part 1 for solutions.
If it is allowed and you still can't print PDF, then look for other issues in Part 2.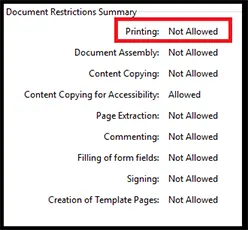 Part 1 – Can't Print PDF Because It is Not Allowed
In this section, we'll address PDF documents that prohibit printing and provide methods to bypass these PDF restrictions.
Method 1: Employ Dedicated Software
Download, install, and launch the PDF Unlocker software.
Click Add File(s) to import the PDF you want to print.
You can choose to select the Print option.
Click Unlock to enable printing in PDF by removing restrictions.
You can also print the PDF using any editor once the file has no permissions left.
Method 2: Use Adobe Acrobat
Launch Adobe Acrobat and open the PDF document.
Go to Tools >> Protect.
Click on Advanced Options >> Remove Security.
When prompted for a permissions password, enter it to unlock the document.
With the document unlocked, you can now print PDF using Adobe Acrobat.
Similar Read: Cant Edit PDF File? All Fixes
Part 2 – Printing Issues Due to Other Reasons
In some cases, when you can't print PDF, it might not be due to the document itself but rather other underlying issues. Let's explore these scenarios and their solutions.
Issue 1 – PDF File Has Corrupt Data
If the PDF contains corrupted data, it can hinder printing. Try obtaining a clean and undamaged version of the PDF. Try to print it in a different manner:
Open PDF in Adobe.
Select Print.
Select Advanced Settings.
Choose Print as Image.
You can also redownload the PDF if it is available and try to see if the new PDF allows printing. Or contact the owner to get a new PDF.
Issue 2 – Outdated Printer Driver
An outdated printer driver can lead to printing problems. Update your printer's driver to resolve this issue.
Issue 3 – Incorrect PDF Printing Presets
Make sure your PDF viewer's printing presets are configured correctly. Check for settings that might be preventing printing, such as page size or orientation. If you still can't print PDF, do the following:
Open the PDF in an editor like Adobe.
Save it as PDF/X
Now, select a default preset or create a new one.
Choose the best one for yourself and save the file.
Now, open the file and try to print PDF to see the results.
Conclusion
PDF printing is quite a hassle-free task as long as you understand the reason behind unable to print PDF file. With these solutions at your disposal, you can overcome the hurdle of can't print PDF without any issues..
FAQs
Q1: Can I print a "print not allowed" PDF without removing restrictions?
No, you'll need to unlock or remove the restrictions from the PDF using methods like those described in this article.
Q2: My printer works for other documents but not for PDF. What's the issue?
This could be due to PDF-specific problems, such as corrupted data or incorrect settings. Investigate these factors as discussed in the article.
Q3: Are there mobile apps for printing PDF?
Yes, many mobile apps allow you to print PDF from your smartphone or tablet to compatible printers. Check your device's app store for such options.