Can't Copy Text from PDF? Fix Adobe PDF Copy Problems
Are you facing this frustrating issue – can't copy text from a PDF document? It's a common problem caused either by copy restrictions or dealing with scanned/image-based PDF documents. This article will provide easy-to-follow solutions to help you overcome these problems. It does not matter whether the file has copy restrictions or it is a scanned PDF, this article solves them all.
Table of Contents:
When PDF does not allow copying from a PDF, it hinders the ability to copy from PDF. This issue usually falls into two categories: PDF with copy restrictions in place and scanned PDF where the text isn't selectable. Let's dive into these problems and explore the solutions.
Main Reason – Scanned PDF or Copy Restrictions
It is important to understand the causes of why users can't copy text from PDF. These issues generally fall into two main categories:
I. Copy Restrictions: Some PDF files are protected by their creators to prevent text copying. This means that even if the text is visible on the document, users won't be able to select and copy it. It's a security feature to safeguard the document's content.
II. Scanned PDF: Scanned or image-based PDF files present another challenge. After all, the text in these PDF documents is essentially an image. So, users can't select and copy it directly. They must employ Optical Character Recognition (OCR) techniques to convert the image-based text into copyable text.
Now, let's explore solutions for both scenarios.
Can't Copy Text from PDF Because It is Not Allowed
When the PDF is protected by its creator, it means that the user can't copy text from PDF document. The only solution is to remove the security from it. Fortunately, they can use a few different methods to do so.
The security we are talking about here refers to the PDF restrictions that prevent users from copying text. In other words, it's a protection feature that prevents users from copying text from secured PDF files.
Method 1: Use Dedicated Software When You Can't Copy Text from PDF
If the PDF has copy restrictions, a user can use dedicated software like PDF Unlocker Tool. This tool helps to remove the restrictions from PDF files that allow copy text effortlessly.
The software is adept at removing limitations. It allows users to copy text freely from their PDF. This tool is particularly useful for secured PDF with copy restrictions. It features a user-friendly interface. This makes the process straightforward. Thus, it solves the problem of being unable to copy text from PDF. It's an effective solution for both professionals and students. They often need to use text from secured PDF documents.
Here are the steps to follow when users can't copy text from PDF document:
Get the software and install it on the computer.
Launch the software and click Add File to select the PDF you can't copy from.
Change the destination location.
Click Unlock and let the software remove the restrictions.
Once the process is complete, users can freely copy text from the PDF.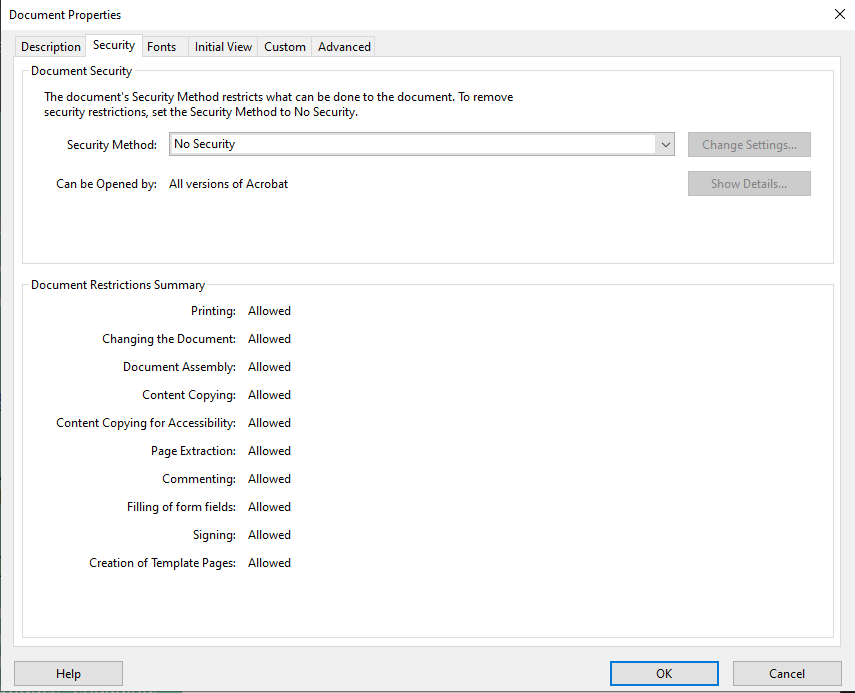 Method 2: Use Adobe Acrobat When Copy Is Not Allowed
Adobe Acrobat is another popular tool that offers a solution to bypass copy restrictions. It allows users to select and copy data after removing permissions. It is easy to use but the user must have permission password to execute the process. Follow these steps when users can't copy text from PDF document. 
Launch Adobe Acrobat and open the PDF with text copy restrictions.
Go to File, select Properties, and click on the Security tab.
Choose No Security from the dropdown menu.
Enter the permission password.
Save the PDF after removing the security settings.
With security removed, users can now copy text as needed.
Can't Copy Text from PDF Because it is a Scanned/Image PDF
Dealing with scanned or image-based PDF requires Optical Character Recognition (OCR) to convert images into text.
When users can't copy text from a PDF, it's often because the document is scanned or made up of images. In these PDFs, text appears as part of an image. This means you can't select or edit it as normal text. This type of format is common with documents scanned from physical papers or created from photos. Because of this, standard methods for copying text don't work. The document doesn't have text characters that software can recognize. To extract text from such PDF, Optical Character Recognition (OCR) technology is needed. OCR can analyze the images and turn them into text that you can edit and copy.
Method 1: OCR Software
Firstly, select an OCR software like Adobe Acrobat, ABBYY FineReader, etc, and then follow these steps:
Open the scanned PDF using the OCR software.
Run the OCR process to recognize and convert the image-based text into selectable text.
Once OCR is complete, users can copy text like in a regular PDF.
We have resolved the Can't copy text from PDF issue.
Method 2: Online OCR Services
Numerous online OCR services are available. Choose one that suits the users' needs and do the following:
Upload the scanned PDF to the online OCR service.
Initiate the conversion process.
The service will provide users with selectable text.
Copy the converted text to the clipboard.
Paste the copied text on any document of the user's choice.
The task is done. Copy text from PDF is now allowed.
Conclusion
Whether it is copy restrictions or scanned PDF files, the inability to copy text from a PDF is a solvable issue. By following the methods outlined in this article, users can overcome the "can't copy text from PDF" problem easily.
FAQs
Q. Can I convert scanned PDF to editable text for free?
Some online OCR services provide free conversions for scanned PDF files but the quality and limitations may vary.
Q. Do I need special software for OCR, or are online services enough?
It depends on your needs. For more control and advanced features, dedicated OCR software is recommended. Online services are convenient for occasional use.
Q. Can I reapply copy restrictions after copying text from a PDF?
Yes, if you have the appropriate permissions, you can reapply copy restrictions using software to lock PDF file and PDF editors like Adobe.
Q. Are OCR results always 100% accurate?
OCR accuracy depends on the quality of the scanned document and the OCR software or service used. While it's generally quite accurate, some manual corrections may be needed for perfect results.