Possible Ways to Access OST File Without Exchange Server
Summary: Is your Exchange OST file got corrupted or orphaned. And you are hunting the ways to access the OST file without Exchange.  Then in this article, we will discuss the best possible ways to access and recover corrupted Exchange OST files.
OST file is the offline data file which is a duplicate of the items present on the Exchange server of MS Outlook. The client has a copy of the mailbox files put away on his framework. But the Outlook users have to face the problem that they won't be able to open OST files without an Exchange account. So in this article, we are going to best possible ways to tackle this issue.
If you are looking for an immediate solution to access the Exchange Outlook OST file data then the user can take the help of the professional application.
Reasons Why Users Cannot Access OST File Without Exchange Account
Outlook Offline Folder (.ost) file is made when a client is associated with Exchange Server with Cached Exchange Mode. Along these lines, you can get to the OST files just if your Outlook profile is configured to an Exchange mailbox.
In any case, if the Exchange server account is erased the OST files become stranded. Additionally, the synchronization issue between the Exchange server and your Outlook email client can make OST files blocked off.
Numerous Reasons That Can Lead to OST File Corruption Issue
There can be corruption issues, and detachment issues which may cause due to:
Virus or Malware infection
Sudden or abrupt shutdown of Outlook application.
Because of the inadvertent deletion of the Outlook Account on the Exchange server.
Storage Media Failure.
Accidental deletion of Exchange account.
Furthermore, in those circumstances, it gets hard to open OST files without Exchange Server.
I am going to reveal to you a one-of-a-kind and simple method that will assist you with sorting such issues. You simply need to recreate the OST file and that would assist you with accessing the data.
Before knowing the means, you should know the accompanying realities of Different versions of MS Outlook.
OST Repair Option Varies in various adaptations of Outlook
Detect and Repair tool is inbuilt in MS Outlook 2000 and 2003
MS Outlook 2007 Replaced "Detect and Repair" alternative with Office Diagnostic tools.
MS Outlook 2010 and 2013 have Repair Option yet they just fix Microsoft Outlook installation files and other registry entries.
It is easy to fix OST files in Outlook 2013 and Outlook 2016.
Now, let's learn how to access the OST file without Exchange. Basically, there are two ways to access the OST file without Exchange.
By recreating the OST file from the server
By using  Professional Software
Recreate OST File From The Server
OST files are the disconnected document configuration of the information present on the server. The User can see the OST file data by downloading it from the server. To do this follow the beneath steps:
Terminate MS Outlook from "Task Manager"
Then, open "Control Panel".
Click on the "Mail" Option.
A "Mail Setup" exchange box will show up on the page.
Select the "Email Accounts" alternative.
Another Dialog Box Named "Account Setting" will open
Presently go to the "Data Files" tab and pick your file.
Here select the OST file and afterward click on "Open File Location".
Right-click on that OST file and Delete it.
Note– Before erasing the OST file, close Account Settings, and Mail Setup Window, or probably you will confront an error.
This will naturally make another OST file by downloading all the data from Exchange Server.
Note– If you are utilizing MS Outlook 2010 then it doesn't support manual procedure and bringing in of things from an OST file.
Therefore, by attempting the above steps, you will have the option to view and open the OST file utilizing an Exchange server. You can possibly attempt these steps when the Exchange server and your Outlook Account are synced up appropriately.
Access OST File Without Exchange By Using Expert Solution
But sometimes the manual method does not work and also causes data loss problems. So, now what to do if you want to access the OST file without Exchange or recover data for MS Exchange OST file? For this, the best method is to export complete data without any limitation. Now, in order to convert OST file into a PST file, follow this method.
1. Download and run the OST Converter application on your machine.
2. Click on Add file button and add the OST file to the software.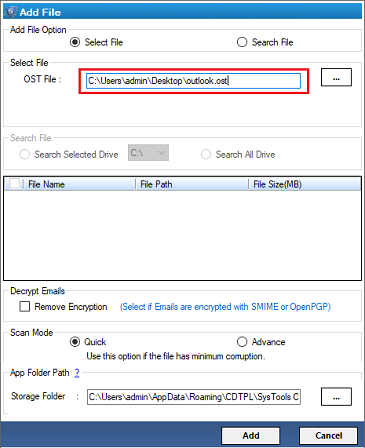 3. Now choose the Scan Mode from Quick and Advanced Scan,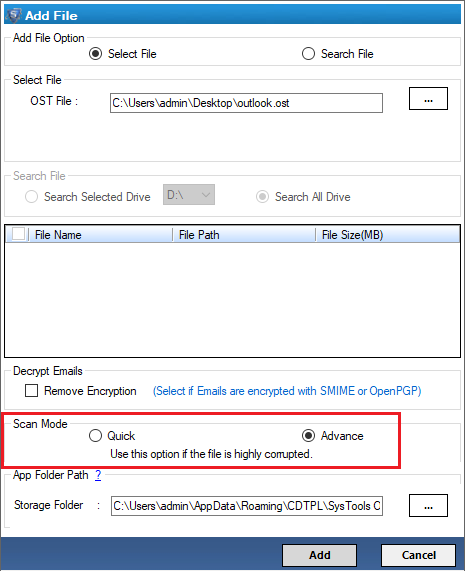 4. Preview and access Exchange OST file mailbox items.
5. Click on Export and Select PST format. Then browse the destination location to save the data.
Conclusion
OST (or Offline Storage Table) files let you get to mailbox data in the offline mode. However, you may have an issue getting to the OST files in case of an Exchange server crash or any other issues. So in this blog, we have discussed the ways to access OST files without Exchange. The user can try the manual solution but in case your OST file is inaccessible then taking the help of an Expert solution is the best solution.