Free Convert OST to PST without Outlook – 3 Methods
In this blog, we are going to discuss 3 effective methods to convert OST to PST with or without Outlook. Simply read the complete write-up and follow instructions. You can access exported PST in any version of Microsoft Outlook. The expert suggested way to change OST files to PST format is using third party tool.
OST file aka Offline Storage Table is a file that is created by IMAP Server (Exchange Server) automatically while configuring IMAP profile (Email ID) into Outlook. The OST file is replica of Microsoft Exchange server mailbox and allows users to access it even without internet connection.
Sometimes when the user creates an account with IMAP configuration, then it also works as a web server-based application and stores synchronizing data in (.ost) file.
However, there are various situations when these files become inaccessible. To manage the situation, the user needs to change the OST file into another file format i.e. PST. So that data can easily be accessed in offline mode. In the below section, I am explaining 3 different methods to convert OST to PST free.
Why Convert OST File to PST Format?
There may be different situations when the user needs to convert an Exchange IMAP OST to PST format, Some reasons are discussed below:
Power Failure, Malicious Software, and Virus Attacks can hamper Exchange server mail flow and it results in email breakdown.
Email Migration: Changing email server or mail client for any reason.
Free Space from Exchange Database: Exchange admin needs to manage storage space. The simplest way to take backup of OST file into PST format and delete data from server.
Employee Left the Organization: When ever employee left the organization, the Exchange Admin has to backup his mailbox and delete from server.
Open Orphaned OST File: Microsoft does not provide any way to relink or open orphaned OST file even with Outlook. In this case, first export the OST to PST format and then access it in Microsoft Outlook.
Methods to Convert OST to PST
Now, We know that when we need to change the OST file to PST format. However, in the next section, we will discuss different methods to export OST to PST without Outlook.
Free Convert OST to PST Outlook Manually
Convert Orphaned OST to PST Free
Expert Suggested Way to Convert OST Files to PST
Both solutions have advantages and disadvantages. In cases of orphaned OST, inaccessible OST, corrupted OST, Exchange Downtime, and so on, I recommend that users use third-party software. But, If you can access your IMAP profile through Outlook. Then, using Outlook's Import/Export feature, follow steps in method 1.
Method-1: Free Convert OST to PST
To convert OST to PST for free, your system must be configured with Outlook and connected with the Microsoft Exchange server. For the further procedure, the steps are as follows:
Step-1: First, you need to open MS Outlook then, click on "File" and select the option "Import/Export".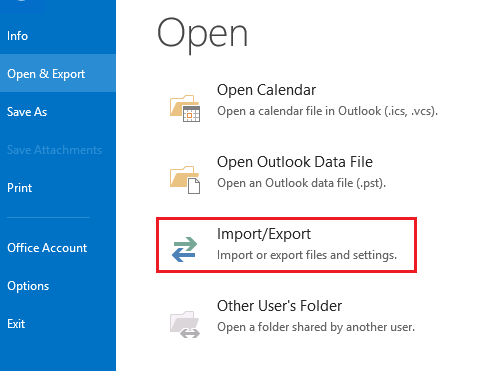 Step-2: A new dialogue box opens asking to "Choose an action to perform". Select "Export to a File" and proceed.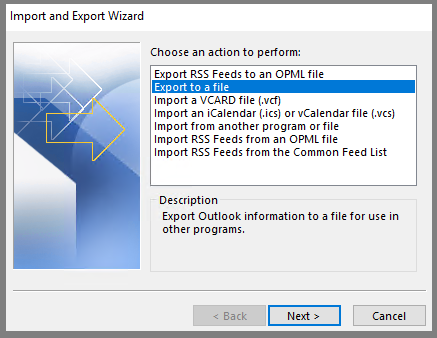 Step-3: The next screen will ask to choose the file type to import. Choose "Outlook data file (.pst)" then hit the button to "Next".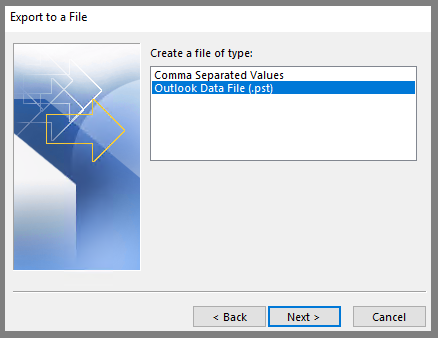 Step-4: Now, choose the folder to export data from, and click on "Next".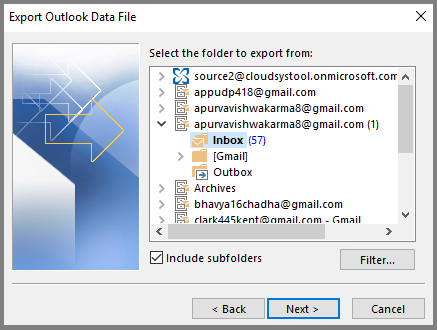 Step-5: Choose an option from the list "Allow duplicates to be created" and click "Finish".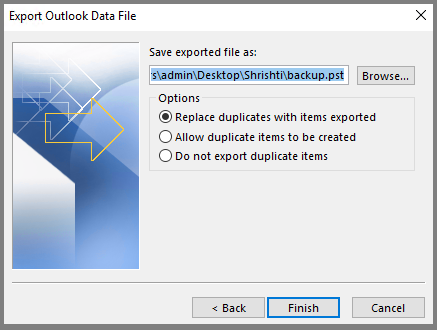 Step-6: After it, a new pop-up com to ask for an optional password. You can easily move ahead without entering it.
Now, manually converted Microsoft Outlook OST to PST file format. You can check your OST files which have been saved in PST file format at the selected location.
Method-2: Convert OST to PST Free Using Outlook IMAP Account
Most of the free solution fails to export orphaned OST files into PST format. But here in this method I will explain a severely verified and tested method.
Key Points: This method is little bit tricky and requires some technical understanding. So, as per my understanding, if you are not techie and then do not follow this.
Requirements: Microsoft Outlook with IMAP configured profile
Time Required: 10 to 16 Min.
Note: If your IMAP profile is configured in Outlook and you can access the same profile. Then follow the steps mentioned in method 1.
Let us start the steps to convert orphaned OST to PST for Free!
Step-1: Launch Outlook and locate the storage path using any of the methods listed below.
Follow the given path (C:\Users\Admin\AppData\Local\Microsoft\Outlook) remember that the path may be slightly differ in different version of Outlook and Windows OS.
You can also open the storage path from Outlook dashboard, simply right-click on your profile and click on open file location.
Step-2: Disable Automatic Send/Receive option of IMAP profile. This profile we will use further to convert OST to PST format.
Step-3: Close all instance of Outlook
Step-4: Now return to the Outlook storage location you selected in step 1. Simply copy the connected outlook profile OST file (support abc.ost) and paste at same location (abc-copy.ost). Now you have two OST file of same profile. Delete your main OST file (abc.ost), and make sure you have backup copy of same mailbox.
Step-5: Copy the orphaned OST file (suppose xyz.ost) which you want to convert and paste it to the same location where abc.ost file is saved.
Step-6: Now rename your orphaned OST file as your working OST file (For Example: xyz.ost to abc.ost)
Step-7: Launch Outlook and select same profile which we used in above scenario (abc.ost).
Step-8: Use Import/Export feature inbuilt in Outlook and explained in Method 1. It will provide you a healthy and accessible PST file which is created from orphaned OST file.
Step-9: You can perform same steps for multiple OST files. After completion conversion of OST to PST format. Close all instances of Outlook and deleted all OST files except abc-copy.ost, and rename it to abc.ost and enable automatic Send/Receive option and use your existing profile seamlessly.
That's all to convert OST to PST free even the orphaned OST file.
Limitations of Manual Method:
We have discussed the above manual method to convert OST to PST without Outlook, having some drawbacks, as mentioned below:
Need to configure Outlook Account in the system.
The system must be connected to the MS Exchange Server.
The slow process as compared to manual methods.
Risk of data loss or corruption.
Need a technical expert to follow the procedure.
Method-3: Convert OST to PST Using Software
To overcome the limitations, we are recommended to use an automated tool to convert OST to PST without Outlook.
Offline OST to PST converter is one of the best third-party software which makes this task easy and facilitates a user. It completes the process of conversion in just a few simple steps and is free from risks or error chances.
This software export mailboxes from OST to PST  file format. It also allows us to recover, backup ad extract all items of offline OST files.
Also helps to convert IMAP .ost to .pst, with not having any file size limitations. It provides a preview of data like emails, contacts, calendars, or other mailbox items before conversion.
This tool also has the additional ability to save OST files into different file formats like PST, HTML, MSG, EML, MBOX, EMLX, NSF, PDF, vCard, CSV, ICS, TXT, MHT, DOCX, DOC, and RTF. It also provides a demo version for free with limitations to export only the first 25 items per folder. Then, if the user will be satisfied, they can go for a licensed version available at affordable prices.
When to Use Professional Software:
The Outlook Import/Export feature has some limitations. You can use OST to PST converter software to get around them.
Convert OST file without Outlook
Same Profile and IMAP Configuration Not Required
Convert Large Size OST File without Any Limitation
Convert Orphaned OST File to PST Format
Export Corrupted, Inaccessible, Offline OST to PST file
Steps to Convert OST to PST without Outlook
Follow these simple steps to convert emails from OST to PST file format without Outlook, with the help of this tool:
Note: – The software is capable to export orphaned, corrupted, inaccessible OST files to PST format even without Exchange profile and server connectivity.
Step-1: Download OST to PST converter and install the software in your system offline and start the conversion process.
Step-2: Simply Add Files and preview OST files items into 8 different view modes. After that hit Export button.
Step-3: To export click on the radio button to PST and proceed.
Step-4: Browse the destination location to save exported PST in your system. After that hit Export button to start the conversion of OST to PST format.
Now, the procedure has been completed converting OST to PST in just a few steps. You can check your converted PST data at the destination location. Simply launch Outlook and use Import/Export option to access this file in Outlook. Get the complete guide for OST to Outlook import process.
User's Reviews After
Many users tried out this converter software and shared their thoughts. I've included a few reviews on this page.
By Marc Vidal
Hi all, I came across this page while looking for a solution to convert OST to PST format. I purchased this OST to PST converter and installed it on my Windows 11 system. It worked well in my case.
By Ameliya Lanne
I copied OST file form my old laptop using pen drive and tried to access same in my new laptop Outlook.  But it was not that easy, because later on I got know that Outlook allows to import PST only. So, i searched on Internet for solution to convert OST to PST format. This post helped me to understand the conversion process. I recommend everyone to buy this OST to PST converter full version.
By Steph Joria
I followed the steps explained in method 1 to convert OST to PST for free. I successfully exported complete data manually.
By Mattias
This post assisted me in converting OST to PST without Outlook. I had 37 OST files stored on an external hard disc. OST to PST converter software described above made it very easy for me to complete the task.
FAQs Related to Conversion Process

Q: Is It Possible to Access Orphaned OST File?

Answer: Yes, but for this first you have to convert orphaned OST files to PST format.

Q: How Do I Convert OST Files to PST for Free?

Answer: Microsoft Outlook has an inbuilt utility i.e. Import/Export, you can try  this and export complete data.

Q: How long does it take to convert a OST file?

Answer: There is no fix timing for converting OST to PST format. It depends on size of OST file and system configuration.

Q: Is It Safe to Use Third Party Software for Conversion?

Answer: Yes, third party  tool allows you to export complete data on your own system. But remember to use only trusted tools.

Q: What Should I Do If My Exchange Profile Is Deleted?

Answer: In this case, find the respective OST file and convert it into PST format using method 3 and then access output file in Outlook.

Q: Which is Faster and Reliable Way to Change OST File Extension?

Answer: All the solutions explained above are safe to follow and guarantees users for no data loss.
Conclusion
Manual methods are free, but have some limitations. You can free convert OST to PST format manually, if your system is having MS Outlook configured with Exchange Server. Also, These methods usually take longer time.
Using third-party software is a more facilitated and 2 free methods to convert OST files to PST file format. However, its your decision to choose any of the solution among three.