Ways to Import OST File to Outlook All Versions
Despite of the fact that Outlook creates OST file, It cannot be imported into Microsoft Outlook directly. But it can be done via third party solution. In this post, I will explain all possible ways to import OST in Outlook all versions.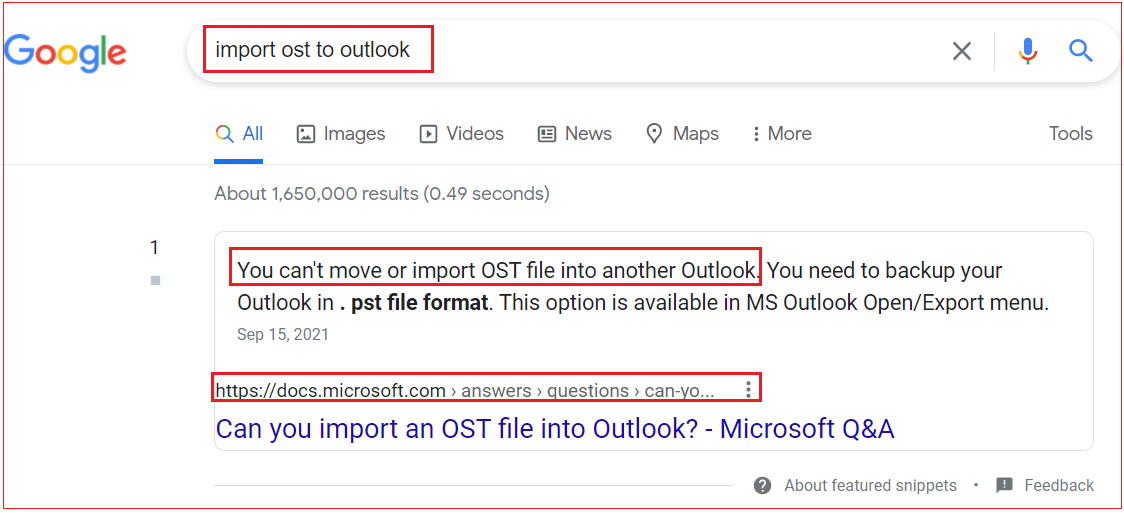 Outlook employs two types of Outlook Data Files. For most accounts, an Outlook Data File (.pst) is use. Your emails are normally delivered to and retained on the mail server if you have a Microsoft Exchange account. A second form of data file known as an offline Outlook Data File (.ost) is store to allow you to work with your messages even when you are unable to connect to the mail server on your system. Further we will discuss the How to import OST to Outlook profile?
What are The OST Files?
When you create a new account in Microsoft Outlook, an encrypted Outlook data file known as Offline Storage Table (OST) is created . It is associate with a specific profile on a certain PC where your account has been configure. You can use Outlook Data Files if you have an MS Exchange account and want to work offline (.ost). They are extremely useful in the event of server downtime or an unreliable internet connection.
However, in the following part, we will go over various techniques to change OST to Outlook data file.
When Are OST Files Affected?
When system is affected by virus.
Power outage during file syncing.
Available storage space is deplete.
When there is a network problem during file synchronization.
There is a faulty sector on a hard disc.
Microsoft Outlook begins to have bugs and difficulties.
Methods to Import OST to Outlook Account
If you have orphaned OST file or the Exchange server down. Then there is no free solution to access the OST in Outlook. In this case third party tool will help you to change OST file into Outlook importable data file format. There are 2 methods to complete this task lets understand both.
Method-1: Import OST File to Outlook Professionally 
The manual process, on the other hand, will assist you in importing OST File to Outlook. However, it is risky since if any of the procedures are not followed correctly, it will result in a problem. In that scenario, I recommend that you use a third-party Professional tool to convert OST to PST format. It will make it easier for you to open your OST file to Outlook.
Before saving your OST mailbox to a new PST file, you can examine a detailed preview of it using the software's smart preview tool. Because it is a professional tool, it preserves the original OST data during the conversion process. This software is simple to use even if you are a total novice with no prior technical knowledge.
Steps to Import OST to Outlook: Technical Procedure
Step1:- Simply download the software on your computer to create OST file into Outlook supported format.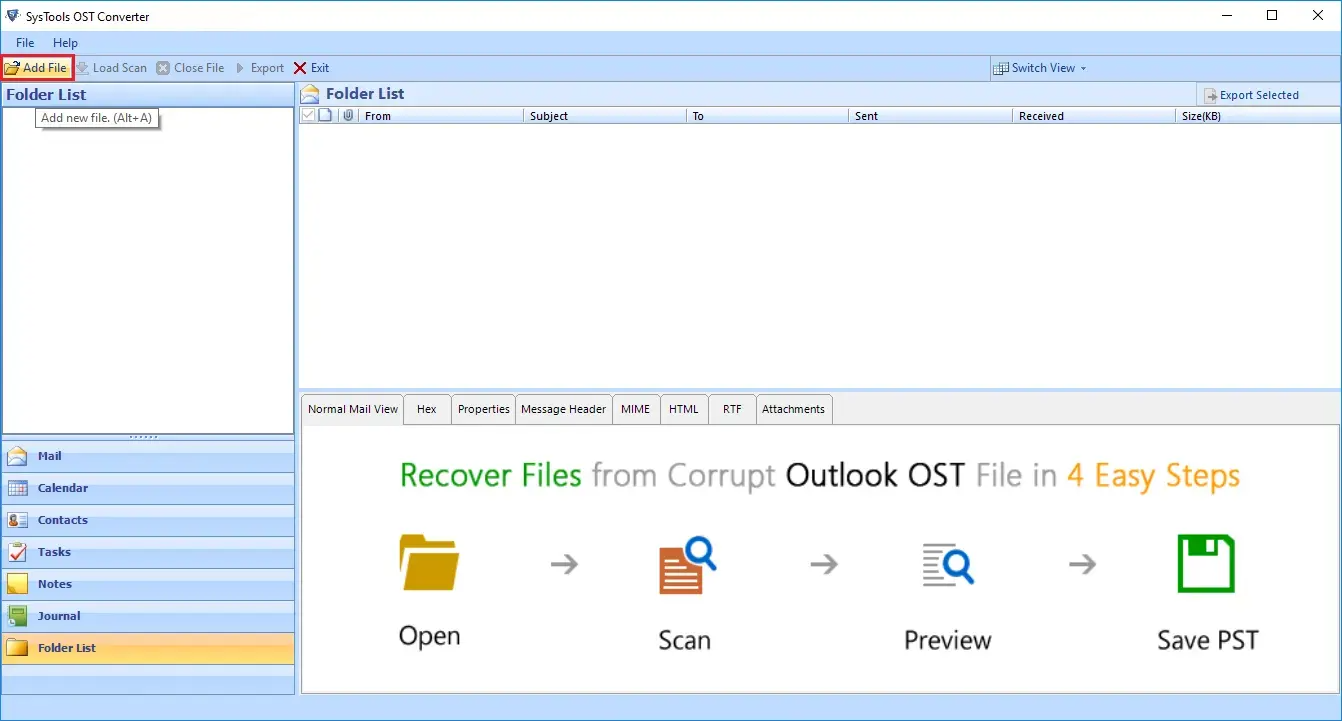 Step2:- Add files and preview OST files into the software. After that click on Export button.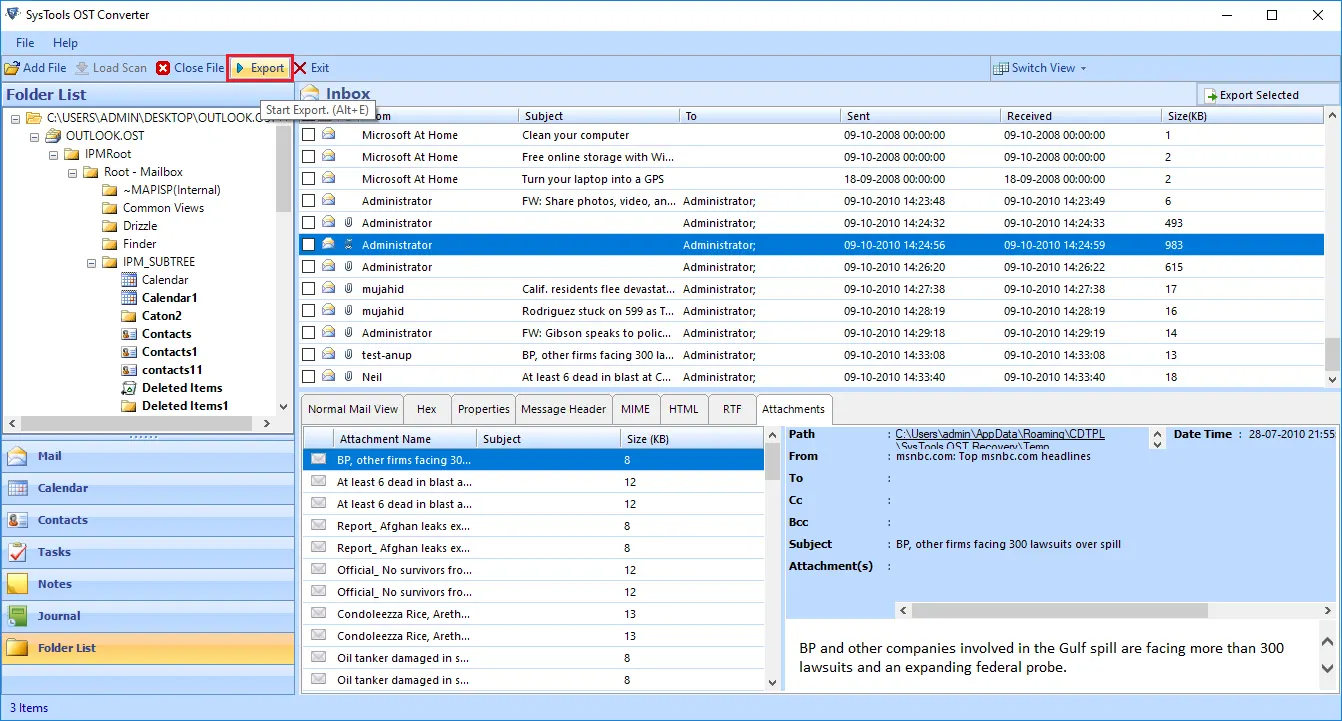 Step3:- To import OST file to Outlook, select the PST radio button and follow the on-screen instructions. You can apply advance options (if required).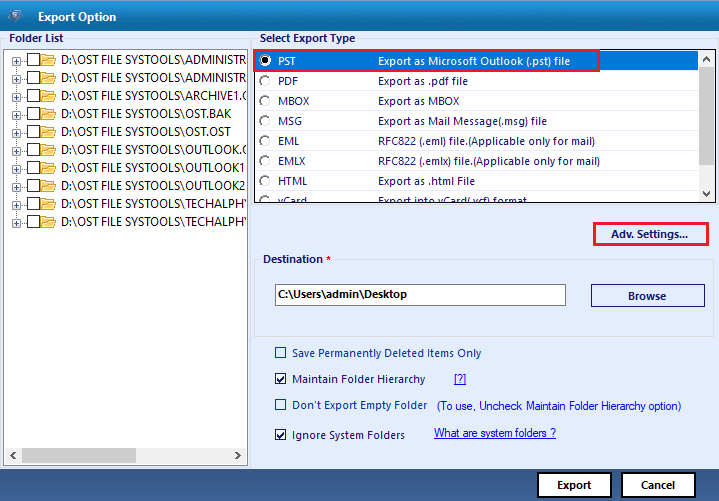 Step4:- Navigate to the destination place to save the exported Outlook supported PST in your system.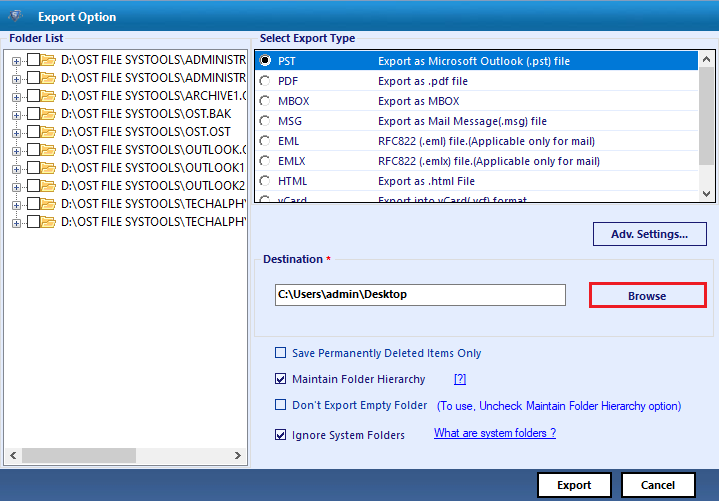 Step5:- An export report will displayed by the software. Then, click on Export button and pick where you want to save the exported report and click the Save button to save it.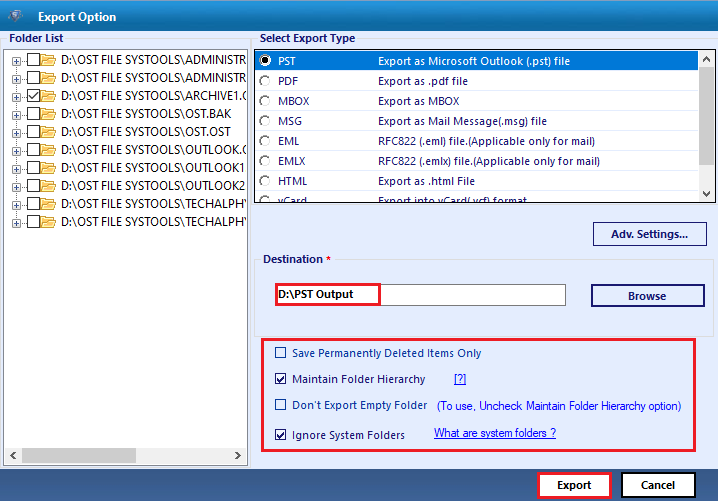 Step6: – Now launch the Microsoft Outlook and click on File >> Open & Export >> Import / Export option.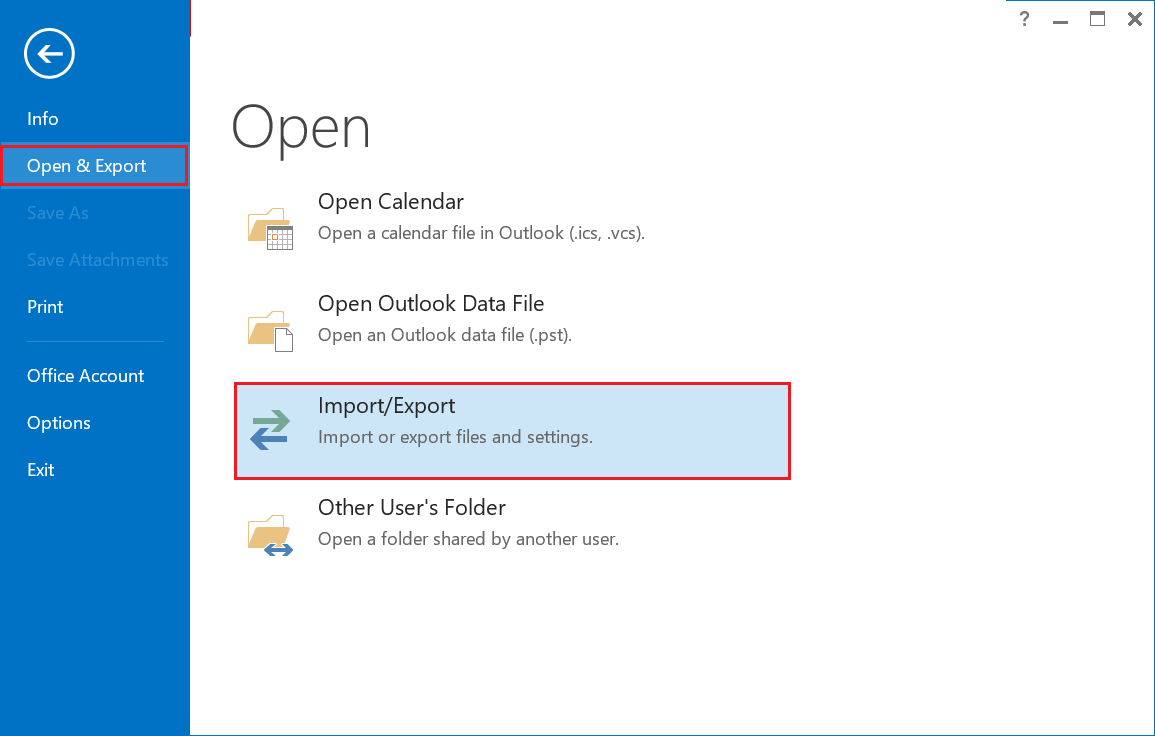 Step7: – Select Import from another program or file and then click on Next button.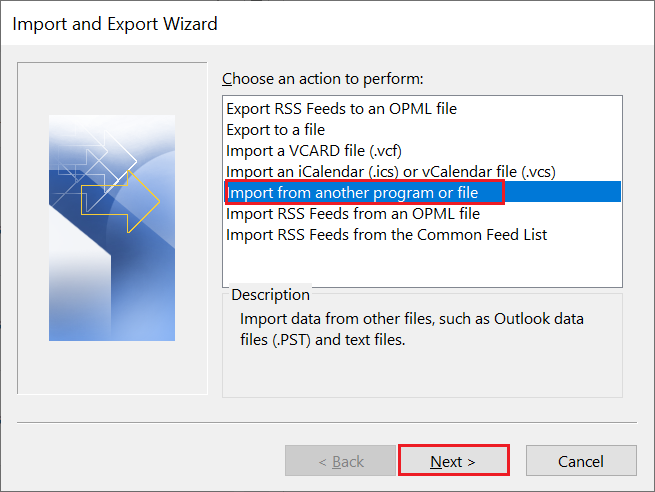 Step8: – A Import a file pop up window will appear and select Outlook data file (.pst) option and click on Next button.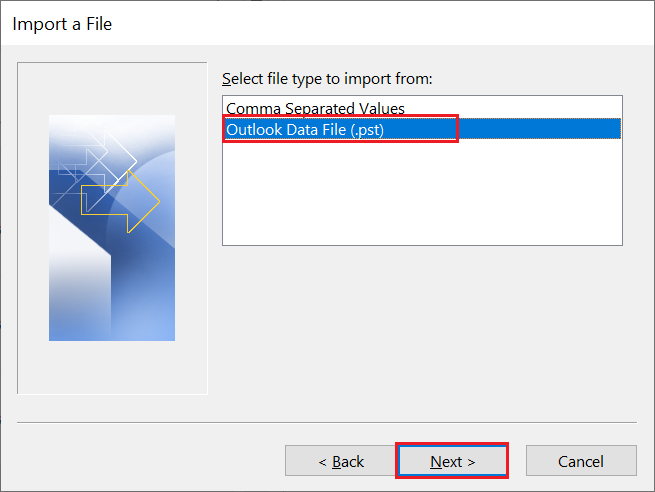 Step9: – Browse the PST file (created in Step5) and click on OK button.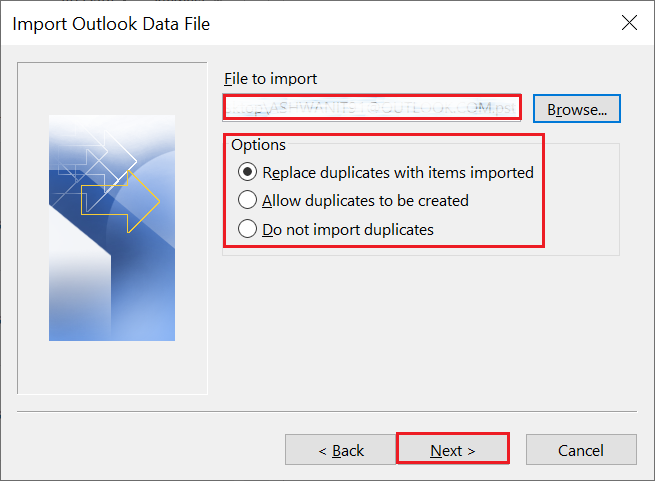 When you're unable to open your OST file, it is likely that it is corrupt, nevertheless, don't worry; you may simply recover your data using the manual methods described below. Finally, we recognize when we need to transfer OST file to Outlook.
Method-2: Import OST File to Outlook Manually for Free
There are two manual methods that we can use to make OST to Outlook data file. As a result, there are a few popular ways which can be followed for importing OST files.
Procedure-1: Using the Import/Export Tool 
In this procedure, you must connect in to Outlook using the Microsoft Exchange account that was use to create the OST file. Follow the steps below to save OST to Outlook data file using this method:
Note: – Same Exchange profile and server connectivity required to perform below steps.
Navigate to Files > Open & Export.
Now, select Import & Export from the drop-down menu.
Click Next after selecting Outlook Data File.
Select Next after clicking Outlook Data File (.pst).
Choose the folder you wish to export and press the Next button.
Navigate to the location where you want to save the new PST file and choose the appropriate option for duplicate items.
Procedure-2: Using The Drag & Drop Tool
To use this method, follow the procedures outlined below to open OST from Outlook format:
Note: – This method will not help you in case of orphaned OST file, Exchange unavailability, Exchange profile not connected. 
Run Microsoft Outlook on your computer.
Open a new PST file in MS Outlook.
Drag the relevant mailbox folder that you want to export into the blank Outlook supported PST file.
Drawbacks: Manual Procedures of Importing OST to Outlook
We covered the above manual ways to import OST File to Outlook, which has several downsides, which are listed below:
Outlook Account must be configure in the system.
The technique requires the assistance of a technical professional.
The system must be link to the Microsoft Exchange Server.
There is a chance that data will lost or corrupted. 
When compared to manual procedures, the process is slow.
Conclusion
It is not always a good idea to change the default location of an OST file. You may have problems after altering the location of the Outlook data file, or the process may fail owing to an error. The  file may become unavailable or orphaned in this circumstance. You cannot directly load OST file to Outlook directly.
To access the data in such a file, it must converted to Outlook data file format. The best way to open OST file in Outlook is to use a sophisticated program like this above software. It can simply import orphaned or inaccessible OST file into Outlook, which you can then import OST to Outlook to retrieve all of its mail items.