How to Save Lotus Notes Email in Multiple Formats – Proven Solutions
Many users want to save their Lotus Notes emails in different file formats like EML, MSG, MBOX, and PST because all these file formats are supported by numerous desktop-based email clients. Users did not save Lotus Notes email data only for migration but, most of the business users utilize this to create a backup.
Lotus Notes has changed hands twice. It became IBM Notes in 1995 and now is known as HCL Notes since HCL acquired this client-server email platform in 2019.
Before starting the article let's see the real-life situation where a user looking for a solution to save Lotus Notes emails to EML:
"Hey, I am using Lotus Notes from last 5 years and I have important emails on my Lotus Notes. I want to save all emails in EML file format. But there are more than thousand of messages to be exported in .eml. Now, I do not know what to do? Because manually it is possible to save 20 or even 50 emails one-by-one. But more then a thousand messages it is quite a big task to do. So, anyone please suggest any effective solution."
Page Content
Moreover, there is no manual solution available to save Lotus Notes emails as a file so you have to get an automated solution from the same.
Save HCL Notes Data Items Manually
HCL Notes provides an in-built facility to save its emails to the computer. It is as follows:
Run Notes application and choose the email message you want to export.
Click File | Save As.
Select a suitable folder and click on the Save button.
Once done, find the files at the chosen location.
This manual method saves Lotus Notes email as EML file. For other formats, please proceed to the next sections.
Save Lotus Notes Email to Multiple Formats in Few Clicks
NSF Extractor Tool is the most searched tool on the internet for converting or saving Lotus Notes email in different file formats. This software export all NSF files into EML, MSG, and MBOX file format. And there are no size limitations you can export NSF file in batch.
With the help of this tool, you can save your NSF file into a different file format without any data loss. Because the software retains the email message with all its attributes like Bcc, CC, Subject, Size, Date, image, and other multimedia items. The more features of this software are mentioned below.
This software is not limited to email migration, it also exports other mailbox data items like Contacts, Calendars too.
Retain the Docklink of NSF emails after the export process.
This tool allows to search and save Notes file items within a subfolder.
It also maintains folder hierarchy during NSF to EML, MSG, MBOX conversion.
This software support batch NSF file conversion as well as gives you an option of date filter.
UI showing multiple file formats: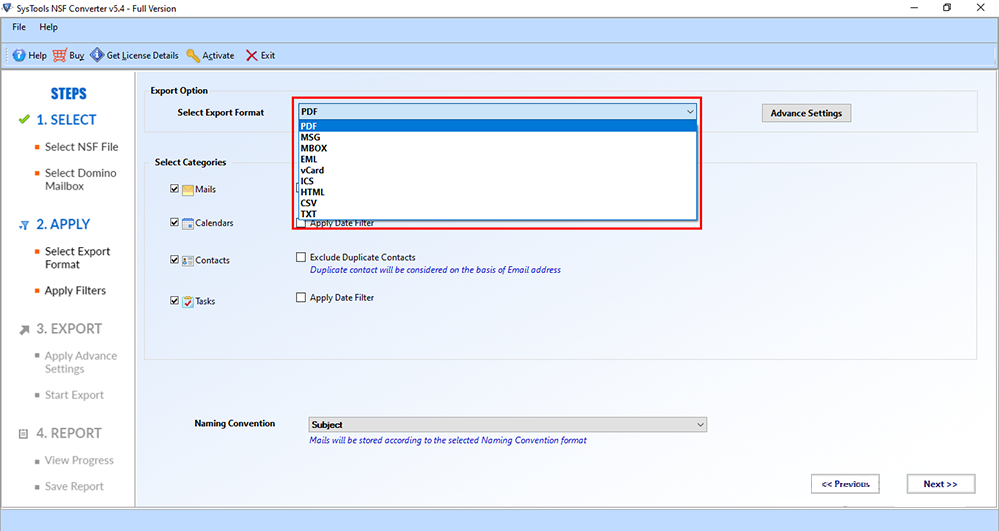 What If PST File Format is Required?
Sometimes, users wish to switch from Lotus Notes to Outlook. In such a case, PST file format is required as the saving format. And the aforementioned method does not provide this particular functionality.
In such a case, a specialized program is needed. Just to confirm, there is indeed a free method to convert NSF to PST, but it deals with CSV format which is not a mailbox file. Hence, there are many limitations like losing email attributes, even complete body at times, which is quite drastic. Hence, experts recommend using professional software in such scenarios.
Here is the best-automated solution to import NSF files into Outlook. You can easily convert and save your emails, contacts, journals, etc into PST file format. This software can convert all the emails while keeping the attachments like images, documents, etc completely intact.
UI showing the interface of expert-recommended application:
The additional features of this software are listed below:
This software provides you the filter option like email filter and calendar filter option.
It is capable to convert encrypted emails.
This tool is capable to maintain the internet header, HTML formatting, and Docklinks of Lotus Notes emails.
Gives you an option to translate a canonical name into SMTP format.
The tool maintains the folder structure after conversion.
So, if you want to save Lotus Notes emails then, this converter tool is the best option.
Final Thoughts
As we said above, Lotus Notes is a very popular email client among business professionals but for some reason, they want to save their NSF email data into a different file format. But the question arises how to save Lotus Notes email as a file? Thus, go through this article and choose any software as per your file requirement and complete your task in an easy and effective way.