How to Open NSF File in Outlook? Know the Best Tricks
Summary: Trying to open NSF file in Outlook 2021, 2019, 2016, 2013, 2010, 2007 & 2003? If yes, then in this article, we are going to discuss the best ways for importing NSF files in Outlook mailbox.
NSF is a database file used by Domino server and HCL Notes. It stands for Notes Storage Facility which is capable of storing notes information such as metadata, calendar entries, user emails, appointments, design information, attachments, contacts, etc., in binary format. The NSF files define a schema for storing different objects similar to Outlook PST/OST files.
Given the complex nature of Lotus Notes, a large number of organizations are moving to a much simpler interface such as Outlook. Lotus Notes poses another restriction and that is its inability to function only on configured machines, whereas, MS Outlook can be easily accessed on multiple platforms.
One cannot use the source NSF files in Outlook since the nature of the database is different in both cases. Let us briefly discuss What is NSF files?
How to Open NSF File in Outlook?
To import NSF into Outlook, you must first convert Lotus Notes to Outlook PST file format. Another way is to manually export data from Lotus Notes and import it into Outlook.
For now, why one want to import NSF to Outlook?
Outlook is more affordable and cost-effective than Lotus Notes.
Lotus Notes is a standalone application whereas Outlook is an integrated application within MS Suite.
It is possible to configure multiple accounts simultaneously
MS Outlook enables you to access the emails offline while Lotus Notes does not do that.
Lotus Notes is lesser user-friendly and has a tougher user interface.
Steps for Opening NSF File in Outlook Manually
Follow the instructions explained in the below section:
Step-1: Solution to Export NSF Files
Launch Lotus Notes email client & click on the 'Mail' Tab.
From the Menu bar, choose the 'File' option.
Then, choose the 'Export' option to continue.
Choose a location on your system to save the file NSF files in "Tabular or Structured Text". With structured text, choose the options to export. Export CSV by defining the requirements in the export dialogue box.
Hit on the 'Export button' to complete the process.
If the exported data file has no extension, then go to its properties and add .csv to its name, like (abc to abc.csv).
Step-2: Method to Migrate NSF File to Outlook
Install and launch MS Outlook on your system.
Click on 'File' > 'Import & Export' option.
Choose 'Import from another program or file' in that wizard. Click on Next.
Select 'Comma Separated Values' from the list and click Next.
Browse the file from its location to open the NSF file in Outlook and select Next.
Import the file in the Outlook email client and it will be visible in the required Outlook Mailbox Folder.
Method-2: Import NSF File in Outlook Easily
The manual method comes with its restrictions when it comes to importing and opening the said source file. This is because the manual procedures are not advanced enough and cannot function as efficiently as any professional software can. Given this, oftentimes, business owners or professionals prefer going for such automatic tools.
The NSF to PST Converter is a smart utility that offers the best service and can convert the NSF file into Outlook compatible format that is PST file. The tool is effective in functioning as it can convert the files in bulk and maintain the folder hierarchy. It produces files that are compatible with Outlook 2021, 2019, 2016, 2013, 2010, and other versions.
The software is also available in a free demo version. So make sure to check it out as it will make you familiar with the tool's working and provide you with a PST file with limited NSF items (25 emails per folder). This is enough to understand the capabilities and features of the software and help you in making the decision to purchase the software.
Steps to Import NSF Files to Outlook using Software:
Before moving to steps, let us first satisfy the pre-requisites of the tool:

1. Launch the application. Run the software on your Windows system.
2. Select NSF Files. Add the NSF file that you wish to open in Outlook with "Add File(s)".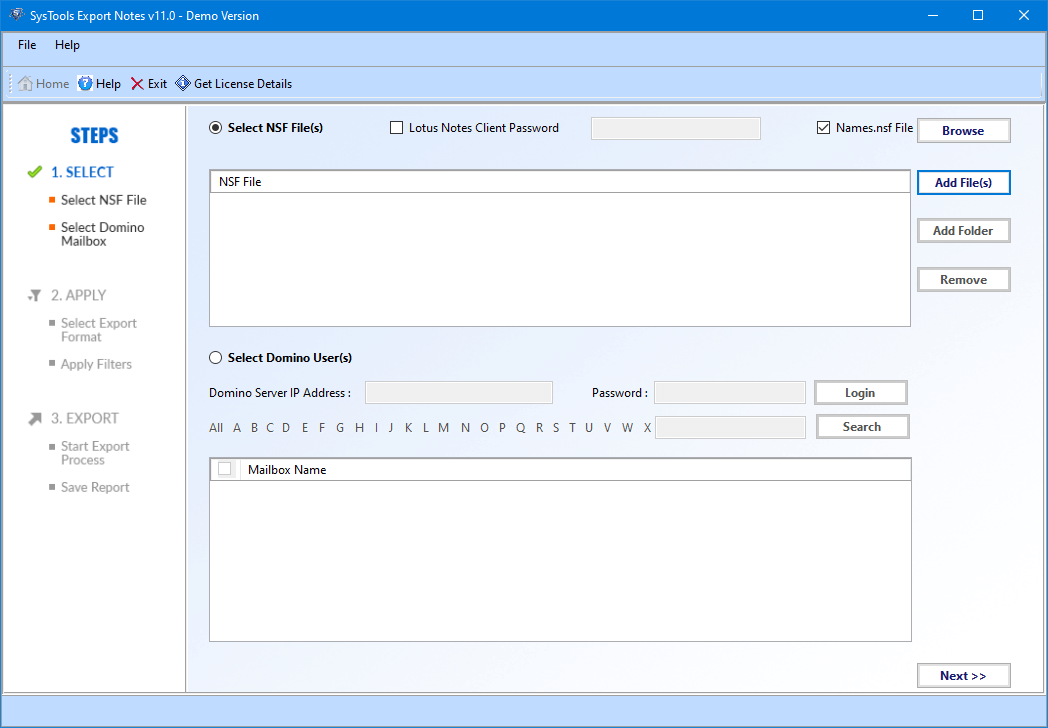 3. Choose Categories to Open in Outlook. In the next window, select the Categories and apply other options, if required.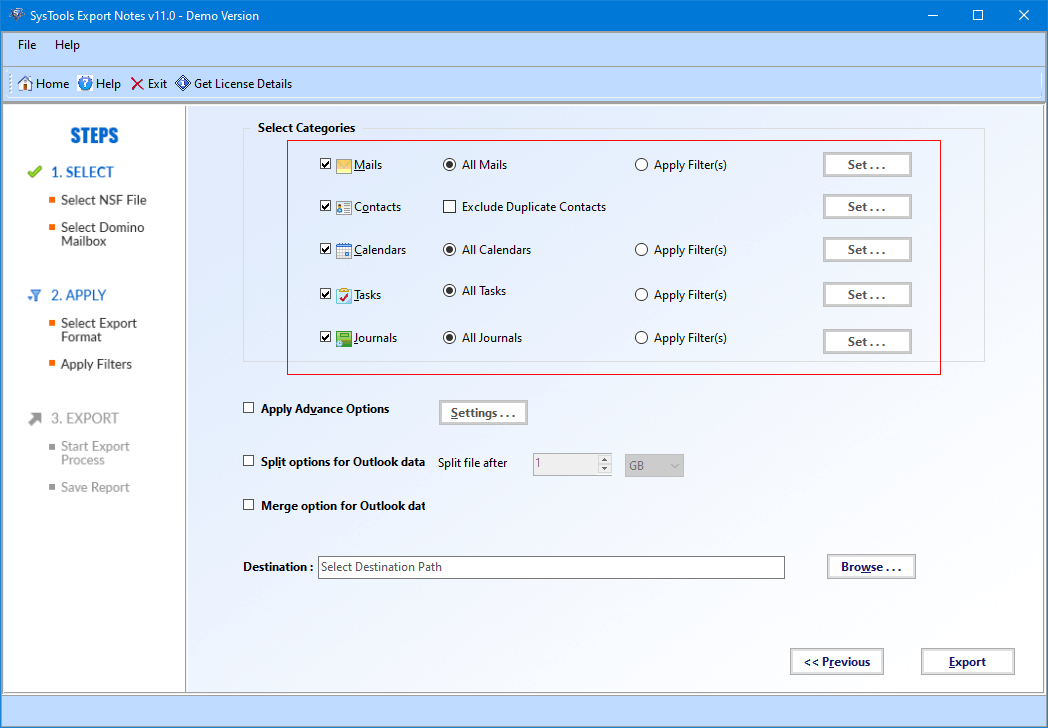 4. Export NSF data items. Select destination path and click "Export" to start exporting data items from NSF to Outlook data file.
5. Launch Outlook and use Import/Export option to Import NSF in Outlook. Now, simply import the resultant PST file in Outlook.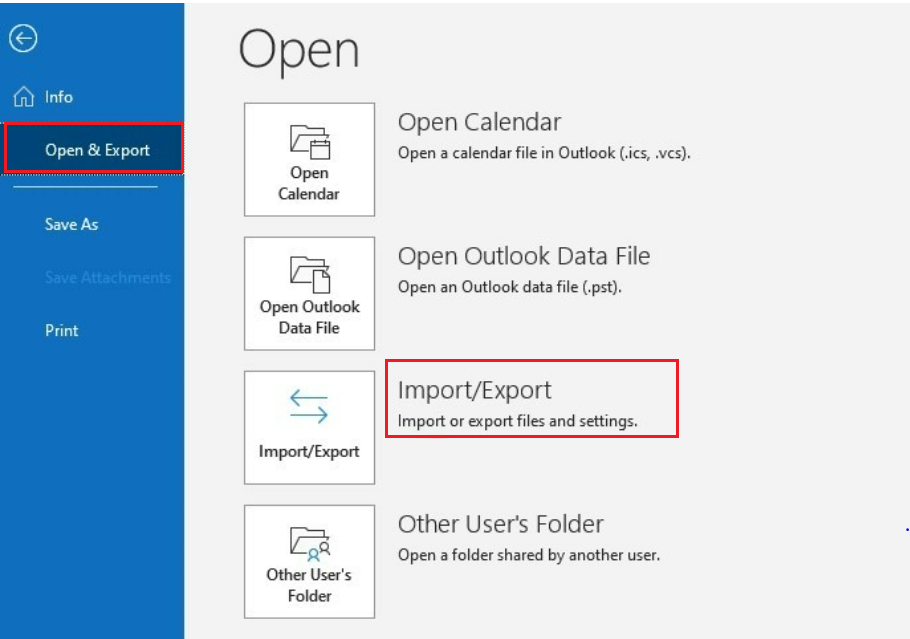 Conclusion
In this article, we have discussed how to open NSF file in Outlook. Users can choose any of the methods explained above and follow them properly. Both of the methods given above are tried and tested. However, it is always safe to go for third-party tools as they are developed for this purpose only and ensure the security of your source data. After all, it is trusted by thousands of users worldwide when it comes to importing NSF data items in Outlook.