Notes NSF Extractor Tool to Extract Data from NSF File
Stuck with NSF files with essential items? Unable to extract data from NSF file to your preferred format? Download the NSF Extractor Tool and easily export Lotus Notes database into 9 formats.
HCL / IBM / Lotus Notes and Domino server uses NSF database file to store several objects like emails, appointments, contacts, attachments, etc. in binary form. It is abbreviated as Notes Storage Facility. Only Notes application can open these NSF files along with free NSF viewer. Sometimes, there is a need to extract items from these NSF files. But, the non-availability of compatible tools makes it an intricate task. To resolve this issue, we are introducing a tested solution trusted by thousands due to its accurate and reliable NSF file conversion.
NSF Converter – An All-Around NSF Extractor Utility with Great Capabilities
A conversion tool's performance is entirely based on its efficiency, flexibility, and reliability. NSF Extractor stays true to all these factors. It provides 9 different file formats to extract NSF data items and generate accurate results without any problems. You can choose to export any data from the NSF files:
Emails
Calendar
Contact
Tasks
Attachments
You can choose to extract only one data item or a combination of them as per your need. The tool has checkboxes that allow you to select one or more categories to export from the Notes NSF database.
We have dedicated a section to extract attachments from Notes NSF file (<- click to proceed)
Extract Data from NSF File – Emails, Contacts, Calendars, Tasks
NSF file extractor provides several file formats to save your NSF data. These are:
EML
MSG
PDF
vCard
ICS
HTML
CSV
TXT
If you want to export the items in PST format, you can choose the Notes NSF to PST Converter program for this task. The software preserves all the email attributes during the extract process. It operates on Windows 10, 8, 7 (32 bit or 64 bit) & Windows Server 2016, 2012 R2, 2008.
Special Case:
vCard (vcf) – This format is specially included in the tool to only save NSF contacts to vCard format. vCard or vcf file is the standard format to store contact information.
ICS – This format is specially included in the tool to only save NSF calendars to ICS format. ICS is the standard format to store calendar information.
Other formats give you the option to export all data items without any inconvenience.
Advanced Settings During Lotus Notes Data Extraction
NSF extractor wizard provides multiple advanced options when extracting data from NSF files:
Apply date filters – Select "From" & "To" date and convert data items that fall b/w this date-range
Exclude duplicate contacts – Remove duplication from contacts during conversion
Naming convention – Set naming option to rename files when saving to an email format
HTML formatting – Maintain HTML formatting of mails (Lotus Notes 9.0 and above)
Internet Header – Maintain header information of mails
Folder Hierarchy – Maintain same folder hierarchy at destination
All Documents – Also extracts all DocumentView mail items (may result in redundancy)
Doclink – Maintains doclinks of emails
Email Address Translation – Allows converting the canonical name to SMTP email address
Include Folders for Conversion – Allows converting items from specified folder names
Also read: How to Open NSF File in Microsoft Outlook?
How to Extract Emails from Lotus Notes NSF database
Steps in Brief:
Step 1: Add NSF files or import Domino database.
Step 2: Choose the format to extract data.
Step 3: Select category and apply advanced settings.
Step 4: Extract the NSF items into desired file format.
Here are the elaborate steps to extract NSF emails and other data items without losing properties:
1. Run the Lotus Notes data extraction software.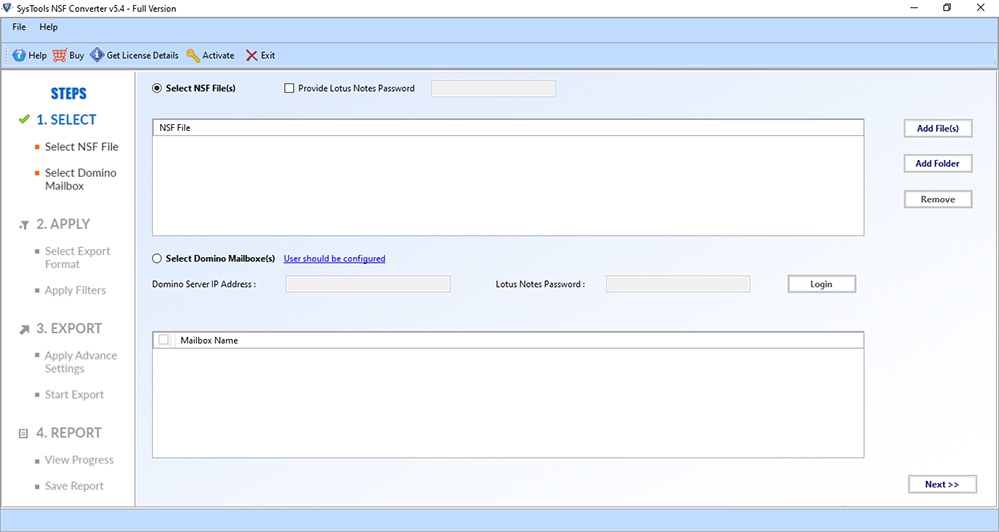 2. Click the Add File button to add one or more NSF files associated with the Lotus Notes email client.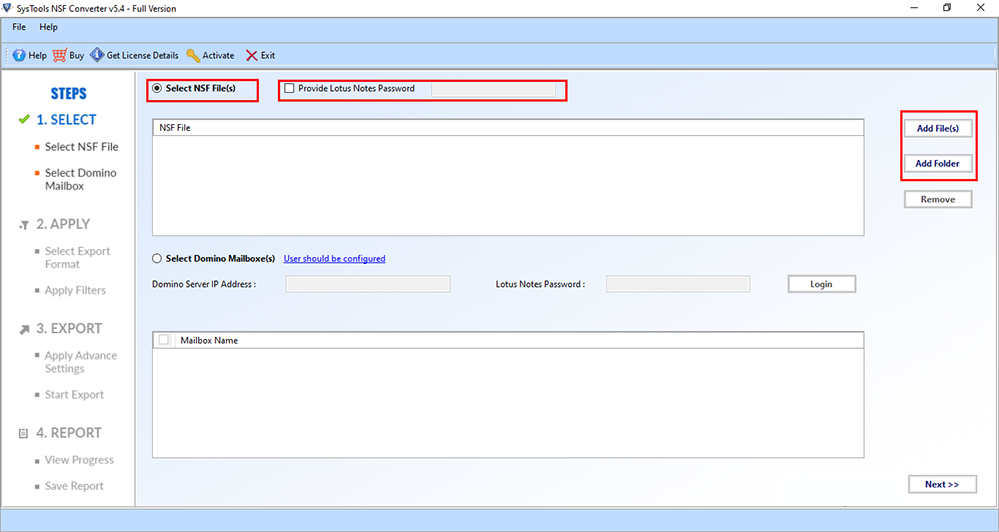 3. You can also choose to select Domino mailboxes and access their data directly from the software.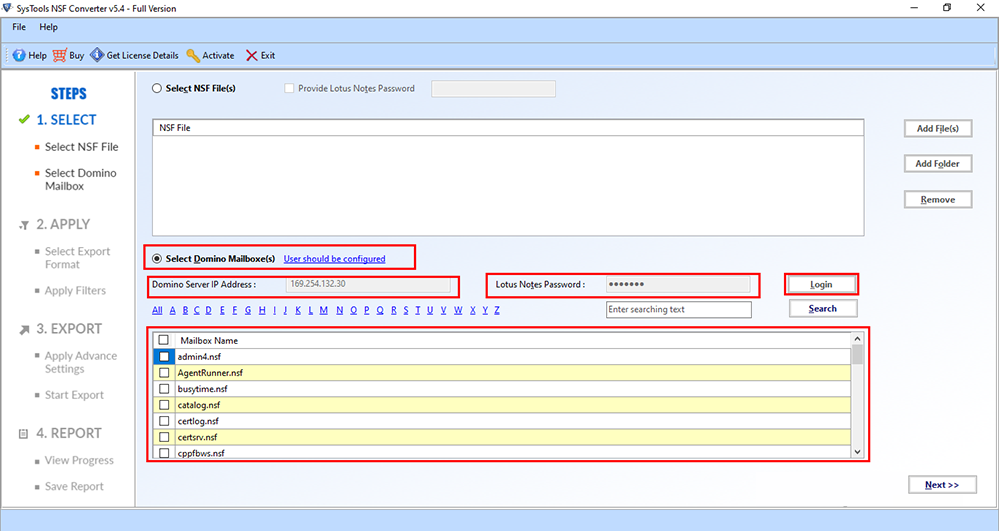 4. Go to the next window and choose a format to extract NSF data as per your requirements.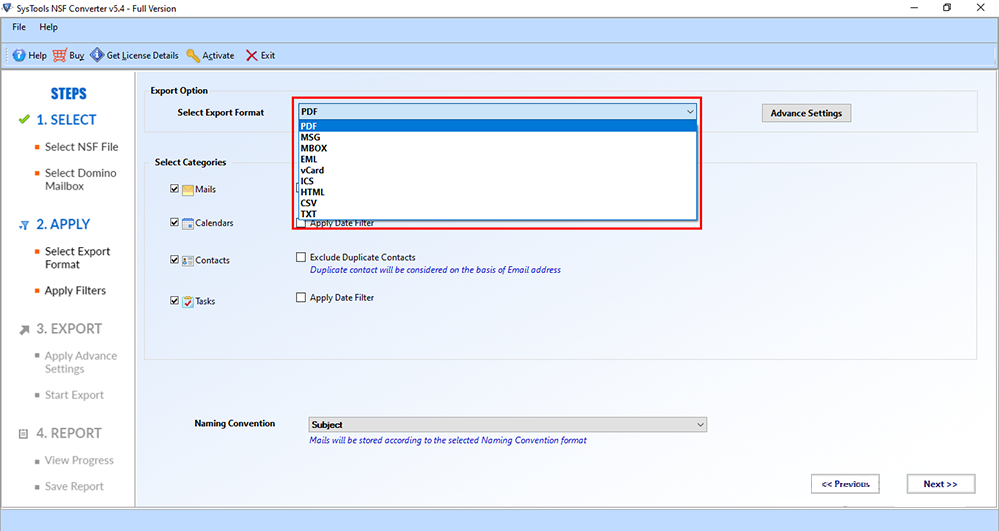 5. After that, select the checkboxes corresponding to each category that you want to export and apply date-range filters for them.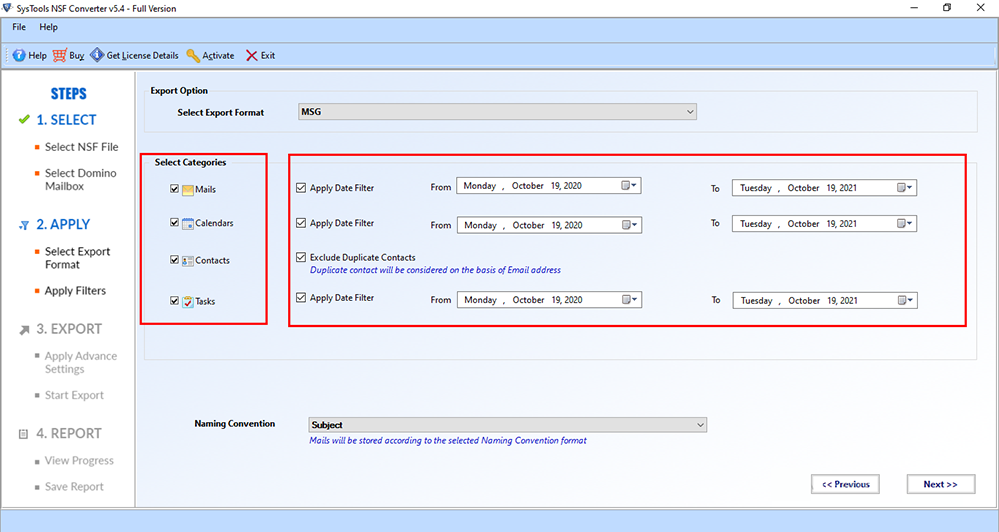 6. Do note that each file format has its set of options like EML has naming convention while PDF has options like bates number, layout, etc.
7. In the next window, apply the Advance conversion options that we discussed in the previous section.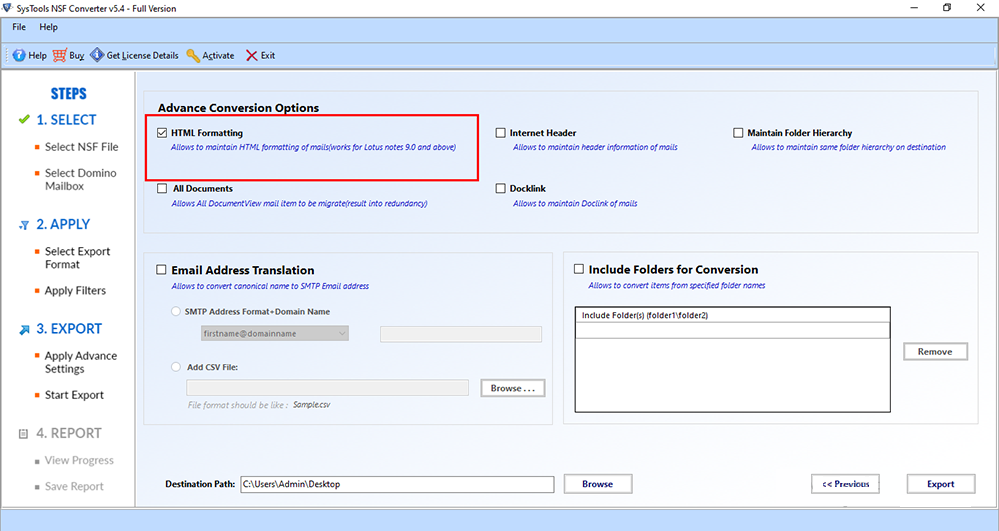 8. Change the destination path where you want to save the extracted NSF items and click on the Export button.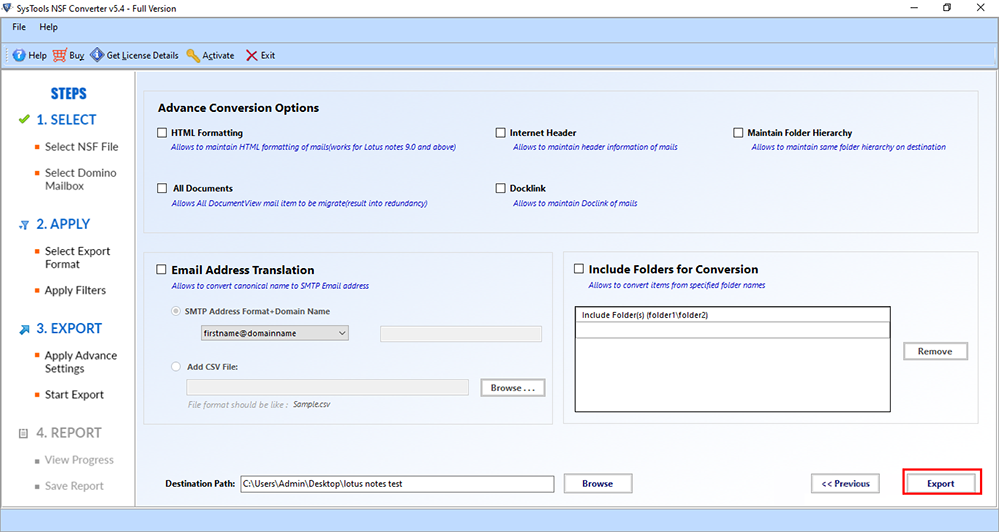 The Lotus Notes NSF extractor will extract the relevant items as per the set parameters.
Lotus Notes Attachment Extraction
You can also use the software as an attachment extractor. All you need to do is to select the PDF format when trying to extract the NSF file. You will get an option to save attachments in their original format. It will extract all the attachments from the NSF file and save them on your system. You can choose to delete or keep the email messages stored in PDF documents.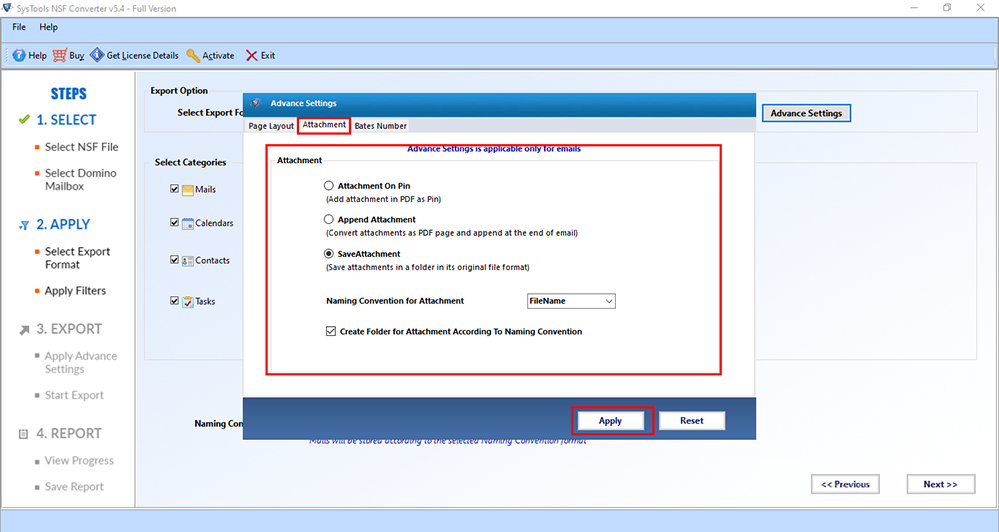 Features & Benefits of Using the NSF Extractor Tool
Multiple file format to extract NSF data
Choose to keep the formatting and hierarchy intact
Supports both Notes NSF file and Domino mailboxes
Date-range filters to export a selective bunch of data items
Advanced options for each format
Special formats to extract only specific categories of data
Operable on Windows 10, 8, 7 & Windows Server 2008, 2012 R2, 2016
The free demo version of Lotus Notes NSF Extractor wizard is also available for use. It allows exporting the first 25 items from NSF to provided formats.
Observational Verdict
With so few applications that support NSF format, it is not a surprise that NSF Extractor is the need of the hour. Be it NSF files associated with HCL Notes or Domino server database files. Users are in constant need of a tool to extract data from NSF files. This is why we introduced the NSF converter wizard that can help you export data items from Lotus Notes in a matter of minutes. Download the free demo version and evaluate the tool yourself for Lotus Notes data extraction.