Resolve "Outlook Stuck at Processing" Error
While sending or opening an email message, there have been certain situations where an Outlook user gets stuck at processing, hangs, freezes, or stopped working as well. Consider the following scenario, which was shared by an Outlook user for understanding the consequences of this error more clearly:
"I am having Outlook 2016, and when I tried to attempt two or more email profiles. All of sudden, my Outlook gets stuck on loading the profile. This problem occurs most of the time and it's too irritating. Please, someone, suggest to me a suitable solution by which I can resolve this Outlook issue."
Therefore, Outlook users should be aware of the causes of this error and measures to resolve Outlook 2016 stuck in processing mode. There are a large number of possible reasons for Outlook to behave like this. In the upcoming section, we are going to present all solutions in a quick manner.
Workaround to Resolve "Outlook Gets Stuck at Processing"
First of all, users can start Microsoft Outlook in a safe mode to solve the "Processing" screen
If Outlook has stopped working the user can close the Outlook application. Now, start it in the safe mode and close it, and then, open it to fix this problem. Follow the below steps:
1. First, you need to close the MS Outlook application
2. After this, launch Outlook in safe mode by selecting one of the following options.
Under Windows 10, choose the Start option and type Outlook.exe /safe. Click on the Enter key
From Windows 7, selecting the Start icon, and under the Search programs and files box, enter Outlook /safe, and then, click Enter
In Windows 8 platform, on the Apps, choose Run option and type Outlook /safe, and then press OK button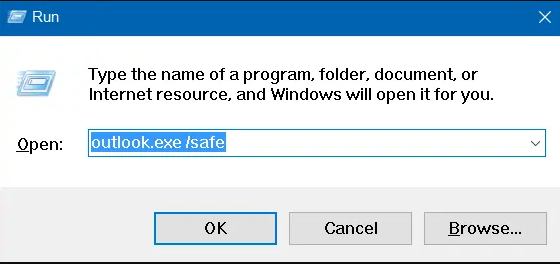 3. Now, Close the MS Outlook, and then, normally open it again
After performing this process, if Outlook did not resolve users' problems then, continue to the below steps.
Step 1: Check whether a Dialog box is Open or Not
Users can ask for confirmation in Outlook. For example, initially, users try to Dismiss All under the list of reminders, Outlook asks about this if users are sure then, they can do that. If users do not select an option on that dialog box, Outlook would not allow doing anything else. Check if any dialog box is open. Clicking the Alt+Tab shortcut key will help users to switch from Window to Window and would display what kind of dialog box may stop Outlook from responding.
If the dialog box is not open then, users can move on to the next step.
Step 2: Be sure Outlook is not working on a large scale
If users try to delete or move multiple messages at once, Outlook appears to hang, but it works behind the scenes. Verify the status of the screen at the bottom. If Outlook can handle hundreds or thousands of messages at a time, it may appear to be stuck. So, provide Outlook a few seconds to finish the entire process to start work again.
Now, if Outlook is unable to work on a long process let's move on to the next step.
Step 3: Download the latest Windows & MS Office Updates
After upgrading MS Outlook, it works fine. Users are advised to update the Windows setting automatically and install the recommended updates. These updates with new features, performance enhancements, and bug fixes are released on regular basis.
If installing the latest updates did not resolve this Outlook issue then, moving forward to the next step.
Step 4: Repair Office Programs Automatically
Restore Microsoft Office programs may resolve various issues such as Outlook not responding, hanging, or freezing. Such errors may recover the corrupt in MS Office file automatically.
1. Exit any Office programs that are running
2. Under the Control Panel, click on the Programs and Features option
3. From the list of installed programs, click right on Microsoft Office 2019, 2016 or Microsoft Office 2013 and click on the Change.
4. Then, choose the Repair option (Quick repair in case of Office 2019).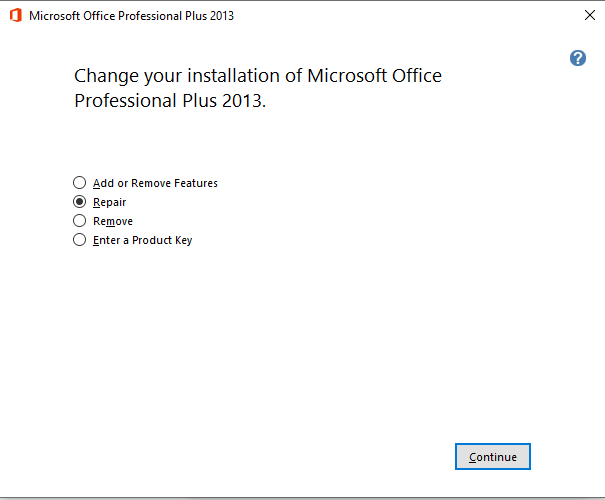 Still, repairing MS Office programs unable to fix the "Outlook stuck on starting" issue then, let go to the next step.
Step 5: Repair Microsoft Outlook Data Files
Whenever users have installed MS Office, an Inbox Repair Tool exists on their computer system. This Inbox Repair software might resolve issues by scanning Outlook data files(.pst and .ost) and repairing each error. If error detected in the Outlook PST/OST file, then the tool will scan that file and fix all corruption issues. If repairing Outlook data files cannot resolve an issue then, take a further step.
Step 6: Creating a New User Profile
The profile can store a variety of settings, which helps to control Microsoft Outlook. Even users can create a new profile and then, add email accounts to a new profile. By doing this, you can circumvent the issues causing Outlook 2016 stuck at processing problem.
1. First, you have to close Outlook
2. After this, select one of the following options:
For Windows 10, click on the Start icon and go to the Control Panel then, Choose the Enter key. After this, Select the User Accounts >> Mails >> Show Profiles
In Windows 8, open some Apps, click on the Control Panel and choose the Mail option. Then, click on Show Profiles
Under Windows 7, select Start and go to Control Panel. After this, choose the Mail option and click on Show Profiles.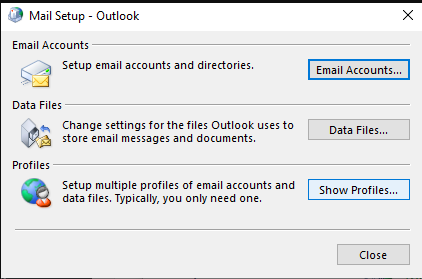 3. Click on the Add, and under the Profile Name box, enter the profile name, and click on the OK button
4. Enter the required credentials in Outlook and then, walk through the below steps to create a new profile.
5. On the Show Profiles dialog, the profile has been created at once, and click the Prompt for a profile to be used.
6. Finally, to begin the MS Outlook. and choose a new profile
If the above-mentioned process solves an issue, then, users can return to the Show Profiles dialog box and delete their older profile as well.
Wisest Choice to Fix "Outlook Stuck on Processing"
This method is an extension of Step 5. After all, ScanPST (Inbox Repair Tool) can repair corrupt PST file of low level only. If the file has severe corruption, you will need a professional software application.
Depending on whether the problem exists with OST or PST files, users can take the help of OST Recovery or Outlook Email Recovery Tool. After all, the software excels at recovering damaged files. It provides the reliability and efficiency that are required to detect all issues in a proper manner.
Final Words
"Outlook gets stuck at processing" error creates the biggest hurdle for users when working with Microsoft Outlook. It hampers them whenever they tried to open or send an email message. To resolve such type of issue, therefore we have covered different manual solutions that help to learn how to fix the "Microsoft Outlook hangs on processing" error.