Resolve Outlook 2016 Crashes When Composing An Email Issue
Microsoft Outlook is a famous and prominently used email client software that comes with Microsoft Office. Unlike Web-based email applications like Gmail or Hotmail. This application store the files on its computer. As we know that mailbox data of Outlook application is stored in .pst and .ost files.
But there are two sides to every coin, which means we cannot have the Good part of something without the bad part of it. Many times Outlook users have to face various errors and file corruption-related issues. In this article, we are going to talk about the most searchable query on the internet Outlook 2016 crashes when composing an email. So, in this article, we will discuss the few methods to get rid of this problem.
Note: In case if you are facing corruption issues related to Outlook data files then the user can take the help of OST Recovery and PST Recovery Softwares to repair and recover OST and PST files respectively.
Techniques to Fix Outlook 2016 Crashes When Composing an Email
If still searching for the manual methods then here are the ways to resolve this issue.
1. Configure New Outlook Profile.
2. Check Send / Receive Setting (SRS) File.
METHOD #1. By Creating New Outlook Profile
STEP 1: Open Outlook 2016.
STEP 2: Go to File tab>> Hit at Account Setting>> choose to Manage Profiles.

STEP 3: The dialog box appears to Go to the Show Profiles.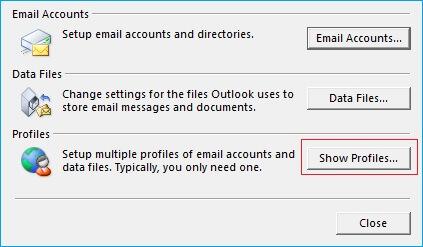 STEP 4: In mail dialog box click on Add>> Set the name in input box>> Click OK>> Click OK.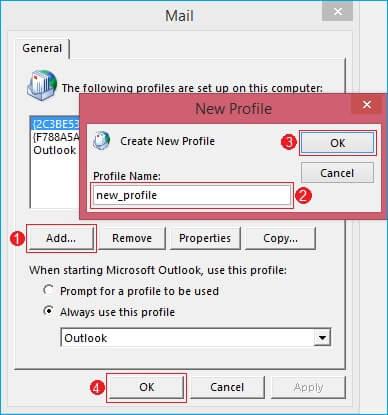 Restart the Outlook application and check.
METHOD #2. Check Send / Receive Setting File
In Outlook Send / Receive setting file is well known as the SRS file (Sent Receive Setting Header). This file is created automatically while you configure an account in Outlook. The no of accounts configured in the MS Outlook the same no of .srs file will be created. This file is responsible for the sending and receiving of emails from one to another.
The error of Outlook crashes when composing emails with attachments can be because of the crash of the SRS file. To solve the Outlook 2016 crashes while sending an email you can rename the SRS file or you can delete the SRS file.
Important Note- Need not to worry after the deletion of the SRS file Outlook automatically reconfigure itself and recreates the SRS file for the account.
To delete/rename the SRS files you can go for the SRS file location. File location in the different OS are as follows:
In Windows XP & 2000:
C:\Documents and Settings\username\Application Data\Microsoft\Outlook
In Windows 7 & Vista:
C:\Users\username\AppData\Roaming\Microsoft\Outlook
In Windows 8 & 8.1:
C:\Users\username\AppData\Roaming\Microsoft\Outlook
The user can try this method to resolve Outlook 2016 crashes when composing an email issue.
Also Read: The user can also try to repair the Outlook data files with the help of Scanpst.exe. It's an inbuilt utility which can resolve minor level corruption. To know more the user can read another similar post What is Inbox Repair Tool Scanpst.exe
Conclusion
In this article, we have discussed Outlook 2016 crashes when composing an email error. To resolve this problem we have given the manual as well as an automated solution to resolve this problem.