How to Retrieve Data from Google Vault? The Complete Guide
Summary: This guide has the best solution for users if they want to learn how to retrieve data from Google Vault in the local system. There are basically two methods to get this task done & usually. One the Manual & the other one is Automated. Here, both solutions are mentioned. Users can select them as per their preferences.
We all are aware of the fact that Google Vault is quite a nice add-on to Google apps. It helps users to retain their crucial data files from getting deleted after the retention period. It basically acts as an e-Discovery tool but with a modern-day GUI. Let's know how to execute the Google Vault Export to PST task if you delete data by mistake.
Know How to Retrieve Data from Google Vault Manually
Basically, users need to perform a few steps if they want to retrieve & then export the data from their Google Vault. Follow the below steps to get your data back using the Google Vault application.
Step 1: Create A Matter in Googe Vault
First of all, users need to log in & then create a matter in Google Vault. After creating a Matter, simply search from the bar on the left side. This way, users can navigate to the search options. Set your search options here to proceed to learn how to retrieve data from Google Vault in the system.

Step 2: Run Your Search Query & Select the Files
After setting the options in the previous step, simply run your query. Navigation is a tough task here as the metadata for emails & Google Drive is not maintained here by the application. Look how the email & Drive results are shown:
Mail Results: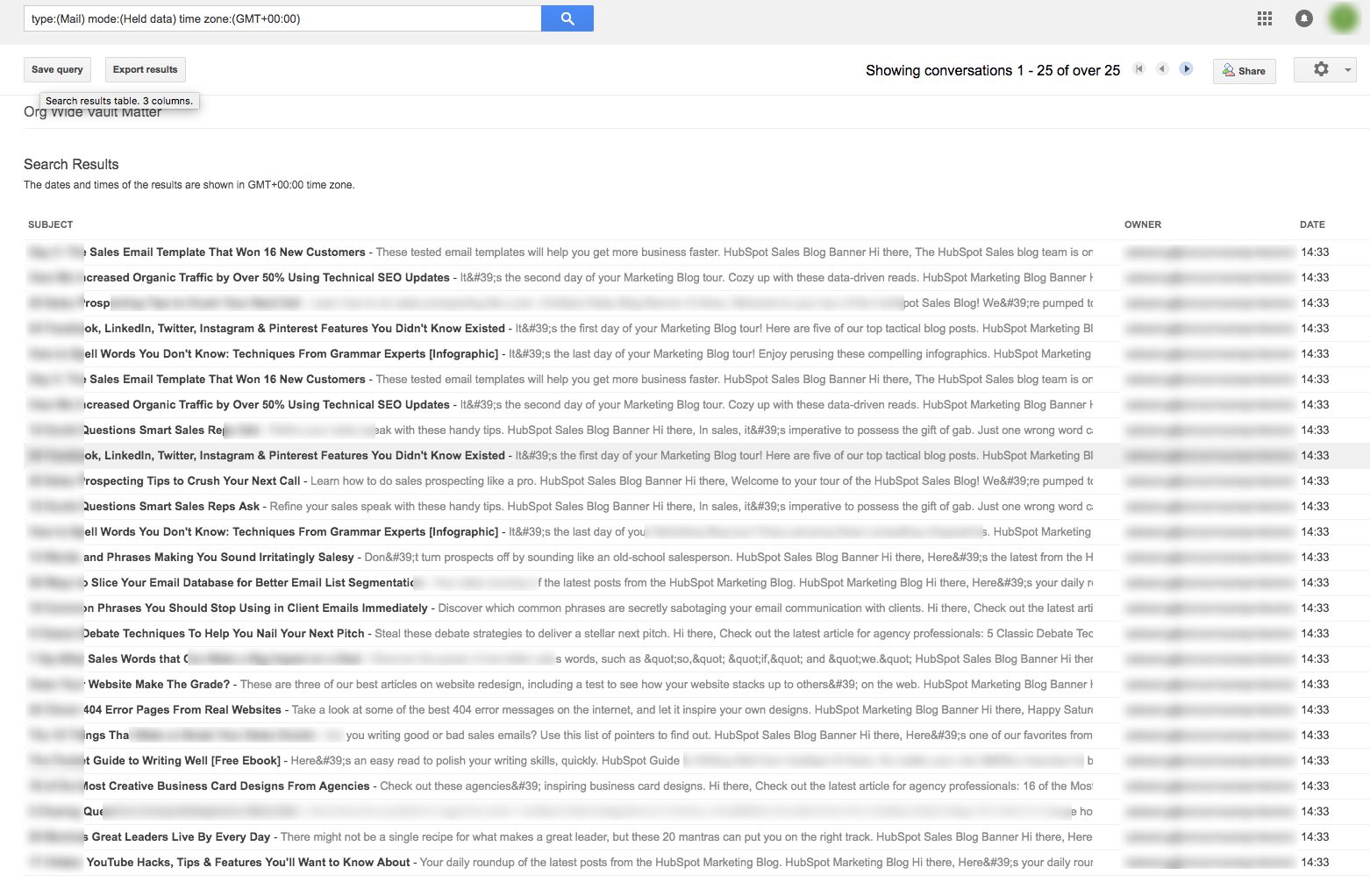 Drive Results: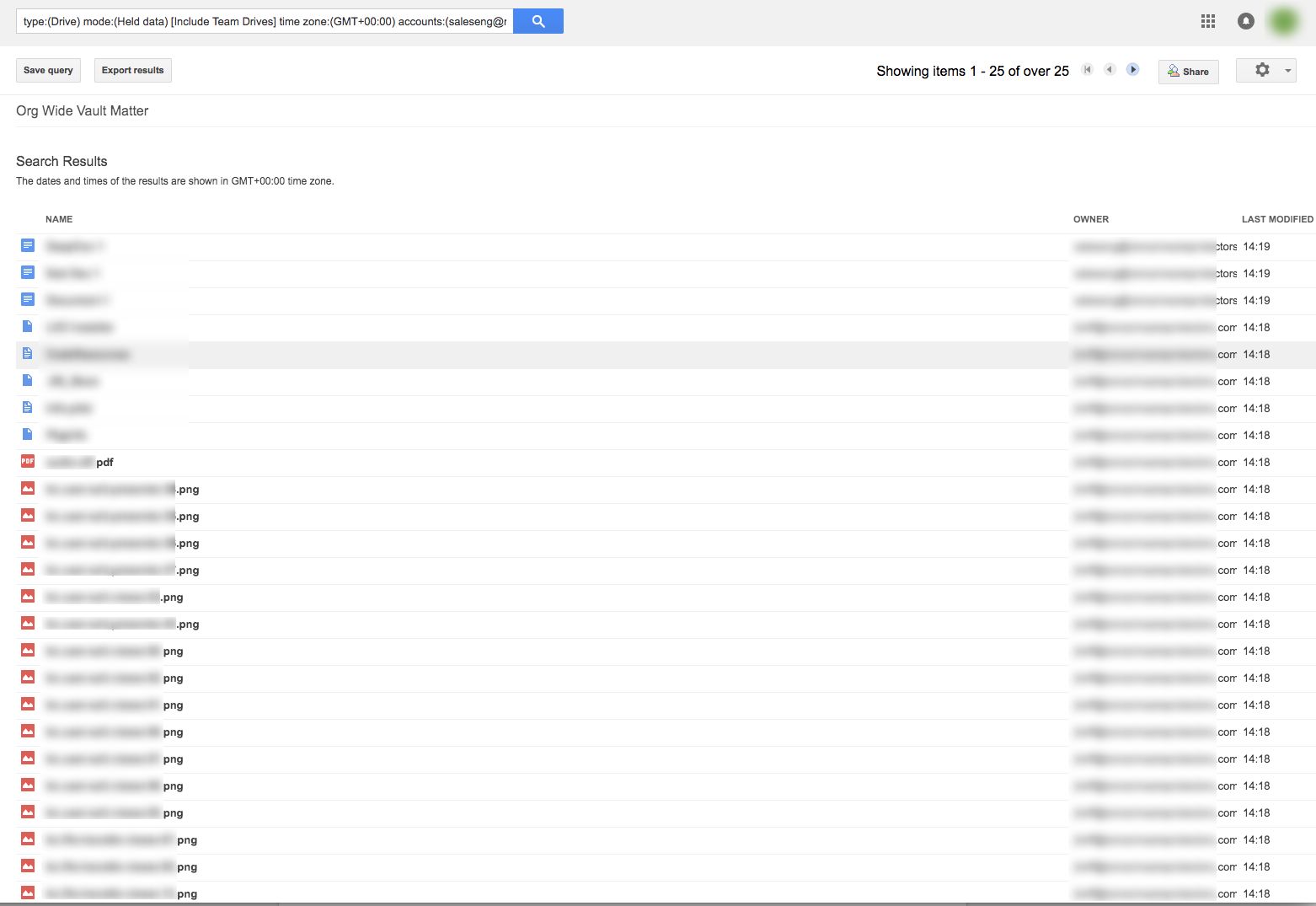 Step 3: Export the Files You Need
After getting the desired data files, simply go for the export process. It provides users with two options for exporting files. Users can either export the data in MBOX or PST format. For Drive file data, users will get a ZIP file having all the data.
Also Read: Google Vault Export Stuck at 95 Resolved
Drawbacks of Using the Manual Method
We can say that there are plenty of drawbacks present for users if they are opting for the manual method. These drawbacks often irritate users & sometimes even become the reason for their failure.
File Size Limitation


Before you learn how to retrieve data from Google Vault, know that Google Vault only allows users to export data files upto 20GB in MBOX & 1GB in PST format. This is one of the major drawbacks of this operation.
No Preview of Files


Users can not preview the data files. Moreover, they can't look at all the data stored in it without searching for them. To find any data in Google Vault, users need to search for it using the file name.
No Bulk Export Task


There is no feature for users to export bulk files in multiple export processes. Google Vault only allows users to run 20 Export tasks simultaneously. For large enterprises, this is a very big reason for the lack of efficiency.
Lack of New Features


There are no new features present in this service. No date filter, category filter, preview option, etc. Google always provides a solution that's easy to use. However, it made this solution quite retro which can be disappointing.
How to Retrieve Data from Google Vault Automatically?
Now, it's time for us to learn the best-in-class automated solution. Top IT experts also suggest users go for such automated solutions. Here, users just require to install an advanced Google Vault Downloader tool.
Follow the below steps after installing the software in your system. These simple five steps are enough for users to get their desired data files without any kind of hassles.
Step-1. Launch the Tool & then Activate the License to begin.
Step-2. Choose Outlook (PST) or MBOX format for destination.
Step-3. Select the Categories like Email or/and the Documents.
Step-4. Log in using the admin credentials to proceed from here.
Step-5. Now just Click on the Start Download button to finish.
Note: Don't forget to create a project in Google Console Project, Enable API & Add Scopes. Read More to know in detail. This way, users can eliminate all chances of any kind of error.
Users often download the MBOX files from Google Vault manually or by the tool. Later they want to convert them to Outlook PST. Therefore, we can say that users must use another advanced MBOX to PST Converter tool without hassles.
In A Nutshell
Now, at the end of this article, We can address that this task is quite tough for new users. However, that's only till users are unaware of the automated method. The manual method is quite slow as well as outdated for users to get the desired solution in time. On the other hand, learning how to retrieve data from Google Vault using the automated solution is the best solution for users.
In addition, the advanced features present in the tool allow selective export with utmost safety. IT experts, MVPs, and trusted users, all of them praise this utility for its potential. You can also trust this as it offers a demo version as well.