How to Import Emails in Thunderbird With These Simple Steps
There are several instances when a user decides to switch to Thunderbird for their email management needs, but don't know how to import existing emails into the app. Moreover, many users have old Thunderbird data with them but are unable to import old messages to Thunderbird. Not anymore! This article will guide you through the process of easily importing messages to Thunderbird.
Thunderbird is a free and open-source email client developed by Mozilla. It offers a suite of features including customizable themes, multiple account support, and advanced search options. Importing email into Thunderbird gives you access to all your email in one central location, even if you've used several different email clients before.
Preparing to import
Before starting the import process, make sure your Thunderbird is updated to the latest version. You can go to Help > About Thunderbird to check the current application version and update it. After that, you can begin the import process.
How to Import Emails in Thunderbird Depending on Source
Thunderbird offers several ways to import email messages, depending on the source of the emails you wish to import.
Import emails in Thunderbird from another email client
If you're switching to Thunderbird from another email client, such as Outlook or another Thunderbird installation, Thunderbird offers a built-in importer that can transfer emails, contacts, and settings.
Open Thunderbird and select 'Tools' from the top menu bar.
Select 'Import' and choose the email client you want to import from.
Click on 'Continue'.
Select the folders you want to import and complete the transfer.
Click 'Finish' to complete the import process.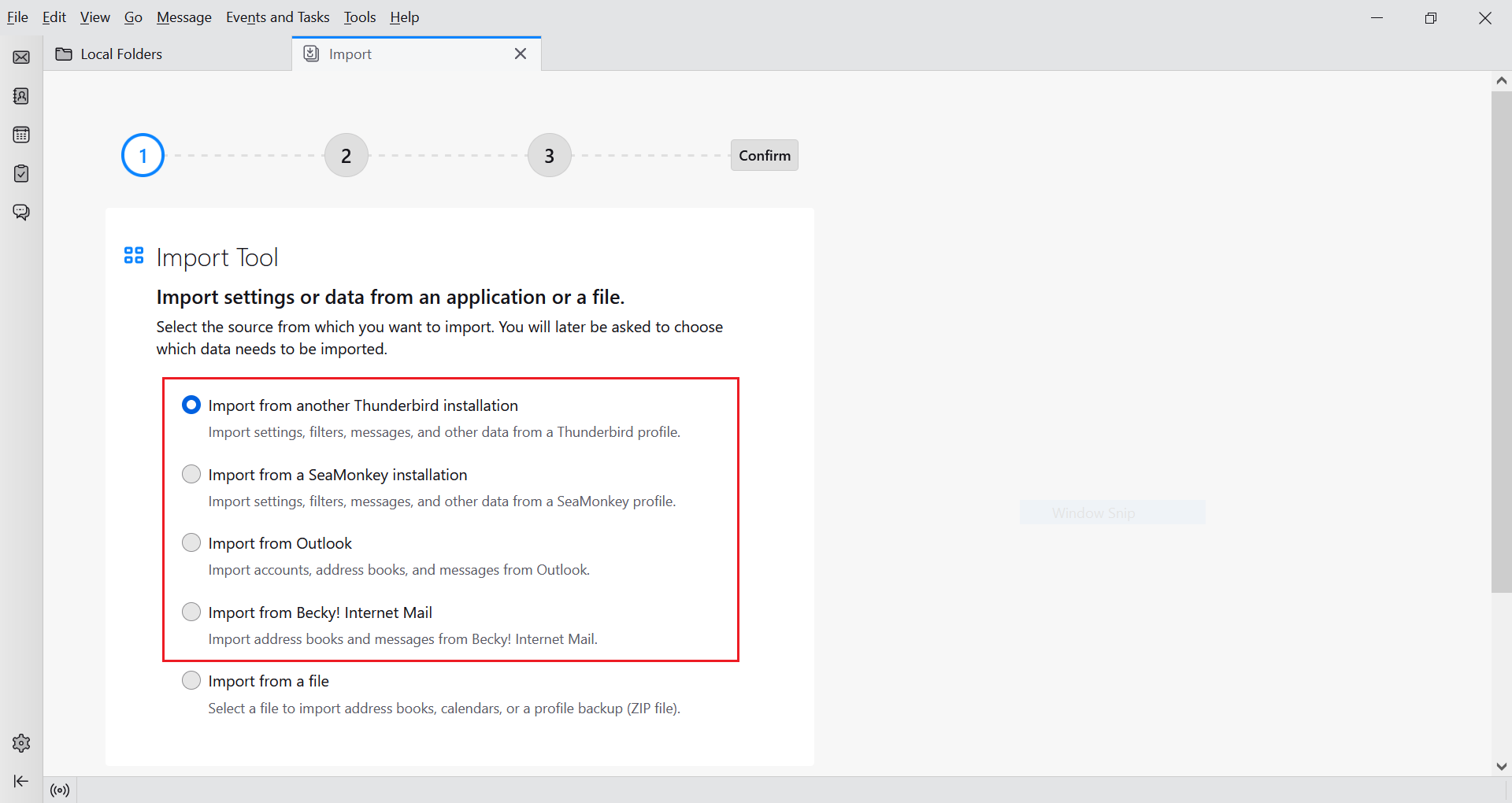 Import messages in Thunderbird from a file
If you have saved your emails as a ZIP file, you can import them into Thunderbird by following these steps:
Open Thunderbird and select "Tools" from the top menu bar.
Select "Import" and choose "Mail".
Select the "Import from a file" option, and click Continue.
Choose "Import backed up profile" and click Continue.
Locate the folder where you saved your emails and select the ZIP file.
At last, click "Start Import" to import the emails in Thunderbird.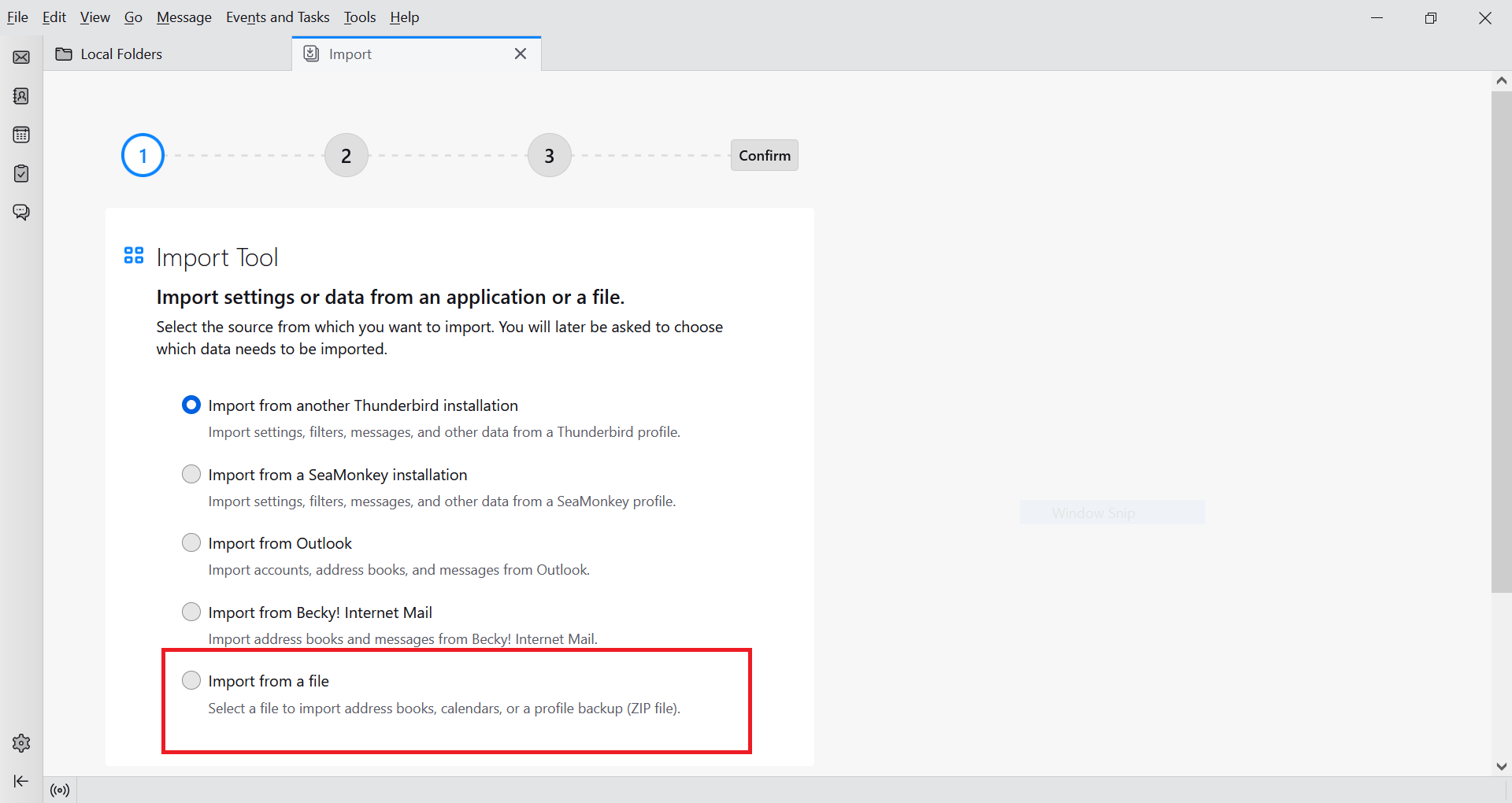 Import Email Messages in Thunderbird – All-in-One Solution
To import messages from MBOX, no-extension files, EML, EMLX, and Maildir files, you can opt for Thunderbird Import Wizard. It is the all-in-one solution to import all kinds of files associated with Thunderbird. This software detects the configured Thunderbird accounts and provides you the option to import your data in it directly. You can find information about the various import scenarios on the following web pages:
You can download the free trial version of the tool here:
Download for Windows Download for Mac Purchase Now
This free trial version uploads 25 emails/folder into Thunderbird. To remove this restriction, you have to purchase the corresponding license.
Quick Steps to Import Emails in Thunderbird:

Run the import wizard on your computer.
Select the type of file you want to import in Thunderbird.
Locate and add the email messages file(s).
Select the Thunderbird folder to import the emails.
Click 'Import' to finish the process.
Watch the Video to View the Complete Process
Troubleshooting Tips
Check login credentials: If you are having trouble login into your email account, double-check the login credentials and ensure they are accurate.
Check file format: If you are importing emails in Thunderbird from a file, make sure that Thunderbird supports the file format.
Manual Method: If the steps showcased in the manual methods appear differently on your Thunderbird application, then the app is not updated. Also, the ZIP file in the manual method refers to the file that contains the backup of your Thunderbird profile.
All-in-One Solution: This solution uses a professional tool and supports a variety of file formats. Please ensure you import messages in Thunderbird's POP account or Local Folders. It is technically impossible to directly import emails into an IMAP account and so selecting such accounts will not yield any results.
Conclusion
Importing emails into Thunderbird is a straightforward process that can be done in just a few simple steps. With this article, you should be able to import old messages easily in Thunderbird and begin taking advantage of its powerful features. If you encounter any issues, refer to the troubleshooting section for help. Happy emailing!