Import Maildir into Thunderbird: Learn the Best Technique
Maildir is Latest! Maildir is Happening! But can you believe it, there is still no manual or native option to import Maildir into Thunderbird directly!
Try Emaildoctor Add MBOX to Thunderbird to get rid of this inconvenience. This software lets you add complete Maildir data on any Thunderbird configured profile. Start reading this blog to know the complete process of importing Maildir file to Thunderbird. By the time you finish reading this, you will be fully knowledgeable about Maildir to Thunderbird migration.

Learn More about Maildir File
In case you have import Maildir into Thunderbird but you have no clue what is a Maildir file, here are some more information for you.
Maildir files are created in Thunderbird if users choose to save data in this format from Advanced Settings.
This file stores data in three different subdirectories: New, Temp, and Cur.
This file is faster that than MBOX and also considered more stable that it.
Each email is stored in a single file within Maildir directory.
This file type is fully secured and ensures minimum corruption.
Sharing Maildir files over a Network is easy as it brings to compatibility issue.
Quickly classifies emails and puts it into proper subdirectory.
Now that you have gathered some knowledge about Maildir files, let's move on to know the method of importing this file in Thunderbird.
How to Import Maildir into Thunderbird
As we have mentioned earlier, Thunderbird does not offer any native option to import Maildir file in it. For this reason, people used to convert Maildir file into MBOX and then migrate into Thunderbird. But, those days of hassle are gone now. Presenting the latest version of Thunderbird Import Wizard. The software can not only add MBOX to Thunderbird, it can also import any size of Maildir files along with its sub-folders.
Download the software now and start to import Maildir to Thunderbird with it is some easy steps:
Step 1: Open and launch Thunderbird Add MBOX Tool.
Step 2: Click on Add File or Add Folder option to add Maildir files.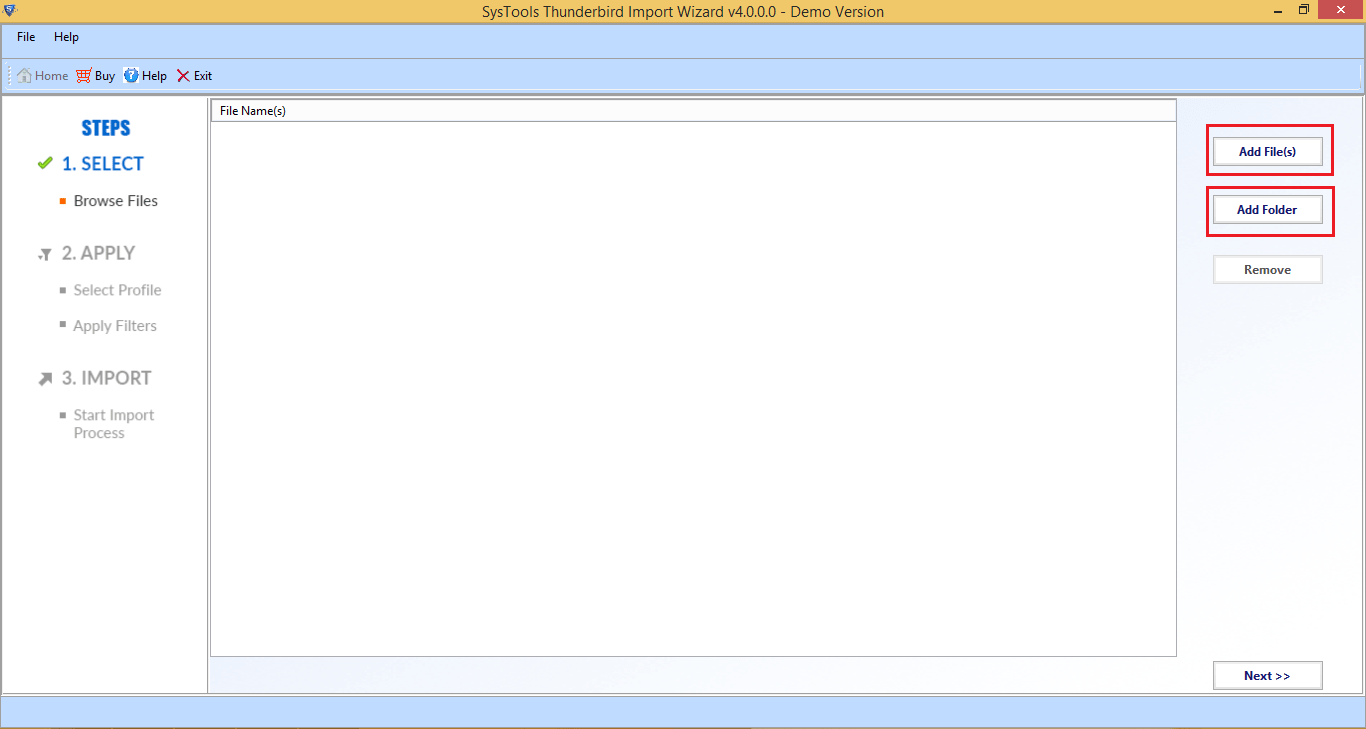 Step 3: After adding the files, apply date-filter if you want.
Step 4: Choose from the auto-loaded Thunderbird configured profiles.
Note: To import the file in any IMAP account, you need to select Local Folder from the Identities list. After importing, you can easily drag and drop the Maildir folder into your preferred IMAP configured profile.
Step 5: Click on Import to import Maildir into Thunderbird.
Step 6: Restart Thunderbird and you will be able to open and read Maildir data on it.
Additional Benefits of using Thunderbird Import Wizard Tool
If you prefer to use this software over other tools that are available, you can avail some additional benefits such as:
Import MBOX in Thunderbird: This application can import all MBOX files into Thunderbird including Gmail MBOX and Google Vault MBOX.
Import Bulk EML Files at Once: any number of EML files generated on Windows or Mac email clients can be imported with this software.
Maintain Folder Hierarchy: Users can choose to keep the original folder hierarchy intact while they import Maildir into Thunderbird.
Selective Data Migration: By using the date-filter option, one may choose to import selective emails into Mozilla Thunderbird.
Available Versions
The software is a shareware that comes in trail and full version. Users can download the trial version for free and run for testing purpose. They can also purchase the full version in three different licenses, starting from $29.
Conclusion
Many users come up with the query about how to import Maildir into Thunderbird into technical forums. For them, we have suggested Thunderbird Import Wizard tool which is the considered as the most efficient tool in this regard. By following the full guide to run this application given in this blog, users can easily import Maildir files to Thunderbird in bulk number without damaging any data.
Users Also Ask
1. Can this software import Maildir into Thunderbird with all the subfolders located within the file?
Yes, this application is capable of importing complete data of Maildir files including all of its sub-folders.
2. I need to import some MBOX and Maildir files into Thunderbird? Which solution do you suggest?
You should opt for Thunderbird Importer Tool. This all-in-one application can import MBOX, Maildir along with EML files.
3. Will there be any changes in the meta properties of Maildir emails after importing into Thunderbird?
No, there will be no changes in the original metadata of this source file even after importation to Mozilla TB.