Import EML Files to Thunderbird – Bulk Upload Files Quickly
"My colleague saved his Mac email data in EML format and gave me all the files so that I could access them on my computer. Now, I am wondering how to open these emails. I use Thunderbird which supports EML files. Can anyone suggest to me how to import EML files to Thunderbird? Thanks in advance."
Table Of Contents:
Many users end up having a bulk of EML files with them that they want to open. Since Thunderbird is a free-to-use email application and also supports EML files, it is the top choice of users to read EML files.
But the problem is that users have to open EML files one by one, by clicking on that file from their original location.
This problem can be easily solved if you import EML to Thunderbird profiles. Thus, EML files can always be accessed directly from Thunderbird profile, and you do not have to go to the location of EML file storage.
In this write-up, we are going to discuss the most sophisticated method to import EML in Thunderbird which is Thunderbird Import Wizard.
How to Import EML to Thunderbird Application ?
When it comes to opening EML files easily with Thunderbird, importing the data permanently into TB profile is the most suitable approach.
Earlier, different applications used to offer solutions where they convert the EML files into Thunderbird supported MBOX and then import that file into Thunderbird. But that method is outdated now. Try Thunderbird Import Wizard which allows you to directly import EML files into Thunderbird without converting.
Download for Windows Download for Mac Purchase Now
This Windows-based software can be used with EML files generated by any email client belonging to any Operating System. It is also compatible with all versions of Thunderbird.
During the conversion, the software retains complete metadata of the original EML files and successfully imports email and attachment data stored in EML files.
Steps to Import EML Files to Thunderbird
Here is how you can use this application in order to import the data of EML file.
Prerequisite: Users should have an email account configured in Thunderbird.
Step 1: Download the software and Install it on your computer.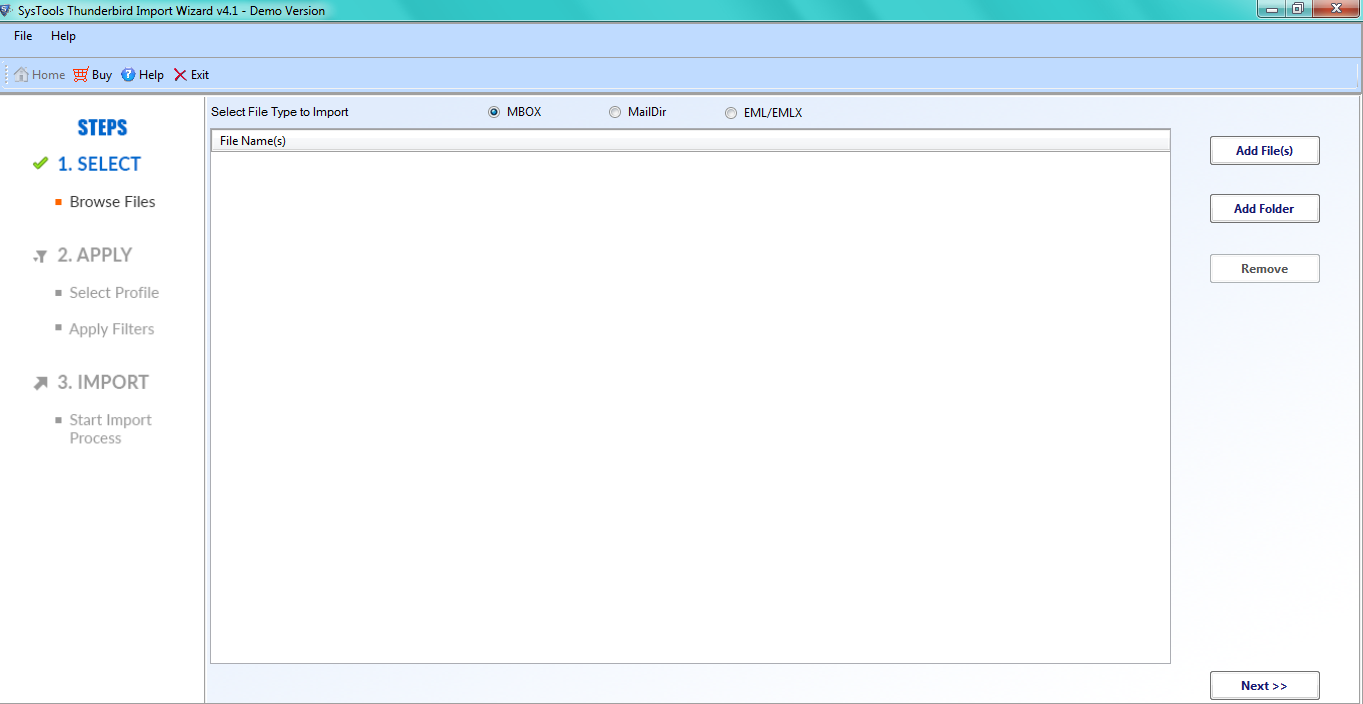 Step 2: To add a single file, use Add File option. For adding bulk EML files, select Add Folder, and add the folder that contains all the EML files that you need.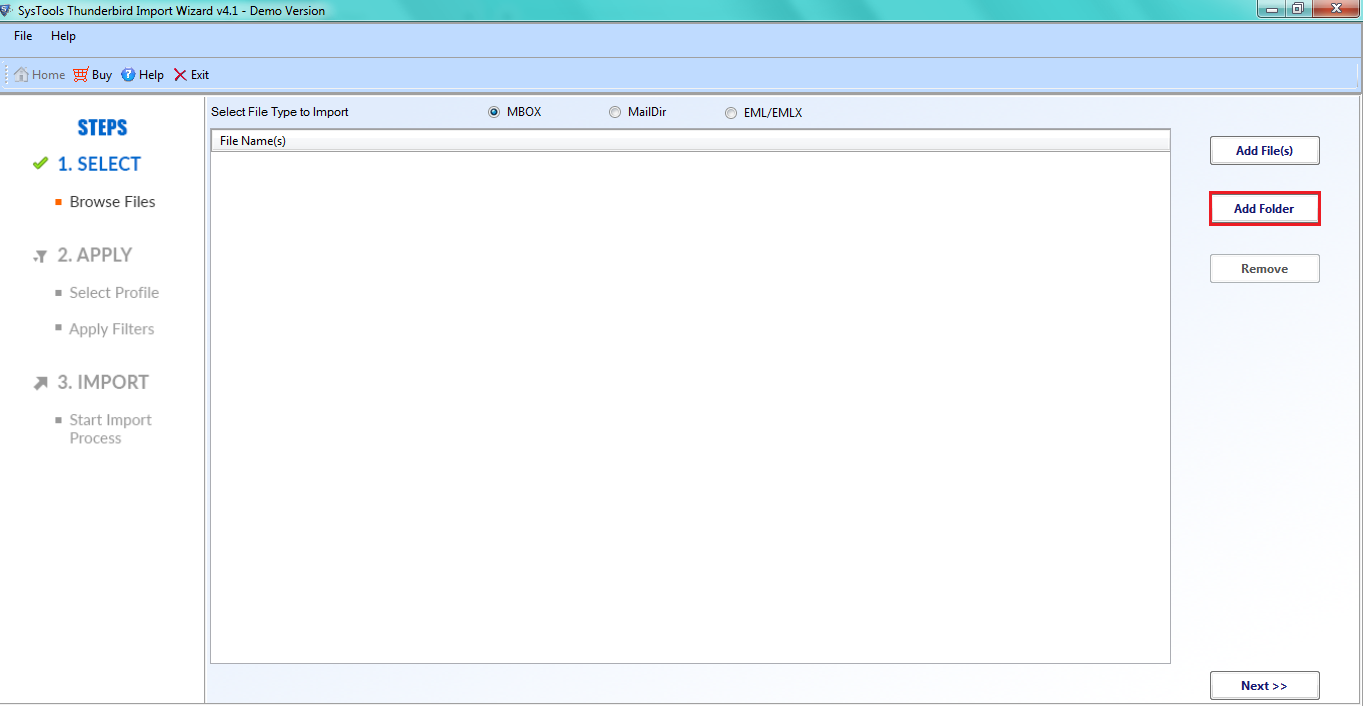 Step 3: After adding the files, either select All Mails or apply Date Filter for selective migration.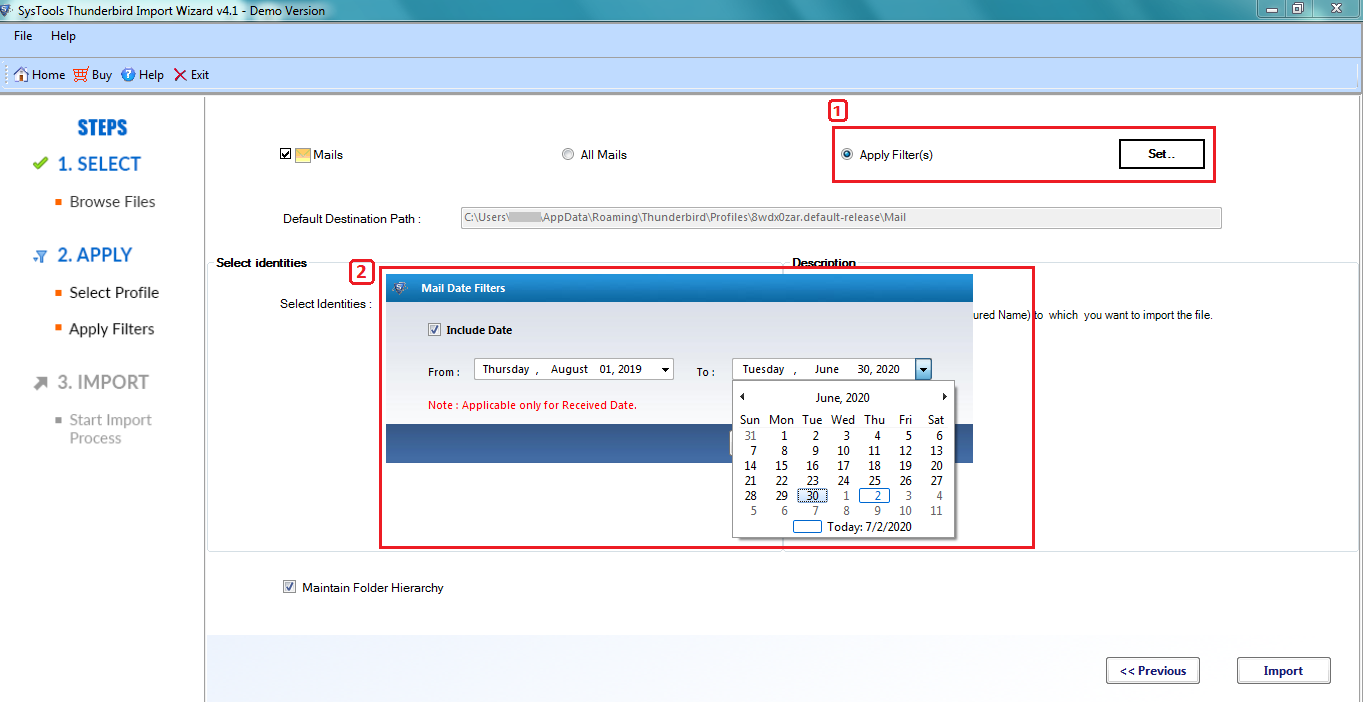 Step 4: Choose from the list of auto-loaded identities or configured profiles of Thunderbird. We recommend choosing "Local Folders" option.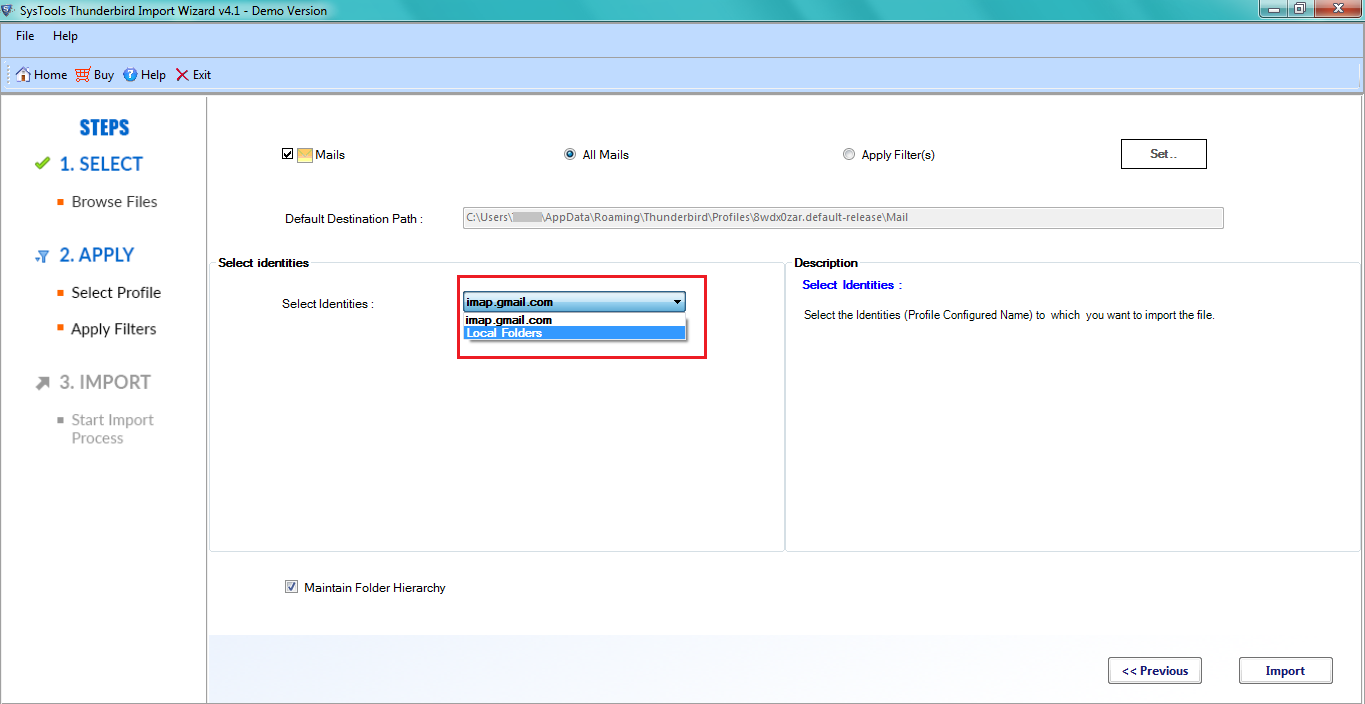 Step 5: Click on the Import button to initiate the import process.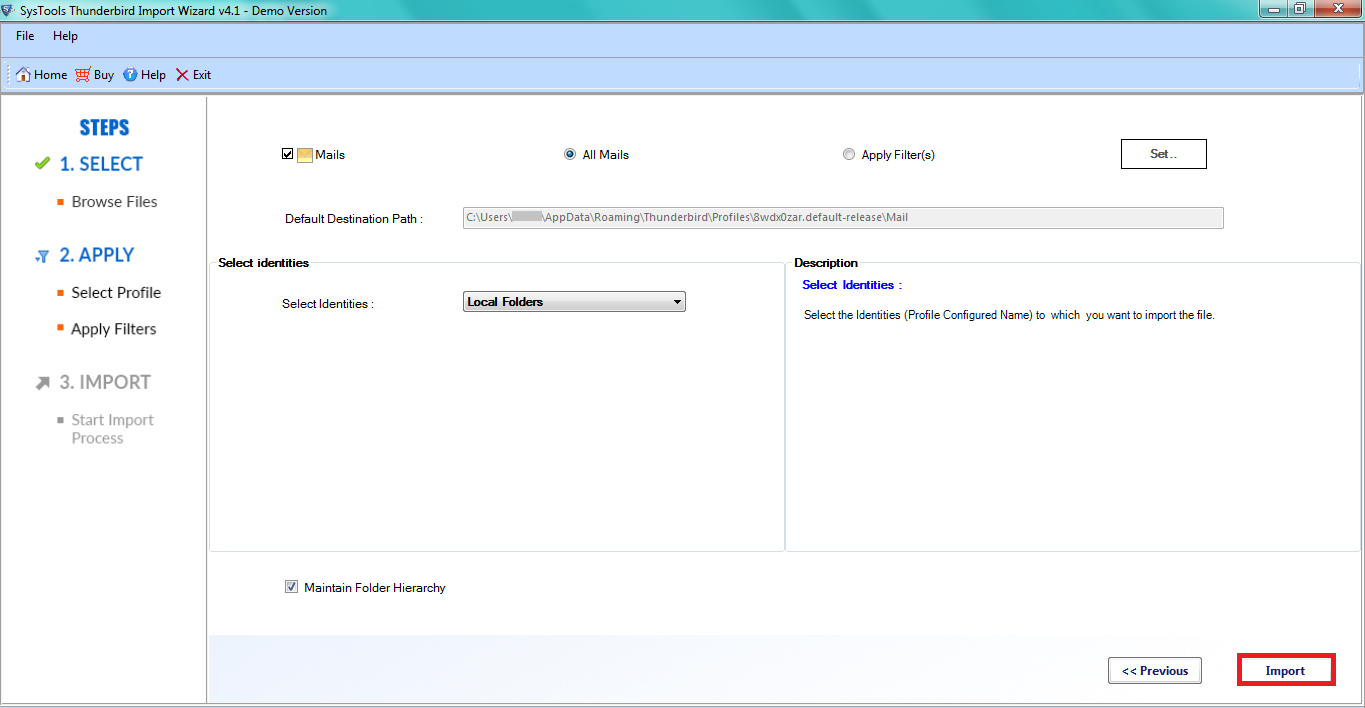 Step 6: Open Thunderbird and you will find out the EML emails in your chosen profile.
Note: In case you do not see the imported files on Thunderbird, restart the email application to view the imported data.
Top Features of Utility to Import EML to Thunderbird
These are the benefits users can avail themselves of once they use this application to import EML files into Thunderbird.
Add bulk EML files to Thunderbird using Add Folder feature
Supports import Maildir files to Thunderbird in bulk
Date filter option to import only the required emails to TB
Automatically loading all configured email accounts
Option to choose destination from all the configured profiles
Quick and hassle-free process that ensures no data loss
Know How to Import EML Items to Thunderbird for Free
If you want to try the free tool before purchasing, download the free trial version of this software. The trial version will import the first 25 EML files to Thunderbird for free without having any errors.
However, users need to purchase the full version to unlock the outstanding features for all of their EML files.
Conclusion
If you want to import EML to Thunderbird but do not want to go through some monotonous processes, use the recommended solution. This software will directly import EML files to Thunderbird, and allow you to open them in one place seamlessly.
You do not need to go through any conversion process either. So, choose wisely and resolve your problem in some easy steps.
People Also Ask
1. How safe is the software to import EML to Thunderbird?
This application is 100% safe as it does not contain any virus or malware.
2. Can I import email attachments of EML files?
Yes, along with the emails, attachment data stored in EML files can also be imported into Thunderbird.
Q. How many EML files can be imported into Thunderbird at a time with this software?
Users can import any number of EML files at a time.