How to Convert Excel to vCard on Mac? Know Here
I work as a senior manager. I met employees at my company who are looking for ways to convert Excel to vCard on Mac. They converted their contacts one by one rather than complete batch conversion. When they asked me, I did not get an answer to that. So, is there any reliable and quick solution to it?
After extensive research on the Internet, I found that thousands of users were having trouble in order to transfer Excel contacts to VCF on Mac. Do you have serious problems while converting Excel to vCard for Mac? Then, you have assuredly landed on the right page. So, today I have an enigma to elucidate. Converting XLS files to VCF can be performed straight away rather than performing it one by one.
This whole process can be performed in a couple of clicks only. Here we discuss two methods one is the manual method by using the Mac Address Book application and the other one is the automated method Mac Excel Converter to convert XLS/XLSX/XLSM contacts to vCard file format in bulk. But before going further let us discuss about the benefits of choosing vCard over Excel Files.
Benefits to Convert Excel to vCard On Mac
Excel files are one of the most used file formats for storing and managing a large amount of data. However, it has its disadvantages as well. Some of the reasons are mentioned below why you have to export Excel spreadsheets to vCard. 
Easily Transferable: Excel does not allow us to share individual contact with the help of an emailing service or any other program. On the other hand, you can create a single vCard for every individual contact and share it easily with any emailing service or program.
Compatibility: vCard files are highly compatible with several email programs, devices, applications. The best thing is you can access them from any operating system without any difficulty.
No Size Restrictions: If compared Excel files are mostly large in size whereas vCard is small. So, you can easily attach vCard to your emails and share them without any file size limitations.
Manual Way to Convert Excel to vCard on Mac
However, the Microsoft Excel spreadsheet program for the Mac operating system does not completely export Excel contacts to vCard Mac manual procedure. You can use it by firstly converting your Excel file to a comma-separated text file, also known as CSV file format. Then, move it to the Mac Address Book application. From there, you can convert XLS/XLSX/XLSM contacts to vCard file format in bulk.
Open your selected Excel Document
Click on the File menu and then hit the Save As command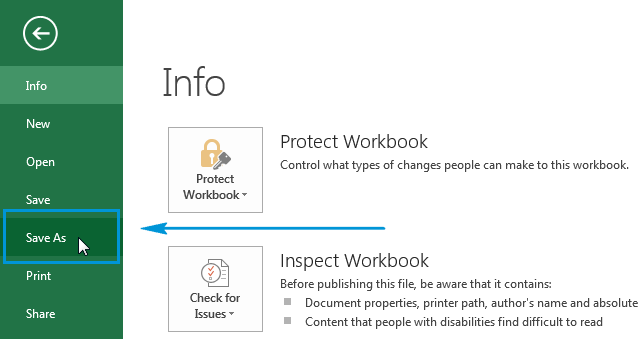 Select the file format saying Comma Separated Values (.csv" and save the converted file on your desktop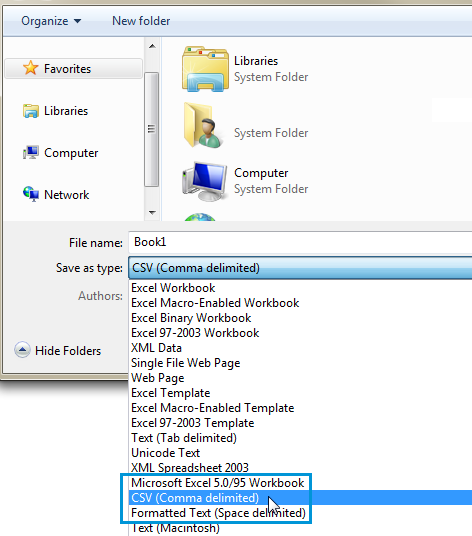 Import CVS Contacts to vCard Format
Launch Address Book Application
Select the Import option from the File menu
Highlight the CSV file and then click on the Open button
Hold the Shift key and select all of the contacts which you want to transfer in the vCard file format
Click on the File menu. Then, expand the Export submenu and choose Export as vCard
Navigate to the destination location where you want to store the vCard file and click Save.
Limitations
There are certain limitations while we are export Excel file to vCard Mac manually. The manual method does not support the bulk conversion of Excel Contacts to vCard. Using it, you can only convert one contact at a time. Thus, it is a monotonous and laborious task. It does not guarantee a successful conversion of XLS/XLSX/XLSM contacts to vCard file.
Convert Excel to vCard on Mac Using Automated Solution
Best Excel Converter Wizard is an advanced utility to convert XLSX/ XLS/ XLSM contacts to PST,  MSG, TXT, etc. It can change your Excel files, be it of any size to single or multiple vCard with an utmost ease. This tool comes with a user-friendly interface which makes it perfect for the non-technical users as well.
This utility provides you the best Excel conversion process for Mac, convert Excel files to PDF and other several file formats like:  TXT, MSG. With the help of this software you can map your files, Manual and Auto Map both the options are available you can select as per your need. Rest of the features are briefly mentioned below. 
Complete Steps to Convert Multiple Excel Files to vCard Mac
Step 1: First you need to Download and Launch Mac Excel Converter Tool
Step 2: After that, Click on the Add Files Option to upload multiple Excel files 
Step 3: Go to the location where you saved your contact file to select it. Click the Open button
Step 4: Choose the file format in which you want to transfer your Excel file
Step 4: Click the Export button and your file will be exported.
Features of the Automated Tool
Capable to convert Excel contacts to HTML & also multiple file formats like PST, MSG, TXT, etc.
Provides entirely mapping XLS/ XLSX/ XLSM contacts with the resulting file.
Renders the auto-mapping option to map the Excel files columns.
Offers multiple vCard versions for Excel conversion.
Makes individual MSG, TXT for every Excel file.
Export Excel contacts to MSG,TXT, etc. both with or without column mapping.
Provides Add File(s) option to add single or multiple XLS/ XLSX/ XLSM files to vCard format.
Supports Mac OS X 10.8 & all the above versions to transfer Excel contacts to VCF format.
Bottom Line
In this blog, we have discussed the manual solution to convert Excel to vCard on Mac. Most of the users face a problem because it can't perform the bulk conversion. In that case, we have also discussed the automated solution to convert excel to vCard file. This utility is very useful in solving all the queries related to convert XLS/XLSX/XLSM contacts to vCard file format in bulk. Here, both the solutions have given, the user can opt for any solution as per their need.