Solve the Google Takeout Not Working Error By Reading this Expert Article
Google Takeout not working want to know why? Then read this blog till the end to get the best alternative when your Google takeout transfer not working and you are stuck in the middle of transferring or opening Google Takeout emails, contacts, calendars, photos, and so on items from your Google Takeout account.
Want to Know What Is the Purpose of Google Takeout?
Collaboration tools and spaces are comprehensively provided by Google. For this reason, there are a variety of Google applications (such as Google Mail, Drive, etc.) that are useful for educational institutions and organizations. Furthermore, they offer an export tool called Google Takeout which users can use to transfer or Backup their Gmail Email data to local storage.
Google Takeout is a free tool provided by Google to take a complete backup of your data from your Google accounts. Moreover, It enables you to take backup of 51 types of data including Google Drive, Calendars, Browser Bookmarks, Mail, and even your YouTube account activity.
Can Google Takeout be Used as a Backup Solution? Know Here!
In my opinion, you do not need to know how to use Google Takeout, or how to back up your Google Mail account using Google Takeout. This topic is not the topic of our discussion. To find a solution to the problem of Google Takeout not working? The reason may be that you are stuck halfway through the process and need a quick and easy way to accomplish the task without any hassle.
From the above detail, you may wonder if Google Takeout could work smoothly well as a backup solution for your business, organization, or any other. The best answer is a big No. While it offers you to download your data using the Google Takeout Service, or save, store and export your Google account data, Google Takeout does not provide you any type of security and restoration facilities in case of sudden deletions, or laptop shutting down in the middle of the process, attacks that lead to data loss and corruption.
The Fastest Solution to Eliminate Google Takeout Not Downloading Error
There are no other options for you if you are stuck in the Google Takeout Not Working process. Then there is only one solution left to use an Expert Gmail Backup Tool to take a complete account backup without facing any errors in transferring, exporting, and downloading data from your Google mail account.

With this expert utility, you can easily Resolve the Google takeout transfer not working error and can effortlessly take a complete backup of your account data without any hassle. and can easily print Gmail Emails with attached files.
Steps to Fix Google Takeout Not Working Error Using Modern Method
1. Firstly, download this professional utility on your system and launch it.
2. Then, fill out your Google Mail account credentials like I'd and Password for login.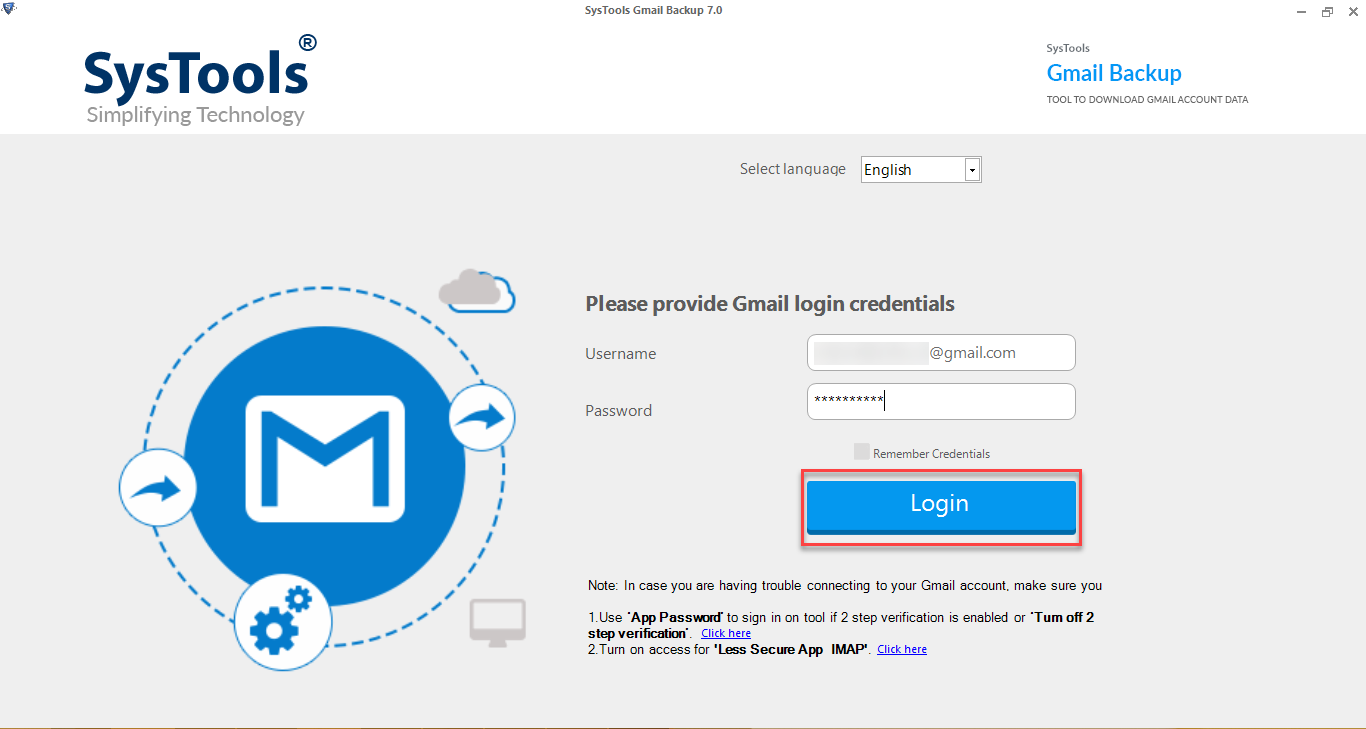 3. Next, choose the category that you want to back up from your Google Mail account.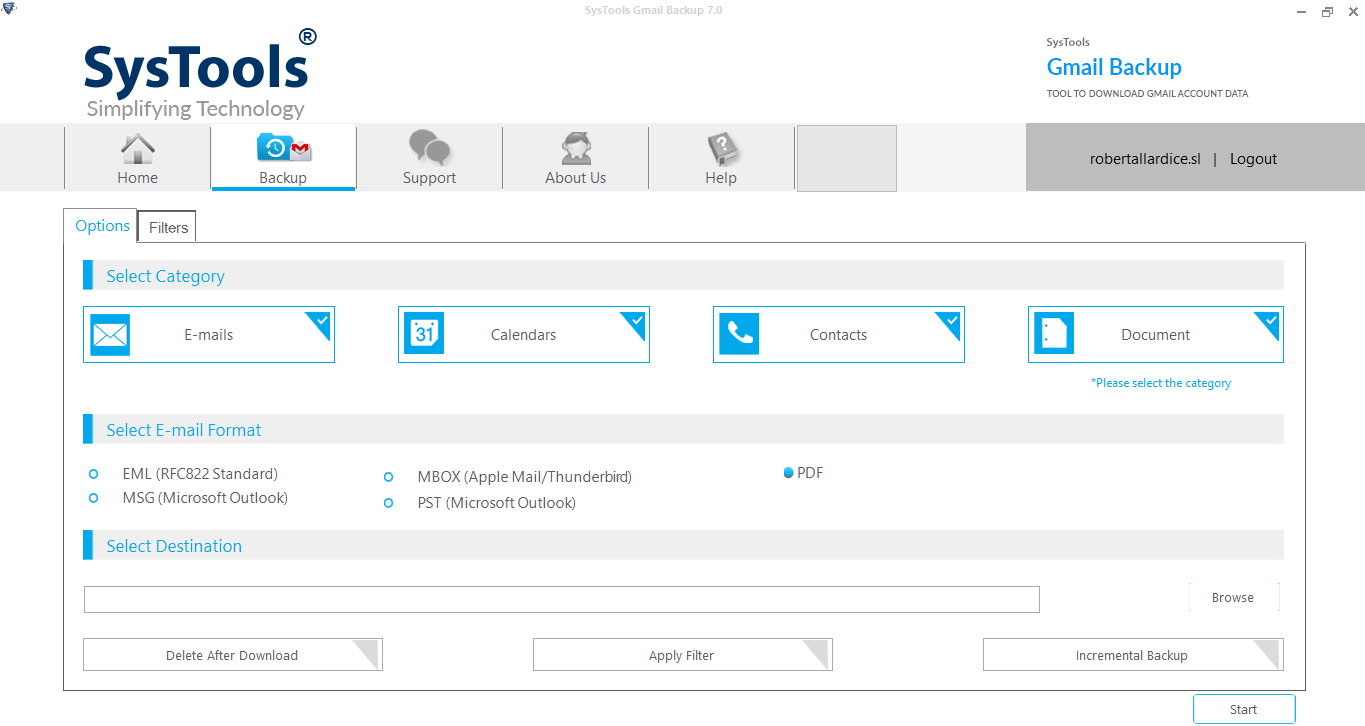 4. Now, select the email format for backup such formats as PST, EML, MSG, PDF, & MBOX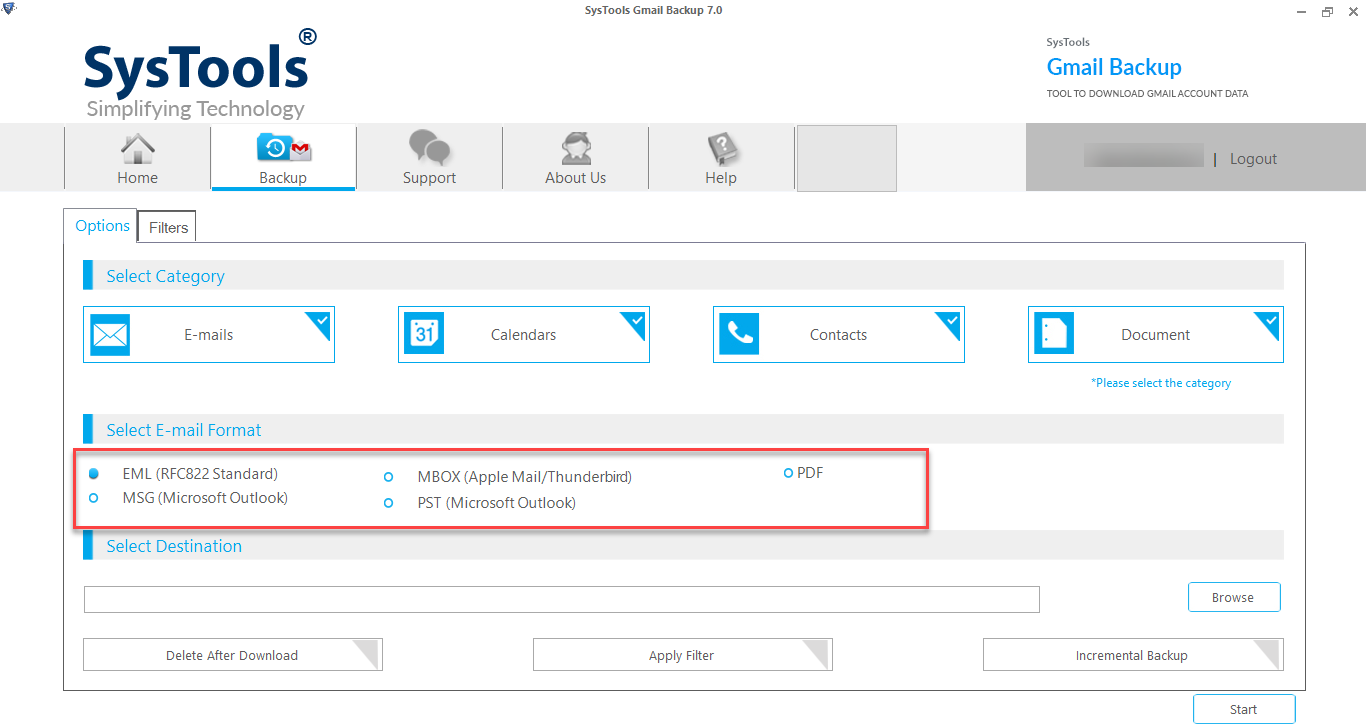 5. After that, set the end location by browsing option and apply filters as per your requirements.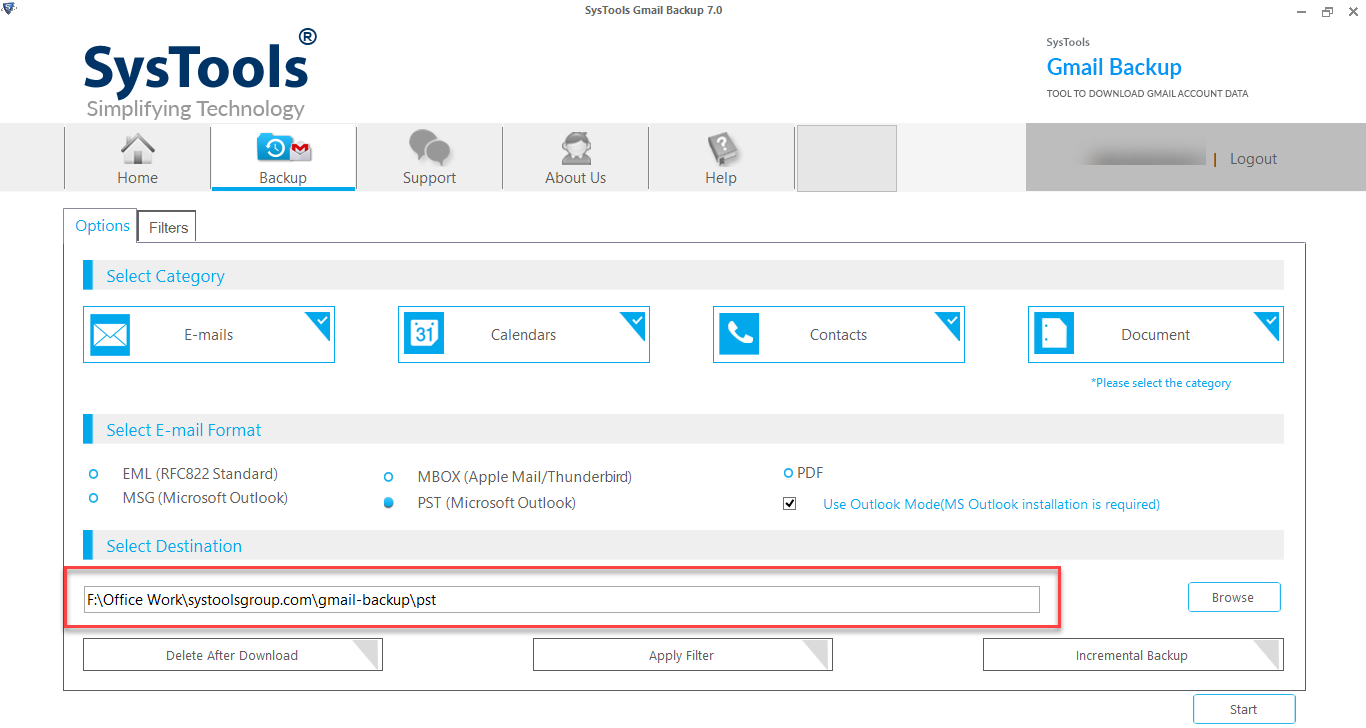 6. Lastly, select the Start button to finally start the process automatically.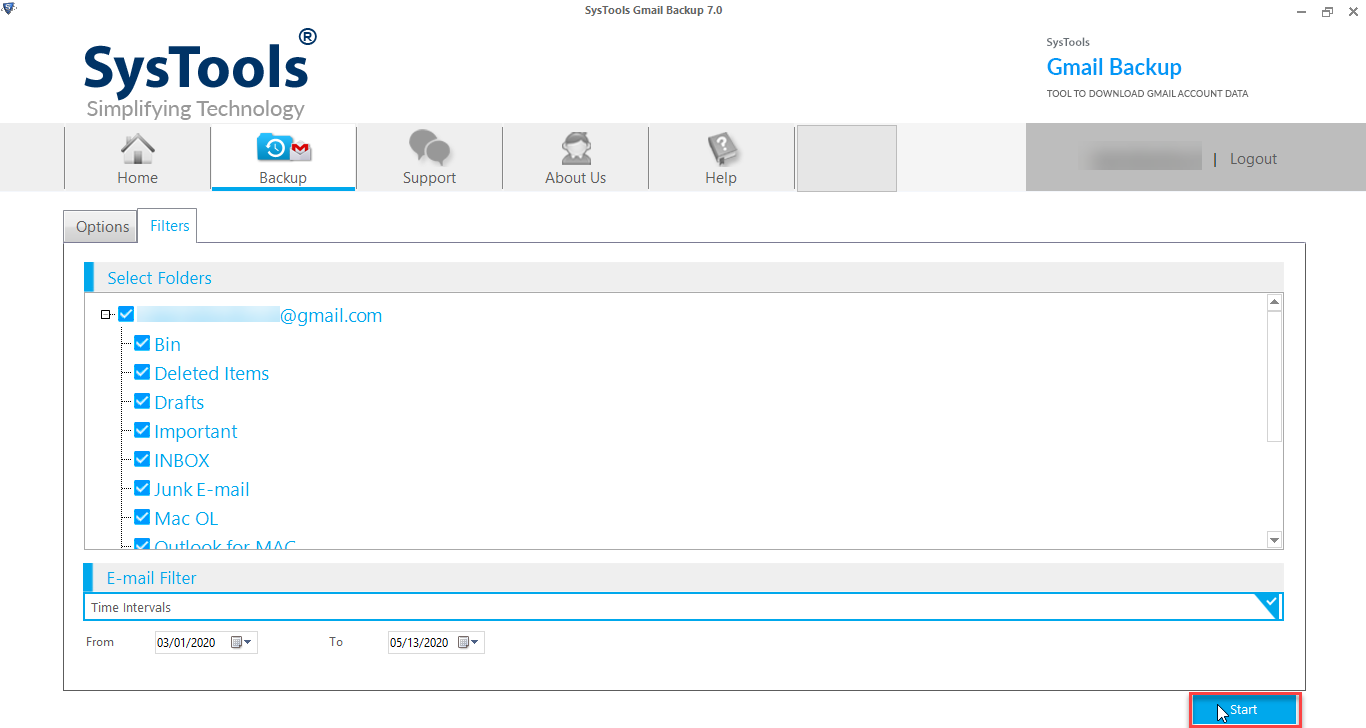 Important Note: This professional tool is completely safe and secure and verified by Google. As a safe and secure tool to use for the Google Mail Backup process. Also, this software doesn't store any type of your credentials and data in its database.
Google Takeout Not Working Error: How to Fix it Manually?
Let us clear one thing before starting. There is no manual method to fix the google takeout not downloading error. All the below-mentioned manual method is just a recommendation to avoid Google takeout not downloading error.
Recommendation 1: Remember Google File Size Limit before you start
Google restricts the file size limit for an effortless downloading process. If you try to export your account data larger than a 2 GB file then your data will be separated into multiple 2 GB zip files.
Recommendation 2: Combine all files into one folder
You can also solve Google Takeout Not Working by transferring all your email data to a folder you want to download, and then downloading that folder. Only the required files will be included in the zip file. Although it takes time, this method usually works.
What are the Cons of Using Google Takeout for Backups?
A complete backup solution for Google Mail and other Google accounts, Google Takeout lets you back up your entire account. In addition to archiving data, it can help you keep track of things. Archive Zip folders are difficult to access, however, because they are compressed.
Here are the four wake-up calls that make it a bad backup option for you:
A burdensome Backup Process: Google Takeout backup has big restrictions in the backup process. A user can't exceed the maximum backup limit per day. The Backup attempts for Gmail data are restricted to three a day. That means users can not try more than seven times a week. Moreover, the confrontation is that Google takeout fails even if the backup is completed 100%. Because of this, backup is a time-consuming, faulty and unreliable process.
Recovery is impossible: The backup of data is just a half process. In addition, there are high chances that you will find out multiple file types which are distributed into multiple zip files. After that, it will be your task to sort the files and folders and put them in order. In case, Google Takeout not working in the middle of the backup process. Then there is no other option available for you to restart or try again.
Very Drudgery Work for IT Administrators: IT administrators need an effortless backup solution to make their lives as easy as possible. There's a difference in the way Google Takeout works. Admin console becomes useless when downloading data from Google Takeout. To back up user data, administrators must log in as the user to download the information.
Privacy Deathblows: Glitches in Google Takeout have caused serious damage in the past. An unrelated user was mistakenly able to access private videos saved on Google's servers due to a technical issue. Yes, that's correct! The data of someone else that was supposed to remain confidential was accessed by a bunch of strangers. Users affected by the glitch received a rather quiet apology from Google for the glitch.
Final Thoughts
In this technical tutorial, we provided you with the best solution that will solve your Google Takeout Not Working error. By reading this article, you will get a complete workaround to overcome and resolve the Google Takeout transfer not working problem. Moreover, we explained the advantages and disadvantages of Google Takeout.
If you value your important data, time, and efforts, then go with an automatic solution that removes all your worries regarding the Google takeout does not work. Further, allows you to download the data with complete safety and security within a few minutes.