How to Open Google Takeout Emails? Tips to Read Takeout Files
Summary: Do you want to know how to open Google takeout emails? You must refer to this article as we explain everything most simply.
Google offers a feature named Google takeout that downloads all of its data in relevant formats. For opening Google's emails on your system, the takeout facility provides .mbox format. It is free of cost option that you can use easily. Google Takeout gives out a safe option to download and backup its data including all items in a safe copy on your system that you can move to other platforms.
While you export the Google takeout emails, they get saved in the MBOX file type. To open these emails, you must use an application that can read this file type.
User Query: Hi! I have saved the emails from my Google account in my system. The files are present in the MBOX file type that I am unaware of. How can I read the emails from this file? Do I need to install any other tool to be able to deal with them?
If you are somebody facing a similar problem, then this article will solve them all.
How to Open Google Takeout Emails?
You must follow the below-given steps to download the Google Takeout emails on your system:
Firstly, sign in to your Google account using your credentials
After this, select "Manage your Google Account" (https://myaccount.google.com/)
In the menu provided on the left, select "Data & Privacy" and scroll down
Under the "Data from apps and services you use" section, choose "Download your data"
The website will be redirected to the Google Takeout page. From here, choose "Mails" out of the various options provided
Tap on the Next step button given at the end. Now, select the file type, frequency of backup & destination. Select the "Create Export" option
Now, Google will start downloading the takeout data. After it's done, you can find the files in your local folder.
Learn Ways for Opening Google Takeout Emails
The files are now saved in your system in the .mbox file type. For opening them, you can either choose to import them into email clients that support this file format. If you want a simpler solution, you can choose this tool to open MBOX file emails that provides a direct way to view all the emails.
Gmail MBOX Viewer Tool is absolutely free to open and read Google Takeout MBOX files with attachments on Windows OS 11, 10, 8, 7, Windows Server 2019, 2016, 2012, and 2008.
It provides the option to preview attachments of MBS, MBX, MBOX files, etc. Let us learn all features that this tool offers in detail.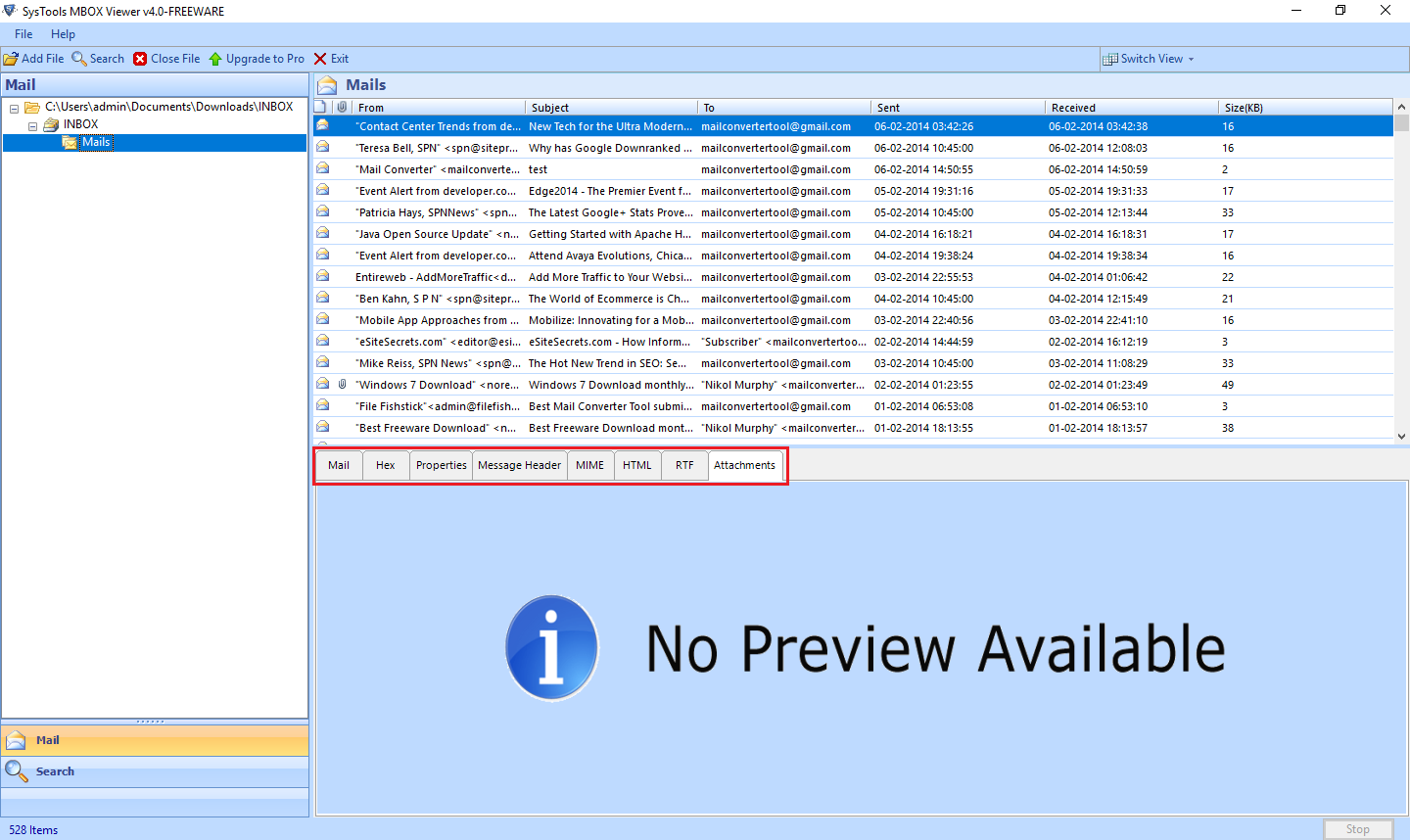 Benefits of the Tool to Read Google Takeout Emails
No File Size Limitation: This tool imposes no limitation on the size of the file that you can preview. This tool is capable enough to preview files of large size and access them in bulk mode. During the process, it maintains the formatting of the files intact.
Preview Emails with Attributes: This utility can open and preview the files with all attributes such as Subject, From, To, Sent Date, Size, etc.
Can Open Attachments: This software can open Google Takeout emails along with their respective attachments. It is equipped well to open attachments containing images, videos, documents, etc.
Folder Structure Preserved: Maintains the folder hierarchy, and its original structure while opening MBS/MBX/MBOX files. It can also perform an in-depth analysis of the emails for forensic purposes.
Related: How to Take Backup of Gmail Emails?
Conclusion
We have discussed how to open Google takeout emails in this article. One can follow this article to be able to preview and open the emails from Google Takeout. Since there is no manual way to read the files, it is best to choose a third-party professional tool. The software that we have recommended here is the top choice of many users. It provides a safe environment to view the file data and preserves data integrity.