Forgot PDF Password to Edit? Learn Quick & Simple Methods to Unlock
Forgot PDF Password to edit, copy, print, or comment? Do you want to remove the edit password from PDF file? If yes? Then, you landed on the right page because here we have written the perfect solution if you forgot PDF permission password.
Portable Document Format (PDF) is the most popular file for sending or receiving on the internet. Because it is independent of operating systems. PDF contains a variety of data items. So, to protect the data from printing, editing, reading, and copying users set a strong password on PDF.
However, due to alphanumeric strong passwords have you ever thought that, if you forgot a PDF password due to bad memory then what will you do? After forgetting the password you will not able to edit, print, and read your PDF document. Before starting the article let's see a real-life incident.
"Hey! Yesterday I was working in my office and I am editing some of my office documents. But when I was entering the password, then it says that (the permission password entered is wrong). Now, I do not have any idea how to recover or reset my password to edit my PDF file. So, someone please help me to edit password protected pdf document."
If you are in the same scenario, then you are in the right place. Because in this article we are going to discuss what to do if you forgot PDF password to edit, print, and copy documents.
Manually Unlock PDF If You Forgot PDF Permissions Password
You can manually remove PDF editing restrictions using Google Chrome and Print functionality. It has an inbuilt PDF Reader which provides the functionality to open and read PDF files. Just follow these steps:
Step 1. Open the PDF file using Google Chrome.
Step 2. Now, click on the Print icon present on the right side.
Step 3.  Choose "Save as PDF" as the destination printer & hit the "Save" button.
Step 4. Now, open that PDF using Adobe Acrobat and do the editing operation.
Note: This manual method can be used if you forgot PDF password to edit or copy the PDF File. But it is necessary that the file should not have print restrictions.
The disadvantage of a Manual Solution
There are some disadvantages of this software like:-
This manual method is not a good option for the batch process.
It will not work if the file has print restrictions.
It is a time-consuming process if there are a large number of files.
Use Instant Solution If You Have Forgot PDF Permissions Password to Edit
As we can see, the manual method has its limitations. So professionals suggested trying some easy and automated way. So if anyone has forgot their PDF file password to edit, copy, or print then they can try the professional PDF Password Remover. It is the most trusted and reliable tool to unlock password-protected PDF files. If you forgot your permission password then, this software unlocks the PDF file which makes you able for editing, and print copying.
This utility gives you the facility to remove Comment Restriction from PDF, as well as it, is also removed Document Assembly Restriction from PDF. The best thing about this software is that it can unlock multiple PDFs with the same restriction at the same time. There is no need for Adobe Acrobat Pro DC on your local machine.
This software gives you the option to preview the permission of PDF files. It means when you browse and load any PDF file. This software will immediately show you the associated permission. This software gives you the facility to remove comment restrictions & document assembly restrictions too. Moreover, it is available for both Windows as well s Mac OS.
Now, after all the features let's see the working process.
Step 1. If the user forgot PDF permissions password, first, download and install the software on your Windows machine.
Step 2. Then click on Add File(s)/ Add Folders to add PDF files to the software.
Step 3. After that, click on the browse button to select the destination location for a decrypted copy of the PDF. You can also choose to print your PDF files.
Step 4. Now, click on the Unlock button to start the process.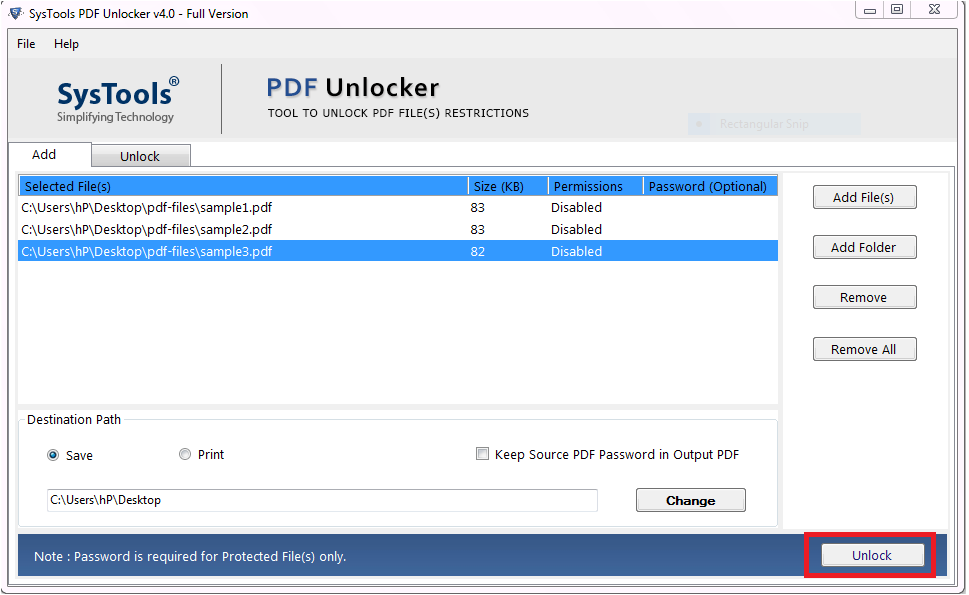 Note: In the case of PDF having document open password security then, after clicking on the Unlock PDF button the software will request to enter the password.
Step 6. After, the completion of the process a message box pop up which notify you of "PDF gets unlocked successfully" then, click on the OK button.
Working Steps For Mac OS
The same software is available for Mac OS too. The software removes the Owner and Known User level password restriction from the PDF file. Able to unlock AES, & RC4 128-bit and 192-bit encrypted PDF files. If in case the user forgot PDF password to edit i.e. permission password then, this software can unlock PDF file permissions without any hassle. As well as it creates the Unlock report after decrypting protected Adobe Acrobat PDF files.
Steps 1: Install the software and open it>> Add Files or Add Folder.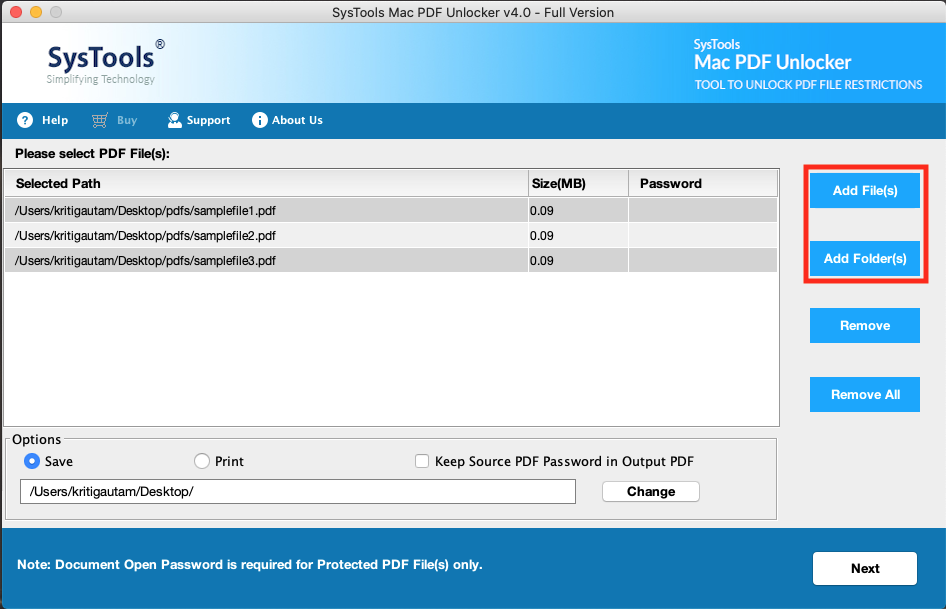 Step 2: Now, click on the Change button to select the desired location for the decrypted copy. Then, click on Next.
Step 3: Here you can see all the permissions on the PDF documents have been disabled. Click on the Unlock button to start the process.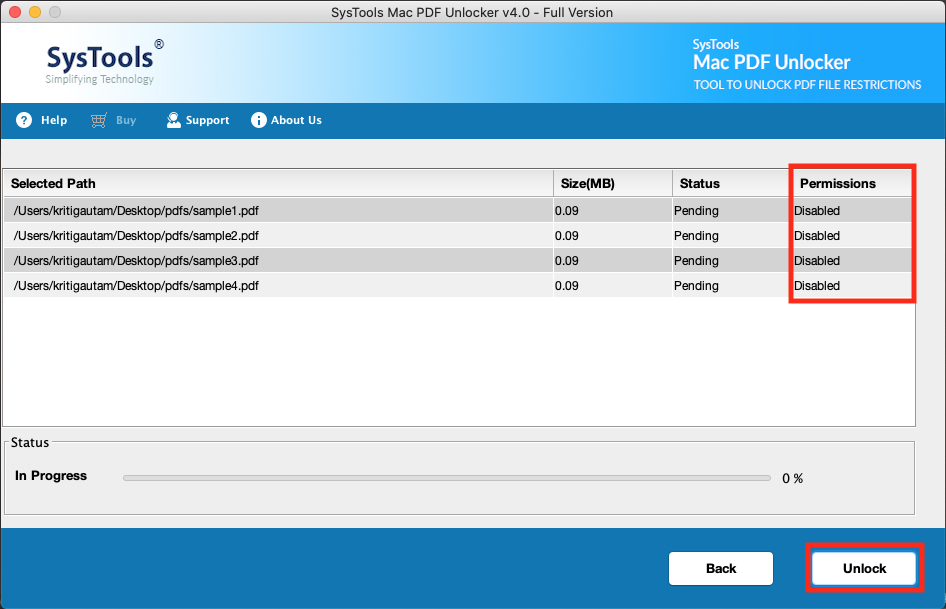 Step 4: After the process is completed a pop-up box appears with the message-"Unlock process completed successfully" then click on the OK button.
Also Read: Use Simple Techniques to Convert Non Copyable PDF to Copyable PDF
Conclusion
PDF is the preferred format for organizations when it comes to saving or sharing documents. But, when they forgot PDF permissions password then, they are unable to edit their PDF files. Hence they started searching for some solutions which could help to remove edit password from PDF documents. In this article, we have discussed the effective and smart way that will help users to edit password-protected PDF documents. So, if you forgot PDF password to edit then go through this article and get the resolution for the query.