How to Decrypt Protected Adobe Acrobat PDF Files on Mac OS X
There are many users who are looking for a solution to unlock their password-protected PDF files. Mainly, there are so many solutions present over the internet to do the same. Users can easily fix this issue manually and professionally too. But, the manual solution has limitations which makes you unable to get the expected outcome. To perform the free solution, you should memorize the proper password. In case of a lost or forgotten password, you cannot execute the manual method. But, to overcome this issue, we also have mentioned an automated solution so, you can go with that also. Hence, in this blog, we will be going to explain the perfect techniques to resolve how to decrypt protected Adobe Acrobat PDF files on Mac OS X. Thus, go thoroughly to the complete blog to understand more about this topic.
How to Decrypt Password Protected PDF File Manually?
If you have already decided to remove password security from PDF files on Mac OS X. So, you should know the exact password of the encrypted PDF file. If you know the password so, this procedure is proving helpful for you. Below here, we have discussed the free solution to decrypt encrypted PDF file on Mac Machine. Mainly, we have mentioned all the instructions properly. So, you just have to follow all the steps sequentially to execute the process adequately. Let's get started:
Step 1: First of all, Open the encrypted PDF using Mac Preview
Step 2: Then, Input the password to open the file.
Step 3: Choose the "File" menu and select "Save As".
Step 4: Uncheck the encryption option & click the Save button.
Step 5: Now, easily open this file without entering the password.
Also, to remove permission password from PDF document it is necessary that you must know it. Once, you have removed this permission password the file can be easily print, edit, sign, copied, etc.
What If You Lost or Forgot the Correct Password?
Often users set a lengthy and complex passwords to protect their PDF files. But due to the complexity, many users lost or forgot PDF password to edit, copy, print, comment, etc. In such situations, they start searching for a solution to decrypt protected Adobe Acrobat PDF files. But users still ignore the fact i.e., there is no reliable solution which can bypass the permission password of PDF. So, it is better to go with an alternative solution which we will mention in the upcoming section.
Automated Way to Decrypt Encrypted PDF File on Mac OS X
As we all know, the above-stated manual solution cannot unlock protected Adobe Acrobat PDF files if the password is forgotten or lost. But do not worry! Here, we have come up with this reliable method named PDF Unlocker Software. Using this amazing software, you can easily bypass PDF permission passwords without any hassle. This software consists of some advanced features and functionalities which make it unique as in comparison to others. Mainly, it can decrypt protected PDF files on any Mac machine for editing, copying, printing and extracting pages.
It can instantly remove known user level and owner level password security from PDF in batch mode. Subsequently, it can also remove AES (Advanced Encryption Standard) & RC4 128 & 192 bit encryption from portable document file. But, you should know that this software unlock forgotten permission password. If in case, you need to unlock lost document open password so, this software does not support this functionality. Moreover, you can download this software on any Mac machine. Because it extensively supports all enriched and below versions of Mac Operating System.
Steps to Decrypt Secured PDF Document
Launch & Run Mac PDF Unlocker Tool.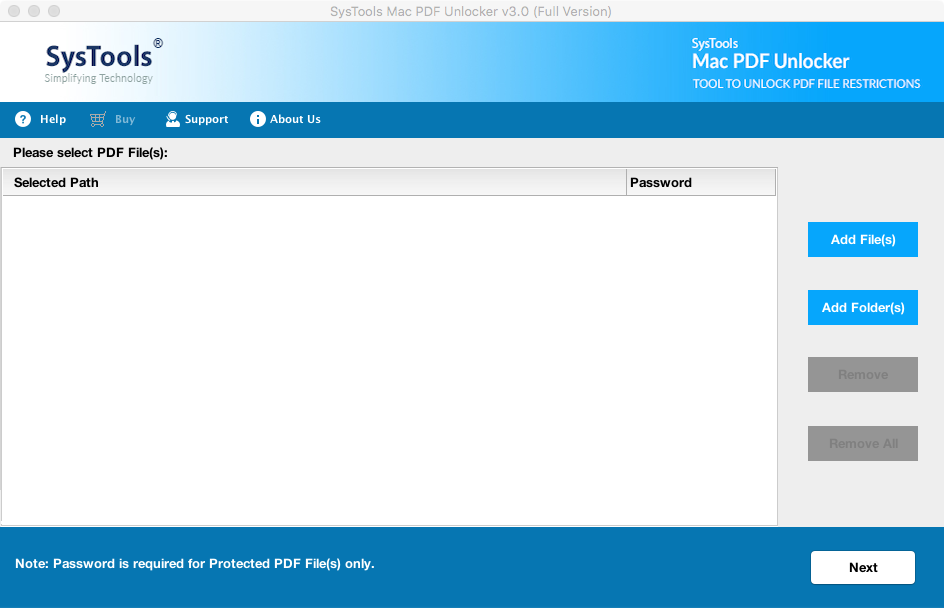 Click on Add Files or Add Folders option.
Enter the password if present in the document.
Choose destination location to save decrypted PDF.
Click the Unlock button to start the procedure.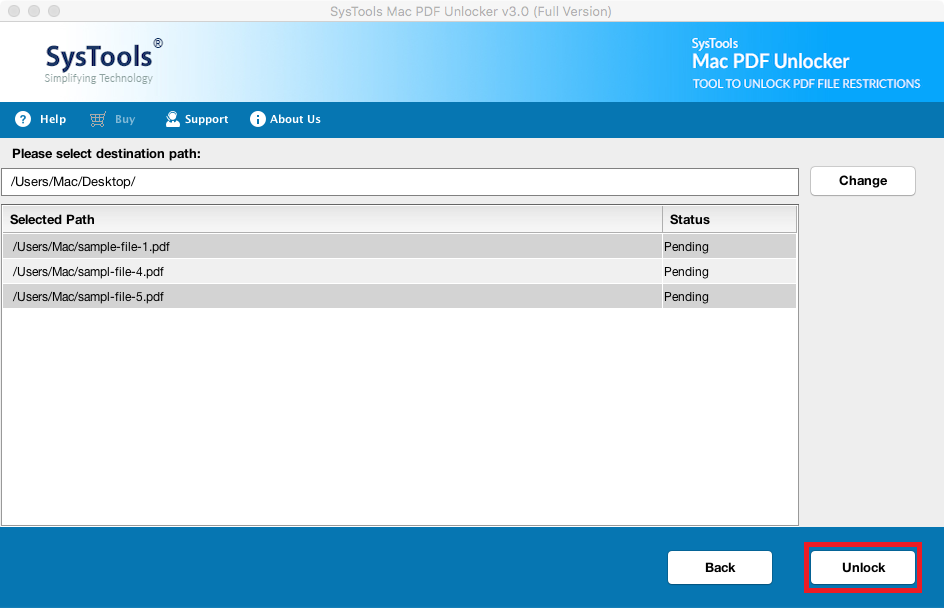 Click on the View Report option to view export report & password-free PDF files.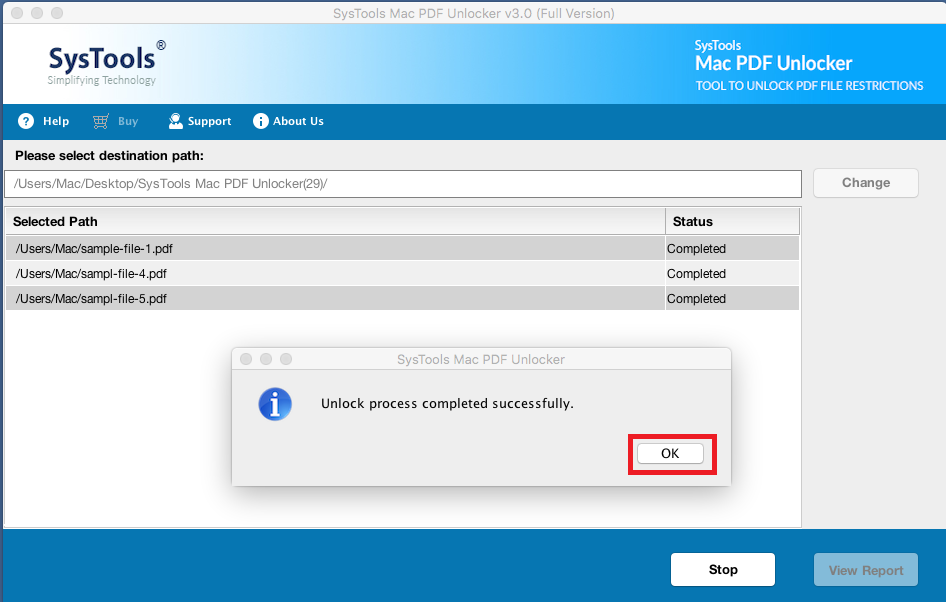 Also Read: How to Extract Text from PDF– Complete Data Extract
Concluding Thoughts
Above here in this write-up, we emphasized the manual and professional techniques to decrypt protected Adobe Acrobat PDF files on Mac OS X. However, all the users should know that the manual solution has some restrictions which affect the complete procedure. So, it is better to choose another solution which is a third-party application. This provides you surety to facilitate an efficient outcome to decrypt encrypted PDF files. Moreover, the choice is yours which one you need to choose. You can go with any one of them at your ease.
Note: If any Windows OS User wants to decrypt encrypted PDF documents then they can refer to the same program for Windows OS. The utility efficiently removes security from protected PDF documents and creates an unlocked file. The resultant document will be free from any security and passwords.