Quick Ways to Combine Multiple PDF Files into One PDF
Dealing with a large number of PDF files can be difficult and inconvenient. Fortunately, you can combine multiple PDF files together and get a single consolidated file. This will make your files clutter free and help you deal with all the data in one place. Just make sure that the file isn't too large for whatever task you want to use it for.
In this guide, we will walk you through the methods to combine PDFs using several applications. You can use Adobe Acrobat Pro DC but that will cost you a subscription fee on a monthly basis. Or you can opt for a paltry one-time purchase of the best PDF Merge application available for Windows and Mac Operating systems. Of course, we will also showcase the free methods to combine PDF files that may help you in one way or another.
But before going further let us know about the benefits when a user consolidates different PDF files together.
List of Topics Discussed 
Benefits of Merge Multiple Files into One PDF File
Combining files into one PDF is a useful way to organize and share documents. Here are some key advantages of doing so:
I. Handling a large number of PDF documents is a complicated task. By combining them the user can keep all data in a single document for easy document management.
II. Sharing one PDF file with teammates or friends is an easier task compared to sharing multiple PDF files simultaneously. When you combine multiple PDF files into one, it saves time when sending or receiving them..
III. File handling or data corruption issues occur due to having several PDF files. There are chances of accidental deletion or misplacing of PDF files. To avoid this situation the best solution is to join different PDF files into one.
IV. It is easier to print a consolidated PDF file than to print several documents one at a time.
V. Collaboration is convenient and efficient if the team members find all the relevant data within a single PDF file.
Note: The user can also read another blog to Split a large PDF file into multiple files.
Top Methods to Combine Multiple Files into One PDF
There are multiple methods to combine PDFs together. Almost all PDF Editors have one such option available in them. Here, we will take a look at the 4 most popular methods to do so:
Adobe Acrobat Pro DC
Best PDF Merge application
Free Method
Online Tools
#1 Adobe Acrobat Pro DC
Here are the steps to combine PDF files into one PDF File using Adobe Acrobat application:
Download and install the Adobe Acrobat Pro DC program.
Click on the Tools button and then click on Combine Files.
Click on Add File option and select the PDF file to be combined.
Lastly, click on the Save button to save the resultant PDF file.
By following the above steps the user can combine the files successfully. Do note that there are cases when Combine PDF Files Tool Does Not Work in Adobe.
Note:- The Combine Tool is not available for use in free version of Adobe Acrobat or Adobe Reader. You need to purchase the premium Adobe Acrobat Pro DC program. It provides 7 days trial version after which it expires. For further use, the user has to upgrade it to the full version via subscription.
#2 Best PDF Merge Application
Adobe Acrobat Pro DC is expensive especially when you have to pay at regular intervals to use it. It is better to go with a one-time payment solution i.e., the PDF Merger tool. It is the best program to merge, combine, consolidate, and join PDF files together offline.
This is the perfect utility to combine multiple PDF files into one PDF file on both Windows and Mac operating systems. The software has an easy user interface so that the user without having any technical knowledge can use this easily. Do note that it can also merge password protected PDF files without any issues.
The tool provides the Add File or Add Folder option to load PDF files into the tool. And also provide the remove option to remove unwanted PDF files from the folder. The application is compatible with all versions of PDF documents.
How to Combine Multiple PDF Files into One PDF File
If you want to know how to merge different PDF files into one, follow these steps:
Launch the PDF Split Tool on your system. Choose the Merge option.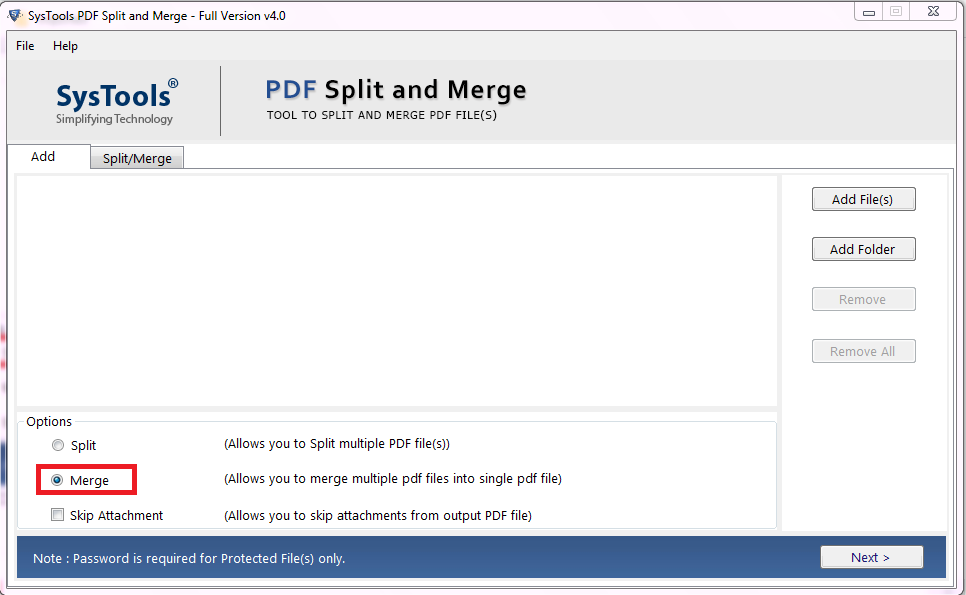 Insert PDF files or a Folder using the options shown in the picture to join different PDF files into one.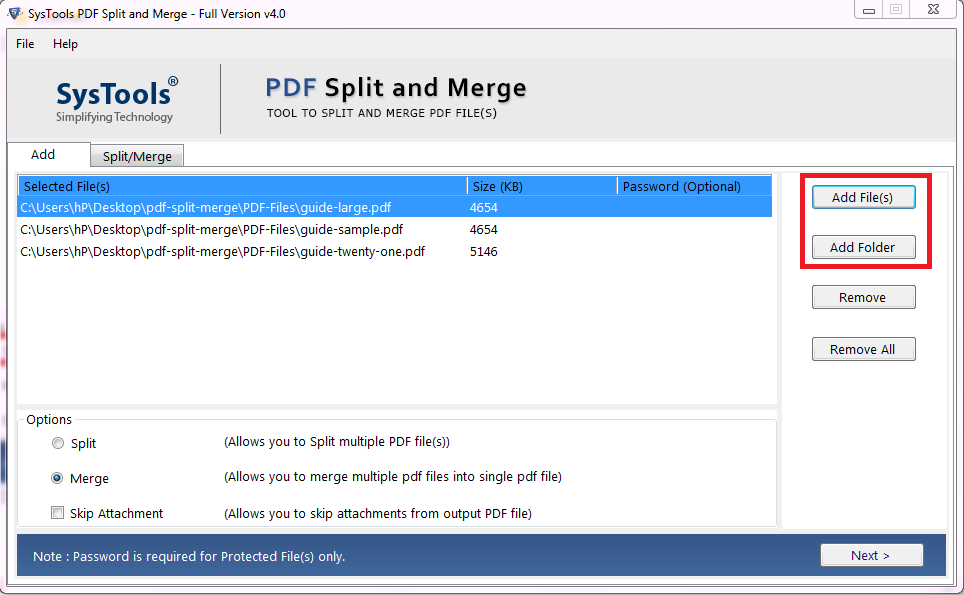 Click on Next. You can also check the Skip Attachments option.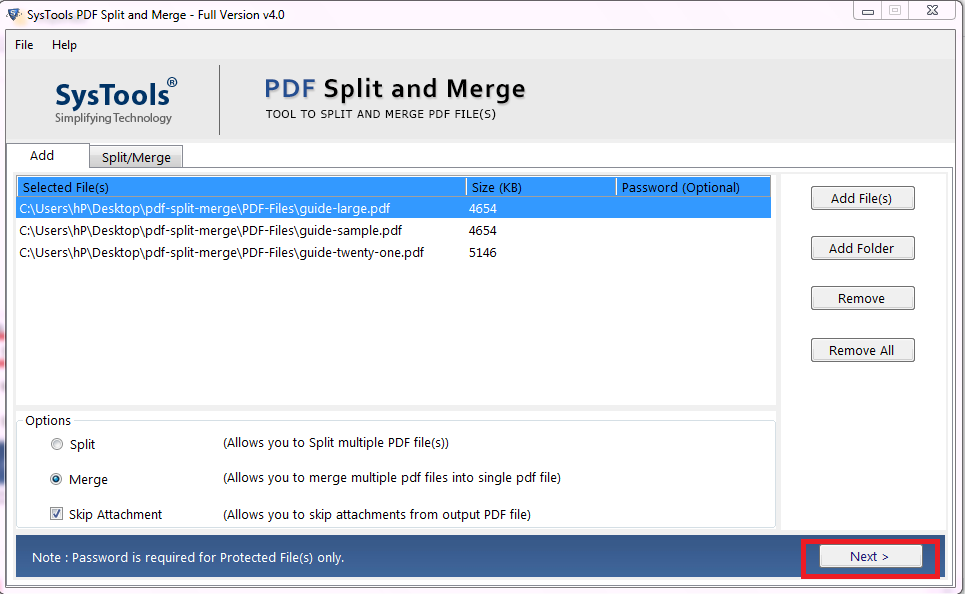 To combine Multiple PDF files into one PDF file choose an option. Also, if your PDF files have a password, you need to give it in the text box, if not then, skip it.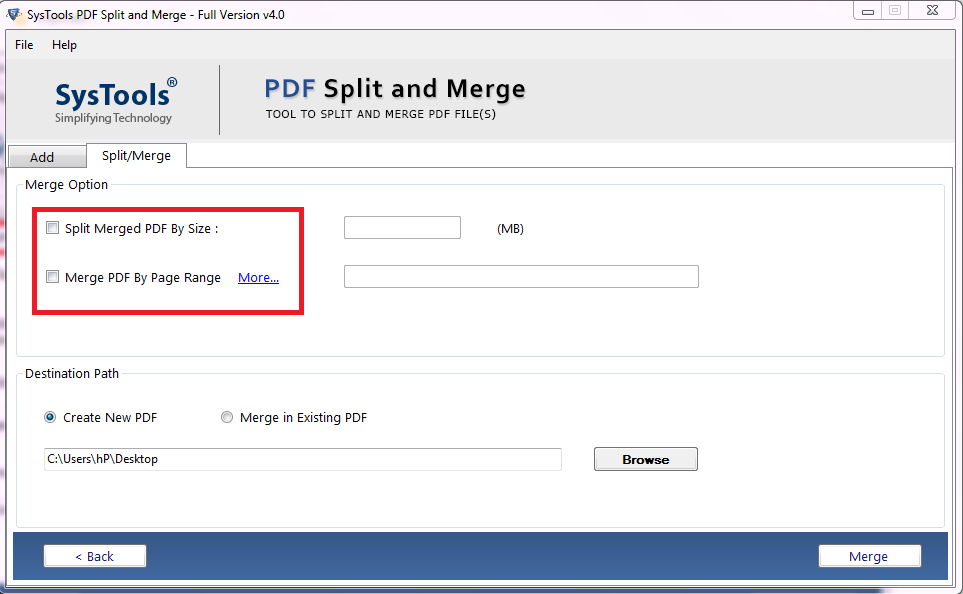 Select the desired location to save the resultant file. Then, click the Merge button to join different PDF into one.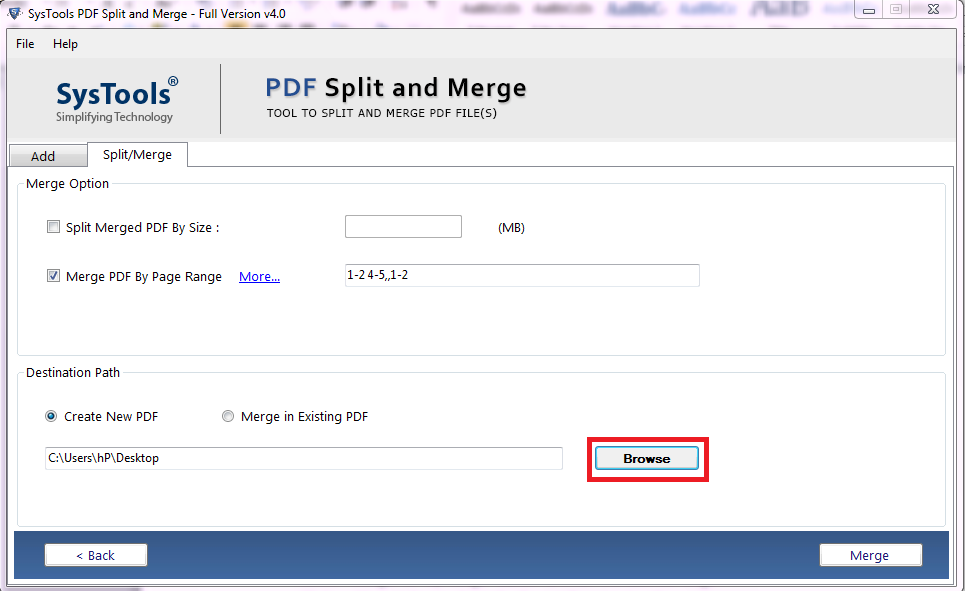 The process has been done successfully. Click OK.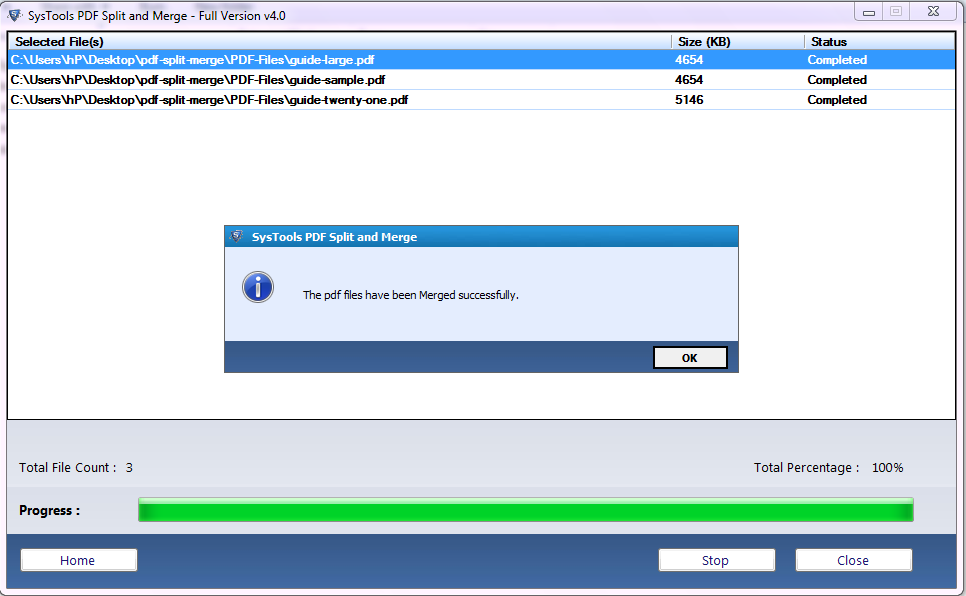 Read More: Get the Instant Solution When Forgot PDF Password to Edit 
#3 Free Method to Combine PDF Files with Preview
On Mac, you can merge multiple PDF files using Preview, an in-built application. Here's how to do it:
Run Preview on your Mac machine.
Open a PDF file in it.
Click on View > Thumbnails.
Click on the thumbnail where you want to insert the other PDF.
Now, go to Edit > Insert > Page from File.
After that, select the PDF you want to combine here and click Open. 
Finally, choose File > Export as PDF to save the combined files as a new PDF.
#4 Online Tools
You can also use online tools to combine multiple PDF files into one PDF for free. But it is limited to a few PDF files (two at a time). You will have to pay subscription fees to upgrade your usage.
Generally, here's how to combine PDFs online:
Go to the PDF merge online tool website.
Select and open the Merge PDF tool if not already open.
Upload your PDF file into their server by either dragging dropping it to the given section or clicking on the 'Select Files' or 'Upload' button.
Once done, let the tool process your documents.
Finally, click on the Merge or Combine button to start the process.
Once the process succeeds, download the combined PDF file to your device.
Bottom Line
In this blog, we have discussed the manual solution to combine multiple PDF files into one PDF File. But the most users do not have the full version of the Adobe Acrobat Pro DC program to join different PDFs into one. In that case, we have also discussed the automated PDF Merger tool and other solutions to complete the process. The user can opt for any solution according to their requirement