Best Yahoo Email Backup Tool – Software Review
As an organization, Email Doctor is highly creative and effective with its products. The features are comprehensive and smartly organized to bring you the most comfort. Here we are talking about the Yahoo Email Backup software. So let it begin.
Why Do Users Need to Download Yahoo Mailbox?
There are several reasons why you may user want to backup Yahoo account. Some of the reasons are listed here. Have a look:
1. The user may need to classify or share information that was offline, or sometimes they just want additional security. In these types of cases, the Yahoo account is compromised in one way or another.
2. Most of the times it happens that we just want to download Yahoo mailbox due increasing number of emails in Yahoo account (space filling faster). However, at the same time, we don't want to permanently lose a potentially valuable connection.
3. A copy of emails at your end is a good practice to access it at all conditions.
#Importance of Zimbra Yahoo Mail
Pros of Using Yahoo Email Backup Software
Free Customer Support
No file size limitation
Provides 30* days money refundable guarantee
24/7 technical and professional support availability
Easily save all folders of a specific as well as several users account
100% safe and secure application
Permits to delete emails from server after downloading
Offers Incremental backup facility to download Yahoo mailbox without data loss
Supports all versions of Windows Operating System
Can store the resultant data in any desired location (hard drive or flash drive)
Cons of Using Yahoo Backup Software
This utility is supporting to work on Windows systems only. Plus, you require an app password of Yahoo mail to login to this application. This is done for data security of your Yahoo account.
System Specifications
| | |
| --- | --- |
| Version | 3.1 |
| Software Size | 15.4 MB |
| Platform | Windows OS |
| Supported OS Versions | Microsoft Windows 2000, 2003, 2008, Vista, Windows 7, 8, 8.1, 2008/2012, Windows 10 (32-bit & 64-bit) |
| RAM | 1 GB |
| Processor | Intel® Pentium 1 GHz processor(x86, x64) or equal |
| Hard Disk | 100 MB of free HDD space required |
Features of Yahoo Email Backup to Download Yahoo Mailbox
Backup Yahoo Email to Computer, Hard Disk, & USB
This Yahoo backup tool is specially designed to create a backup of Yahoo mailbox data. Moreover, the tool will save all the emails and attachments from Inbox, Outbox, Drafts, Sent items, and all the other User-defined folders. All these data of Yahoo mail account will be downloaded and saved to your PC/ pen drive / hard disk according to your choice.
Save Yahoo Emails in Multiple Formats
The Yahoo Backup utility permits the user to create a copy of the Yahoo Mail folders to various file formats. You can have the data transferred in Outlook PST/ MSG file, Mac Mail EML file, or Thunderbird MBOX file. You can save the data in any of the formats and successfully access it in any of the supported mail clients. For example, if you use Mozilla Thunderbird then, you can download Y!mail to MBOX format without losing a bit of information.
Offers Delete after Download Option
During the download of Yahoo mailbox data using the Yahoo backup software, the user has a Delete after download option. It helps to delete the emails from its original source, that is, Yahoo mail account after the emails are downloaded to local system. The permanent deletion of emails from Yahoo account will free the account storage space, but none of the data will be lost. Also, this helps to avoid Yahoo mail account from exceeding the allowed limit to save data.
Supports Multiple Language
The Yahoo backup tool provides a facility to use the tool in multiple languages as per your preference. At the time of installation of this application you can choose any language between English (Default), German, Japanese, Spanish, Portuguese, and French. After selecting the language preference, you can use the application in that language to download Yahoo mailbox on your system drive.
Offers Incremental Backup Functionality
The application has an eminent feature to provide a great email backup experience. It's known by name, Incremental backup. With this option, you can skip the earlier saved emails from the Yahoo account on the system. The utility will fetch only the new emails or the data not downloaded at all in the current backup process. Moreover, this feature is new and enhances the backup procedure of Yahoo mail users and is not applicable on first time backup process.
Prime Features of the Yahoo Email Backup Tool
Preserves Email Folder Hierarchy
Yahoo email backup tool facilitates an option to retain folder structure during download Yahoo mailbox procedure. In the filter section of this software, the user will get the option to choose folders. The data downloaded from Yahoo mail will be provided visible in the same order as in the Yahoo mail account. Each path of email within a folder will be saved in the resultant output file.
Bandwidth Throttle Setting Option
The software provides option to set the Internet bandwidth for smooth downloading of Yahoo mailbox. You can set the bandwidth rate to use for backup process in Kbps / Mbps unit. Also, you can set a Throttle, so that the application uses a particular amount of internet bandwidth for data download. In addition, there is a facility to set a time slot to apply throttle on the bandwidth for Yahoo mailbox download. After using this option, the tool will consume only that percentage of the entire internet speed.
Date-Range Filter Option
One of the perfect features is apply date filter option that is available in Yahoo Mail Backup tool. It filters the emails within a date-range. You can provide certain date interval using "From" and "To" calendar fields to download the emails within this range. The emails outside the range are skipped from the current backup process.
Option to Archive Specific Email Folder
With the help of this feature, you can select the folder that you want to save instead of downloading the whole Yahoo email account. You can check and uncheck email folders to download Yahoo mailbox emails from selective mail folders. This will process only the check mail folders and
Working Steps of Yahoo Email Backup Tool for Win
After examining the efficient features of this Yahoo email backup tool. Now, it is time to check how to download Yahoo mailbox using this utility. Just follow the steps appropriately. Have a look:

Step 1: Download and run the Yahoo Email Backup Tool on your local machine.
Step 2: Login with Yahoo account and select a format to backup emails.
Step 3: Browse a location to save Yahoo mailbox downloaded.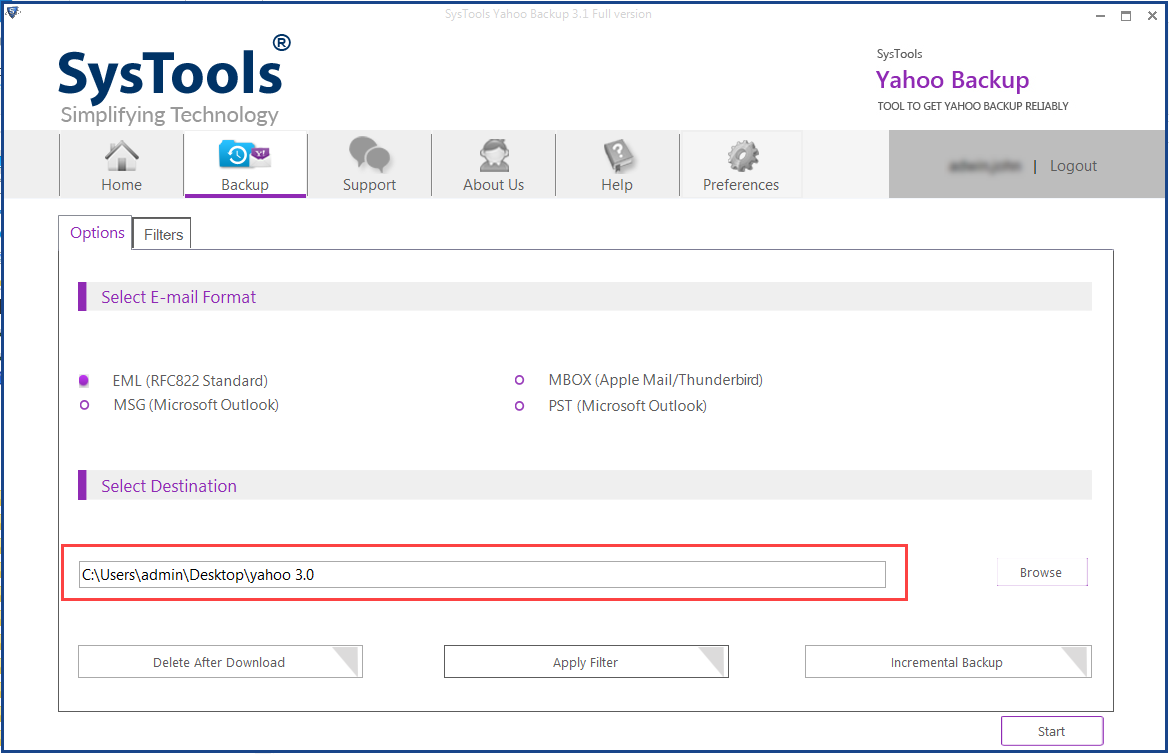 Step 4: Hit on the Start button to download Yahoo mailbox.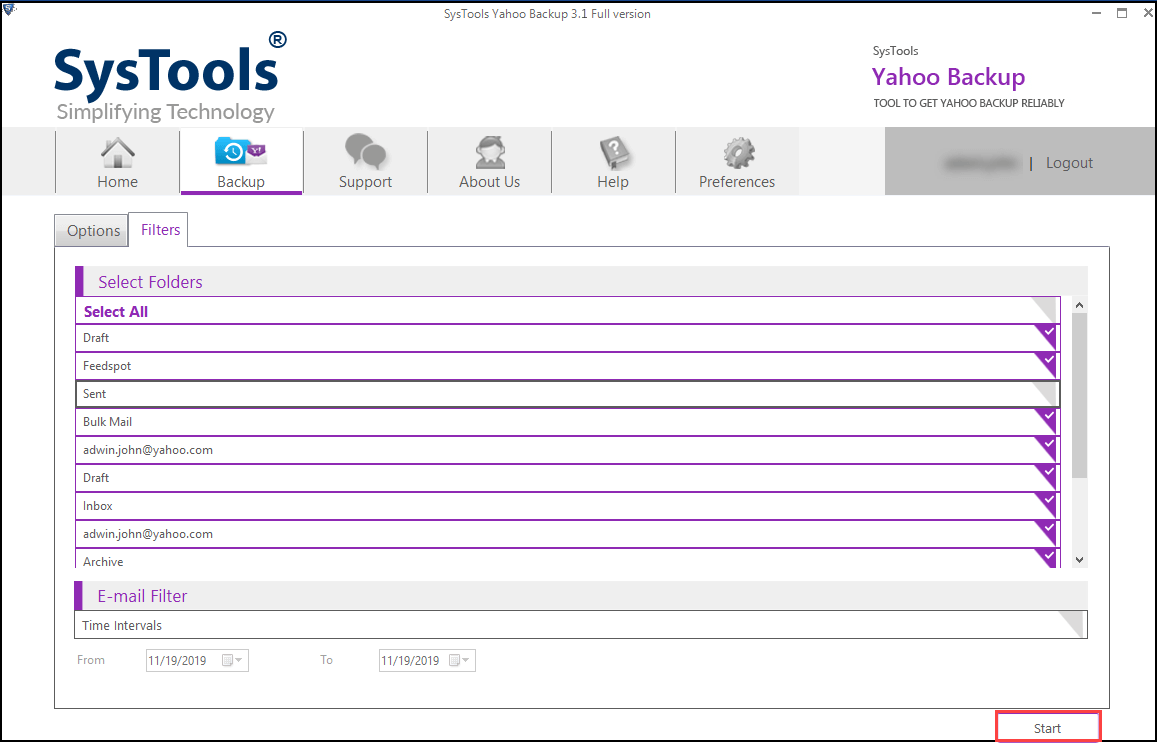 Why You Should Opt This Yahoo Email Backup Software?
Now, we will let you know why this utility is best as in comparison of others Yahoo backup tool. We will tell the main 3 way that makes this software a top notch choice of users.
Facilitates Free Demo Version
This program provides free demo version with the help of this, users can extract 100 emails to PST/ MBOX/ EML/ MSG file format. All the functionalities of Full version except incremental backup is available in the Free version to download Yahoo mailbox.
100% Safe Tool to Install and Use
This software is virus, bug, and malware free. Users can install this software without worrying about causing any damage to your local machine. Best thing is that you can download this utility free or without any hindrance.
Great Compatibility
You can install this software any version of Windows Windows 10, 8.1, 8, 7, and all below versions. It allows downloading Yahoo emails to the computer and Windows-compatible external storage devices like hard disk, USB, etc. You can use this software to backup emails from @yahoo.com, @rocketemails.com, & @oddpost.com without any compatibility issues.
Editor's Thoughts
This application is one of the perfect Yahoo email backup tools, according to me. The best part of this tool is that any user, be it a beginner or technical can easily download Yahoo mailbox emails to multiple formats like PST, MBOX, EML, and MSG.
Moreover, it highly supports all versions of the Windows Operating System and saves Yahoo mail data on all Windows-based systems. In the end, taking into consideration all the features of this software to save Yahoo emails on hard drive and USB, it can be classified as 9.5 out of 10.
Frequently Asked Queries by Users
Q1. How Do I download Yahoo mailbox using Yahoo backup tool?
Steps of Yahoo Email Download Process  
Step 1: Install and run the Yahoo backup software on your local system.
Step 2: Then, login using credentials to your mail account in software wizard.
Step 3: Select email format and saving location to backup Yahoo emails.
Step 4: Click on Start to download Yahoo mailbox on Windows.
Q2. Do I require any other application to run this software?
No, you do not require any other support application to use this tool.
Q3. Can I restart an interrupted Yahoo email backup process?
Yes, the tool has facility to restore the abrupt process from the next login to the application. In case you have discontinued the process using the Pause option, then click on the Resume button to continue the download process.