How to Get Back Deleted Email from Yahoo Mail – Simple Tips
Do you want to know how to get back deleted email from Yahoo Mail? Is the deleted email retention period of Yahoo over and you are at a loss? Well, you are not alone. Thousands of Yahoo users face a similar problem, and we have two examples for you.
Case Study 1: "As I get both the personal and the business emails in my Yahoo Mail account, my Yahoo Inbox always remains cluttered. Last week, I was uncluttering my Yahoo Mail Inbox and deleted a large number of unnecessary emails. Once the deletion was done and my Inbox started looking neat and clean, I noticed that some important emails are missing. Seems like I have deleted those emails too. But I need the emails on an urgent basis. My question is how to get back Yahoo Mail deleted email?"
Case Study 2: "Suddenly I found that some old but important emails have disappeared from my Yahoo Mail. I do not know how that happened but as per my knowledge, I did not delete those emails as I know their importance. While discussing with my colleagues, I found out that I may have unknowingly deleted those emails while deleting the spam emails. One of my colleagues also suggested checking the Trash but in vain. Those emails are not in the Trash Folder either. Can anyone tell me how to get deleted emails back from Yahoo mail?"
Like them, a significant number of Yahoo users face trouble with deleted email retrieval. Emails carry crucial information but the free Yahoo mail account has a large storage space, but it is still limited to an amount. As one cannot have unlimited space, people need to delete some emails to have space for new incoming emails. Now, the problem arises when someone wants to get back deleted emails in Yahoo mail.
This blog will discuss how one can get back their Yahoo Mail deleted emails. Continue reading to know the techniques of getting back deleted Yahoo emails.
Types of Deleted Emails in Yahoo Mail
Just like any other email client, Yahoo Mail emails can be soft-deleted and permanently (hard) deleted. When an email is soft deleted, it is moved to the Trash Folder. All the emails in the Trash folder are available for retrieval only for 7 days. For permanently deleted emails that are not stored in the Trash folder, users can request a Restore from Yahoo.
How to Get Back Deleted Email from Yahoo Mail: Complete Solutions
As we have discussed the two types of deleted emails, now is the time to know how to get deleted emails back from Yahoo mail.
Way to Get Back Temporarily Deleted Yahoo Emails
If your data is temporarily deleted and the act of deletion has been done within the last 7 days, you will find the emails in Deleted Items/ Trash Folder. To get back those emails back to your mailbox, perform these steps:
Open Yahoo Mail and select Deleted Items Folder.
Once the folder opens, locate the emails you want to get back.
Select the emails and click on the Move button at the top.
Select the folder where you want to move these deleted emails, for example, Inbox.
Check the Inbox or any other folder.
You will find the emails there.
How to Recover Deleted Emails from Yahoo After 30 Days – Permanent Deletion
Yahoo permanently deletes email messages after 30 days from the Trash/Deleted Items folder. Such emails can't be recovered by merely searching the Delete Items mailbox.
In this case, you can try contacting Yahoo and request them to recover your data. Any data permanently deleted or lost within the last 7 days can be retrieved by request. However, keep in mind that Yahoo takes no responsibility if they cannot be recovered.
The process is as follows:
Go to Yahoo help page.
Then, click on Send a Restore Request button.
After that, specify if the emails got deleted on mobile or desktop platform.
Fill in the form and send the request.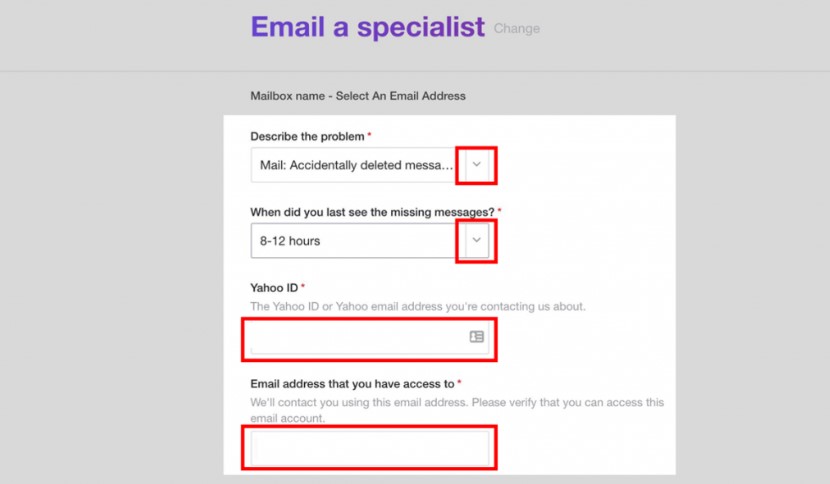 In the form fields, input the details as follows:
Describe the problem – Select "Mail: Accidently deleted messages on Webmail"
When did you see the missing messages – Select the time frame you knew the message existed before deletion.
Yahoo id – Input the Yahoo id you want to recover deleted emails from.
Email address that you have access to – Input an email id that Yahoo help will contact you with.
Once the form is filled, solve the CAPTCHA and submit the form via the Create request button.
Now, just wait for the status report on your "other" email address for deleted Yahoo emails recovery.
Another case when people want to get back their permanently deleted data is when they permanently delete or deactivate their Yahoo Mail account. Once users proceed to delete their Yahoo account, they get 30 days in case they want to revoke their decision. For countries like India, New Zealand, and Australia, the time frame is 90 days; and for Brazil, Hong Kong, and China, the time is 180 days. You may get back the permanently deleted emails along with the deleted Yahoo account if you approach Yahoo for account retrieval (as shown above).
That's Why Always Backup Your Data Beforehand!
As you can see, it is quite a hassle to retrieve permanently deleted Yahoo emails. So, it is better that you take precautions and choose the ultimate backup tool to secure your emails from any such unexpected situation. Presenting Yahoo Mailbox Download Software – the application lets you back up Yahoo emails on your local system / hard drive in multiple file formats. So, even if you do not have Yahoo accounts anymore, no need to worry.
This is how you can protect your Yahoo emails from getting permanently deleted by accident:
1. Open the tool and enter Yahoo account credentials
2. Select the data format (PST, EML, MSG, MBOX, and PDF)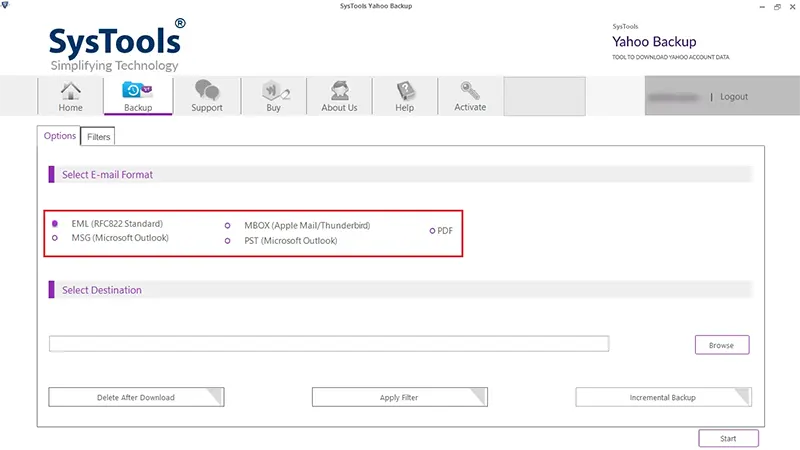 3. Browse a location to save a copy of Yahoo emails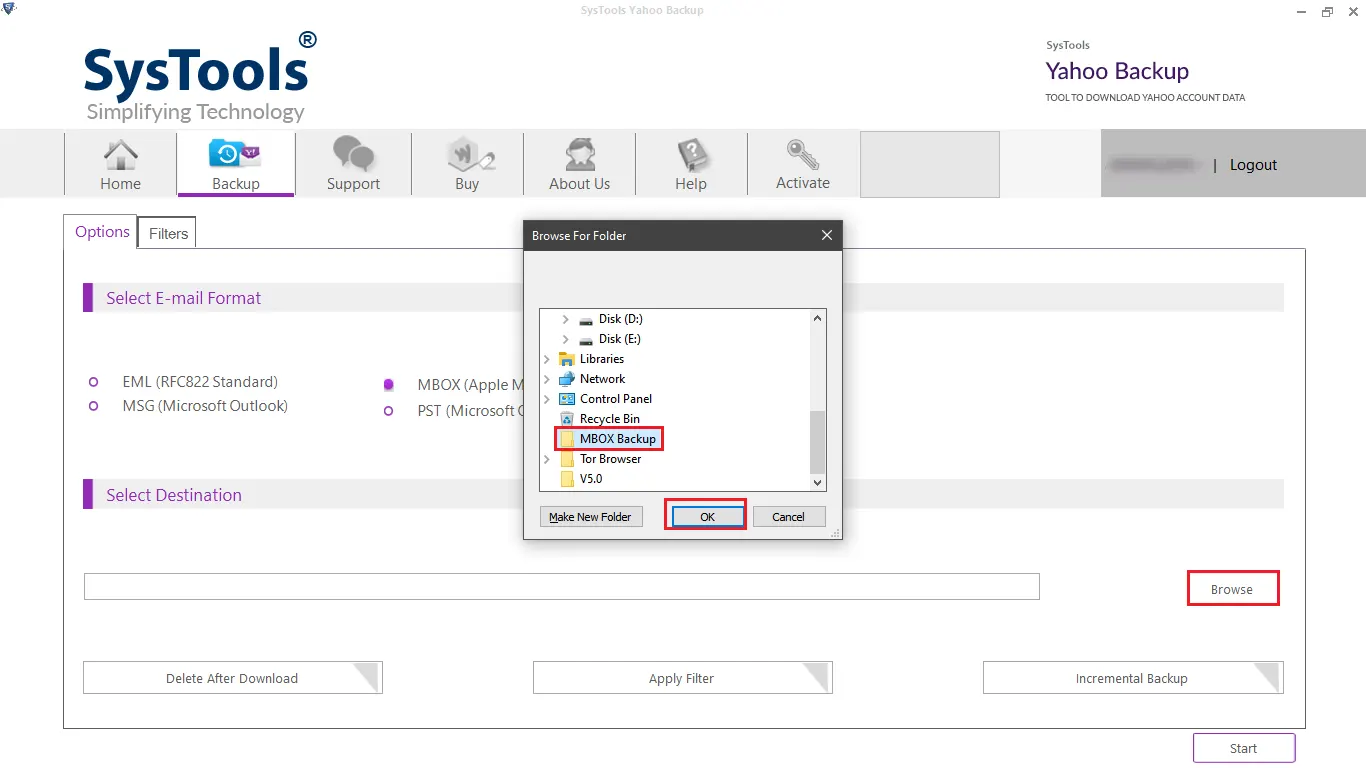 4. Click on Start button to back up Yahoo Mail emails to hard drive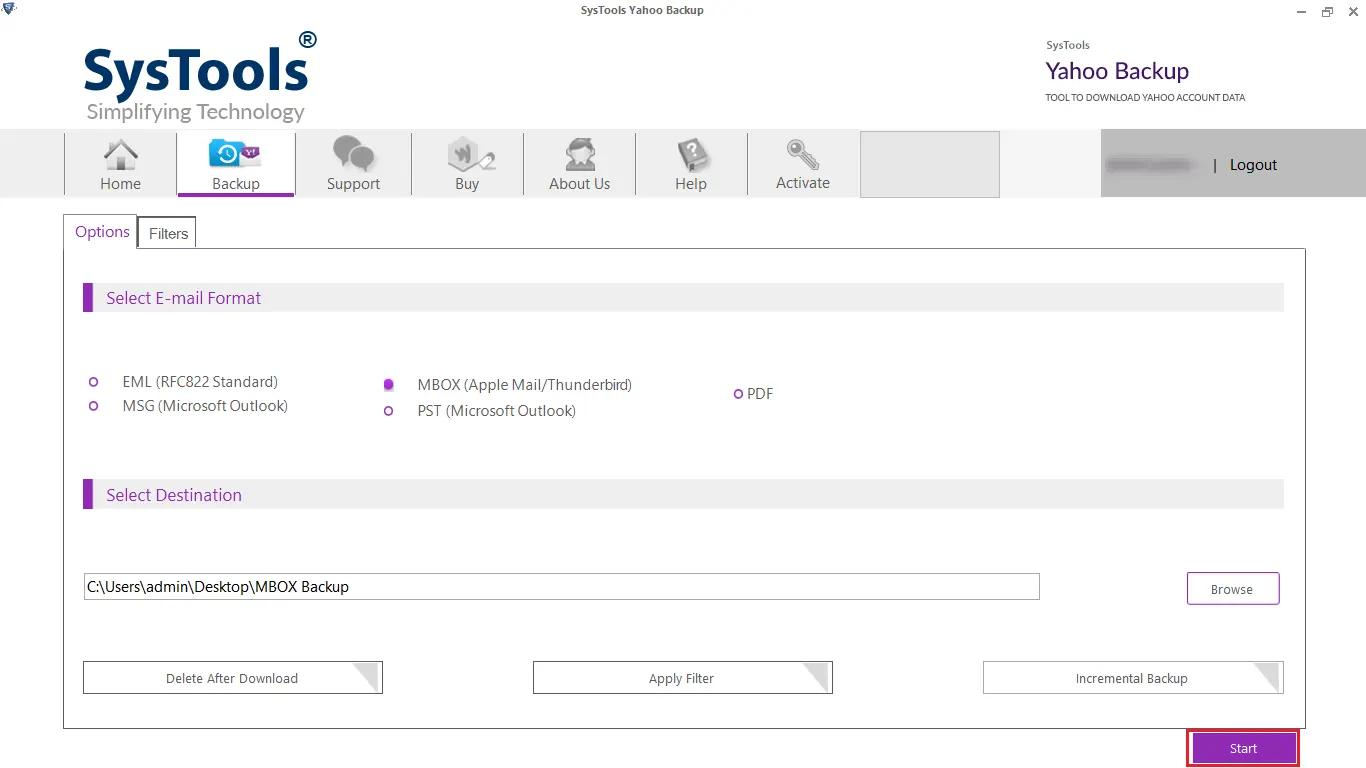 Conclusion
Yahoo Mail users often want to retrieve their deleted emails but it is not easy to get back permanently deleted emails. In this blog, we have answered the question how to get back a deleted email from Yahoo Mail. We have suggested a number of solutions considering that users may have varying situations. One may choose the solution of their choice based on the necessity. But, it is always better to remain on the safe side by keeping a backup beforehand.
Common User Queries
Can I get back deleted emails from Yahoo mail?
Yes, move to the Trash folder to restore the deleted emails in Yahoo mail. To retrieve the permanently removed emails of yahoo mail, fill the Yahoo mail restore form to get back deleted emails from Yahoo mail.
My emails were lost a few months back? Is there a way to retrieve them?
No, Yahoo service request is the only way to recover deleted emails from Yahoo Mail once they are lost permanently.
How can I prevent such a situation from happening again?
If you can archive the mailbox beforehand and keep that as a copy on your computer, you can retrive them anytime you wish. We have introduced a way to do just that in this article.