Why Zimbra Yahoo Mail Backup is Important?
Raj
| Modified: September 7, 2021 |
Email Tips
| 5 Minutes Reading
Learn technique for Zimbra Yahoo Mail backup using a tool within very few span of time and less than 5 steps. As you might know that Zimbra desktop is an email client, which is utilized by both business as well as end users as it manages the email data in proper manner. It supports multiple platforms, i.e. Linux, Mac, and Windows to access their data in both online as well as offline mode. It manages multiple email accounts along with calendars, contacts, etc.

Yahoo is a web-based email service, which is extensively used by the users. It offers various beneficial services to users such as storage space, free service, etc. It offers 100 filters for automatically sorting of incoming messages. It supports POP3, IMAP, SMTP protocols.
Both services play a wider role as a source of communication via emails. However, Zimbra is a desktop-based email application and manages multiple email accounts. While Yahoo mail is a web-based application that is used by various users. Nowadays many users are configuring their Yahoo account in Zimbra to create a backup of their data on the desktop.
It is due to the issues yahoo mail uses faced while access and using yahoo mail account on the web. In the coming sections, we will be discussing the reasons behind the unavailability of Yahoo account and various ways to overcome such a situation.
Issues behind Unavailability of Yahoo
When the Yahoo mail was purchased by Verizon, that time many faced problems in accessing Yahoo mail. Through the login, it got redirected to the Verizon site from Yahoo mail. This created many problems for Yahoo users. Both have distinguished database because of which users are unable to open their Yahoo accounts.
Meanwhile, the Yahoo Mail related services are being handled by Verizon after it has been sold, it is quite possible that the mail server and its database was not updated properly. After searches, it was found that this issue is only seen in some locations of the world. The data transfer from Yahoo to Verizon took place in location-wise, thus, the issue occurred in some locations only.
These issues were resolved in a meanwhile time over the years went on, but one issue that sustained through these years is the Yahoo mail Server Outage. The work team of Yahoo mail could not relive the Yahoo mail users from this issue and still searching for a feasible solution.
This Outage brings many more issues for the yahoo mail users, they are; Login issues, mail send and receive issues, and in some cases the data loss problem. To avoid you from facing any among these issues, you can try any method described below, and access data at all times.
Methods to Overcome the Issues via Zimbra Yahoo Mail Backup
Due the problems in Yahoo mail, the users come up with a lot of queries. Some of the queries are filtered and provided solutions here.
Query 1:
"I use Zimbra as an email application on my system. From the last few days, while accessing my Yahoo account, I kept on redirecting to the Verizon website. Then, one of my friends suggested me to configure my Yahoo account in Zimbra. So, I will have the complete backup of my Yahoo account on my Zimbra application. Can anyone guide me on the way to perform the configuration?"
Solution
Zimbra is a desktop-based email application that permits the user to synchronize the Yahoo account, which includes emails, calendars, and contacts.
Steps to Configure Yahoo Account on Zimbra Desktop
Firstly, open Zimbra desktop on your system.
Click on the option "Add new Account" for the configuration of Yahoo.
Choose Yahoo from the Account type list option.
Enter all the account details as mentioned
Now press the validate option.
Click on the Save button.
Once you complete the configuration, access the Yahoo email account on the Zimbra email client. In a way to back up the emails stored on the Yahoo account in Zimbra desktop. Then access Yahoo mail on Zimbra and use it wisely.
Query 2:
"I am facing a major problem while utilizing my Yahoo account. I am quiet tensed as it contains all my important mails. I searched a lot but did not find anything. Therefore, can anyone guide me some way to backup and delete all my Yahoo mails from the server?"
Solution
One efficient method to perform both these tasks is the use of Yahoo Backup Tool. It provides an amazing function to download the data in yahoo mail and delete the same from the Yahoo mail account.
The email data storage is possible in various formats such as EML, MSG, PST, or MBOX. Apart from this, some essential features in it are
Preserves the data integrity
Incremental backup option
Supports all Windows version
Customize bandwidth for smooth data transfer
Steps for Zimbra Yahoo Mail Backup
There is systematic guidance of the working of the Yahoo Backup software. If you have not downloaded yet then click on the below button to download.

It makes easy to perform the operation for users in exact manner by following the mentioned steps:
Step 1: Install and launch the Yahoo backup software on your system and enter the credentials.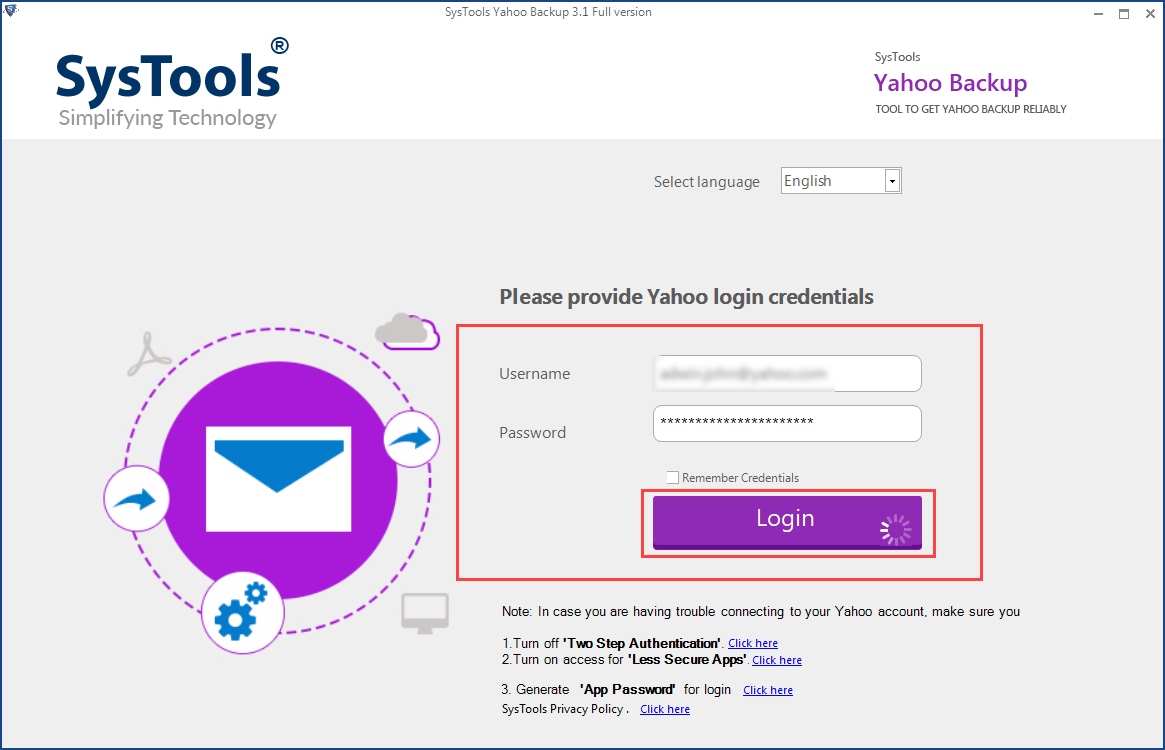 Step 2: Select format to backup Zimbra Yahoo mail emails.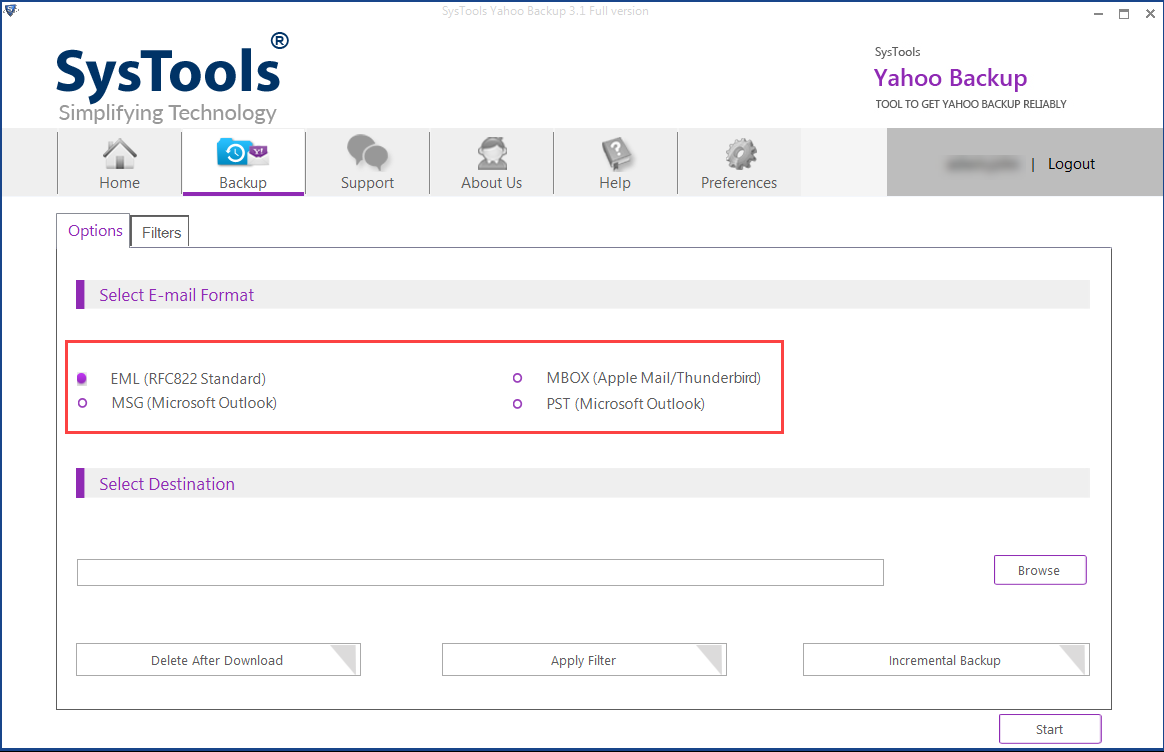 Step 3: Browse a location to save data on your system.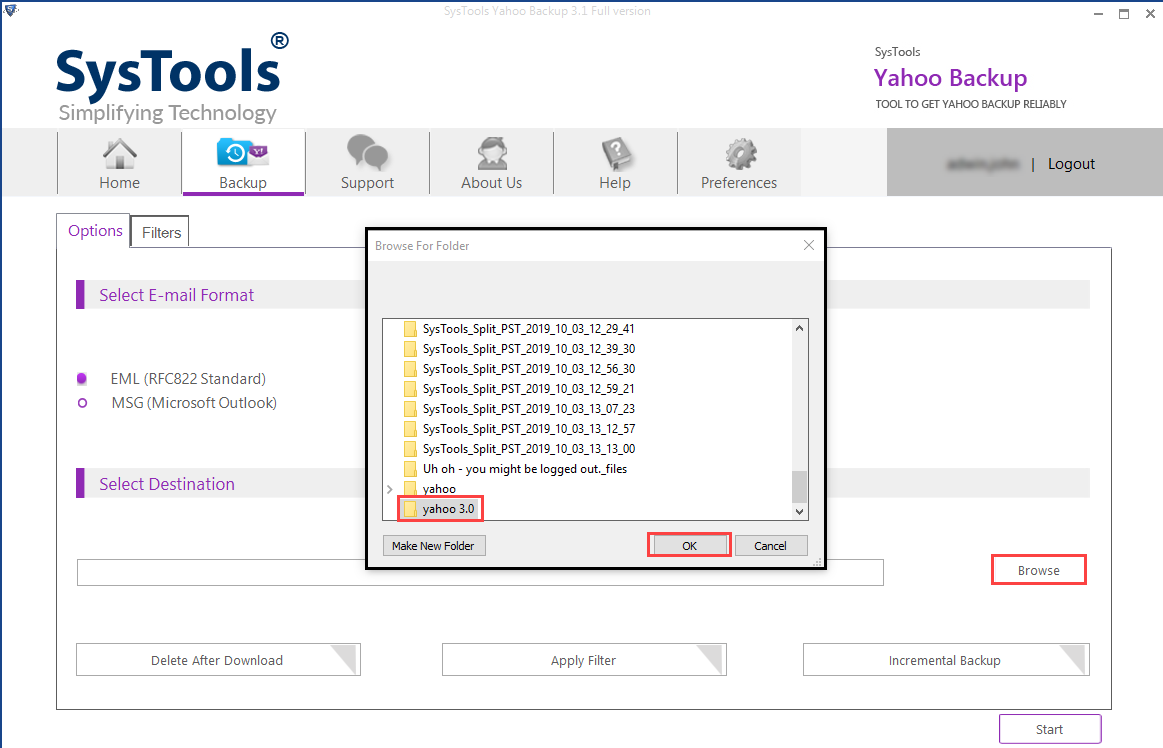 Step 4: Click on Start to backup Zimbra Yahoo mail on desktop.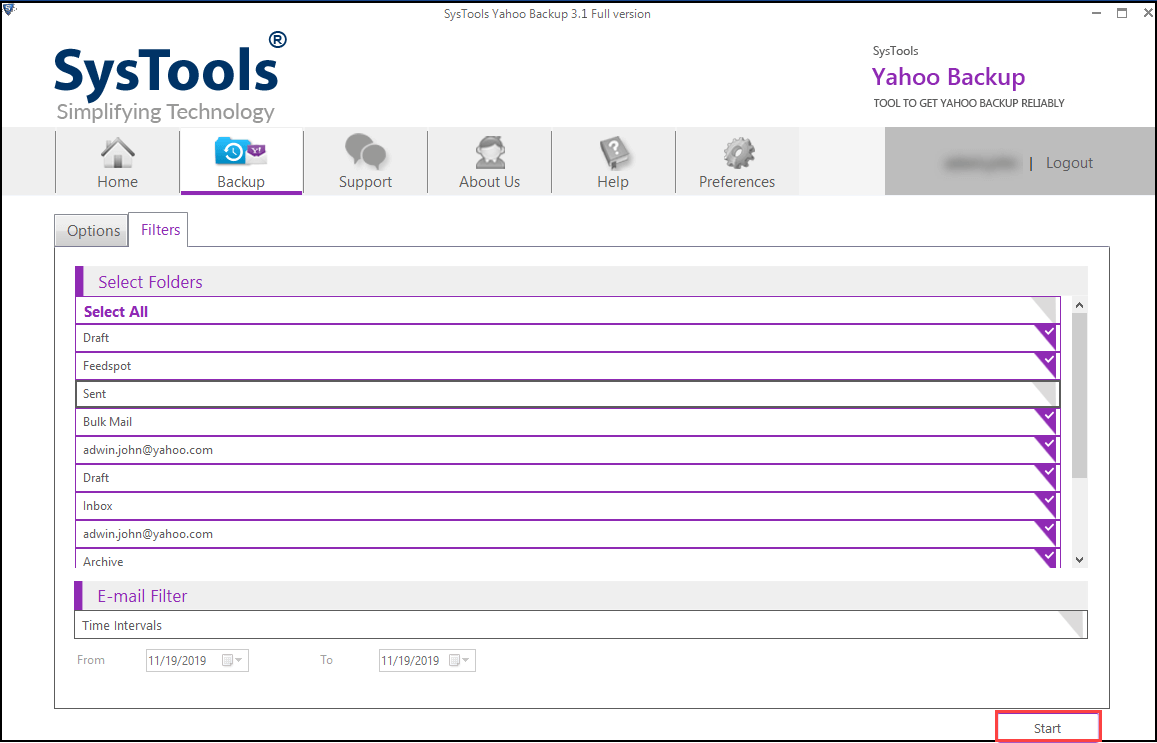 Conclusion
The creation of a backup of Yahoo mail is essential. It ensures the availability of Yahoo emails even when the user cannot utilize the emails through the online mail account due to some error. Through the discussion above, we have surrounded you with some simple solutions to make Zimbra Yahoo Mail available in all cases.