How to Transfer Data from One Google Drive to Another ?
Google Drive is the most used service in the world as it is a file storage and synchronization service. This means that users can save local data to Google Drive cloud storage service. Google Drive offers 15GB of free storage to store user data shared with Gmail and Google Photos. So when the user runs out of space, it will start searching for a solution to transfer files from Google Drive to another Google Drive. Now you can complete the process using this Google Drive migration tool to know how to perform the migration process easily.
Transfer Google Drive Data Professionally
Google Drive Migration tool is the most reliable third-party migration software to help you move files from Google Drive to Google Drive or domain. This software transfers files such as images, document files, and videos. In addition, you can move deleted items from the Trash folder in Google Drive. Create a full export report in CSV format for later reference. This tool has an option to transfer both file and folder permissions to another Google Drive. Apart from all this, the user interface of the software is designed with user satisfaction in mind and no additional installation is required to run this software on your local machine. You can also sync Google Drive with OneDrive using this tool in a very efficient manner. 
Impeccable Features of Google Drive Migration Tool
Transfer Files From Google Drive to Another Drive
This software very easily moves data items such as photos, document files, PDFs, videos, audio files, email client data files, Excel files to another Google Drive. Users can also transfer multiple Google Drive storage at once to save time. Moreover, this software can also copy Google data such as Google Docs, Google Spreadsheets, Google Slides, Google Forms, Google Drawings, Google Sites, Google Jamboard, and more.
Transfer Deleted Item of Google Drive
This software can move deleted data items from the Trash folder of Google Drive. The user only needs to turn on this option and the software will transfer the Trash folder to another Google Drive to another folder with only the Trash name.
Pause / Resume and Stop Option
The Google Drive Migration Tool will show you the ongoing migration process on the screen. However, if the user so desires, the user can pause and resume the sending process to manage the interruption. In addition, users can stop the process whenever they need it.
Incremental Migration
The software also supports incremental migration. This means that once a user copies the data to another Google Drive, it will not be transferred to the same G drive on the next attempt. It also supports delta migration, which automatically moves new mail and other items to the destination account.
Date-based Filter Option
This software provides a date-based filtering option to transfer specified data from one Google Drive to another Google Drive or domain. Simply specify a date range in the From and To fields and the software will migrate the data for that date range.
Maintain Folder Hierarchy
This software gives users the option to maintain the folder hierarchy during the migration process. If the option remains unchecked during the process, the software will create a single folder for all data without a folder structure.
Moves Shared Files
Google Drive Migration Tool can transfer shared folder data files from one Google Drive to the destination Google Drive. Also, create a new folder with the same name in the destination location.
Step by Step Process to Transfer Data from One Google Drive to Another
Initiate with activating your software by clicking on Activate button.
Next, from the Setup tab, make your platform selection as G Suite for both Source and Destination.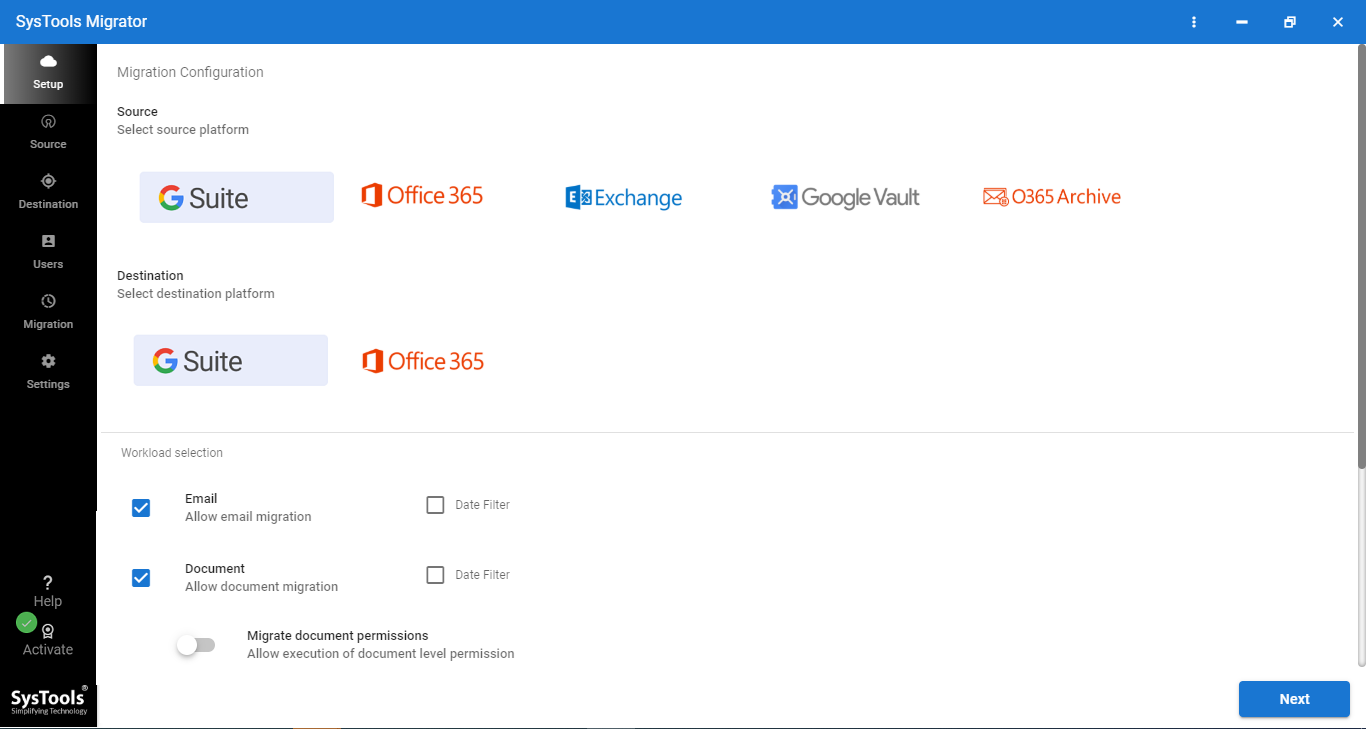 Moving further, select the workload category as Documents for the migration.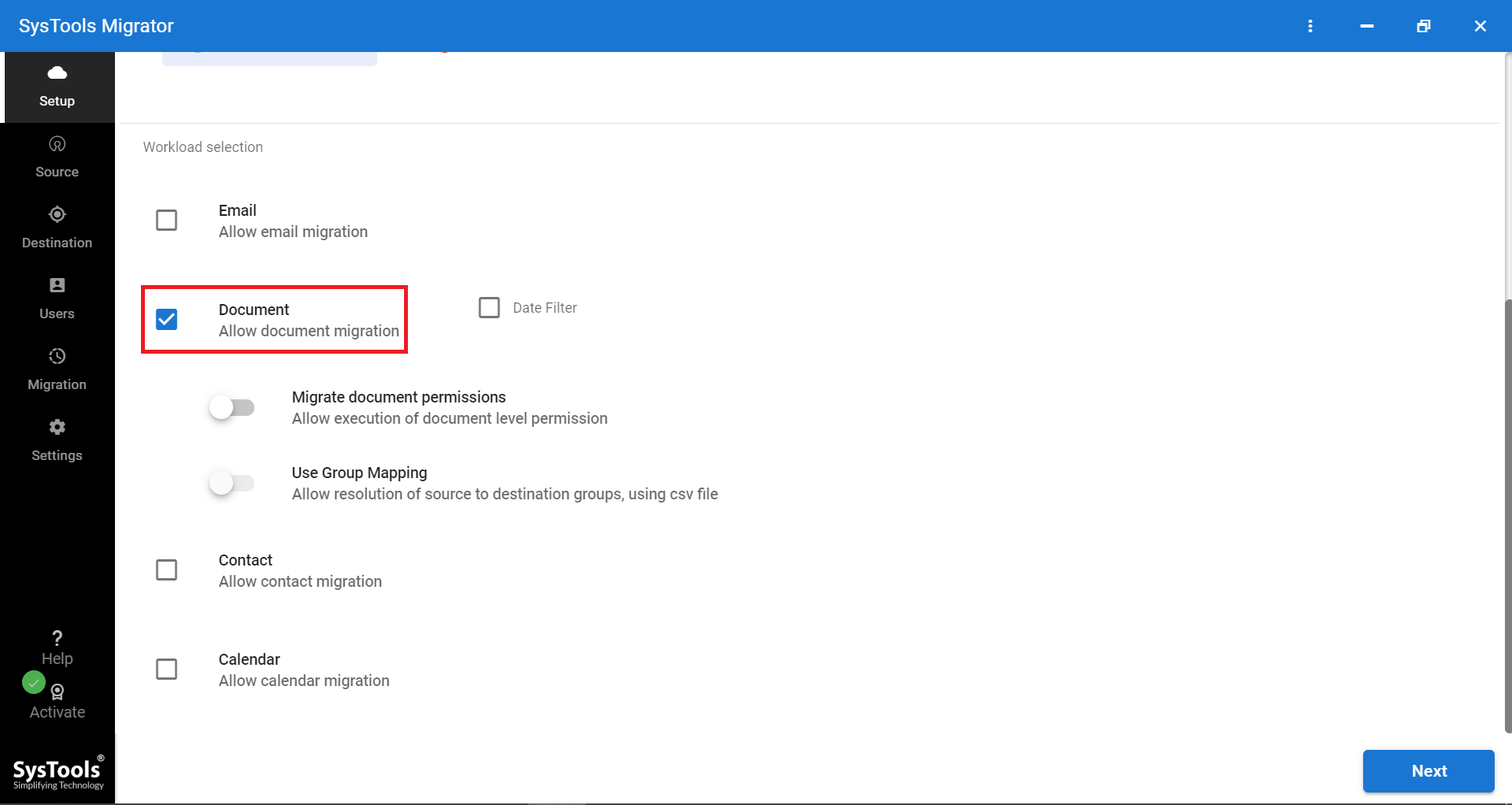 On the Source screen, provide information like Admin Email and Service Account details. At last upload certificate file and click on Validate to authorise the permissions.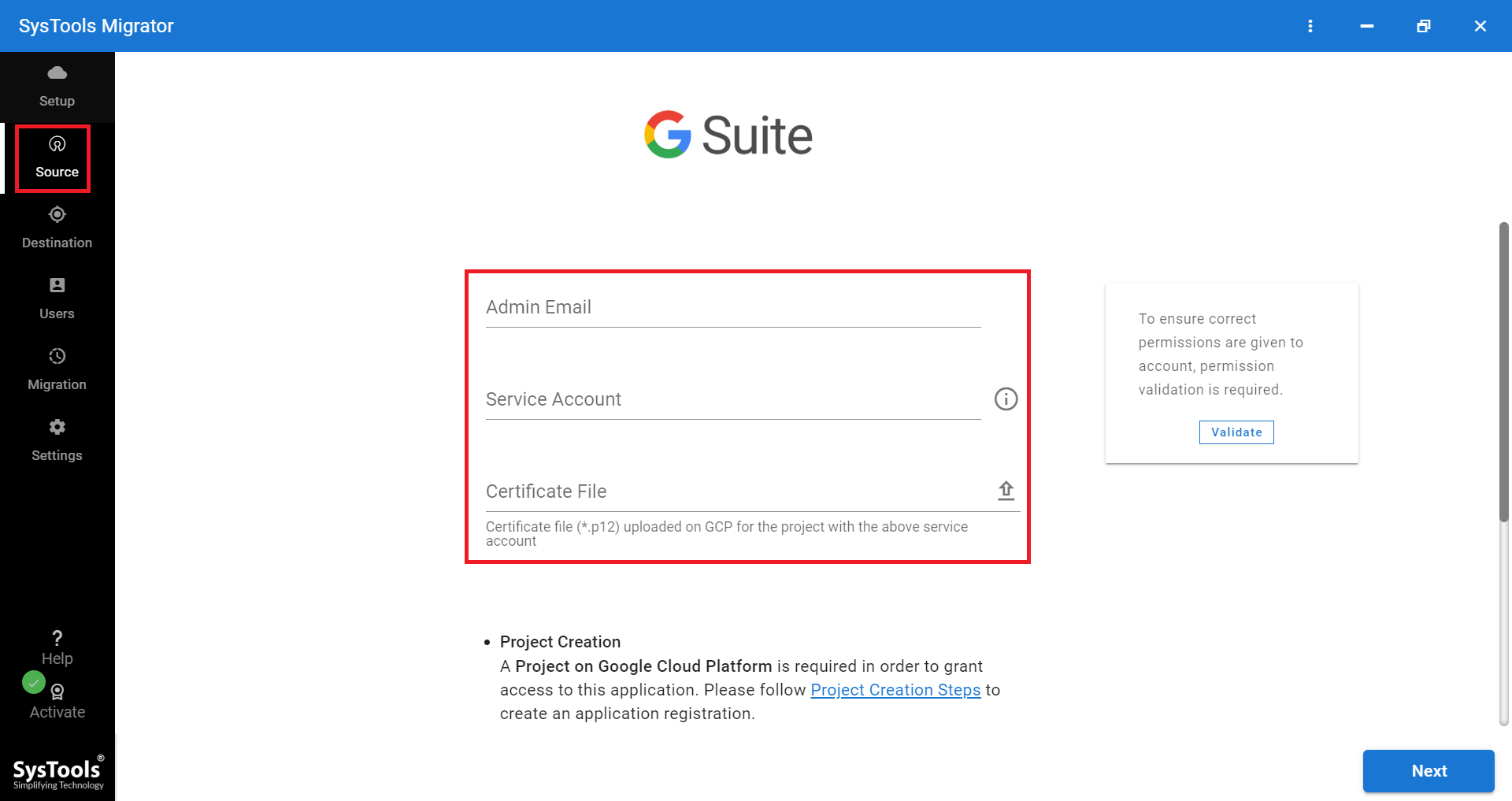 Provide the necessary details like Admin Email and Application ID in the destination window and validate them likewise.
From the Users screen, add the users in the software panel the way you want to.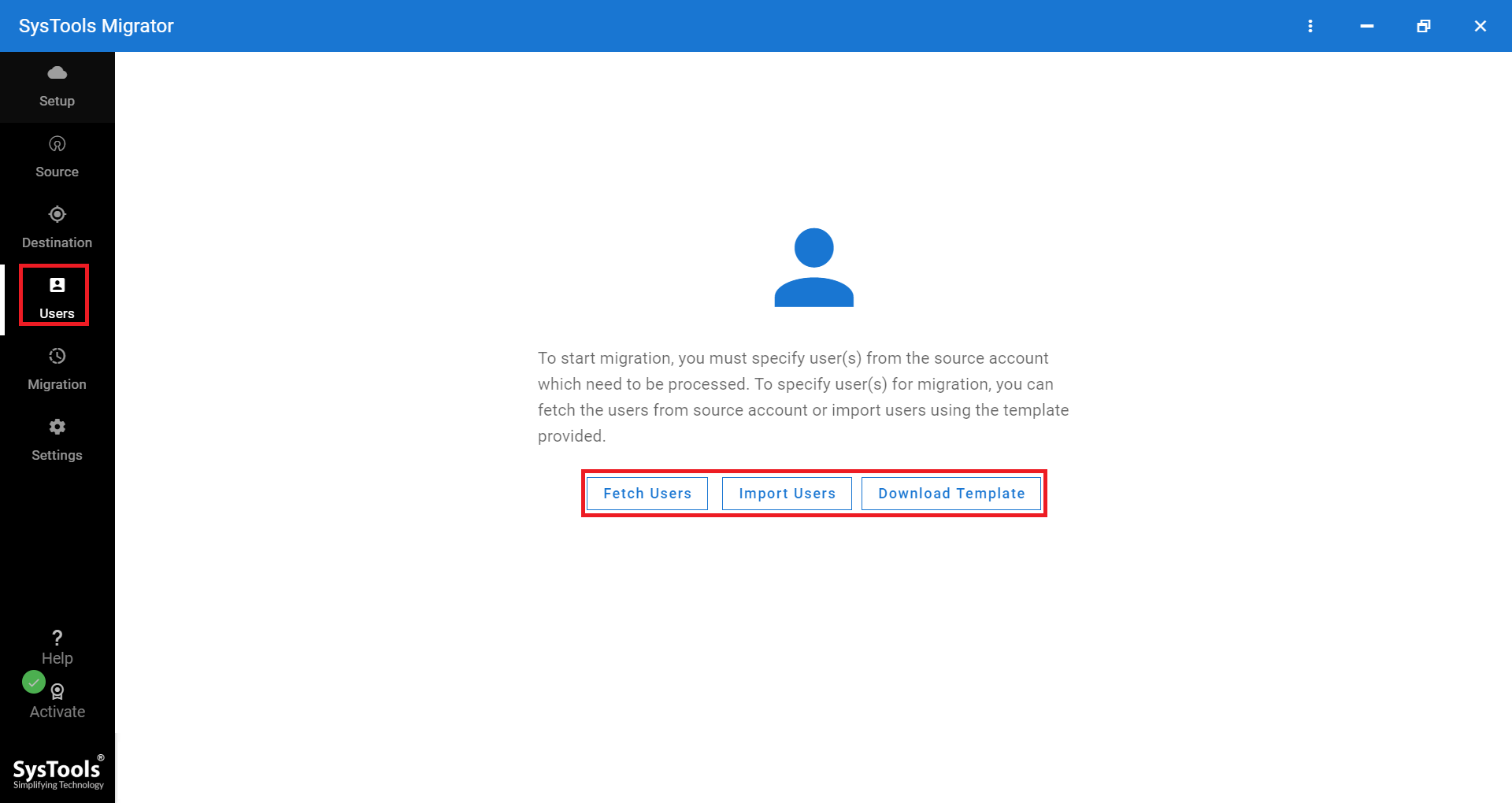 Final step is to authorise the added users by clicking on Validate one last time. Once done, click on Start Migration button to begin the exportation process.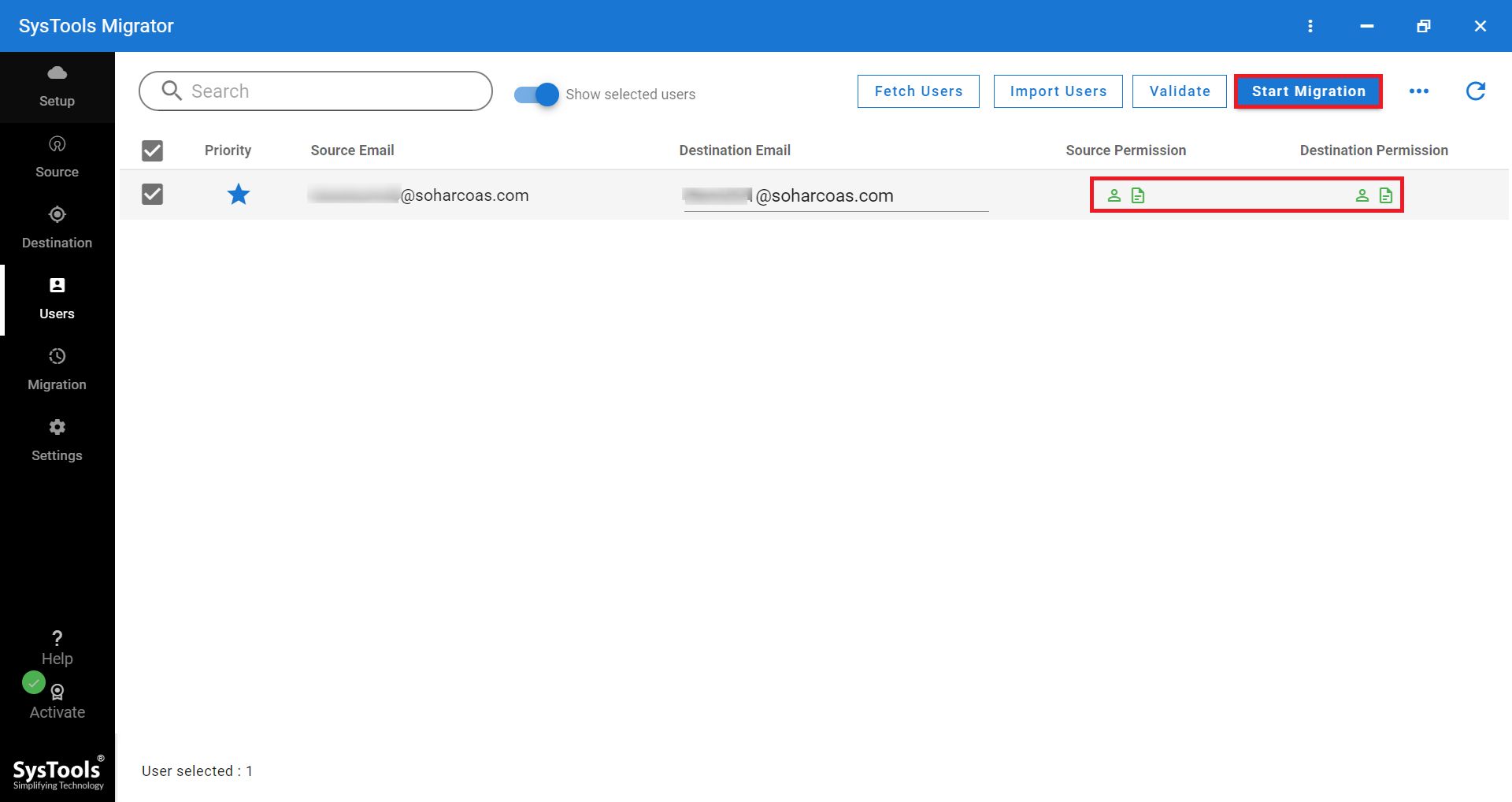 Observational Verdict
Google Drive Migration Tool is the most sophisticated software that allows users to transfer their Google data to another Google Drive or domain without losing data. After considering all the functions and services provided by this software, I would like to rate this tool as 9.6 out of 10. Overall, this is the most reliable and amazing software in the Google Drive migration process.