The Quickest & Easiest Way To Search MBOX File Data
In the present era, we all live in the modern digital lifestyle where the end number of email clients is obtainable, and the clients have multiple options to choose from to manage mailbox data. Moreover, there are many professionals and IT experts who always prefer the use of a desktop-based email client to the work of a web-based email app. Furthermore, users may want to change their email client for a variety of reasons.
When this happens, users will want to find out their MBOX files from their various email applications. Using a comprehensive solution, users can export MBOX data to another email client after finding their MBOX files on their systems and also can easily view Gmail MBOX Files.
In this article, we are going to elaborate with all-inclusive information about Print Batch MBOX Files, MBOX Files, MBOX File location, and so on to our readers. So, without wasting any more time on the internet start reading the blog.
Files in MBOX Format: What are They?
As a matter of fact, MBOX Files are just one text file. Furthermore, the mbox file extension is used to represent a mailbox, which is a file format for storing messages in an inbox.
Messages are saved as concatenated lists, beginning with the From header, with each message listed as another. Apple Mail and Mozilla Thunderbird now support MBOX files as well, which were originally used only by Unix hosts.
How Can I Locate MBOX Files?
MBOX location is depending on the user's operating system and their versions, and email clients also. MBOX File's location can vary.
The Best Way to Search MBOX File Data on Windows 7, 8, 8.1, and 10
1. Go to the start menu and search for %APPDATA%
2. This command will automatically open up the roaming folder. Next, scroll down and double-click on the Thunderbird Folder.
3. Now, click on the Profile folder from the list. Then the Profile folder will show you a mixed alphabet plus numbers folder with a .default folder.
Note: If you wanted to locate MBOX files directly without search then you can follow the below path as shown below:

C:\Users\[username]\AppData\Roaming\Thunderbird\Profiles
Remind you before using the above path replace the [username] with your actual username.
Find MBOX File on Linux and UNIX Machine
In Linux & UNIX machines, users can find the folders at the following path:
~/.thunderbird//
Third-party build users can find the folders at the following location:
~/.mozilla-thunderbird
If either of these folders is hidden, you can unhide them by selecting View > Show Hidden Files.
Search MBOX File Data on Mac System
1. Click the Home Folder > Select Library Folder
2. Select the Profile Folder > Hit on the Mozilla Thunderbird Profile.
The following path should look like the below path:
~Library/Thunderbird/Profiles/sample. Default
Thunderbird is also accessible on all operating systems, which is another benefit for users. The location of the user's thunderbird profile on a computer is therefore important to know.
How to Search MBOX Files in Thunderbird Step by Step?
You can also use Thunderbird to search MBOX file data. However, to search the data of Mailbox files, you need to install the ImportExportTools plugin for smoother work.
1. Download Thunderbird on your system.
2. Once the installation is done, Download the ImportExportTools add-on for Thunderbird
3. After that, Import MBOX Files into Thunderbird step by step
4. Next, you can preview the MBOX emails in the Thunderbird preview panel.
5. Then, you can use the Quick Filter option to search an MBOX file data.
Limitation of Using Thunderbird to Find MBOX File Data
Thunderbird must be downloaded in order for users to search and preview the MBOX data. ImportExportTools NG must then be installed.
It takes a long time to upload MBOX files into Thunderbird using the add-ons.
MBOX files cannot be searched without the internet. Due to Thunderbird only uploading the email headers. It may sometimes occur that the full email body isn't uploaded, which may result in problems after using the email offline.
The filter data cannot be saved from Thunderbird.
Still, some users are still contemplating the search MBOX File data issue? Well, there is another way for you to locate the MBOX file location. This means it is more modern, mechanical, and is a third-party automatic tool.
Thus, The following below article will describe the Best EmailDoctor MBOX Viewer Pro procedure in depth. This utility is one that can fastly and easily help you locate MBOX files without any hassle.
Search MBOX File Data With the Best Solution
This EmailDoctor MBOX Viewer Pro is an easy and fast software that helps in previewing and displaying multiple MBOX Files containing email items without using any MBOX-supported email client. The utility owns a straightforward Graphical user interface and supports 20+ email clients to open MBOX Files.
It also enables you to read the MBOX Files with attachments. Moreover, it supports MBOX / MBS / MBX files created by a variety of email clients. And the best part you know what's so remarkable about this software? It offers a free demo version to use.
1. First of all, Download the tool on your system and then install it. Go to the Add File button, and then select the File/Folder option.

2. Browse the MBOX file from any email client, or can select files(s)/folders from the file system. Hit Next. Then the tool will starts uploading all the files and folders into the tool's preview panel. Select the MBOX file to view and click on the below showed sections to preview the data. Then preview the MBOX Files from the multiple preview modes in the tool.

3. After that you can select the Search option to search MBOX File Data. Also you can use the Add Criteria option for more in-depth find MBOX file data. You can either choose Mail or Attachment.
4. Then you can select the Attachment option to search the MBOX attachments data by selecting the Extension and Name options.
The Need for an Automatic Tool to Search MBOX File Data?
When we find out the location of the MBOX files, many of you asked why we need an automatic tool to find MBOX files. Consequently, finding MBOX files on your computer is not difficult. The main task for users is to open and read MBOX files or to Convert Multiple MBOX to PDF File.
It is necessary for users to download and upload MBOX files from their system to a compatible email client in order to read MBOX files.
Furthermore, there are plenty of other things that a user might need such a Split MBOX Files into Smaller Sizes. Detailed information can be found in the user query below.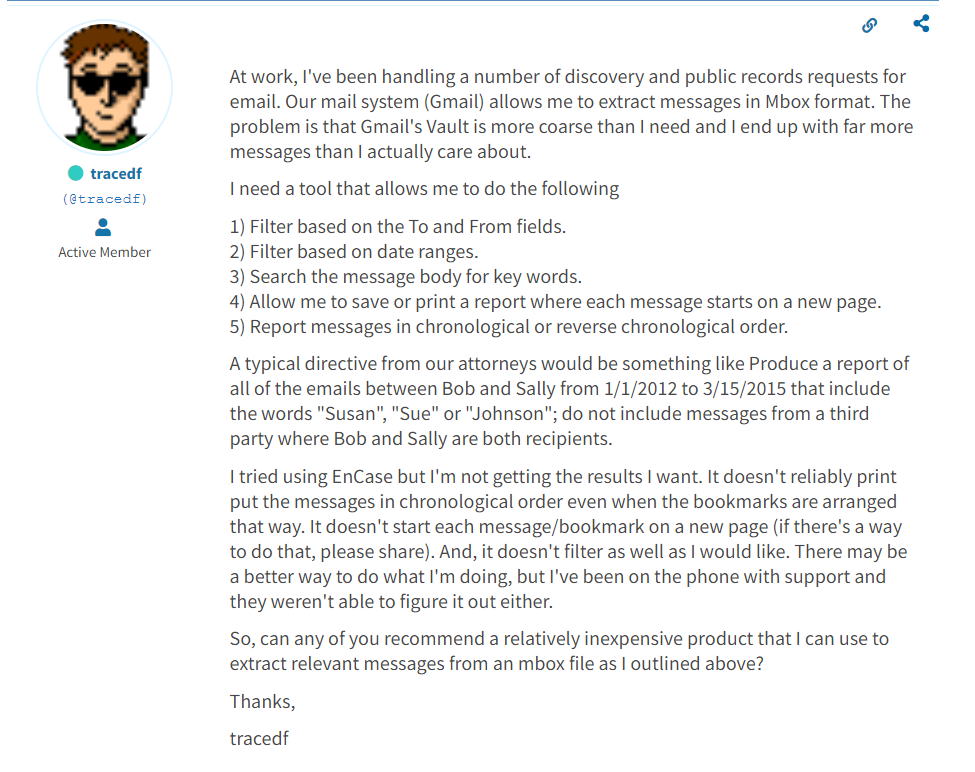 An automatic tool is needed to search MBOX file data. By using the advanced options of the automatic tool, you can easily find or filter MBOX data. The options not only provide you with the ability to filter the data, but they also make it possible for you to save the details on your system, making you work much more quickly.
Benefits of Using a Professional Tool to Search MBOX Files?
Search Bar Option: The search bar option of this tool allows users to find MBOX files by using the To, Cc, Bcc, and Subject search fields. You can also refine your search using the Add Criteria option in Mail and Attachments.
Add Criteria Options
Mail Criteria: With this tool, users can search the MBOX data by selecting the Mail Criteria options. Such options contain To, Cc, Bcc, Subject, Body, Received Data, Sender Name, Sent Date, Modification Date, MD5, From, and Message Header.
Attachment Criteria: Data can be searched by Extension or by Name in the attachments.
Note: All the Advanced options that this tool provides you will not be provided by any other software.
Final Words
Finding the location of MBOX files is not difficult, and you don't need to be too tech-savvy to do it. You do not have to worry if a problem arises with the manual methods to search MBOX file data process! EmailDoctore's expert tool is always on hand to assist you. Our support team is here to help you if you have any other questions.