How to Split MBOX File Into Smaller Files & Individual Messages
MBOX file stores email messages in a single mailbox file. It is a text file in which each message is saved in a concatenated manner. Many times due to the large size, an MBOX file may become corrupt or slow down the associated email client. It also makes it hard to search for particular items within a large file.
Due to these reasons, it's recommended to split MBOX file. By breaking an MBOX into smaller files, you can easily organize the emails and overcome size-related problems.
In this article, we will be focusing on two methods to split MBOX file:
Break mailbox into separate smaller files
Split mailbox into individual messages
Let us take a look at the solutions one by one.
Methods to Split MBOX File Into Separate Smaller Files
Here, we have two methods to achieve separate MBOX files:
Using a Text editor
Using an email client
I. Use a Text Editor to Break Mailbox Files
You can view the contents of MBOX file using a simple text editor like Notepad, Notepad++, EditPad, EmEditor, UltraEdit, etc. The steps on how to use a text editor for this task is as follows:
Create a new folder on your desktop and name it accordingly.
Copy the large MBOX file that you want to split and paste it into this new folder (Do this twice).
Now, you have two copies of the MBOX file.
Right-click on the first copy and open it with a text editor.
You will notice a set pattern at the starting of each email message [each new message starts with the "From" word].


Find this pattern and go to the start of a message at the approximate middle of the page.
Delete everything after the "From" word at the starting of the new message in the middle of the page.
Note down what message is last in the file after the delete operation.
Save and open the second copy with the text editor.
Here, start from the very first message and delete everything to the last message you noted down in the previous copy.
Save the file.
Now, you have two separate MBOX files created by splitting an MBOX file using a text editor.
II. Use an Email Client to Break Mailbox Files
The previous method to split MBOX into separate files is a bit technical and may not be everyone's cup of tea. So, we will be explaining another method that is very easy to perform, although a bit long. For this method, you need to download Mozilla Thunderbird, a free email client on your system.
Let's start with the steps:
Run Mozilla Thunderbird.
Configure an account (Gmail, Yahoo, Outlook.com, etc.) to simply start the application.
Right-click on the Local Folders at the left panel of the email client and select the Settings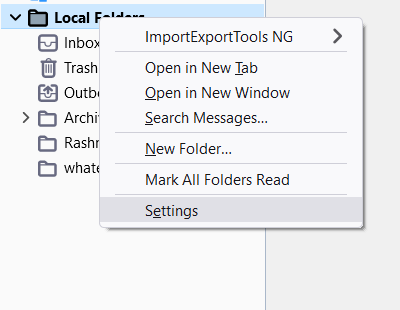 Copy the path present in the Local directory.

Open this path in your system.
Copy the MBOX file that you wish to split in this location.
Now, restart Thunderbird.
The MBOX file is present under the Local Folders.
Right-click on Local Folders >> New Folder and name it accordingly (do it twice).
Now, select half of the email messages from the MBOX file folder and right-click >> Move To >> Local Folders >> first new folder.
Next, select the remaining email messages from the MBOX file folder and right-click >> Move To >> Local Folders >> second new folder.
Once moved, go to the local directory path on your system to see two new MBOX files (file with no extension) having the same name as your two new folders.
With this method, you can split your MBOX file into as many smaller MBOX files as you want. Although it requires the help of an external email client, at least it enables you to choose the email messages to keep in the new MBOX files.
Note: If you want to import MBOX mail to Outlook after splitting them, you can directly use the MBOX to PST Converter software. During the conversion process, it provides a split PST option that splits the source MBOX into smaller files and converts them to PST for Outlook.
Method to Split MBOX Into Individual Messages
You can use the previously defined methods to keep one message in one MBOX file. But that's heavy work. Also, MBOX is supposed to carry multiple email messages in a single file. It's a "mailbox file" and not a "mail file" for a reason.
When one wants to split MBOX into individual messages, it is supposed to mean having to save each email message in EML file format. EML format stores each message in a single file. So, you require the help of MBOX to EML conversion utility for this task.
Download, install and run the application on your Windows system.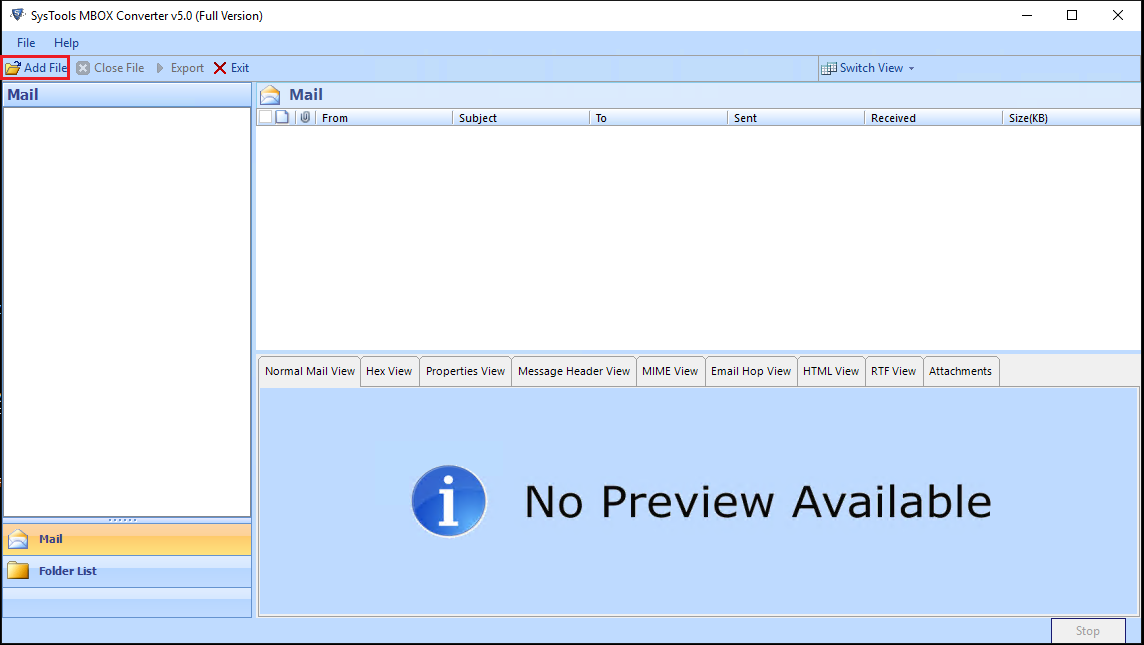 Select MBOX Files and click the Next.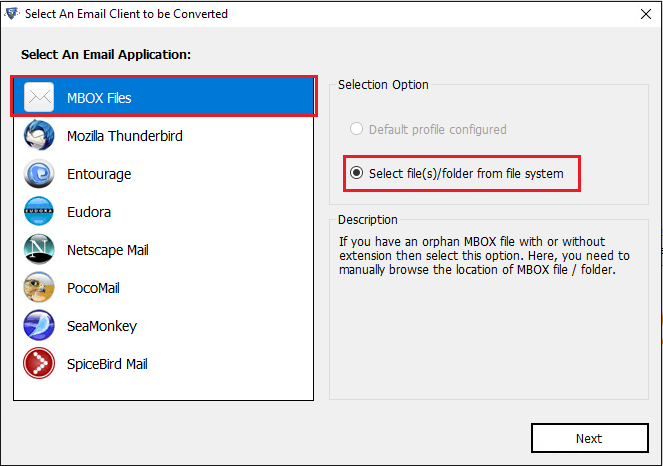 Browse and select the MBOX file that you want to split and click the Process.

Select the Mails from the left panel to preview all your email messages, then click on Export menu button to proceed.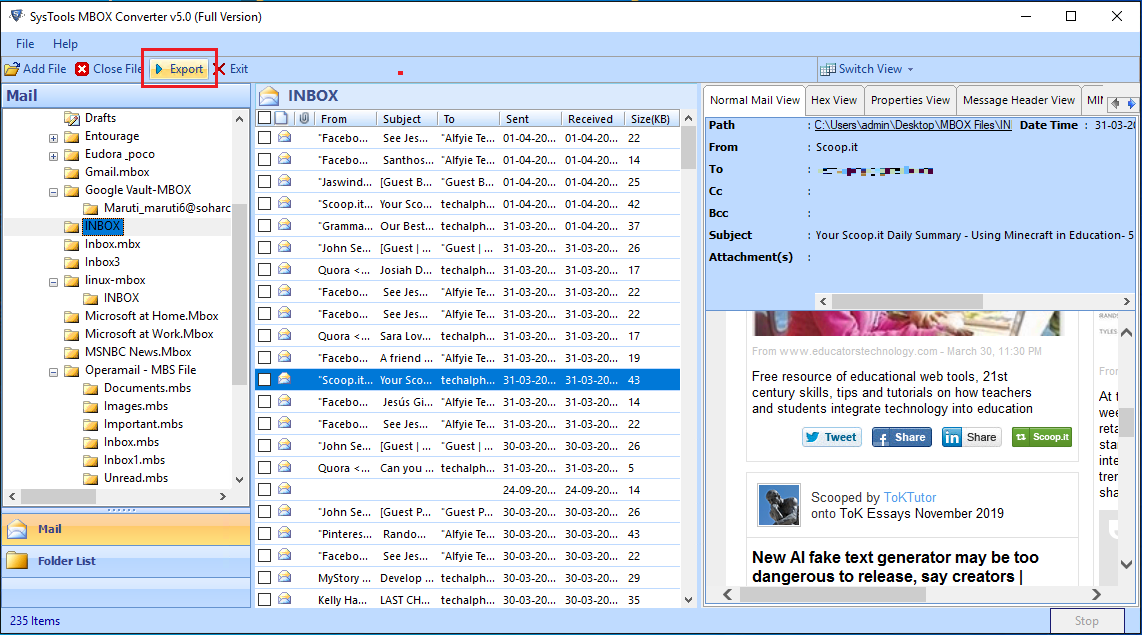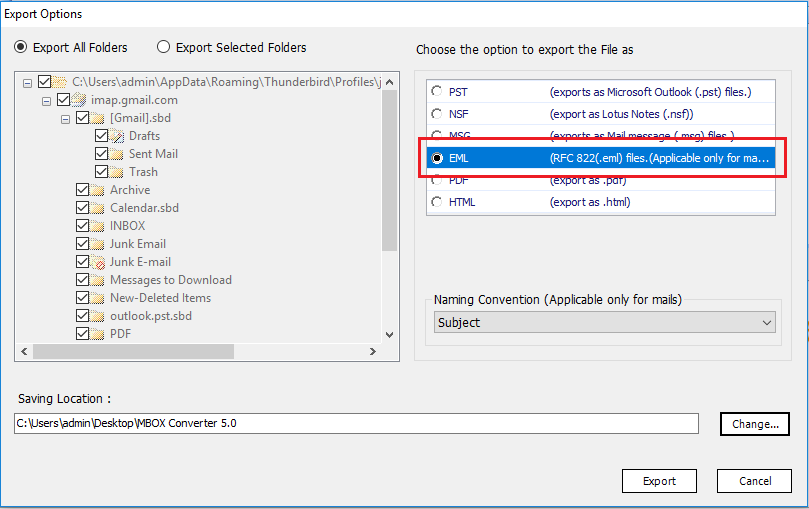 Apply naming convention to name the email messages according to this convention.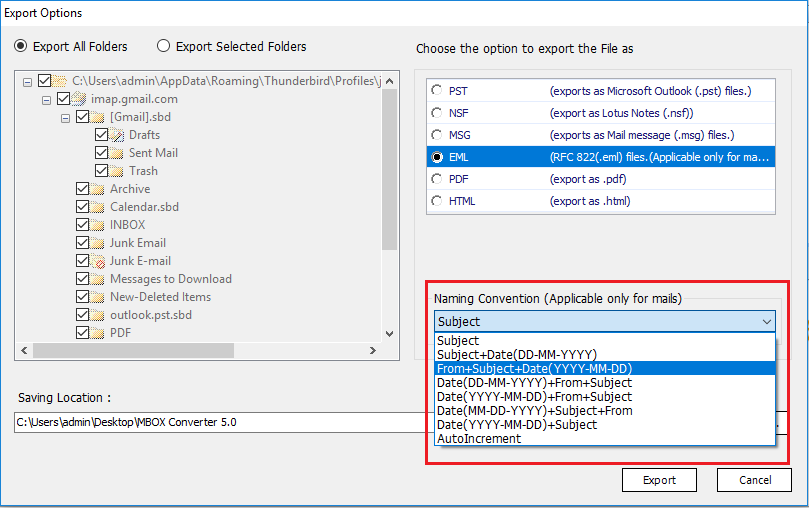 Finally, click on the Export button to start the split process.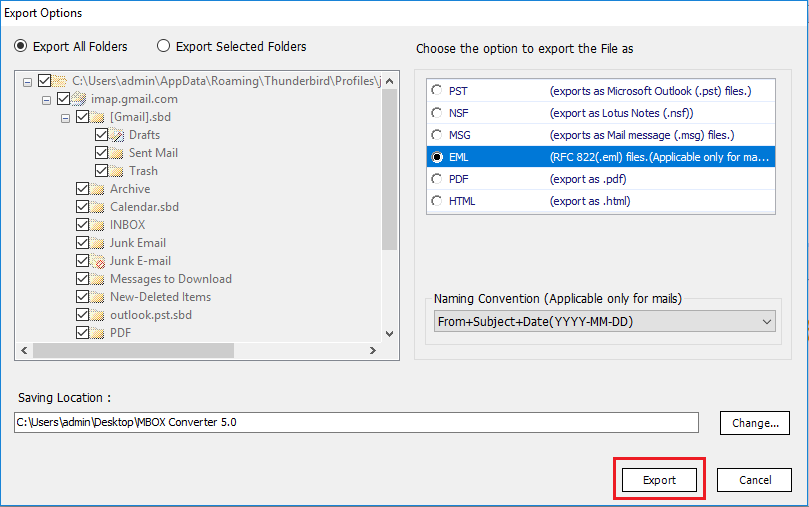 Let it be complete. Now, go to the destination location on your desktop to view all EML files. This marks the end of the process to split MBOX files into separate messages.
Summary
It's safe to say that the process of splitting MBOX files is not so difficult if you have the right set of instructions. This article covers both the scenarios of breaking mailbox files into smaller separate files as well as splitting them into individual messages. You can apply any of the methods as per your requirement.