Simple Trick to Retrieve Formatted Data from Pen Drive
Here is a situation that we all don't want to face. I have found that my crucial pen drive is formatted and I cannot access the data. It is possible that the drive was accidentally formatted, or was intentionally formatted before you realized that you needed the files that reside on the drive. To be able to access the data regardless of how it arrived at this point, you need to recover lost data from USB drive after formatting. Don't panic. Here, we provide you the best option that can retrieve formatted data from pen drive.
Note: It is recommended to stop using the pen drive after formatting. All formatted files can only be restored if they are not overwritten by new files. By not using the pen drive anymore, you are more likely to be able to recover files from a pen drive which not visible.
Some of the Cases of Data Loss from Pen Drive
When you accidentally formatted your files or folders from pen drive and these files do not have a backup copy.
To get rid of the severe virus infection on the pen drive, you might format it.
Frequent use or poor quality of pen drive can cause the device to fail, and lead to data loss.
If you are changing the file system of your pen drive from FAT to NTFS you will have to format.
The memory chip in pen drive might be damaged and lead t data loss.
It's important to create a backup of all your important data while being in a situation where you want to format your drive. If you have formatted your pen drive without maintaining a backup, then continue with this write-up to know how to recover lost data from USB Flash Drive.
Do You Want to Perform Certain Manual Tricks that are Available?
If you search for the manual tricks on the internet, you come through with some of the manual tricks that claim to retrieve formatted data from pen drive. These manual tricks are of no cost that's the reason users are more likely to chose those techniques. But Beware! These methods will not get your data back. Instead of this, they can do more harm to your pen drives and make it impossible to access your data again.
So, it is advised not to try any of the methods just try those that actually work and benefit you.
Professional Tool to Recover Data from Pen Drive After Formatting
If you are aware of the risks that manual methods possess then, surely you are wondering how to recover files from pen drive which is not visible without using manual tricks? Here, is the solution, in fact, the best solution. You must try the professional tool which is Pen Drive Formatted Data Recovery tool. It will take just a few simple steps to recover deleted pdf files from pen drive without any hassle. Just follow the below steps carefully:
Step 1:- Download and install the Pen Drive Recovery tool on any version of Windows OS.
Step 2:- Now, select the partition and click on the Formatted Scan.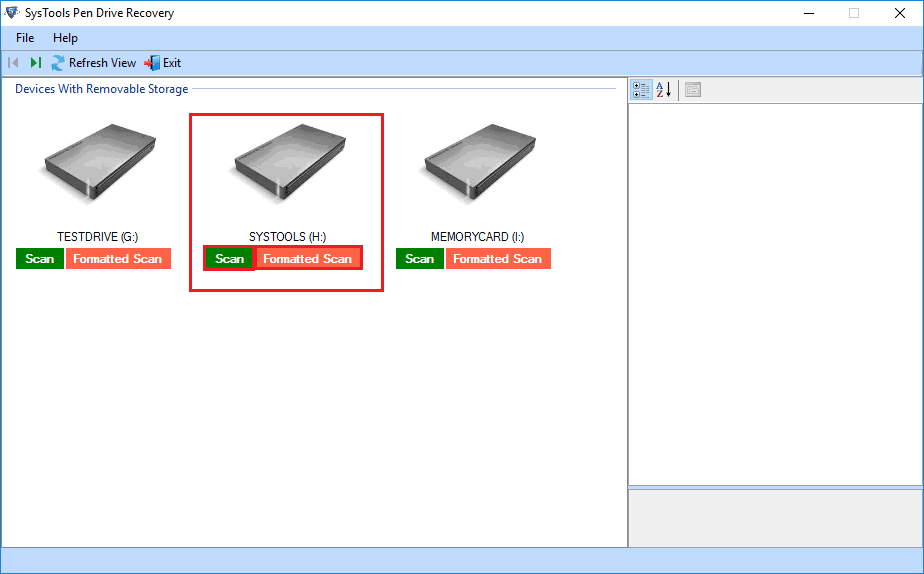 Step 3:- After scanning completes, preview the recovered deleted PST files from pen drive which are shown in red color.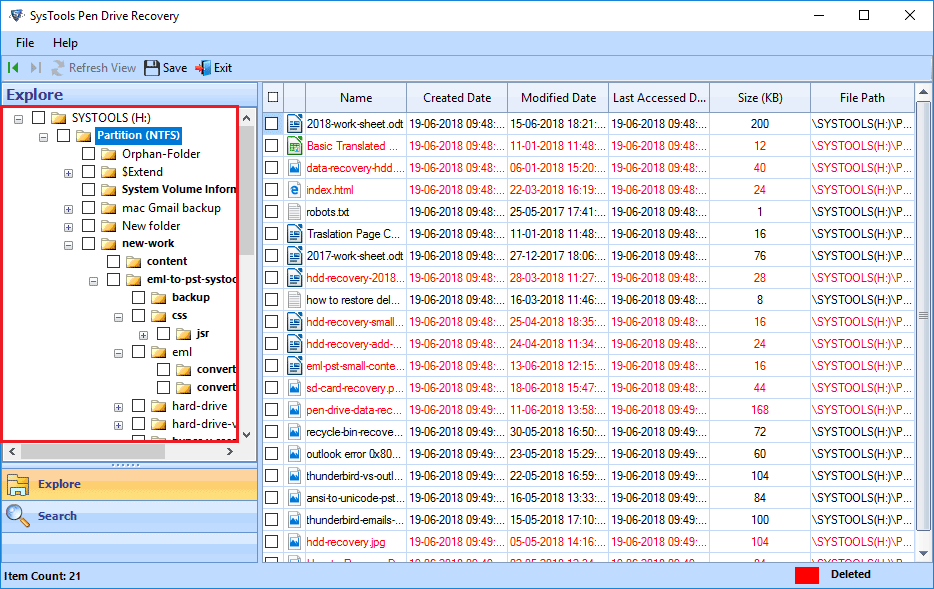 Step 4:- Select the files which you want to recover corrupted files from USB flash drive or select the complete folder and click on the SAVE option.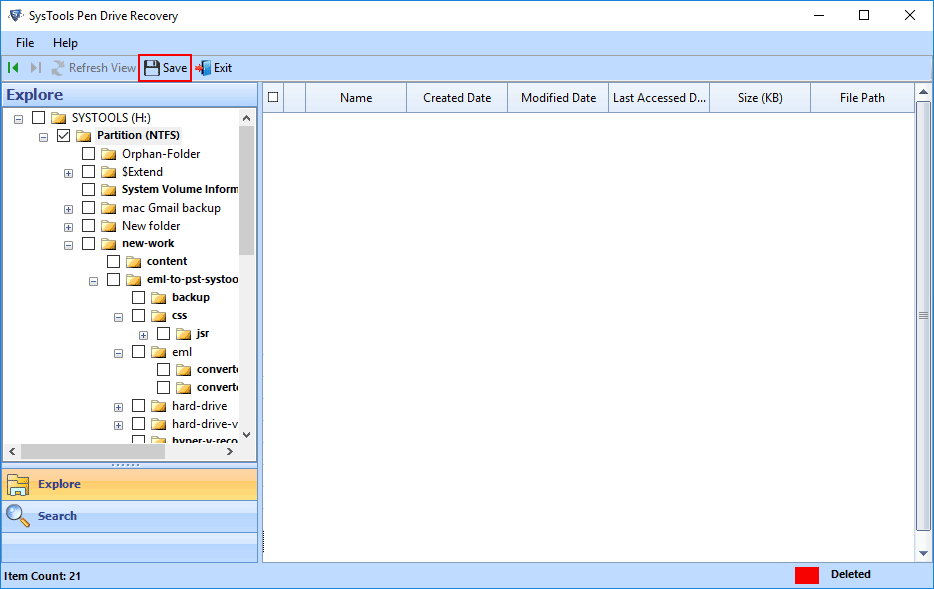 Once, all the steps are done, you can check your retrieved files at your desired location.
Key Features of the Software
The tool supports different file formats and also restores data from NTFS and FAT file format to retrieve formatted data from pen drive
You can recover any type of data from the recovery tool like video files, images, audio, docs, pdf files, ppt, and other multimedia items
The tool also recover data from pen drive after formatting from GPT and MBR partitions
This utility supports the recovery of permanently deleted and corrupted files from pen drive
Once data is retrieved after scanning, they are highlighted in red color
The software is compatible with Windows 10, 8, 7, and all below versions of Windows OS
Time to Conclude
In order to retrieve formatted data from pen drive, we explained the best solution to resolve your issues. Also, we explain the risks of manual methods and scenarios for formatting pen drives. I hope, at the end of this write-up you came up with the solution which you want to opt to recover data from pen drive after formatting.
FAQ's
Can data be recovered from formatted pen drive?
Yes, it is possible to recover data from Formatted Pen Drive. You can recover your data by using pen drive recovery software. It recovers data from NTFS and FAT file format to restore formatted data files from pen drive.
Can data be recovered after formatting?
Yes, you can recover data after formatting the pen drive after reading this blog.