How to Recover Files from A Hard Drive That Won't Boot Windows 10? Precise Solution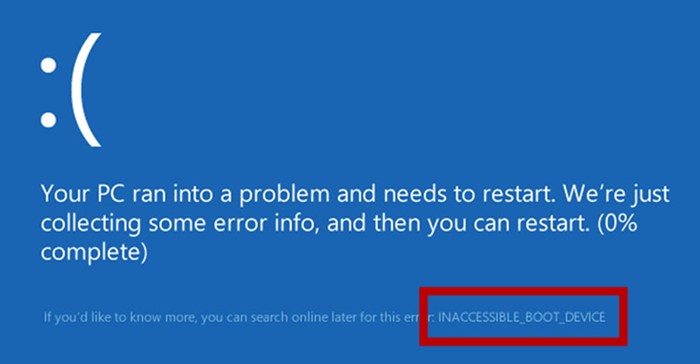 Ever encountered your system screen saying that "Your PC ran into a problem" like this? Well, this image is a clear indication of an "inaccessible boot device," which means your Windows 10 operating system is unable to boot the drive. If you are looking for how to recover files from a hard drive that won't boot Windows 10, 8, 7, or 11, then this blog has complete step-by-step guidelines to provide a solution from scratch.
Reasons That Make Hard Drive Unbootable
Various reasons can be blamed for making a hard drive unbootable. Check out which one can be the culprit in your case.
Incorrect BIOS Boot Order: BIOS follows the boot order to run the bootable device. So if you have selected any other device instead of a hard drive, then whenever the PC tries to boot, it will send you an error message.
Damaged Data Cables: If the data cable isn't correctly plugged in, then the power supply gets interrupted while booting and interrupts the process. Also, data cables get wear and tear over time, which damages their ability to work properly.
Physical Damage to Hard Drive: Read/write errors, power outages, and virus attacks can damage the hard drive and make it inaccessible. Check the drive for errors and scan the viruses for proper functioning.
Motherboard Failures: Faulty capacitors, loose cable obstructing power supply, corrupted CPU, or memory fail to provide the proper condition to boot a drive.
Corrupted Partition Table: A corrupted MBR won't allow the drive to boot. MBR is the section that holds information about the disk, is located in the boot sector, and defines the disk partition.
Software Failure: Incorrectly installed software, driver corruption, failed updates, power breakdowns, improper system shutdowns, corrupted registry, malware, and virus attacks make the system vulnerable, which is more than enough to make the hard drive stubborn to boot. As a result, users have to search for ways to recover deleted files from hard drive.
Users are advised to only go for software-related recovery and correction; for physical component damage and repair, please consult a professional only.
Alternative Solution to Fix Recover Files from A Hard Drive That Won't Boot Issue
If the above method does not fully answer your question on how to get files from a laptop that won't turn on, don't worry because we're not done yet. There is another method to efficiently retrieve files from a non-bootable hard drive, which is called EmailDoctor Software to recover deleted files from external hard drive Fast and Advanced, which combines many interesting features to ensure the most efficient data recovery. It is available for Windows and scans deleted data and recovers it in minutes.
What you will need
Hard drive (from which you want to recover the files)
USB hard drive case/closure (to attach to the system)
Windows operating system
BIOS boot order (choose Hard drive as first preference)
Hard Drive Recovery utility (Demo Version)
(Do not choose the unbootable drive to download and install hard drive recovery utility.)
Also Read: How to Recover Data from Formatted Hard Drive?
Steps to Retrieve Data from Unbootable Hard Drive
If you have tried all possible methods and still the problem is as it was before, then these steps can be beneficial to retrieve data from an unbootable drive.
Launch the utility and click on Refresh View to detect the drive.
If a drive is visible on the platform, click on scan mode to recover permanently deleted files from the laptop. The scanning and recovery of files will be done simultaneously.
Wait till the recovery process completes, then choose the files and folders that you were looking for and click on the Save button.
Let the process complete, and open the location to view the files. That's it. You have successfully learned and practiced how to recover files from a hard drive that won't boot.
Tips and Tricks  for Booting your Hard Drive
The saying "prevention is better than cure" should be embedded in the hearts of every computer user. It takes effort to keep your computer safe and your hard drive in good condition. To make sure your drive doesn't suffer from such problems (requiring you to Google how to recover data from hard drive that won t boot), follow these basic tips that will make your life easier and your hard drive safer and healthier.
Be careful when surfing the Internet, as it is a major source of viruses. Install an antivirus program on your computer to protect against threats.

If you hear a clicking or grinding sound from your hard drive, stop all operations immediately.

Back up your data often because disasters can happen at any time.

Make sure the unit is stored securely to prevent physical damage. Excessive heat and humidity can damage hard drives, so proper precautions should be taken when storing them.

Update your drivers regularly to avoid unexpected issues.

Check hard drive connections regularly. Replace old or exposed cables or peripherals as soon as you find them.
Concluding Thoughts
An unbootable drive is the outcome of serious technical and logical issues. How to recover files from a hard drive that won't boot Windows 10 is a question asked by users who own Windows 10 and are struggling to recover deleted pictures from computers. This blog counts all the reasons and provides a detailed solution to resolve this issue.
Commonly Asked Questions by Users
Q: How do I recover files from a non-bootable hard drive?
Download hard drive recovery software
Select the hard drive partition where the data will be lost.
Click the Scan tab and wait for it to complete scanning.
Preview the data recovered from the hard drive in the software panel.
Select the required data or save complete data
Q: How do I recover files from a non-booting external hard drive?
When recovering files from an external hard drive, you usually use an external hard drive enclosure or professional data recovery software such as Automatic Solution.
Q: How to restart a computer that won't start?
Restart your computer.
Insert a Windows installation disc and boot from it.

Select Recover your computer.

Click Troubleshoot.

Hit Reset this PC.