How to Recover Data from Formatted Hard Drive – Simple Method
"I have one hard disk for data backing up. However, a few days ago, it was shown error messages and asked me to format the hard disk. So, I formatted the drive. But, there were still many data files saved. Is it possible to recover lost files after formatting disk? Mainly, I need to recover data from the formatted hard disk in Windows 10. So, please suggest an appropriate solution to do the same. Any help would be appreciated. Thanks in advance."
Sometimes, a user may encounter some situations which cause format the hard disk. For instance, you are going to enlarge your present hard disk to a larger one or your partition has been damaged by viruses or you plan to wipe them from your Windows 10, 8, and 7 operating machines.
The hard disk is the main storage device on the computer and it can be used for saving all kinds of data such as system files, video, music, image, documents, applications, photos, emails, and other necessary data. The hard disk comes in various types like SATA, SCSI, and PATA, etc. A hard disk should be formatted before, it can be used to store data and be recognized by the system.
Formatting a hard disk evolves generating a new directory structure and file system. Besides, the procedure of partitioning a hard disk and creating partition also executes formatting on the disk. There are so many cases that may format a hard disk.
Fortunately, most formatting does complete wipe data on the disk, which means you have the chance to recover files lost due to formatting. So, in this article, we are going to discuss the reliable methods to recover deleted files from external hard drive in Windows 10, 8, and 7.
Is it Possible to Recover Data after Formatting Disk?
The answer is yes,  retrieve deleted files from hard drive in Windows 10, 8, and 7 is possible. There is only one way to get your wiped data back i.e., backup. If you have a backup of data so, you can recover data after the formatting of the hard disk. This is the only solution otherwise, there is no manual technique to recover deleted data from laptop.
Instant Solution to Recover Data from Formatted Hard Disk
It is a professional solution to restore data from formatted hard disk. It is a perfect application such as SysTools Hard Drive Recovery Software. This recovery utility is a complete solution to recover deleted video files from hard drive. This application has an understandable user interface so, a novice user can also perform with it without taking expert help.
It is prominently used by many professionals and provides surety to perform the recovering procedure in an efficient manner. It is capable enough to recover deleted HTML from hard drive in Windows 10, 8, and 7. It is equipped with advanced technology and facilitates amazing features. Some of them are outlined below. Have a look:
Recover permanently deleted file from hard disk
Restore data from any internal and external hard disk
Refresh feature to detect the attached external storage device
Deleted data recovered are highlighted by Red color
Recover lost data from GPT/MBR hard disk partition
Supports all versions of Windows Operating System
Steps to Recover Lost Data from Formatted Hard Drive
Now, you can download the hard disk recovery utility and use it to recover data from formatted hard disks in Windows 10, 8, and 7. The following guide will be very helpful. The following steps are listed below:
Step 1: – First of all, go to "Start" then "All Programs" and then "Recovery Software"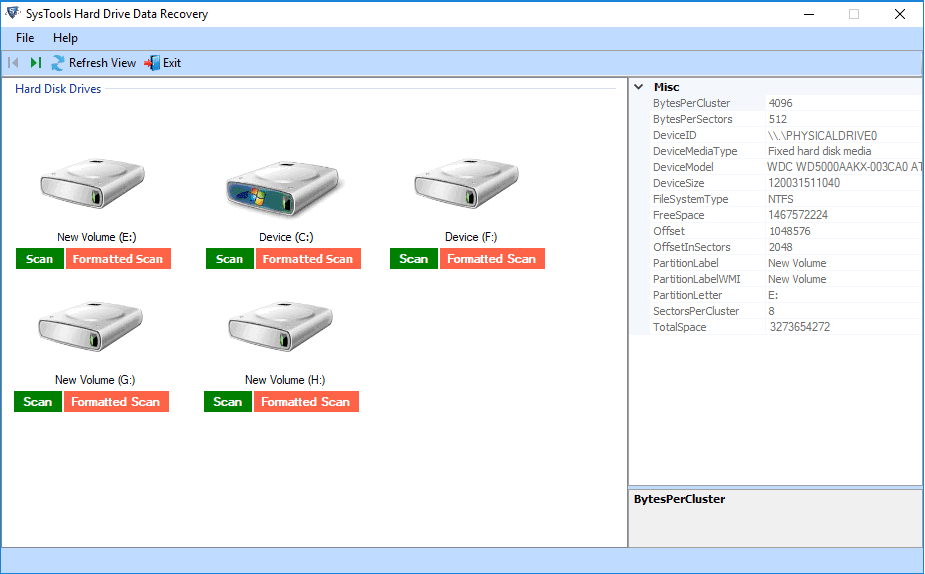 Step 2: – Formatted Scan– Used in order to recover permanently deleted files from laptop. Initially, select the "Formatted Scan" option to start scanning.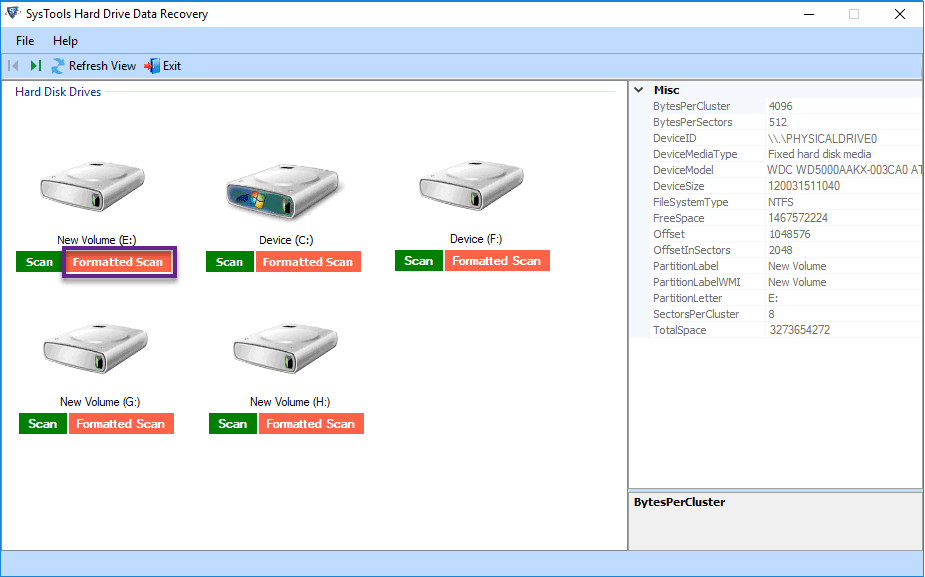 Step 3: – You can view the complete scanning progress report after that preview all folders in the left pane after successful completion of the scanning procedure.
Step 4: – Here, choose the folder from the left panel and review complete data in the right pane of the application. It also facilitates "Item Count". You can view the entire data from the specified folder.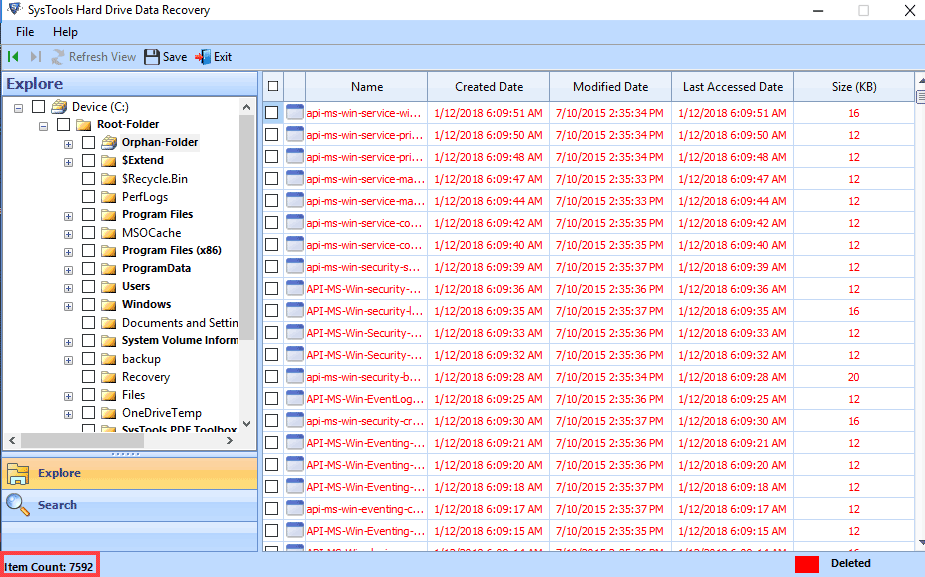 Step 5: – Recovery software provides "Search Option" to search for the desired file as shown below. From the drop-down list adjacent to "On", opt search based upon "Created", "Modified" or "Last Access".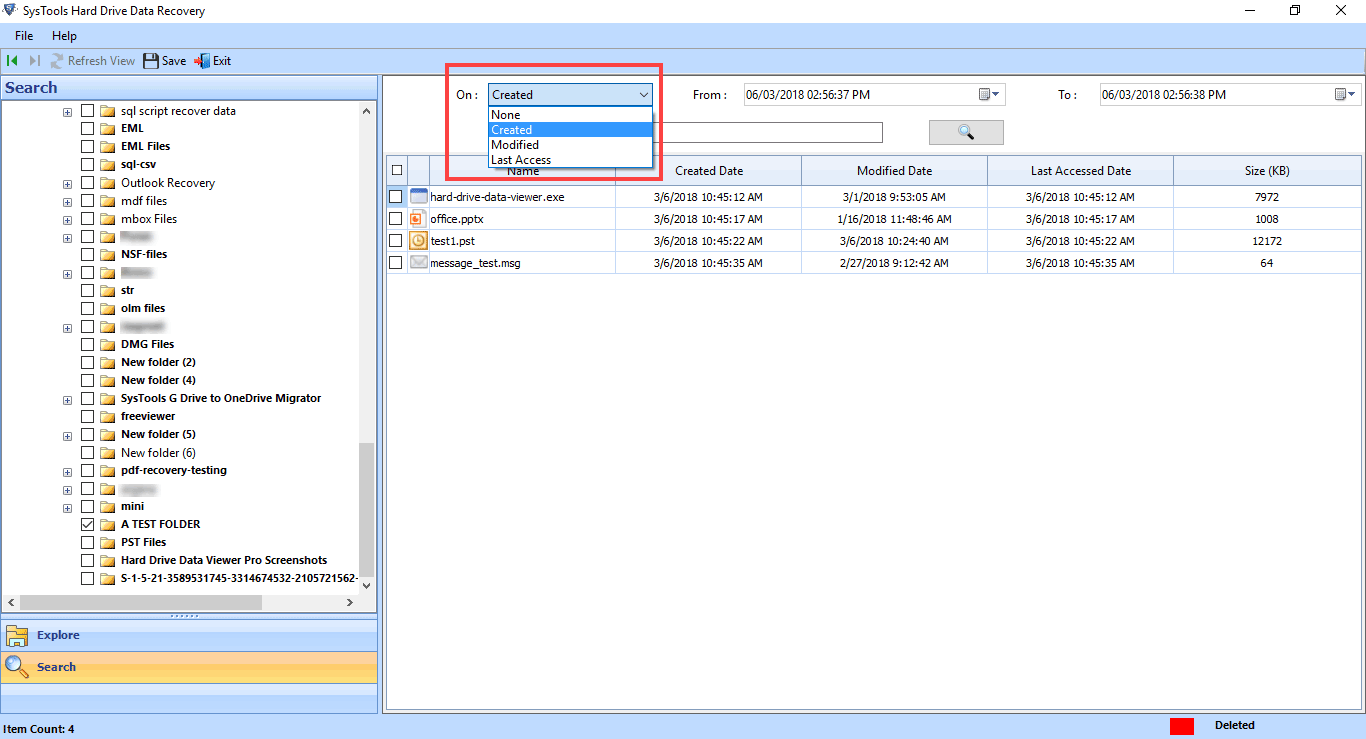 Step 6: – Now, choose the "From" and "To" date from the date range filter option.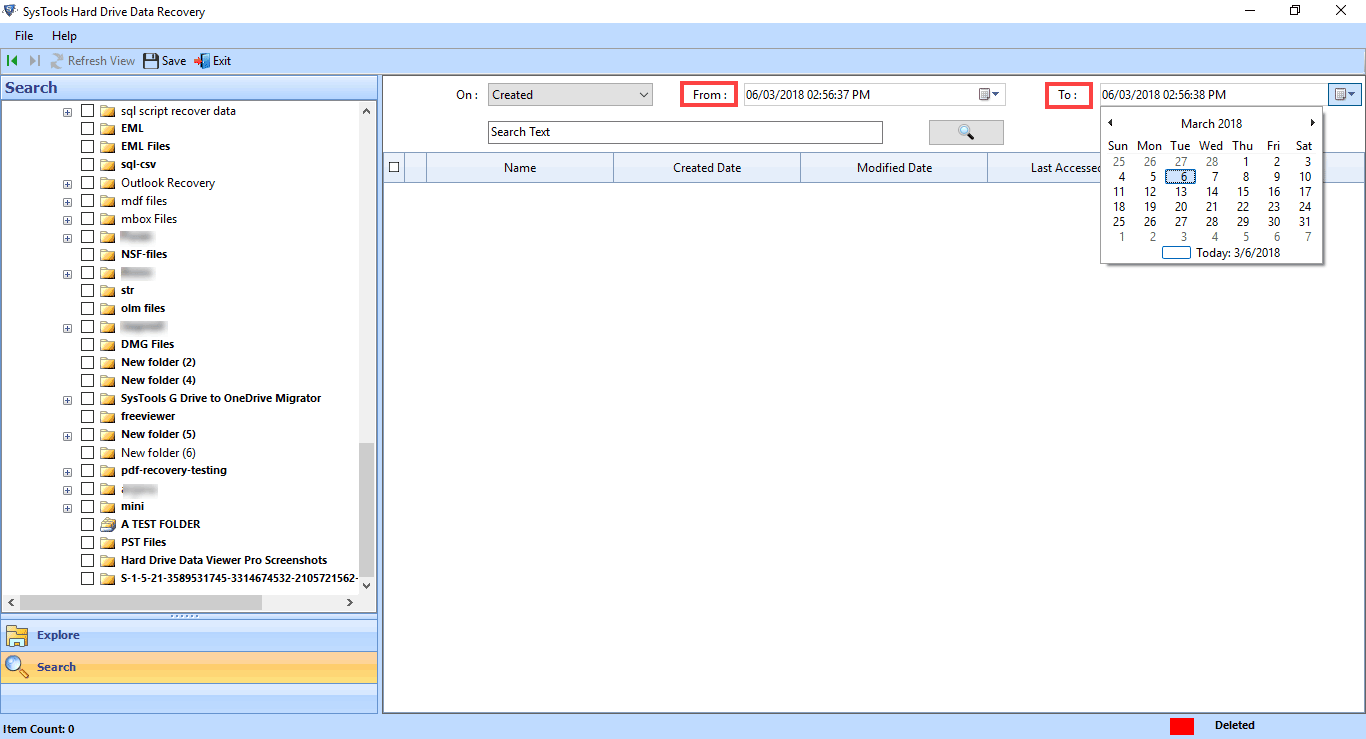 Step 7: – At last, add the file name in the search bar and hit on the search icon. The search procedure will start. After completion of the search procedure, search results will be shown.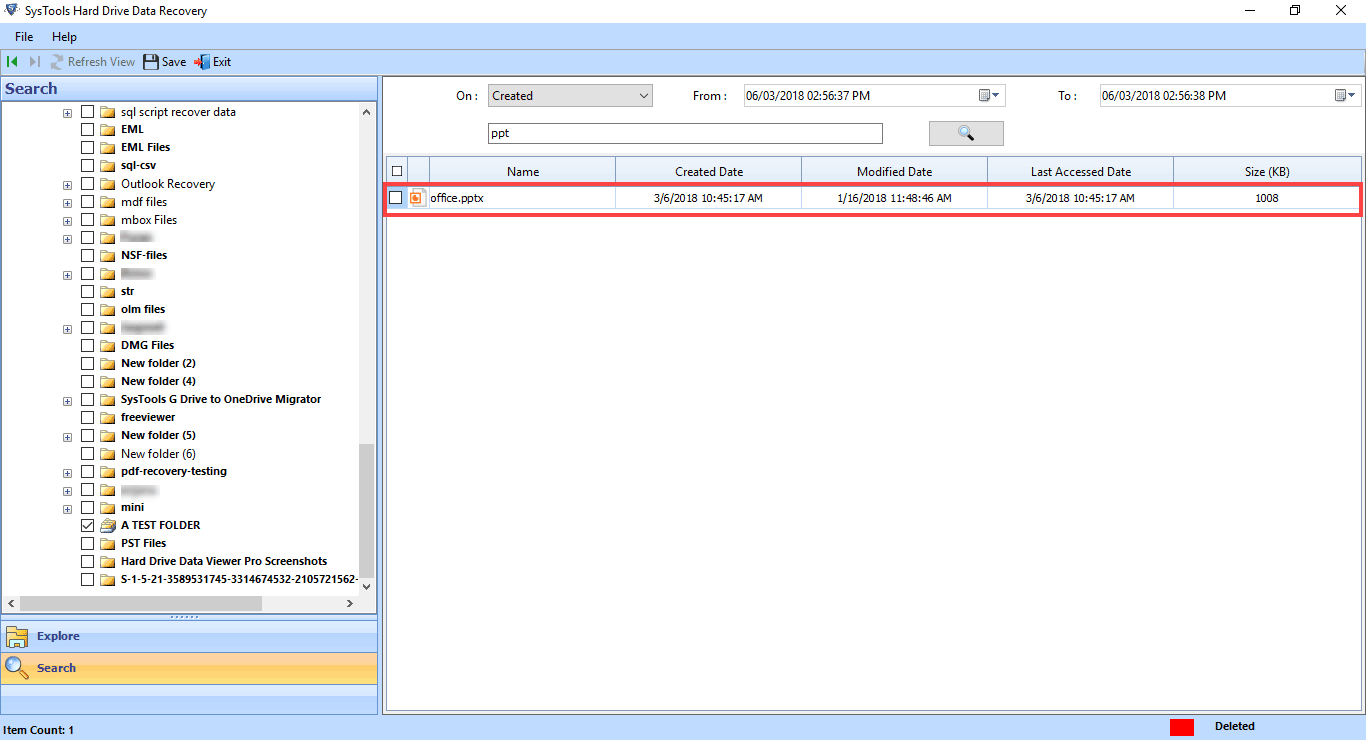 Step 8: – Afterward, select "Save" to begin saving selected files. Then choose the location from the "Browse for Folder" wizard that displays and then, hit on "OK" to start the Export procedure.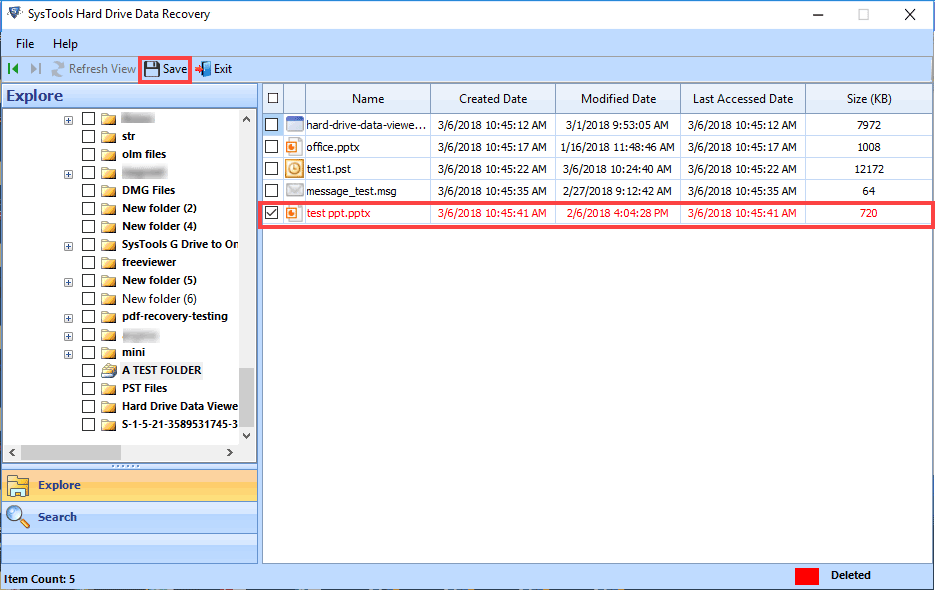 Know-How to Recover Data from Formatted Hard Drive? – Watch Video
Summing Up
Sometimes, users find an alternative to recover data from formatted hard disks in Windows 10, 8, and 7. There is no direct manual method is provided to do the same. But, a user has an option i.e., if they have a backup of their deleted files from formatted hard disk. So, they can get back their wiped data without any problem. What if a user does not have the backup of their data?
There is an alternate method such as "This Software". Using this utility a user can easily and simply recover files from a hard drive that won't boot Windows 10 without losing a bit of data. In the above section, we have discussed the professional solution.
Frequently Asked Questions
How do I recover files from a formatted computer?
Reading the above article and recover files from formatted computer by using the automated solution.
Can I recover files from a formatted hard drive?
With the help of hard drive recovery software users can recover all types of data like deleted, corrupted and formatted from hard drive. By using this application there is no limitation of data.