An Easy Guide to Recover Deleted Video Files from Hard Drive
Have you ever been in a situation where you lost your memorable videos? Losing all your precious videos can certainly give you a shock. However, you are trying harder to recover deleted video files from hard drive. Fortunately, you are in the right place! Because here, in this article, we are going to provide the best solution that will help you retrieve deleted video files on your hard drive.
Generally, when your files are deleted from a hard drive using the 'delete' key, they are stored in the 'recycle bin'. And in that case, you can restore it to the recycle bin.
When you use 'shift + delete' to remove items, it is logically inaccessible by the system. But it still exists physically somewhere on the drive until the system overwrites a new file on it. It means there is a chance to recover deleted files from the hard drive.
So, to recover deleted video files from a hard drive, data recovery software is used to make the task easy for users.
Even so, you can try different manual solutions and manual data recovery services to recover deleted data from your laptop. But if you compare hard drive data recovery software and manual recovery services, You find it much cheaper and faster than manual services. They are less time-consuming and more secure compared to manual services.
How to Recover Lost Video Files? Quick Steps
1:

Download

and

install

the hard disk recovery tool.

2:

Choose device

to

restore

and press Press

scan

option

3:

Preview

all data from

selected

the

folders

4: Select

files

to recover and Hit on

save

5: Choose

destination

and

export successfully
Expert Choice to Recover Deleted Video Files from Hard Drive
The automatic software is an amazing tool to recover deleted HTML from hard drive. It is a complete solution and also recovers files after formatting the hard drive. It can recover all your important videos, images, documents, and other multimedia files from the system hard disk. This application also helps in recovering raw data files like JPEG, PNG, GIF, ZIP, DOCX, PPTX, etc. from a deleted or formatted hard disk.
>The tool fetches normal as well as permanently deleted data files from each folder of the drive. It lists the retrieved shift deleted video file from the hard drive in red. Through which users can easily distinguish between recovered deleted video files from hard drives and ordinary files.
Note: In the demo version of the hard drive data recovery tool, you can't save the recovered files. If you want to save all your recovered deleted video files to a hard disk, then purchase the full version of the tool.
Steps to Recover Deleted Video Files from Hard Drive
1:- After Download  and installing, once you open the software initial screen of the tool looks as shown below.
2:- Click on the SCAN option after selecting a partition to recover deleted videos on laptop.
3:- Now, preview all the recovered files that are shown in red color.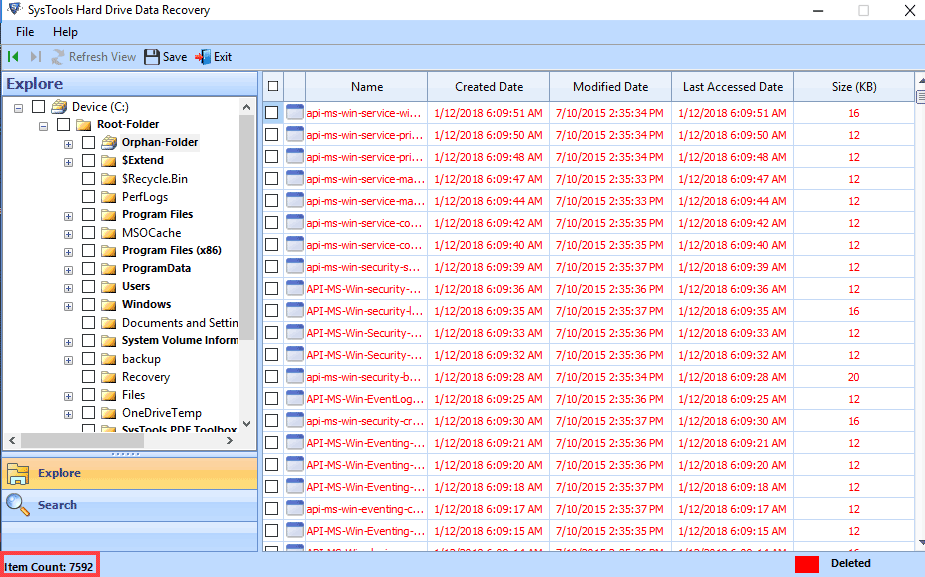 4:- Save all recovered files or selected files according to the need.
Key Features of the Software
Beneficial features of the tool that make it the best tool to recover deleted data from laptop hard drive are given below:
The tool can recover data from both internal and external hard drives.
Capable to recover data from the deleted partition of any size.
It provides a refresh option to detect the attached external device.
Recover data from the GBT and MBR hard drive partitions.
Recovered files are highlighted in red.
This utility is capable of recovering data from IDE, SATA, and EIDE devices.
Software is also used to recover corrupted, deleted, or formatted data from a dynamic disk.
The tool provides two options for scanning: SCAN (for permanently deleted or corrupted files) and FORMATTED SCAN (for formatted data).
This application is compatible with recovering lost video files from all windows versions.
It also supports multiple languages.
The Bottom Line
In order to recover deleted video files from hard drive, we have provided the best and effective solution for the users. Besides this, we advise creating back up of all your important files to avoid further data loss issues. And recommended using data recovery tool, as it's always better to resolve data loss problems.
Frequently Asked Questions
Q: Can you recover deleted videos from hard drive?
You can  recover deleted video files from hard disks with the help of the above-mentioned software. It supports recovering data from all brands of hard drives without losing any data.
Q: How can I recover deleted files from an external hard drive?
You can recover deleted files from efrom annal hard drive after reading this blog. Users can recover deleted, corrupted, and formatted data from external as well as internal hard drives.
Q: How do I restore deleted videos?
You can restore deleted videos from a hard drive by using hard drive data recovery software. It has capability to recover deleted videos on laptop, photos, audio, multimedia, etc. The tool can recover unlimited data without any limitations.