Outlook OST File Is In Use and Cannot Be Accessed Error
Open Outlook OST File is in Use and Cannot be Accessed – MS Outlook users make use of OST file when the Outlook profile is configured with MS Exchange Server, which enables user to work in offline mode. This file is created when the Cached Exchange mode is enabled from the Outlook account. While working with Outlook, the user faces a common error that makes Outlook profile inaccessible displaying the error message:
"C:\Users\user name\AppData\Local\Microsoft\user name\username.ost is in use and cannot be accessed."
Close any applications using this file and try again." The post will be explaining different ways on how to fix "Outlook OST is in use and cannot be accessed" error.
Reasons for the Occurrence of the  Error
Some of the causes related to the error are listed below:
Synchronization issues with locally stored OST file and Exchange Server Mailbox
Problem with internet connection
Multiple users trying to access same OST file at a time
Conflict between the MS Outlook and other applications in system
Improper Shutdown of system without power backup
Manual Methods to Fix Unbale to Open Outlook OST File is in Use and Cannot be Accessed Error
a). Terminate All The Processes Related To Outlook
The error can be resolved by ending all the Outlook related processes using the steps below:
Get access to the Task Manager of the system by right clicking on the Task bar & selecting it or by using "CTRL+ALT+Delete" & choose Task Manager.
Go to the Processes tab in the Task Manager
Search for all the processes with the name Communicator, Lync, ucmapi or Outlook. Select them and click on 'End Task' option.
b). Uncheck Cached Exchange Mode option
The second step is to disable the cached Exchange Mode performing the following tasks:
1) Exit MS Outlook
2) Go to Start >> Control panel and Select Mail
3) Click on Email Accounts Tab and go to Email option
4) Select the email address that is associated with OST file showing error and click on 'Change'
5) Uncheck the box of 'Use Cached Exchange Mode' to disable it
6) Select Next and click on 'Finish'
c). Using Inbuilt ScanOST.exe repair Utility
The third step is to use an inbuilt utility scanost.exe, which comes with MS Outlook to repair issues in OST files. It was present until MS outlook 2010 version and has been replaced by scanpst.exe for the repair of both OST and PST files. We use can this utility by using the steps stated below:
Also Read :  The user can also read this post to know about What is Inbox Repair Tool Scanpst.exe 
1). Close the MS Outlook application
2). Launch Scanost.exe (if you are using Outlook 2010 or below versions) or scanpst.exe (for later versions)
3). Open the repair utility and it will notify the user to quit Outlook before using this utility.
4). Provide the correct username when the application prompts for profile to be repaired
5). Select 'Connect' while asking for work offline or Connect
6). Choose all the folders or only the desired folders and check the box of 'Repair Errors'
7). Click on 'Begin Scan' to start the repair process.
d). Export OST into Reliable Format:
There exist two ways to export OST file to Outlook data file PST format; Import/ Export Option or OST Conversion Tool
1). Use Import/Export feature of MS Outlook for exporting of OST file to Outlook PST file using the steps defined:
a) Start MS Outlook Application. 
b). Go to 'File', then 'Open & Export' & select 'Import and Export'.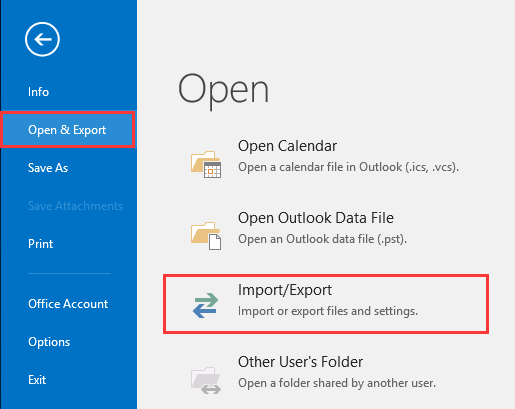 c). Go to 'Export to a file' and click 'Next'.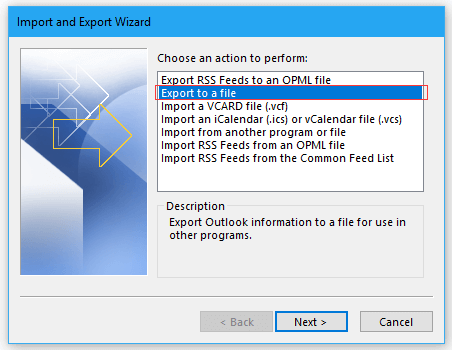 d). Select 'Outlook Data File (.pst)' & click on Next.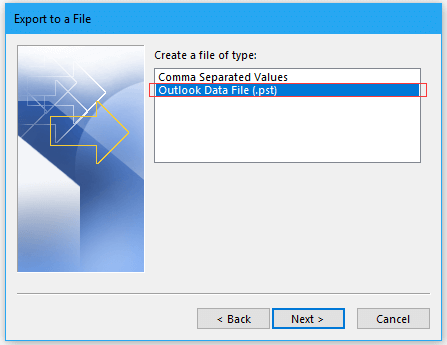 e). Choose the folder from which items need to be imported.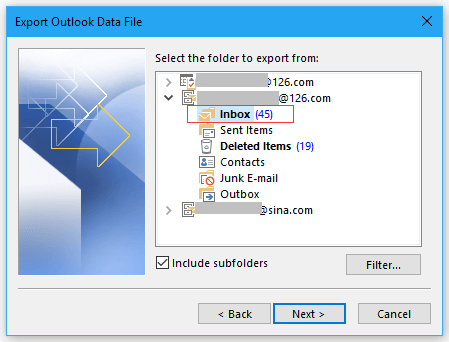 f). Specify the destination folder to save the PST file and click on 'Finish'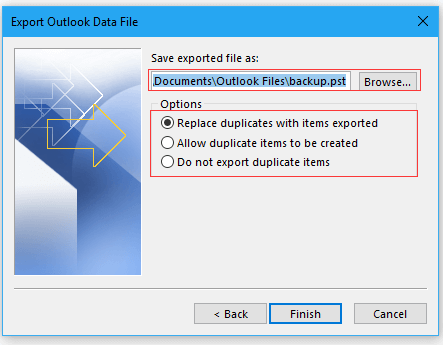 2). OST to PST Converter is another alternative to overcome any of the Outlook's OST errors easily. It will export OST into the reliable format. To know about more the user can try the demo version of this software. 
Download OST to PST Converter Purchase OST to PST Converter
Conclusion
In the blog, we have discussed procedures about how to Fix "Outlook OST File is in use and cannot be accessed" Error. Hence you will make your OST file accessible. In the next blog, we will discuss other errors of Microsoft Outlook.