How to Fix "Outlook Contacts not Syncing with iCloud" Issue?
Stuck with the issue of Outlook contacts not syncing with iCloud? Often when users like you try to migrate your contact list from MS Outlook to iCloud, they get an error showing failure of migration of files. iCloud is a popular cloud storage space where you can save up to 5 GB of data for free. However, you can always buy and increase storage space.
Storing contacts in iCloud ensures that they are properly synced across platforms and you can access them whenever you want. However, the error of Outlook Contacts unable to sync with iCloud is frequently seen by users. This could be due to improper configuration settings, issue with latest updates, app errors, etc. 
In this article, we will look into the most common error that is responsible for this challenge that you may have faced.
Outlook Contacts not Syncing with iCloud – Resolve Now
Automated Professional Solution: If you are unable to syncing the contacts, you must opt for the smart method of converting the Outlook contacts into the vCard files and then importing them to iCloud. This way is free of any errors and promises to sync your data files. So, the vCard Export Tool is the advanced utility that guarantees accurate results within a short period of time. Try its free demo version:

Capable to load corrupt, orphan, password-protected files to export contacts from Outlook to vCard.
Syncs all attributes and fields of Outlook contacts.
Maintains the hierarchy and structure of the source files.
Batch converts the respective file formats.
Auto-maps the custom fields of these Outlook contacts.
To manually fix the issue, go through the below-given solutions and ensure that you have all the necessities in place.
Solution 1: Remove iCloud from Default Account Settings
Another way that you can try is by ensuring that iCloud is not set as your default account in data files.
Run the Outlook application on Windows OS, then navigate to File > Info.

Now, select Account Settings > Account Settings > Data Files tab.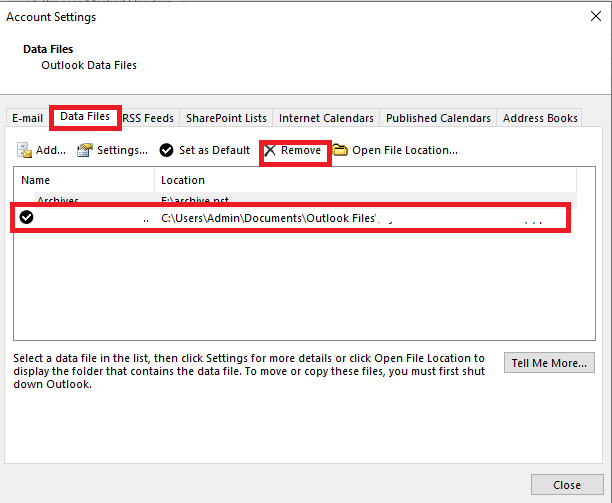 Check if iCloud is the default account, then replace it with another account.
Then, mouse click on the Set as Default option to make that account the default.
Solution 2: Outlook Data Files Must be Healthy
If the source Outlook contact data files are corrupted, then you must repair them using the Outlook PST file repair software.
Solution 3: Check Out the Outlook Add-in Settings
The next way to resolve the error of Outlook contacts not syncing with iCloud, you should check whether iCloud settings are on for Outlook Add-in's.
Run the Outlook application on Windows OS > tap the File tab from menu bar.

Now, click Options and then from Outlook Options dialog box, select Add-ins & locate iCloud in Active Application Add-ins.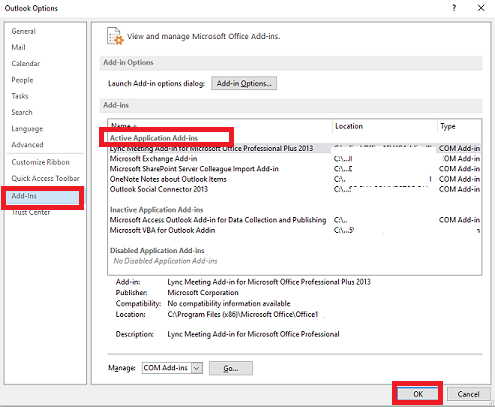 If you cannot find it, install iCloud for Outlook add-in and keep it active.
Solution 4. Check the Internet Connectivity
Outlook contacts not syncing with iCloud issue can also occur due to poor internet connection. Therefore, we suggest you to please make sure that your computer system is connected to a stable Wi-Fi network or you or you can also choose to use cellular network. Also, to refresh the internet connection, you can turn off/on Wi-Fi or use Airplane mode. In this way the syncing problem can be fixed.
Outlook Contacts not Syncing with iCloud – Conclusion 
Here, we have discussed how you can resolve the query where your Outlook contacts failed to sync with iCloud. To help you, we have shared many of the methods listed above. Hence, you can use any of the given methods and access your contacts without affecting your source data files.
Frequently Asked Questions
Q- Why are my Outlook contacts not syncing to iCloud?
Answer- If you're having sync issues, make sure your iCloud account isn't your default account in Data Files. If so, remove it from the default account.
Q- How do I sync my Outlook 2021 contacts with my iCloud?
Answer- To sync all contacts properly, first download and install iCloud for Windows OS. Next, simply launch the iCloud app and sign in with your Apple ID and password. Now, in the iCloud app, select the Sync Contacts and Calendars option, then click Apply. Doing so will start setup, after it's finished, launch the Outlook application to sync contacts.
Q- Why are all my contacts not showing up in my iCloud?
Answer- If you can't see all contacts in iCloud, you need to make sure that you are login to iCloud with the same Apple ID on all your Apple devices. After that, also check whether you have turned on Contacts, Calendars, and Reminders in your iCloud settings. You also need to check the correct date and time settings on your device or your current location.