How to Merge Outlook Data Files? Complete Solutions
Summary: Looking for manual and automatic ways to merge Outlook data files? If yes, then you have clicked on the right web page. Here we explain how to merge PST files and why you should merge PST files.
There are thousands of Outlook users out there and now Outlook is the first choice for both businesses and individuals. Users can create multiple accounts and therefore have several PST files that are not easy to handle. Now, the user wants to merge them together. But how does that work? This question arises for the users. This blog will teach you how manually merge two or multiple PST. Read on and find the right solution.
Why Need to Combine Outlook Files?
Do not accidentally drop or remove
You can save time by opening each file one by one.
Do not share files one by one, which is a slow process.
Benefits of Merging Outlook PST File
Combine many old numbers.
A combination of labor and financial relations
Backup your account now.
Switch to another service or exchange.
Get information from a group or family.
Manual Technique to Merge Outlook Data Files
The manual task of combining PST files involves creating a new Outlook PST file and moving the contents of the individual PST files into the newly created file. In this order:
Step 1. Create a New Outlook PST
Run the Outlook application and click the Home tab >> New Items >> More Items >> Outlook Data File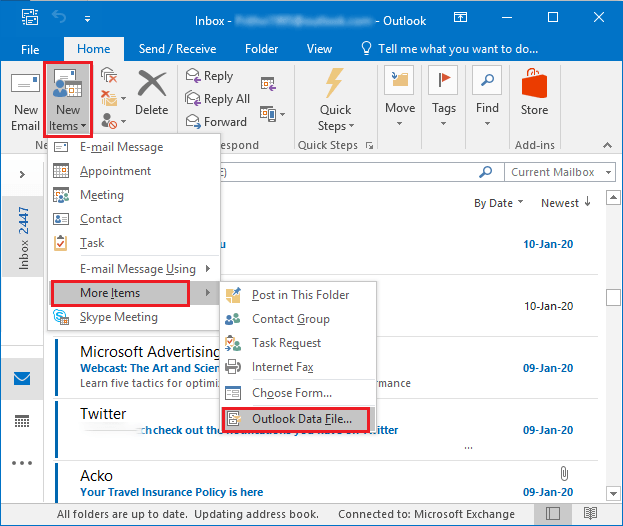 Now, give it a name and save it at the desired location.
Click OK and your empty new file will be created successfully.
Step 2. Import Old Data Into Newly Created File
Go to the File tab >> Open & Export >> Import/Export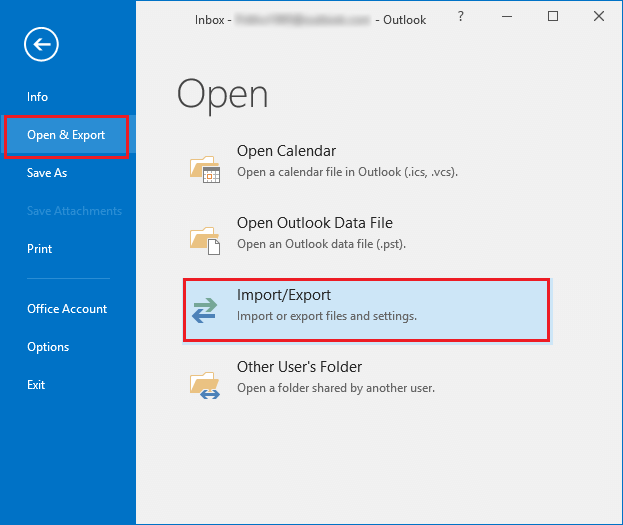 Select "Import from another program or file".
Select the Outlook Data File (.pst) option and click Next.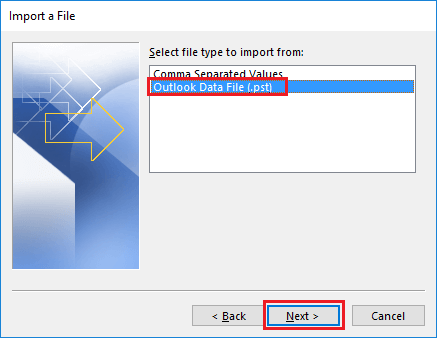 Browse to the PST file to import and select the options you want to use like "Replace duplicates with items imported", "Allow duplicates to be created", and "Do not import duplicates".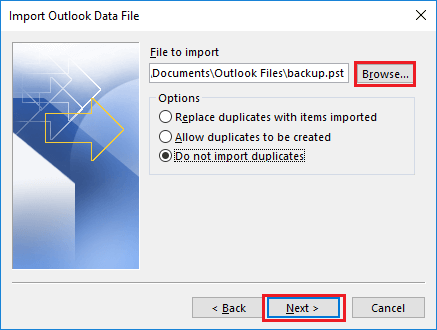 Select the folder want to import and check the "Include subfolders" box as per the choice.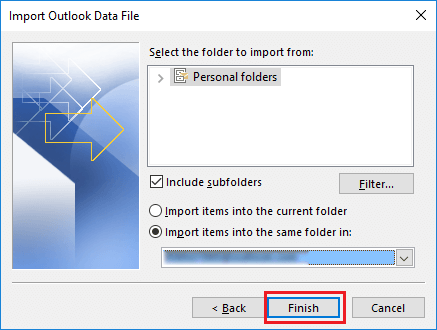 Note: You must repeat the step 2 for merging all PST files. This manual process is best if the user wants to merge two PST files into one.
Alternate Solution to Merge Outlook Data Files into One
The process of manually merging multiple Outlook data files is complex in nature, has many steps, and requires the user's full attention; otherwise, there is no data loss. It can also make your Outlook files corrupt, which can affect your work. With this PST Merge Software, you can easily combine many data files into one. The most interesting fact is that you do not need to install an Outlook email client to integrate two or more PST files. 
It is a stand-alone module that can do this job on its own without modifying the email content. The user only needs to add Outlook files, which can be done in a few clicks. It offers merge and remove duplicate emails in Outlook without any trouble. However, if users face any problems with the app, they can contact 24/7 support.
Steps to Consolidate Multiple PST Files Without Outlook
Step 1. Launch the software and Add PST file or folder.
Step 2. Choose the option Merge and press the Next button.
Step 3. Select Folders and choose the option: merge in Existing PST, New PST or Outlook Profile.
Step 4. In the next section, select the items like Mail, Calendars, Tasks, Contacts, etc. 
Step 5. Click the Next button to finalize the process.
Conclusion
Managing Outlook data is an important task to prevent data corruption. The best way to do this is to merge Outlook data files. Here we will discuss the best and most effective methods to merge PST files into one file using manual and automatic solutions. The manual process is very time-consuming and requires some technical knowledge to complete.
Therefore, we recommend using an automated tool that can combine multiple PST files. You can try the free trial version, which allows you to combine the top 15 items from each folder of PST files.
Frequently Asked Questions
Q: Can I import more than one PST files at once?
Ans: No, Outlook supports to import one PST file at a time. If you have several files, then you can import them one by one.
Q:Does tool remove my Outlook duplicate items?
Ans: Yes, this software has option to delete duplicates from Outlook emails, contacts, calendars and more while merging the data.
Q: Can I merge ANSI PST with UNICODE PST?
Yes, the tool supports to combine both ANSI and UNICODE PST files into a single UNICODE type PST.