How to Combine Two Outlook Calendars into One in Easy Guide?
Are you looking for a reliable way to combine two Outlook calendars into one? If so, then you are on the right blog. Here, we will show you the stepwise guide on how to merge Outlook calendars.
Calendars are always important to save reminders of important dates such as meetings, birthdays, anniversaries, and so on. Users can easily create or add multiple events in the calendar to their mobile phone, system, and laptop. But what to do if the user needs to combine two calendars in Outlook? Read on and get a fruitful solution.
User Query
I have 4 email accounts in Outlook and want to have only one calendar for all my scheduling. I would like to know if there is a way to combine multiple Outlook calendars 2016 with all my saved appointments and other details. Please guide me on how can I do the same without data modification.
After reading the above query, it is clear that users are still searching for a fast and reliable solution that can merge 2 calendars in Outlook 2019, 2016, 2013, and 2010. In the following section, you will learn the complete solution to accomplish this task via Manual and Expert solutions.
Combine Two Outlook Calendars into One – Manually
The manual method consists of two parts to merge two Outlook calendars.
Tip: Make a backup of the Outlook PST files before performing the manual operation.
Step 1: Export Outlook Calendars
Select the Calendar option.
Go to the File tab and click the Option.
Then, go to the Advanced option and click Export.
Choose "Export to a file".
Select the option Outlook Data File (.pst) and click Next.
Select the calendar folder which you wish to export.
Check or uncheck the "Include subfolders" box and click Next.
Click the Browse button and select the location where you want to export the calendar folder.
Now, hit the Finish button.
Step 2: Import Outlook Calendars
Click the File tab and then choose Open.
Click on "Import" and select the option "Import from another program or file".
Select the Outlook Data File (.pst) option and press Next.
Browse and select the location where you want to store the exported calendar folder. Then click OK.
Select the Option and do not import duplicate items after that click Next.
Select the Calendar folder where you want to merge two Outlook calendars.
Check the Import item in the same folder box and click Finish.
Drawbrack of Manual Method
First, the user must rename the calendar by clicking the navigation box and selecting Rename Calendar.
If the user needs to use two calendars, viewing them in overlay mode is only possible if these calendar events are displayed in a single location.
By following the process above, you can easily merge multiple Outlook calendars into a single calendar file. Here's how to manually sync your Outlook calendar: For users familiar with Outlook functions. However, non-technical users may find it difficult to perform these steps. That's why we recommend using an advanced professional solution.
Best Solution to Combine Two Outlook Calendars into One
Merge PST File Tool is the perfect platform to merge calendars in Outlook 2021, 2019, 2016, 2013, 2010, and 2007. This lets you combine multiple Outlook calendars into one with all saved information.
It offers to merge and remove duplicate emails in Outlook with original formatting. With this tool, you can easily merge multiple Outlook PST files into a single file with all data such as emails, calendars, contacts, tasks, notes, and journals. It supports merging Outlook calendars in Windows 11, 10, 8.1, 8, 7, and other below editions. This application also comes with a free trial version that helps the user easily test its efficiency.
Steps to Merge Contacts Folders without Duplicates
First, you need to Download the tool and Install it on your machine.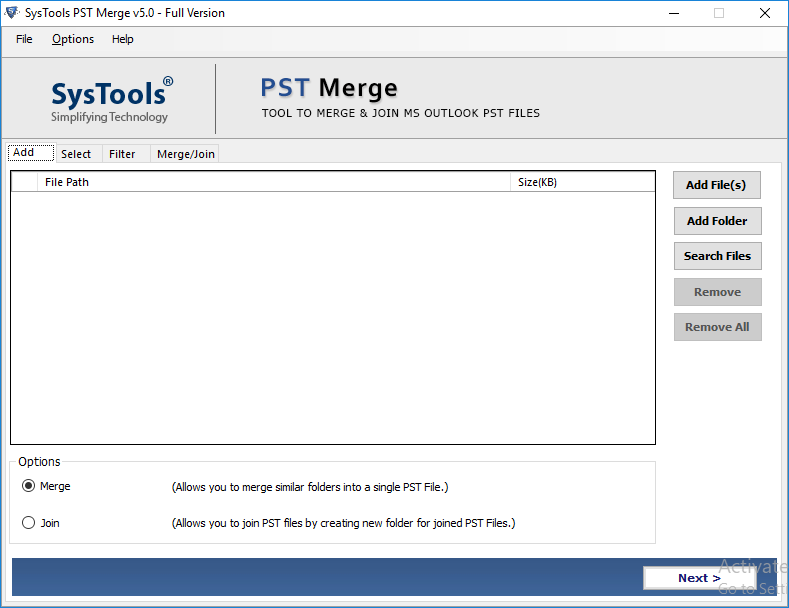 Click Add File to manually add individual PST files, or click Add Folder to add an entire folder containing the files you want to combine.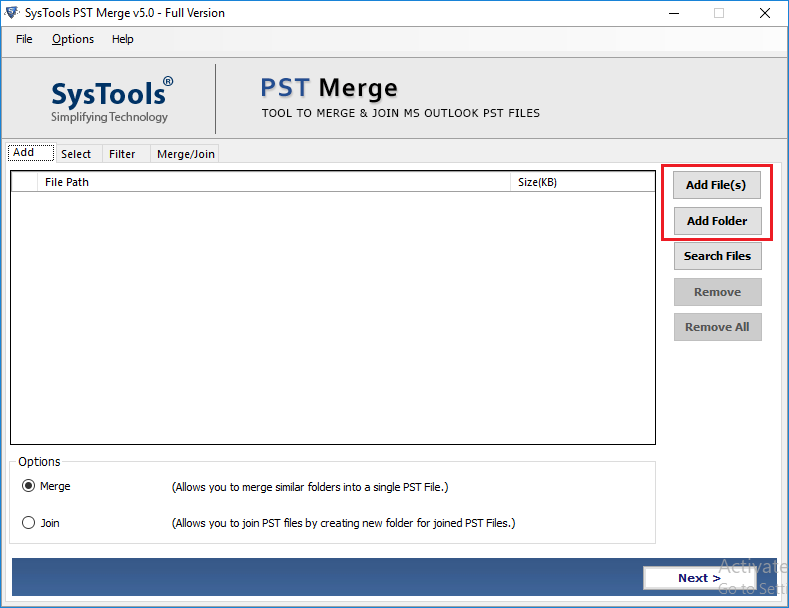 This software provides two options (such as merge or join) to combine Outlook.pst files into one file. Then choose the option according to your convenience.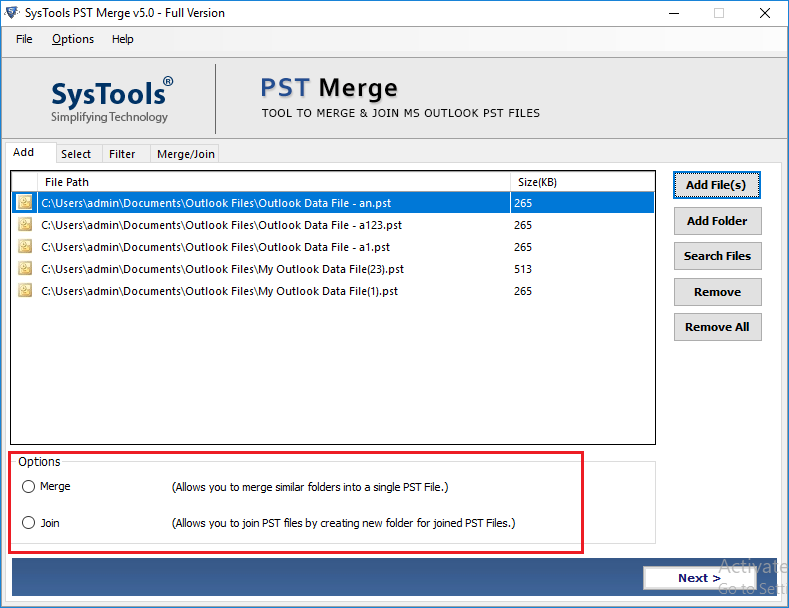 Select the radio button corresponding to the "Merge" text as shown below.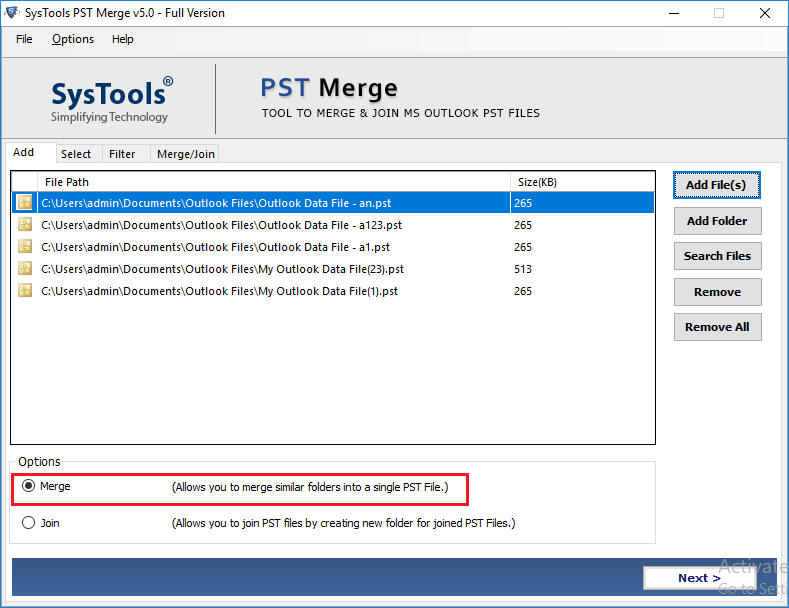 Then select the Merge All Folders button to merge all Outlook folders.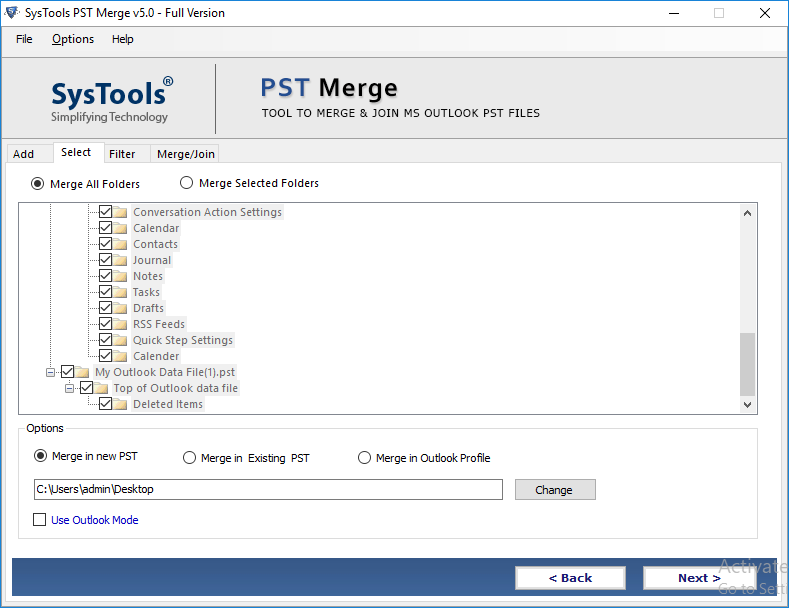 Select the Ignore Duplicates check box and select Specify Criteria. Then select the items you need from Mail, Contacts, Calendar, Notes, Tasks, and diary and remove duplicates.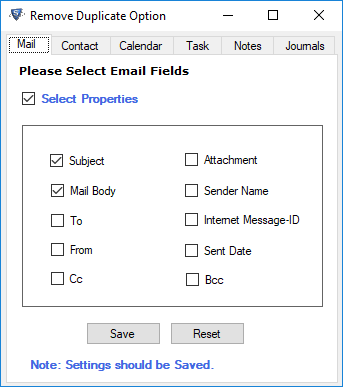 Finally, click the Next button to start merging Outlook.pst files in one process.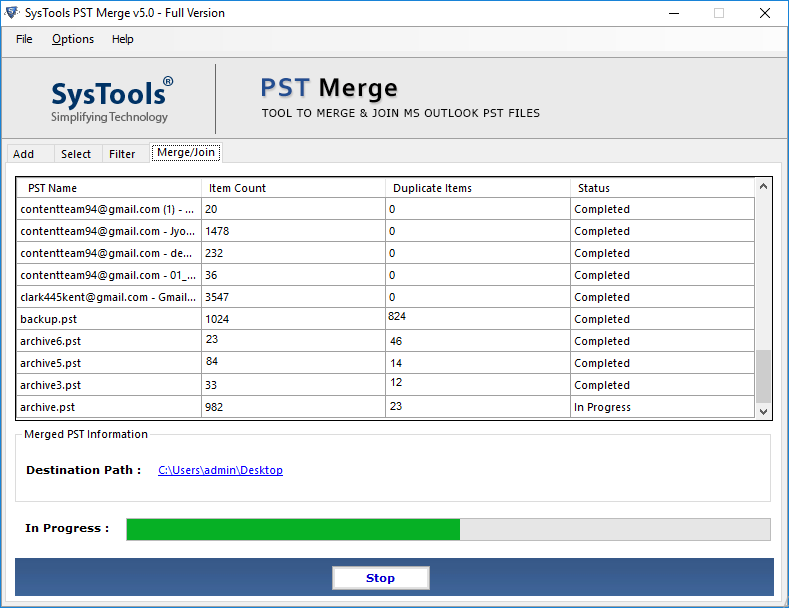 Additional Features of the Software
No technical skills are required to merge Outlook calendars into one.
Maintains the integrity and folder hierarchy of calendars during consolidating.
Option to merge Outlook data files into a new PST, existing PST, or an existing Outlook profile.
Merge and remove duplicate Outlook Emails, Calendars, Notes, Tasks, Contacts, and Journals.
Works with all types of PST files including archive, password encrypted files, etc.
Final Words
MS Outlook is the most demanding email application nowadays for communication and data management. It has several functions for managing daily activities such as sending/receiving emails, managing contacts and calendar data, etc. Here, we discussed both the solution to combine two Outlook calendars into One, Manual and Automated solution. There is no direct option to merge calendars in Outlook, you must first export calendars and then import it into an existing calendar folder. To make it simple and fast, opt for a professional tool to combine two Outlook calendars as well as combine multiple Outlook calendars into one without duplicates.
Frequently Asked Questions
Q: Is there a way to integrate Outlook calendar and contacts?
Ans: Yes, the tool supports an integrated view of all the files stored in the PST file. Easily sync your Outlook contacts, calendars, emails, notes and more.
Q: What about the original PST file?
Ans: The software only uses the data from the file to merge with other files without damaging the original format of the PST file. It preserves the originality of the document.
Q: Do I need support to run the software and merge different PST files?
Ans: The software has a very user-friendly graphical interface. Therefore, no technical skills are required during the operation of the software. Although we provide instructions for better performance,
Q: It provides software and Marge PST files without Duplicates?
Follow the steps given to merge the necessary PST files without duplicates:
Add the PST file to the drive.
Click on the PST Merge option and then select the Exclude Duplicate Items option.
After selecting them, the software will start the merging process.
Wait for the PST file until the process is complete.